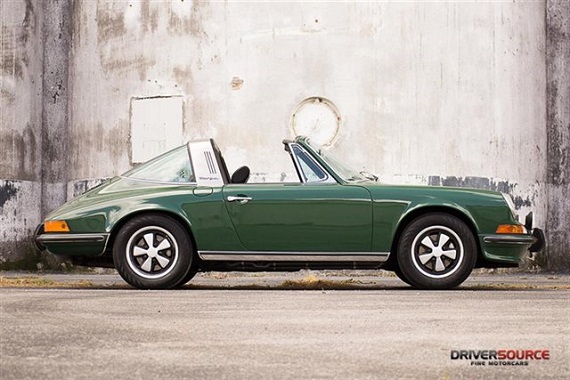 Finding value on the air-cooled 911 market is always a somewhat relative proposition and has been increasingly difficult to come across. It is also something with which you will rarely see me lead-off a post when the car in question is a long-hood 911S. Even when only in fair condition these cars command quite a lot of money; a pristine example can easily exceed $200K. The question here, and which I'll discuss more below, is whether the current owners of this 911S have found themselves a nice value. Here we have an Irish Green 1972 Porsche 911S Targa, located in Texas, with 74,111 miles on it. You may recall that last week we featured another '72 Targa, that one being a Bahia Red 911T. The distinguishing characteristic of these '72 911s is the external oil filler and, while possibly entirely anecdotal, I have noticed quite a few examples from that model year coming up for auction. They certainly seem more prevalent than other long-hood model years. As the early-911 market accelerated and then possibly cooled some it has been these rarer variants that have continued to command the most money and as such sellers continue to try to make the most of the market.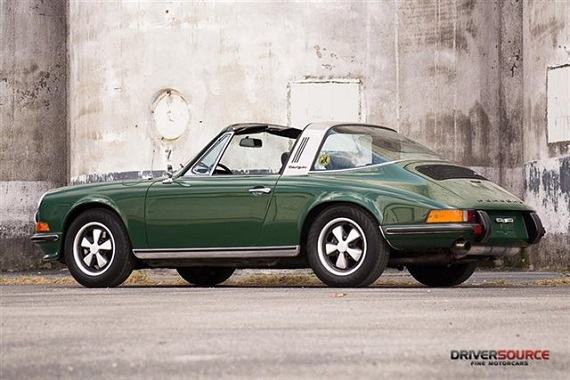 Year: 1972
Model: 911S Targa
Engine: 2.4 liter flat-6
Transmission: 5-speed manual
Mileage: 74,111 mi
Price: $187,500 Buy It Now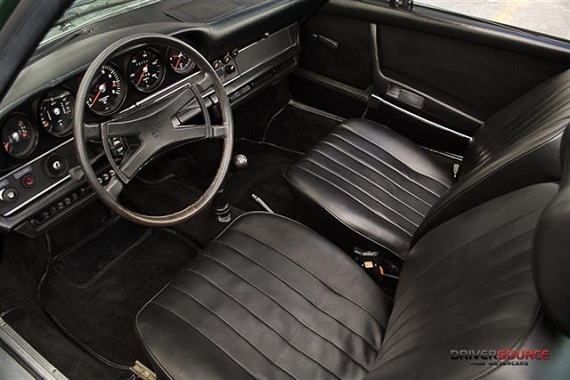 1972 Porsche 911 2.4 S Targa
Chassis No. 9112310399
Engine No. 6321044
One-Owner from New-2014
Original U.S. Spec with European Delivery
A Remarkably Pure, Early 911 S
Numbers Matching per Porsche Certificate of Authenticity
Beautiful Original Color Organization
Highly Optioned Example from Factory
Offered with Owner's Manual, Tool Kit, Jack and Spare
Only Year with Outside Oil Filler
The 911 Targa, an icon of Porsche design, has come to be defined by its unique aluminum roll bar with three vertical vents and "targa" script. Over the years, it left such a lasting impression on the car's drivers and fans that Porsche returned to this design for its newest-generation Targa.

This great example was ordered new by Mr. Paul DeVries of Philadelphia, Pennsylvania as a U.S. specification car with European delivery. Accompanying paperwork confirms Mr. DeVries would take possession of his 911 in Stuttgart on the 4th of February 1972. Importantly, all original manuals and brochures remain with the car, including the stamped Maintenance Record booklet, Owner's Manual, Porsche Service Stations brochure, Porsche Distributors and Dealers, Key to Carefree Driving, Blaupunkt Frankfurt and very rare original International Certificate of Approval book and Volkswagen Insurance Service paperwork for touring around Germany.

9112310399 would remain under the lifelong ownership of Mr. DeVries until his passing in 2014. Equipped with the desired 2.4-liter flat-six "Super" engine and one-year-only outside oil fill, this beautifully preserved 911 remains in excellent condition finished in its original color scheme of Irish Green over black leatherette upholstery. According to the files of Porsche historian Jurgen Barth, the Targa was desirably optioned with air-conditioning, tinted windows, limited-slip differential, through-the-grille fog lamps, and a Blaupunkt Frankfurt radio. Today the 911S retains all original trim, glass – with Weltmeister sticker and equipment. Both front and rear compartments remain very original with factory decals and markings throughout the engine bay and original carpeting, 1/72 date coded spare assembly tool roll and emergency equipment up front. The car exudes a very honest character with authentic details with single ownership recorded from virtually new; here is an excellent opportunity to acquire a highly incomparable 911″S" 2.4L Targa.

$187,500.00
Offers Welcomed

To learn more about this vehicle, please contact our sales department at (281) 497-1000 or sales@driversource.com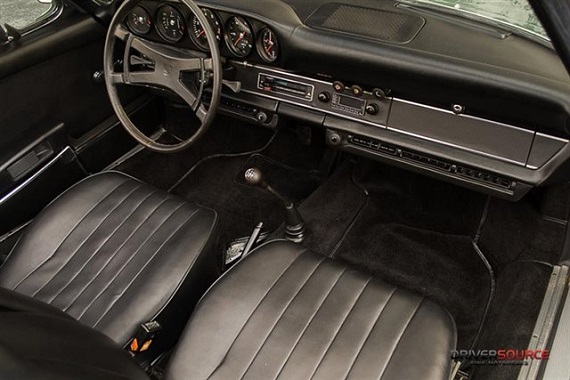 Relative to last week's 911T Targa we quickly get a sense of the significant premium that comes with a 911S, a point reinforced by the sense that at $110K that 911T was being over valued by a fairly high margin. Interestingly enough we even have some recent history on this car to help us understand the asking price being sought here. This 911S Targa sold at Gooding & Co.'s Scottsdale auction this past January for what seems a pretty reasonable $132,000. On the surface that makes the asking price here look ridiculous; this car hasn't suddenly gained $50K in value in under four months time. However, Gooding's estimate of the value of this Targa at their auction, and they're typically pretty good at establishing those estimates, was from $175K-$200K. Of course, estimates are just that and it is ultimately the market that decides, but that's a significant discrepancy within a hot market and does provide some credence to this seller's asking price. The question we must ask is "why?". What about this car is giving bidders pause? And lest we think that the Gooding estimate is top of the market, we have seen '72 911S Targas sell for well above $200K so there is significant ground to be made for this particular car. The only strike against it that immediately stands out is that the car is unrestored and perhaps a thorough evaluation reveals significant work to be done in that regard that is not immediately apparent when viewing from afar. That's the only thing that stands out to me. At the end of the day, what we have here is a really nice looking long-hood 911S Targa in a wonderful shade of green that is falling short on the market. With some quality restoration work perhaps it too can eclipse the $200K boundary?
-Rob