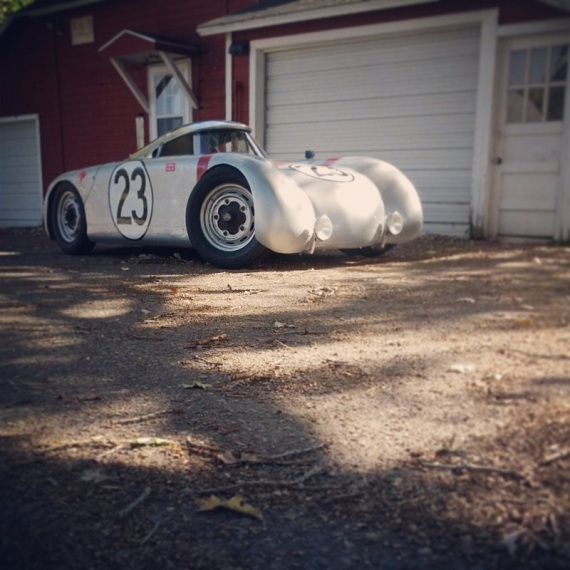 In the world of home-brewed specials, there are plenty that scream "Run for the hills!" and even more that just look so flat they're forgettable. Many of these are Volkswagen-derived specials, and while most of them try to copy more expensive cars there are precious few that achieve it. However, a few months back one started to circulate the halls of the Interweb; the Glockler-inspired handbuilt "Frankfurt Flyer". Based on modest Volkswagen internals, the custom hand-hammered aluminum body managed to evoke images of unaffordable Porsches and even the Auto-Union high-speed record racers that the Porsche father and son team worked on. It was simply amazing to see this car take shape and how like some of the factory cars it appears. The fabricator has decided to continue to produce these gems, and has an unbuilt chassis ready to assemble of Ebay:
Year: 1949
Model: Custom
Engine: TBD
Transmission: TBD
Mileage: N/A mi
Price: $60,000 Buy It Now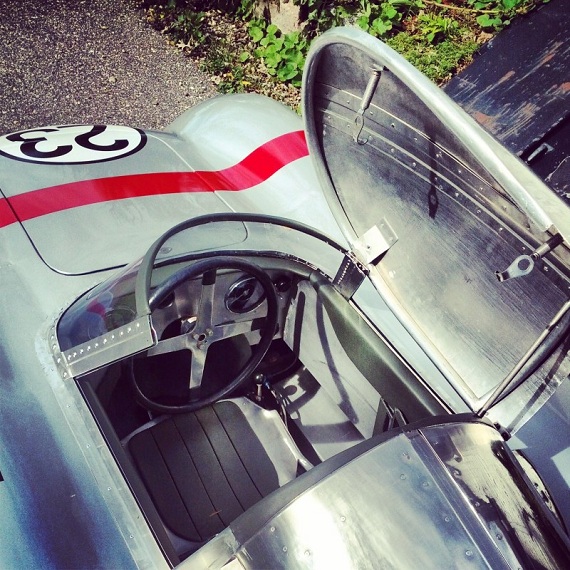 For your consideration is the opportunity to purchase one of my aluminum bodied "coachbuilt" racers known as the "Frankfurt Flyer" in Spyder and also, now in Coupe' configuration. The Coupe roof is removable and can be transformed into Targa configuration or an open top Spyder with lowcut "Competition" windscreen. The cars are inspired by the post WWII "Aircraft Racers" of Germany, like the early Hanomag, VW and Porsche Glockler Handbuilt racers.

The number 23 car (chassis #001) shown in the pictures is available for sale. Please Inquire.

This auction is for the commissioned build of chassis #FF003. My cars are built specifically around the driver and his/her driving style, height/weight and personal preferences. The layout of the car offers both single seat "Monoposto" or optional 2 seat configuration. With the basic engine package, like the early Glocker racers it is powered by a 36HP VW Case with hot-rodded Porsche internals. Depending on buyers preference the engine can put out up to 85HP (or more) and Porsche 356 or 912 power can be used. The engine is mounted midship for excellent weight distribution and handling. The car has a steel ladder frame, VW front beam and rear transaxle. The body is hand hammered and wheeled Aluminum shaped over a wooden buck.

The "23" car (chassis #001) has had publicity in 9 Magazine, RS Magazine, Hoonivers Car of the Year Nominee, MegaDeluxe, Featured on Bring A Trailer and many more. If you're into the late 40's and early 50's racers this car is the ticket. You'll never see another car like yours and this work of art is just as fascinating sitting still as it is climbing inside and hearing the engine roar. The cars are a blast on the track as well. The car is delivered with title, bill of sale and in more stringent State/Country cases I am flexible to accommodate buyers with titling/registration. Being that the running gear is comprised of early VW and Porsche parts, Frankfurt Flyer Chassis #001 (23 car) has been invited to several historic events both in the US and abroad as well as a recent invite to a significant Porsche event in Monterey this coming June.

Please only serious inquiries. Build time for a basic package starts at 6 months. I am booking my winter/spring build projects now so yours will be ready for Summer of 2014. Also note that I offer custom buck building and coachwork for other automobiles or custom one-off projects as well. (Including Nacelle Cowlings or Hoods for your 550 Replica.) I will assist in design, buck building and custom coachwork and panel shaping. Inquire for pricing and info.

More Info: I am a one man shop located in Minnesota. All work is done in house by me from fabrication to paint. Note: The Wooden buck pictured is used for shaping the alloy panels. It is replaced with structural bulkhead supports on the finished car. Please inquire for more information.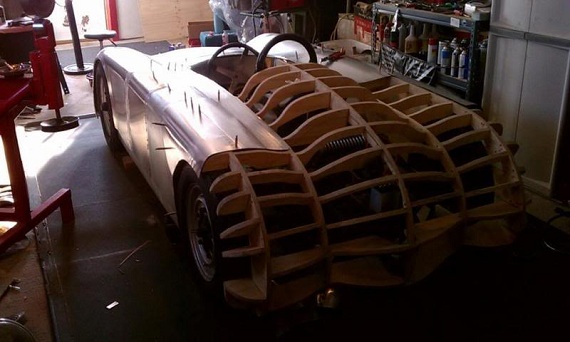 From what I can tell, the car appears to be build to the buyer's specification, though I'd guess start optioning it out and the price will go up. The fabricator has offered his contact information if you're interested in finding out what is entailed, but sufficed to say it's a bare-bones build full of character. The fit and finish of the body fall short of what the factory can do, but honestly just look at it – it's amazing. I really wish I had the talent to produce something that even looked 1/10th as good as this car does. At about the going rate of some 911s or 356s, I'd really rather have this as an occasional car. Sure, it will probably break and require more work to keep it running. Sure, it's only worth what someone else would be willing to pay for it. But it captures the spirit of the original Porsche models, something which Porsche itself has lost along the way. That, along with the attention this custom would get anywhere you would take it, might just be priceless!
-Carter