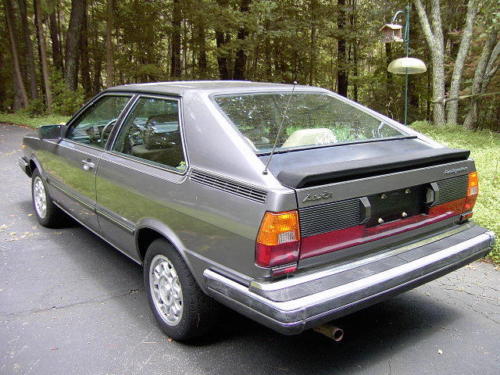 I've been thinking about this car for a week now since I spotted it. It's a poignant follow-up to the Canadian Coupe I wrote up last week. That car cleared just over $4,000 – even accepting the silly stereo upgrade, it was a great deal. I also said in that post that it was rare to see early cars and, as if on cue to disprove me, another all-original '82 popped up. It's too good to not look at!
In an effort to explain just why I love the Coupe so much, I took my GT for a drive this morning. I've owned it now for over 20 years, and despite having far too much abuse at various points in its life, it is still a car that thrills. It's comfortable, quick, has plenty of room, turns head and makes great noises. It's never failed to start. It is supremely adept in corners, egging you on to push harder. It somehow rides even better than my newer car in spite of set-to-punish track-oriented suspension. It's beautiful simplicity still makes me smile, too. Sure, I was pretty amazed when my son folded down the sunvisor and the vanity mirror light turned on. After all, I don't get into this car expecting all electrical items to work. But I do get a smile out of this car every time I drive it. What more could you ask for $4,000?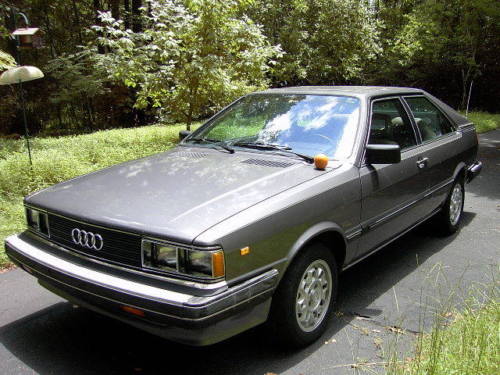 Year: 1982
Model: Coupe
Engine: 2.1 liter inline-5
Transmission: 5-speed manual
Mileage: 42,165 mi (TMU)
Price: No Reserve Auction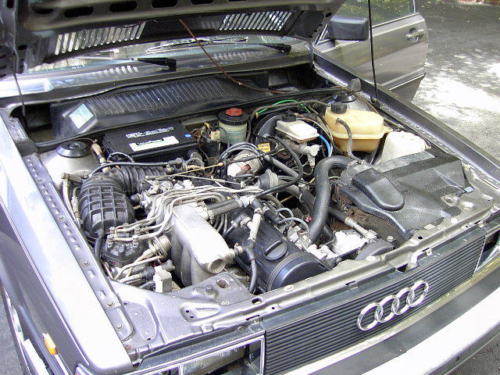 SEE MY OTHER AUCTIONS FOR MORE VINTAGE CAR PARTS AND ACCESSORIES

Further cleanout of surplus vintage cars and parts: This is a no reserve auction and the car will be sold on or off auction.

THE STORY:

Am 76 and it's time to let go of my car collection. I bought this Audi from a commercial pilot who bought it new in Atlanta Georgia on 11-26-82 so I am the 2nd owner. It has remained in Georgia it's entire life and was driven until 2000 when it was put into storage. It has not been driven for 18 years. The odometer stopped working at 42165 miles (indicated) and the original owner says that the correct mileage is about 60,000. We recently took it out of storage and serviced the car to get it back on the road. Not even a hint of any kind of rust anywhere. I have the original clear Georgia title from the first owner. The car has power steering, power brakes, air conditioning and a sunroof. VALUE: As of this writing Hagertys classic car values the 1982 Audi at $2,600 fair, $4,700 average, $7,800 excellent and $12,200 concours. It is also a good investment as the value will more than likely increase over time, as these cars have already hit the low point in value and are on their way up. This is an above average car.

ENGINE:

Engine starts and runs smooth and cool. The oil is clean and clear. Excellent oil pressure, even when warm on idle it is way above average. No smoke. No noises. Excellent running condition. Good power. It is a little harder to start when the engine is warm and has sat for a few minutes. Have read where a fuel accumulator can cause this so it may need one.

TRANSMISSION/CLUTCH:

Transmission shifts perfectly in all gears with no noises or glitches of any kind. Clutch is smooth and strong.

ENGINE COMPARTMENT:

Excellent stock original compartment – very clean and tidy. New timing belt and other belts and a new battery. Cooling fans work well.

TRUNK COMPARTMENT:

Perfect condition with the original spare and jack.

SHEET METAL BODY PANELS:

Very straight damage and rust free original panels throughout. The sunroof works. The top of the car has some areas where the clear coat has turned a light foggy color – You can see it in a few photos. The rest of the paint on the car is excellent.

EXTERIOR BODY PARTS:

Everything is original and in good condition. Bumpers, bumper guards, bumper brackets, tail lights, grille, headlight assemblys – all original and nice.

GLASS:

The glass is all original and in excellent undamaged unscratched condition. Windows roll up and down easily.

CHASSIS:

The underneath of the chassis is in excellent undamaged, clean condition.

INTERIOR/Upholstery:

The interior is all original leather. The drivers seat has seen use – rarely did he have any passengers. The leather has hardened moderately in areas over the years but is still in good serviceable condition. The door panels are still the nice original leather.

DASH AREA:

Dash board is in excellent original condition. Dash top has cracks. Everything works with the exception of the horns and clock. Air conditioning works. The original Audi Heidelberg AM FM Cassette radio works well but is missing the knobs.

TIRES & WHEELS:

The wheels are very good originals but the tires are old and should be replaced.

EXHAUST:

Exhaust system is good and quiet and does not leak.

SUSPENSION AND BRAKES:

All original suspension and braking mechanisms are working well. Car needs to be driven on the road to get some exercise – It has not been on the road for 18 years.

PAPERWORK:

The original 1982 Georgia title and a Georgia bill of sale are included. All of the bills for parts, service etc are also included.

FACTORY ID PLATES: The Vehicle identification ID plates are intact and correct. The VIN # is WAUBB0851CA210380. Engine is the original.

INSPECTION OF CAR: It is difficult at best to describe something as complex as a vehicle and it is highly recommended that you personally inspect the car or have a 3rd party inspect it for you. I can accomodate anyone to show them the car. It is described to the best of my ability along with many good photos but it is the bidders ultimate responsibility to ensure that what he thinks he is getting is indeed one in the same and something he will be happy with. I have purchased and sold roughly 25 autos through ebay over the past 18 years and also many more over the telephone and have always had excellent results and complete satisfaction from the buyers but I do my due diligence and suggest you do the same.

SHIPPING: I have shipped many cars to all parts of the world over the years and can assist the buyer with transport if necessary. The car is in a secure place at my home and can be collected there. I will assist any transport company in loading the car properly. The car can stay here in storage for up to 30 days from the close of the auction.

PAYMENT & BIDDING: Contact me if you have less than 5 feedbacks or your bid WILL be cancelled. A $1000 non refundable deposit via Paypal is due immediately after the auction closes. The balance is due within 5 days via priority or overnight mail with a bank cashiers check or cash. No Paypal for the balance. Payment is to be made IN ADVANCE of collecting the car. IN ADVANCE, BEFORE YOU COLLECT THE CAR – This is an auction and you have plenty of time to inspect the car personally or have a 3rd party inspect the car – inspections are welcome and encouraged. Full payment is due BEFORE the car is collected. Winning the auction does not mean that you now have the privilege of coming to inspect the car to see if you like it – if that is your intention, please do not bid on the car. If you cannot trust me, my reputation, the description and the extensive photos then it is your responsibility to inspect the car yourself or have a third party inspect it for you. When the auction is over payment is due at the close of the auction per these instructions. I have sold approximately 25 cars and motorcycles on ebay and they all have been a bargain. This one certainly is. No Paypal for the balance. If the car has not reached what I consider to be a fair price the auction will be cancelled before the 12 hour end mark.

SEE MY OTHER AUCTIONS FOR MORE VINTAGE CAR PARTS AND ACCESSORIES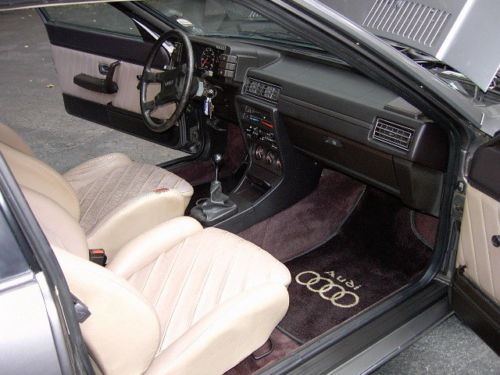 I like this Coupe a lot, and most of that comes down not to the configuration but to the presentation. Sure, the photos aren't as slick as some of the shots from the Canadian example, but overall this car presents very well and is even more original. The car was remarkably preserved, and while it shows signs of its nearly 40 years on Earth it's hard to fault it. In fact, some of the patina and the story behind its ownership might be even more endearing in today's market than a lightly restored candidate. The car retains a shocking amount of originality; the bellwether on these cars is for me the side radiator cardboard, and yup – it's still in place. The color appears to be Stone Grey Metallic and though the pictures aren't close up it looks in good shape. The leather striped interior also shows well overall and is a treat to see. Original 'Cookie Cutter' alloys feature the correct silver caps I mentioned in the last post. And, thankfully for posterity but not for your ears, the original radio is here this time.
With two days to go, bidding sits below $3,000. Seriously, what more could you get for this price? Although 'survivor' is oft claimed recently, this car really personifies it. As a result I'd not be concerned with the TMU or the light mechanical refresh this car will need after prolonged storage. Condition is king, and long live the King.
-Carter