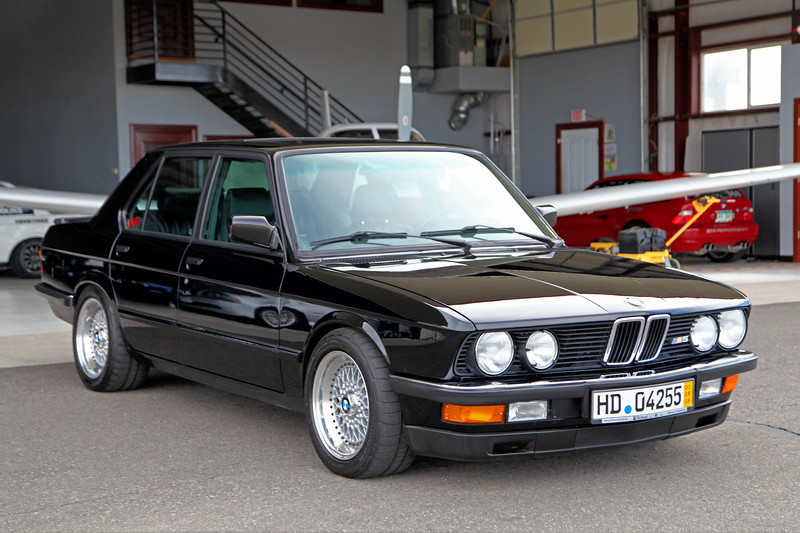 Let's get the elephant in the room out in the open: this 1988 BMW M5 has 225,000 miles, and the asking price is $42,000. It's also pretty far from original.
Still reading?
That's good, because there's really a lot to like in this particular example of the legendary chassis. First off, it's one of the very, very few of the already scarce U.S. spec E28s that were imported with option 0232 – full black leather. That makes it one of 101 imported to North America as such, and of those only 30 were sold in the U.S.. That alone makes it quite desirable. But then this M5 goes a step farther, and by a step I mean several flights of stairs. Outside we have a European bumper and headlight swap; I know, some people prefer the U.S. setup in the same way that some people consider Marilyn Manson a musical artist. It's also ditched the original M5 rolling stock for wider, modular and forged BBS RS wheels. And that high mileage? No worry, the S38 has been rebuilt and turned up a few notches, while the upgraded suspension has dropped down and stiffened the ride.
The result? Boy, does this look like one mean super sedan.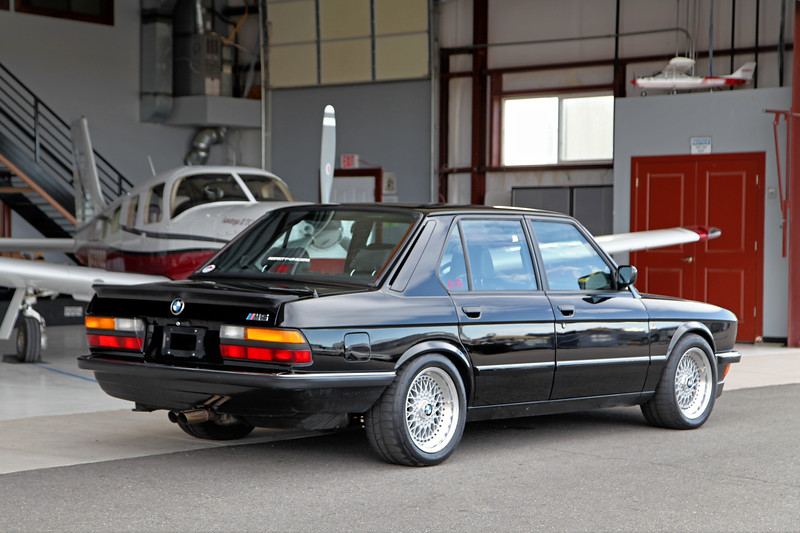 Year: 1988
Model: M5
Engine: 3.5 liter inline-6
Transmission: 5-speed manual
Mileage: 225,000 mi
Price: $42,000 Buy It Now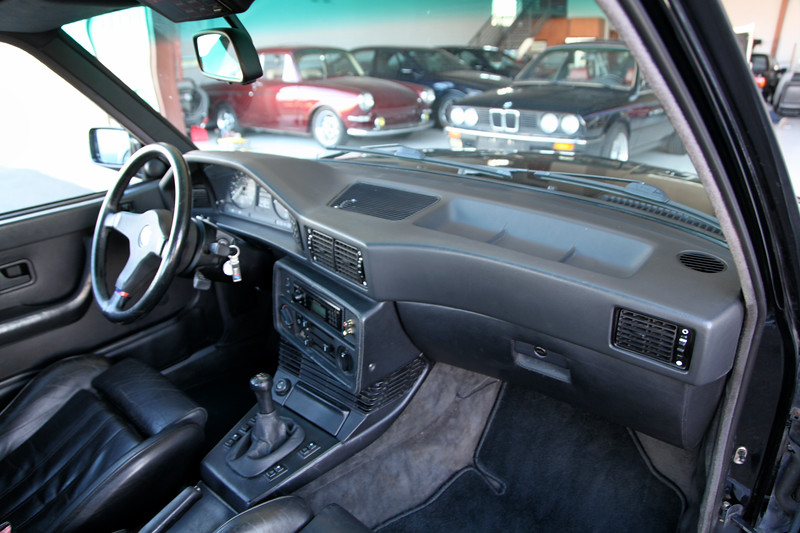 Drivetrain:

5-Speed Manual Getrag G280 Transmission

UUC EVO3 Shifter / OEM Shift Selector (No DSSR) (installed at 210K miles)

All Shift Bushings Replaced with UUC Installation

OEM Clutch and Flywheel (inspected with engine swap)

Suspension (Overhauled at 220,000 Miles):

M-Technic Front Springs with Bilstein Sport Shocks

Front E28 M5 Upper Control Arms with Wokke Spherical Bearings

Front 840Ci Aluminum Lower Control Arms

M-Technic Rear Springs with Bilstein Sport Shocks

OEM Rear Subframe and Control Arm Bushings

AKG Poly Rear Trailing Arm Bushings

140,000-Mile Steering Box Installed

Brakes:

BMW 840Ci Brembo Front Calipers with 324mm Rotors

BMW E34 M5 Rear Calipers and Rotors

Porterfield RS4 Brake Pads

Appearance:

European Bumpers

European Grills

European Headlights

European M5 Chin Spoiler (Valance)

Chromeline Door Trim

Interior:

1 of 30 US Market Black on Black E28 M5s

Heated Seats

Power Seats

13-Button On Board Computer

Premium Sound

Dennon DCT-a100 Japanese Domestic Market Stereo with Old School RCA Aux

Brax X2400.4 German Domestic Market Amplifier

OEM Premium Sound

12" Subwoofer

Wheels and Tires:

16-Inch BBS RS Wheels

225/50ZR16 BF Goodrich g-Force Rival Tires (40% Tread Remaining)

History:

2013 BMW Car Club of America Oktoberfest Concours 3rd In Class (2nd Gen)

2013 BMW Car Club of America Oktoberfest Autocross Class Winner (7B)

2012 BMW CCA Rocky Mountain Chapter Autocross Overall Winner (BDS and Overall)

2013 BMW CCA Rocky Mountain Chapter Autocross BCS Class Winner

Formerly owned by two known and well-respected figures in the E28 community.

Summary

This is one of thirty US market 1988 (E28) M5s with the desirable black interior. It has been converted to a nearly European spec M5 with many other highly desirable upgrades. I am selling it on consignment for a good friend and fellow longtime BMW CCA member and instructor. It is an exceptionally clean E28 M5, despite its high mileage. It is so clean that it won 3rd in Second Generation Class at the 2013 BMW CCA Oktoberfest Concours in Monterey, California. It is also proof of my theory that BMWs are like airplanes, in that proper care and stewardship are much more important than strictly age and mileage. Nearly all of the mechanical components have been refreshed, yet it just imperfect enough to enjoy on the street, track, or autocross—as every BMW M car should be—without the guilt you might have with an extremely low mileage example. It is also highly competitive, a class and overall winner at the autocross events listed above—a rare feat for an E28 M5.

Like most M5s of this vintage, the original engine developed the timing chain housing leaks that every S38 eventually gets and we suspected the valve seals also needed attention. However, it just so happened that we knew of a 96,000-mile E24 M6 S38B35 engine. We acquired it and sent it to old-school BMW engine builder Mark Hutto to properly sort and build into the S38 that every US-spec M5 should have come with. This included inspecting the bottom end, resealing all leak areas, replacing the timing chain components, and rebuilding the head. In the process we added an S38B36 intake cam that was custom degreed to work with the stock exhaust cam. The engine is breathing through a Millar MAF conversion and 100mm intake tuned via a Miller War chip and exhaling through European E28 M5 exhaust headers—the single best performance enhancement you can make to an S38. We had the headers ceramic coated and mated to a custom test pipe. The original catalytic convertor is included with the sale for emissions compliance, but would take some minor exhaust work to mount. VSR also makes a high-flow catalytic convertor that would be a more desirable option (we do not have one, I'm just suggesting it). Remaining housekeeping items included re-brushing the alternator, adding new oil cooler lines, and tidying up wires and hoses to look factory correct. The original engine is also available for extra.

Impressions

The BMW E28 M5 is a time machine. At rest, its shark-nosed 3-box design is accentuated by the contrast of chrome highlights over rich black paint. Open the door and you step back into the 1980s. Of offers the perspective of viewing the current world through the lens of the past—and what a lens it is! The upright windshield, the tiered dashboard, the domino-sized power seat buttons are all delightfully classic BMW. Yet, the E28 M5 was, and still is, a driver's car. When it was released it was the fastest four-door "saloon" in the world and remains no slouch today. And then there is this M5. The end result of our build is a fire-breathing monster, but one that retains the elegant understated class built into every E28 M5. When I drove it to the exhaust shop with un-muffled European headers it sounded exactly like a classic DTM racecar. I may have taken the long route there just to savor the experience just a little bit longer. I've heard a lot of intoxicating BMW exhaust notes, but none were close this. The Stebro exhaust retains this sound, but makes it refined enough for daily driving. Keep the windows up and it's a mild background noise, roll them down and Mother-of-God it sounds glorious. The sounds emitted from this M5 are by far the best part of the experience. The lumpy "cammed" idle makes no mistake that something special is under hood. Moderate throttle pulls are a mix of individual throttle body snarls and deep, bounding exhaust noise. Push it to redline and it screams—and so will any women and children that happen to be within an earshot. I'll go so far as to say it is the best engine / exhaust symphony I've ever heard! Those sounds come from enhancements that allow this S38 to breath at high RPMs in a way the stock motor never could. The noticeable effect is that this M5 keeps pulling exponentially as the revs build where a stock M5's power band would start to flatten. It is all blissfully mechanical as well—that old-school BMW M car recipe of a high revving, high compression, normally aspirated inline engine unfettered by forced induction or highly computerized engine management. I challenge anyone to not giggle out loud during a second gear redline pull—and if you don't, you have no soul! The one-year-only for the US market E28 M5 was a snapshot of perfection in the inevitable march of automobile evolution and technology. It was an integral part in defining BMW as the Ultimate Driving Machine. The farther from that snapshot of time we go, the better the E28 M5 becomes.

Exterior

I strive to be highly critical in describing our cars—good and bad. This M5 is exceptionally clean for its age and mileage, proven by its recognition at the Oktoberfest Concours in 2013. Its exterior condition is indicative of fair weather use and indoor storage. The Gloss Black finish is brilliant with no glaring defects. There are no significant paint chips, dings, scratches, or clear coat lifting, although close examination does reveal some imperfections. The worst are small nicks and scratches, some minor pitting along the leading edge surfaces, and a small nickel-sized ding in the right front fender. There are small paint chips on the left fender, driver's door, and left rear passenger door (all pictured on our website if you are reading this elsewhere). In 2011, when the current owner was driving it cross-country (only 4 days after purchasing it), he was involved in a minor accident in St. Louis. It was quite literally a fender bender. A Toyota Yaris cosmetically damaged the right front fender and passenger side door. The fender was replaced; the door was easily repaired. No structural components were affected; the front strut housing was replaced as a precaution. The paint is matched perfectly and the panel gaps are correct. A receipt for the work that was done is included in the maintenance records along with pictures of the damage. All VIN tags are in place, except for the right front fender. The entire car is rust-free. There is one small spot on the left front fender where exposed metal has surface browning, but I would not describe it as corrosion. (pictures on our website). Azevedo Motorsports fitted the Euro bumpers during a previous owner's tenure and they look absolutely fantastic. They were fitted correctly using a European rear firewall, which removes the mounting holes that remain with a US firewall. All other trim vehicle trim is correct and present. There is a gap in the seal strip on the lower passenger side of the windshield trim. The windshield and window glass are clear and crack-free, but there are a few small pits in the windshield. The passenger side door seal does make a little noise at highway speeds and will leak under direct high-pressure water—like at the car wash (touchless of course). The Euro headlights are in excellent shape with yellow high beam lamps fitted in clear housings. The indicators, markers, and brake lights have crack-free lenses. The BBS RS wheels are in excellent shape; they are straight and true with no curb rash. They are wrapped in BF Goodrich g-Force Rival Tires with 40% tread remaining.

Interior

The interior is consistent with the exterior in that it belies its age and mileage. There are no odors and it has never been smoked in. It has that signature leather smell that all well-cared-for BMWs of this vintage have. The carpet is free of stains or rips and is protected by factory BMW floor mats. The seat leather is good condition, with no rips, tears, or excessive wear on the outboard bolsters. The backrest M badges are in place. The seat leather does have visible creasing, the worst being on the driver's side. All power seat functions work, as do the seat heaters. The driver's seat has very slight lateral seatback play under hard cornering, but it is much better than most E28s. The previous owner removed the seats and replaced them with dedicated fixed-back seats for autocross and track driving, preserving the factory seats. The rear seats are in excellent shape and are fitted with rear headrests. The dashboard is in good shape, but there are a few small cracks on the border of the center dashboard vent and in the passenger storage area (pictured on our website). The M-Tech I steering wheel leather has minor wear on the upper surface, but it is consistent with the rest of the interior. The stitching is still intact, the horn button surrounds have not shrunk, and the M Badge has no peeling paint. All instrument cluster gauges and lights function correctly. The odometer and trip meter work. There are no check engine, brake lining, or anti-lock warning lights. We replaced the on-board computer LED strip; all on-board computer functions work. There are no over-head check panel lights. All steering wheel stalk controls and dashboard switches work correctly. The Dennon DCT-a100 stereo and Brax X2400.4 amp sound amazing playing through the factory premium sound speakers and 12-inch subwoofer. The amber stereo illumination matches the factory illumination and there are period-correct RCA Aux inputs mounted next to it. All HVAC controls function correctly; the heat blows warm and the air-conditioning blows cold. We replaced the main blower motor and resistor, the auxiliary blower motor functions correctly. The blower motors work at all fan speeds and the bearings do not chirp. The gearshift knob and shift boot leather are in very good condition, as is the center console leather and stitching. All power window switches work, as does the sunroof. The leather door cards are not warped and have no rips. The headliner has no tears or cracks and does not sag. Both interior lights work. The map light mirror bulbs work as well. The trunk carpet is clean, the rear trunk lid leather covering is present, and the toolkit is complete—including the blue BMW rag.

Mechanical

I have a 4-inch binder will records and receipts dating back to 2002 and the service manual has regular stamps preceding that. I've outlined its current build and recent significant maintenance with mileage in the Build Outline. It has always received regular engine oil, gearbox and diff oil, coolant, and brake fluid changes. The motor has been freshly rebuilt and operates accordingly. There are no leaks or seeps, but it is an S38—they all start leaking at some point. It starts on command, idles smoothly, and pulls strongly to redline. The clutch take up is correct, the shifter is crisp and precise, and the transmission is quiet. There are no driveline or wheel bearing vibrations. The steering is tight, thanks its recent overhaul. It has none of the vagueness that most high mileage E28s suffer from. The suspension is also tight and compliant thanks to its recent overhaul. The spherical bushings do clunk over low speed gaps, which is normal. The 840Ci front and E34 M5 rear brakes are firm and have plenty of stopping power.

This M5 will certainly need continued preventative maintenance and repairs, as is the case with any E28, but it has benefitted from overhauls of all major components—a significant investment in time and money. You can go with a lower mileage example that needs everything addressed, or opt for ours and go enjoy it. This is a turnkey M5 ready to be driven across country.

Proper care, impeccable stewardship, and highly desirable upgrades make this E28 M5 an outlier in the population of normal examples. We have priced it accordingly—while it certainly isn't cheap, it is an excellent value for its condition and build. It is just imperfect enough to be enjoyed, as a BMW M car should be, yet striking enough to draw a crowd at Cars and Coffee and stand out against more pedestrian US examples.

VIN Decode

VIN: WBSDC9304J2875315

Type: DC93

Model: M5 – USA

Development Code: E28

Chassis: LIM

Steering: LL
Doors: 4

Engine: S38

Displacement: 3.50

Power: 252 Horsepower (in stock form)

Drivetrain: RWD (HECK)

Transmission: Manual (MECH)

Color: Black (Schwarz – 086)

Upholstery: Black Leather Interior (Schwarz Volleder – 0232)

Production Plant: Dingolfing

Production Date: 11-23-1987

Option Codes:

458 Seat Adjustment Electric Driver / Passenger

494 Seat Heating Driver / Passenger

780 BMW Lm-rad Wheels / M Parallelspeiche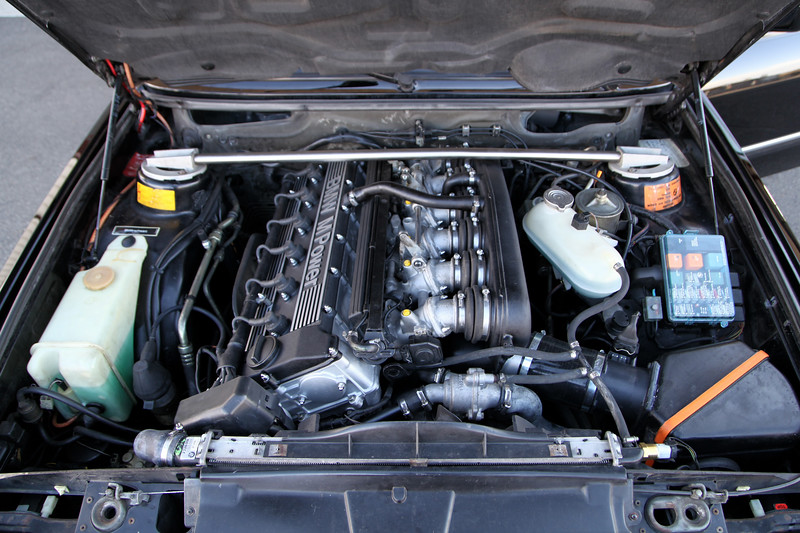 My father has a Euro-headered E28 M5, and holy hell does that car sing. His has also been stripped down, lightened and stiffened for track duty, and while the result certainly doesn't make for a pleasant car to arrive at the opera in (nor would this one), if you want to generate street cred there aren't many better ways in the German 80s realm. This is a serious bit of kit that is unbelievably rare and looks the part from every angle.
Is it worth $42,000? Believe it or else, I've previously looked at another Euro-swapped all-black higher-mileage M5. The asking price there was $27,000. The rebuild here is a bit more extensive than that 2016 example, plus the BBS wheels and the generally better condition and presentation. The market on E28s has moved slightly forward over the past year, and Hagerty currently places Condition 3 examples at a staggering $39,100 (Concours is $93,300!). These are no longer cheap cars, but this one can be bought for a not unreasonable amount given the work completed and enjoyed without the pains of worrying as much about wrecking collector value.
-Carter