Warning!
This post is in our archives. Links in this post may have been updated to point to similar cars available to bid on eBay.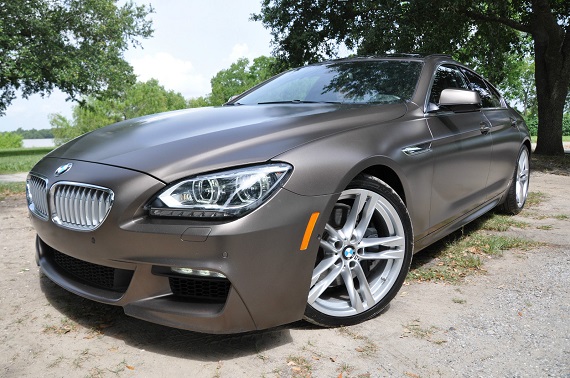 I was pretty surprised to come across a F06 BMW Gran Coupe in the neat shade of Frozen Bronze Metallic (X11) this week while surfing the sea of black, silver and white examples out there. Don't believe me? There are some 32 Gran Coupes selling used on eBay as of the time I write this; only four of them are not one of those shades. Two are dark blue which is lovely, but the Frozen Bronze somehow is a bit more in character with the model somehow. But, to order one you need to go through BMW Individual, so I was doubly surprised to see a second Individual Gran Coupe in the same shade. I can't help but consider these cars homages to the E24 L6s and early M6s, with their fully leather-wrapped interiors and optional Bronzit color. Which one pulls off the Matte better?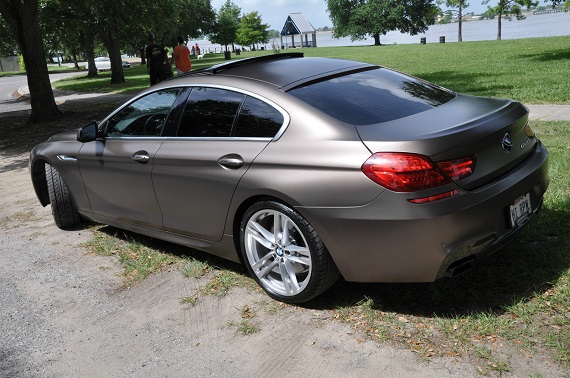 Year: 2013
Model: 650i Gran Coupe
Engine: 4.4 liter twin-turbocharged V8
Transmission: 8-speed automatic
Mileage: 42,264 mi
Price: $59,700 Buy It Now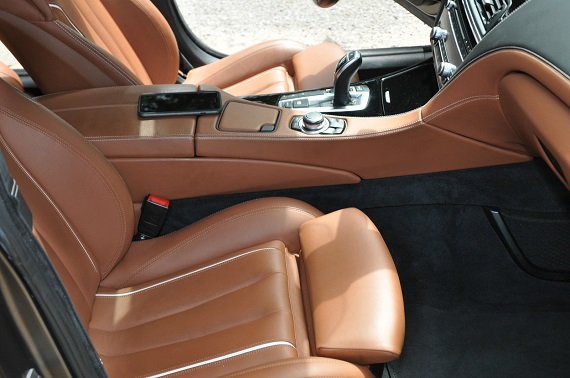 UP FOR YOUR REVIEW IS A RARELY OPTIONED GRAN COUPE 650i. JUST TOOK IT TO BMW AND HAD ALL UPDATES DONE,WIPERS,FLUIDS, ETC.

HALF THE STAFF CAME OUT AND OPENED THE HOOD TO SEE IF IT WAS A VIYL WRAP. THEY SAY THEY HAVE NEVER SEEN ONE LIKE THIS,

AT LEAST IN NEW ORLEANS. WESTERN NEVADA CAR SINCE NEW, NO SALT ,CORROSSION LIKE ALL SNOW BELT CARS. UNDERSIDE IS SPOTLESS.

MSRP WITH THE INDIVIDUAL "FULL" TWO TONE, EXCLUSIVE COLOR (EVERY INCH) DONE IN THE FINEST LEATHER ALSO USED IN THE BMW

ROLLS ROYCE MARINO LEATHER.

NOT THE STANDARD NAPPA LEATHER. EXCLUSIVE SE FROZEN BRONZE METALLIC PAINT AND PIANO FINISH WOOD. ALSO VERY, VERY RARE

TO SEE AN INDIVIDUAL BUILD WITH A FULL BLOWN M SPORT PACKAGE!!, ADD IN THE 5 POWER SHADES, SOFT CLOSE DOORS, FULL DRIVERS AID PACKAGE

DSP PROFFESIONAL HiFi SOUND SYSTEM,LED HEADLIGHTS AND FOGS, EXECUTIVE PKG, 20″ FORGED M ULTRA LIGHT ALLOYS, ETC.

MSRP ABOUT $119,000 ( M6 TERITORRY++) NO ACCIDENTS EVER. DON'T EVEN TRY TO COMPARE THE WIMPY 320HP 640I TO THE 450HP 650I.

THIS IS THE 1ST YEAR VALVETRONIC WAS ADDED TO THE ENGINE , INCREASING HP AND TORQUE GREATLY FROM THE 2012 MODEL AND INCREASED GAS MILEAGE TOO

VIDEO ON 2013 VALVETRONIC https://www.youtube.com/watch?v=qZ9k4Ohssu8

http://f30.bimmerpost.com/forums/showthread.php?t=705703 ANOTHER GREAT LINK TO THIS AMAZING INTAKE SYSTEM
Quote:

It typically works in conjunction with the independent Double VANOS system that continuously varies the timing (on both intake and exhaust camshafts). Valvetronic-equipped engines rely on the amount of valve lift for load control, rather than a butterfly valve in the intake tract. In other words, in normal driving, the "gas pedal" controls the Valvetronic hardware rather than the throttle plate.

Cylinder heads with Valvetronic use an extra set of rocker arms, called intermediate arms (lift scaler), positioned between the valve stem and the camshaft. These intermediate arms are able to pivot on a central point, by means of an extra, electronically actuated camshaft. This movement alone, without any movement of the intake camshaft, can vary the intake valves' lift from fully open, or maximum power, to almost closed, or idle.

Because the intake valves lift now have the ability to move from almost closed to fully open positions, and everywhere in between, the primary means of controlling engine output is transferred from the throttle plate to the intake valvetrain. By shortening the duration of the intake instead of throttling, pumping losses are reduced and fuel economy is improved. By reducing the valve lift, asymmetrically on 4-valve engines, swirl is generated in the cylinder, leading to a better air/fuel mixture. By avoiding a large air reservoir between the throttle and the engine responsiveness can be improved, though it depends on the speed of the electric motor actuating the second camshaft.

However, the throttle plate is not removed, but rather defaults to a fully open position once the engine is running. The throttle will partially close when the engine is first started, to create the initial vacuum needed for certain engine functions, such as emissions control. Once the engine reaches operating speed, a vacuum pump run off the passenger side exhaust camshaft (on the N62 V8, exhaust cam on the N52/K) provides a vacuum source, much as a diesel engine would, and the throttle plate once again goes to the fully open position.

The throttle plate also doubles as an emergency backup, should the Valvetronic system fail. In this case, the engine would enter a "limp home" program, and engine speed would once again be controlled by the throttle plate.

!!!!!!!!!!!!!!!!!!!!!-FULL FACTORY WARRANTY TILL JANUARY 2017.!!!!!!!!!!!!!!!!!!!!!!!!!!!!!!!!!!!!!!!!!!!!!!!!!!!!!!!!!!!!!!!!!!!!!!!!!!!!!!!!!!!

2 keys and all books included. I will probably be removing the rear tint in the next week or so.

If you want to keep it on, let me know

Garaged WESTERN NEVADA,CA car without the blasted paint of Northern cars

sell for 25% less to a DRY WESTERN car.

*ONLY 30 MILES SINCE ALL WORK

COPY OF EXCLUSIVE TRUE BUMPER TO BUMPER WARRANTY FOR 4 MORE YEARS AND TO 102,000 MILES FROM BMW!!!!!!!!!!!!!!!!!!!!!!

WILL RUN ABOUT $2,500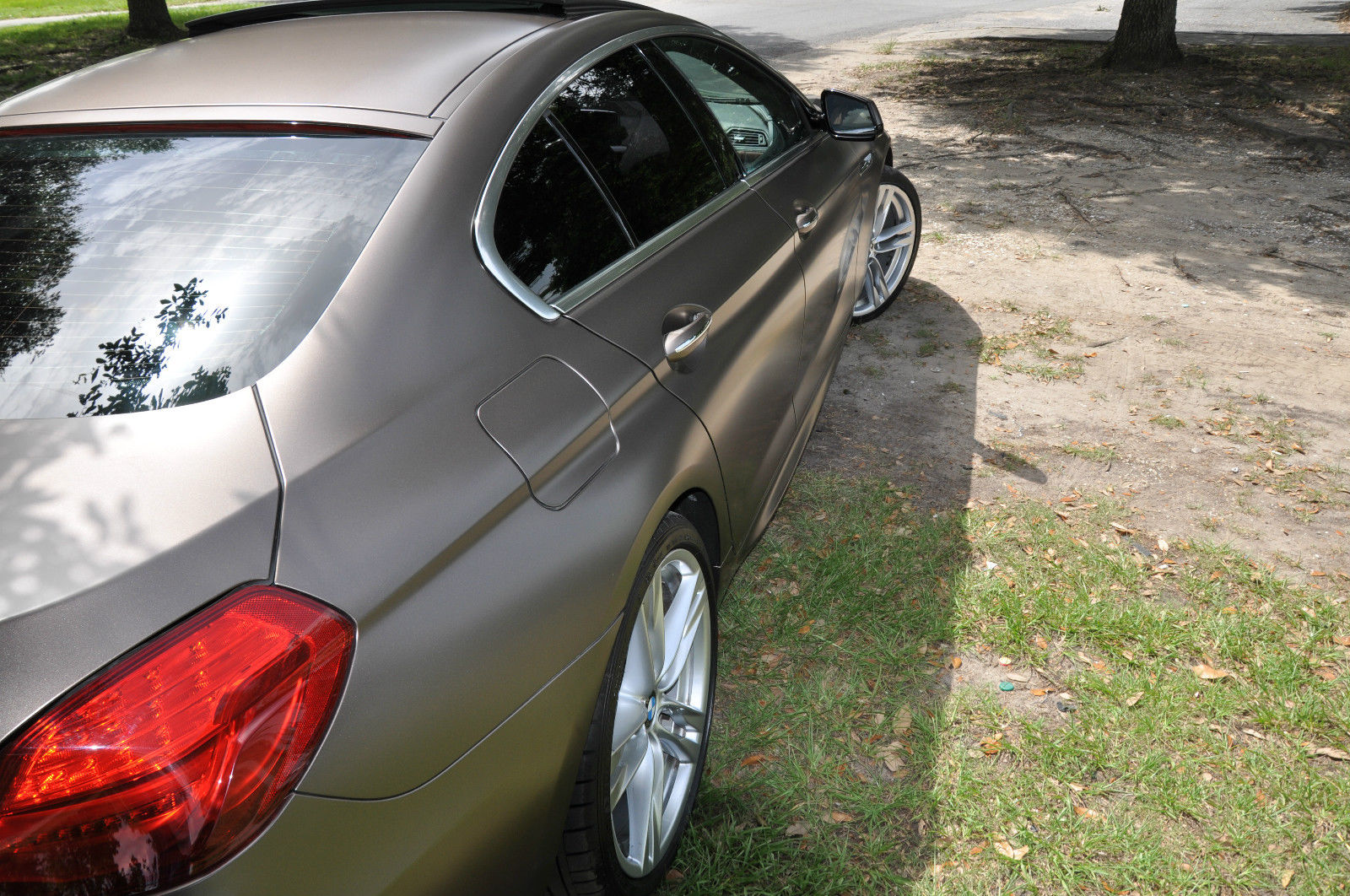 The Gran Coupe design is pretty cool to look at in comparison to where the new generations of 6-series started. This seller claims this is one of three that were produced in Frozen Bronze Metallic, but doesn't get into whether that was a number that just considers 650i Gran Coupes or all F06s. Inside the Amaro Brown interior is a knockout too, and claimed to cost $8,600 by itself. But that's a pittance compared to the rest of the options that were ticked off on the order form; electronic damper controls, the M-Sport package, rear camera, interior shades, velour mats, ambient lighting, comfort seats, park distance control, adaptive LED lighting, lane departure assist, automatic high-beams, park assistance, surround view, heads up display, cords to attach every single electronic device ever, M aerodynamics package and steering wheel, outer skin protection, Alcantara headliner and piano black trim. It's easy to see how this car ended up costing well in excess of $100,000; by my figuring, this car had around $26,000 worth of options selected – or around the price of a nicely equipped GTi added to the price of your nicely equipped 650i. Two years on, it's now worth half that amount apparently. It does beg the question of why you'd go through the wait of optioning off such an individual car to then turn around and sell it only a few years later, but there are some who want the next big thing. It still looks new and with the warranty attached through 2017, if you like the 450 horsepower version of BMW's slinky 4-door coupe, this looks like a pretty nice one overall.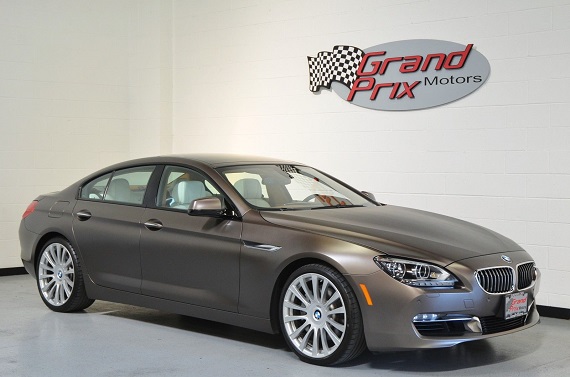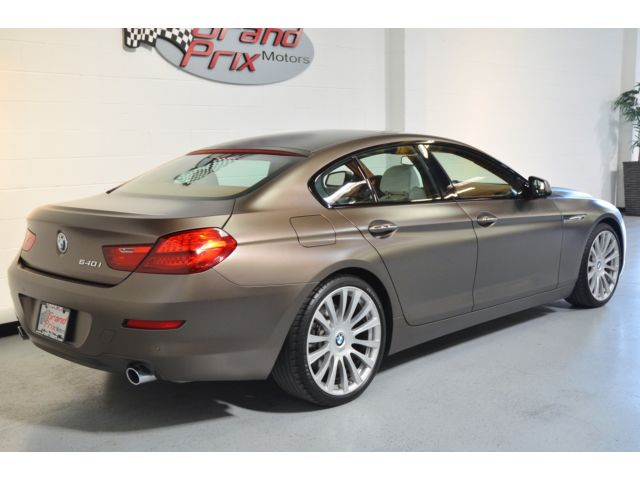 Year: 2013
Model: 640i Gran Coupe
Engine: 3.0 liter turbocharged inline-6
Transmission: 8-speed automatic
Mileage: 21,070 mi
Price: $57,900 Buy It Now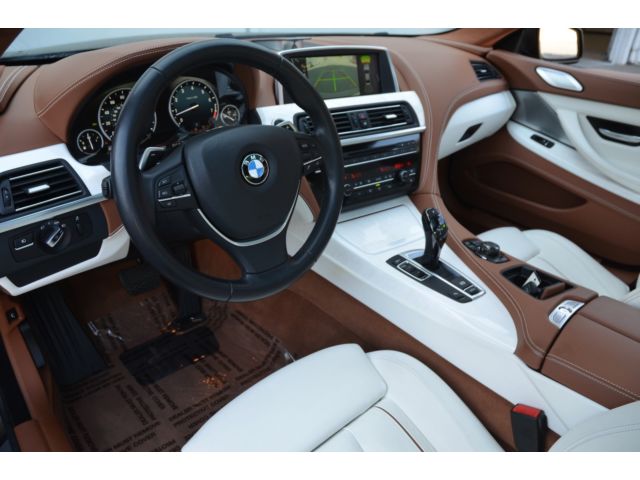 One of the highlights of the BMW Individual is the Opal White full-leather trim specially developed for the BMW 6 Series Gran Coupe, combined with the interior color Amaro Brown. Here, the leather-covered instrument panel and Alcantara BMW Individual roof liner are also presented in Amaro Brown. White contrast stitching for the instrument panel, armrest and door trim match the Opal White seats and door panels, while Amaro Brown seat stitching and piping complements the effect on the seats and door panels. In addition, BMW Individual Ash Grain White fine wood trim adds a particularly high-quality touch to the interior.

JUST IN One Owner 2013 BMW 640i Gran Coupe Individual with 21k miles. Finished in Matt Frozen Bronze Metallic exterior on Amaro Brown/Opal White full leather interior. In excellent condition and runs smooth. Very beautiful Gran Coupe, one of a kind with only 3 on the market in the US! Don't miss out, must see!! Under factory warranty till 07-10-2016 or 50k miles with maintenance included.
Loaded with many options including: Convenience Package, Sport Package, Premium Package, LED Adaptive Headlights, Park Distance Control, Panoramic Roof/Glass Sunroof, Comfort Access, Power Rear Side Sun Shades, Bang & Olufsen Sound System, Full Leather Interior, Navigation System, Bluetooth, Heated Seats, Headlight Washers, 20″ Wheels, Power-Memory Seats, Lumbar Support, Paddle Shifters, Steering Controls, Power Telescoping Wheel, Dual Climate Control, Keyless Entry/Start, Cd/Aux/Usb, Homelink and more.
Clean Title, Carfax Guaranteed! Visit WWW.GRANDPRIMOTORS.COM or call 503-954-3431 for more details. Trades Welcome. Financing Available!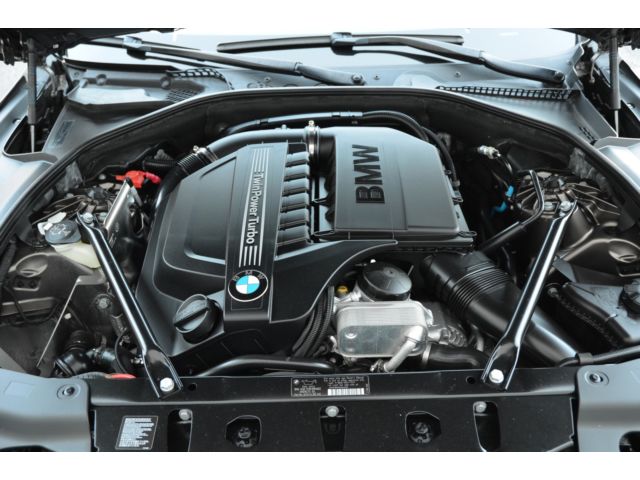 There are some details on this 640i that I really prefer to the 650i. First off has to be the even showier interior; the Opal White with Amaro piping and headliner is pretty outstanding. BMW really upped their interior options to compete with some of the better Audi designs, and aesthetically I think they've generally done a good job. There's one exception to that, though – the black steering wheel stands out and looks cheap compared to the soft and rich tones of the rest of the interior. This car shares many of the options of the 650i, but has some unique ones, too – the ceramic applique to controls, the voice activated commands, and the high-gloss shadowline trim. However, my favorite aspect has to be the lack of M adornments; in their place are "BMW Individual" threshold plates, which unsurprisingly are much more….well, individual and in keeping with the etymology of the car's build. The wheels, while not my favorite design, also stand apart from the usual running stock. The 640i "makes due" with only 315 horsepower, and consequently the lower entry price is reflected in a slightly lower residual value, but only just – with half the miles of the 650i listed above, the asking price is only $2,000 less. But in many ways, it's the more attractive of the two packages to me.
-Carter