Warning!
This post is in our archives. Links in this post have been updated to point to similar cars available to bid on eBay.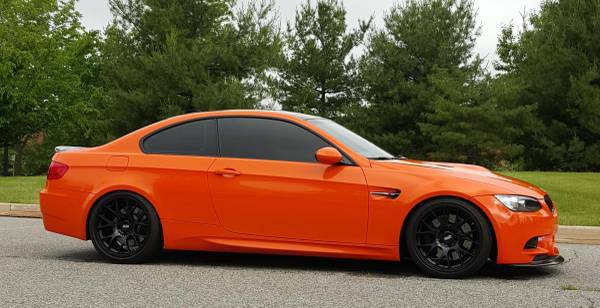 While the twin Individual Gran Coupes from this morning were certainly a good start, if I were seriously contemplating special ordering a car and paying extra for it, it would probably be a full-fledged M model. BMW's obviously made a habit of offering limited-run M models, and it seems – generally – that those models plus the regular run of options resulted in less people turning towards BMW Individual to spec out their cars. But thankfully, some did – and we end up with some pretty cool color combinations, such as the Java Green hued 2013 I looked at last year.
One of my biggest gripes with some special editions is that they don't seem to be particularly special at all; generally, just a different than normal color combination. All of the manufacturers are guilty of this, not just BMW; but the Lime Rock Park Edition is one that really makes me cross. I'm not even sure why; it is, indeed, a special car – a fully loaded Competition Package car, limited to 200 examples in Fire Orange, with a unique exhaust and a track map indicating the etymology of the name. It was also the end of the legendary 2-door M3 (for now). But since you could special order Fire Orange from BMW's Individual department and have, theoretically, a 1 of 1 example for about the same money, I just was never sure why the Lime Rock Park Edition was so special. One thing is for certain, though – the color stands out on this exceptional package and if you were clever, you beat BMW to the market: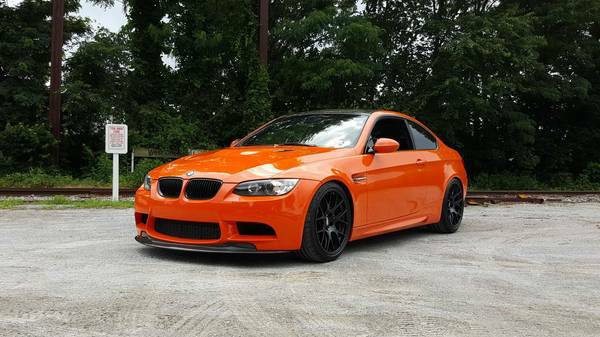 Year: 2011
Model: M3
Engine: 4.0 liter V8
Transmission: 6-speed manual
Mileage: 31,000 mi
Price: $50,000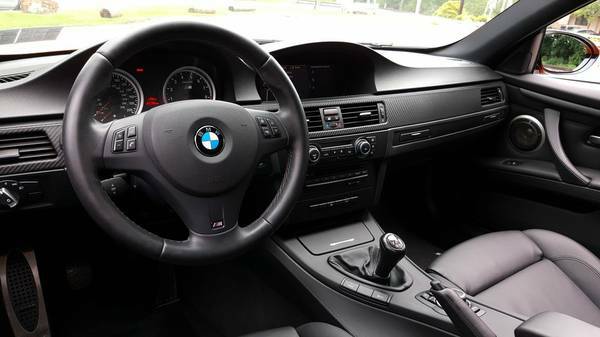 Hi guys,

This is honestly just a feeler, but I'm contemplating selling my M3.

Specs
2011.75 BMW M3 Coupe
Individual Fire Orange / Black Leather
31k Miles
6 Speed Manual Transmission
Carbon Fiber Roof
Premium Sound
No ZCP

Mods
Euro Front Bumper
Gloss Black Front Grille
Gloss Black Hood Vents
Gloss Black Side Gills
Gloss Black M3 Trunk Emblem
ModeCarbon GTS V1 Carbon Fiber (1×1) Front Lip
ModeCarbon Carbon Fiber (1×1) Performance Spoiler
19″ BBS CH-Rs
Eisenmann Race Exhaust
BC Racing ER Coilovers

I'm looking for $50k as both the exterior and interior are in fantastic condition. I would consider the interior mint (i don't use "mint" lightly). I get "thumbs up" whenever I drive it, but have only put 4k miles on the car since I bought it last year. Reason for sale…I really don't drive it enough and someone else should enjoy it. Also, I recently got married and we're looking to move into a larger house and have kids (which then comes a larger car). Please email me with any questions or concerns.

Thanks,
Mike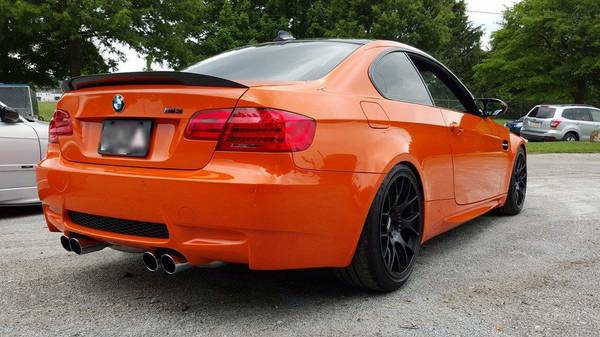 The obvious difference here from the LRPE is the lack of the ZCP Competition package, but this is still a pretty neat car. If looks are your thing, few would be able to tell it at a distance from the real-deal, and the carbon add-ons by the seller mimic many of the pieces BMW put on the special model. Even the BBS CH-Rs, dressed in black, look like the ZCP gloss-black option wheels. Miles are fairly low but not exceptionally so, but the big let down here to me is that the seller could have specified something more exotic than the black interior to really set this Individual apart. Still, they were a few years ahead of BMW's own LRPE, which is neat in some ways. You'll also find that, as with the 1M, the limited run LRPEs are demanding a premium over standard M3s; this example is offered at a $28,000 discount over some of the admittedly lower mile LRPE M3s on offer now. Does that mean it's a steal? I wouldn't go that far; quite the opposite, in fact. First off, there are a plethora of 2011s on eBay with similar or less mileage for $10,000 – $15,000 less than the asking price of this car. There are things that annoy me about the listing, too – lack of detailed photos and that I absolutely hate "feeler" posts, but mostly the "2011.75" model designation. I get there are mid-year updates, notably the addition of the combox to help stream music, but really? Why not just list the month and day it was made, then, so you could have one of only X 2011.6.21 M3s made. But the big problem has to be the price; if you want a ZCP equipped, very low mileage M3 you could get one for less than this asking price. And really if you wanted a collectable long-term investment, the LRPE makes more sense even though it costs more. For argument's sake, you're paying a $12,500 premium for the color here – and that's four times what it would have run you originally to buy. It's neat, but not that neat, and I think the seller is missing the map in more than one way here.
-Carter