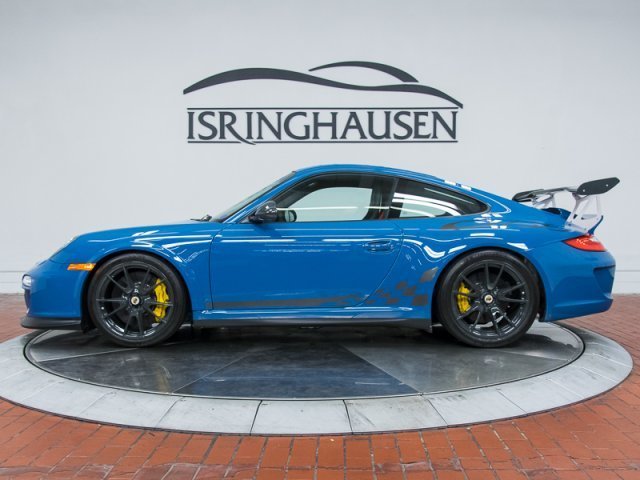 Vintage Porsche colors on modern Porsche models always attract my notice. That's especially true with colors that Porsche only used for a short period of time, though I must admit in many cases while the color itself no longer was used other choices are so close to that original color that it's pretty much still present in the lineup. That's more or less the case we have here with this paint-to-sample Oslo Blue 2011 Porsche 911 GT3 RS, located in Illinois, with 2,339 miles on it.
Oslo Blue is a color I love to see on the 356 and for me is one in a large number of really nice non-metallic blues Porsche has produced. If you scroll through those blues you'll find quite a few that were similar. It's not one of the pastels, but still brings with it plenty of brightness and in a nice rich deep blue. As an option on the GT3 RS it makes a wonderful choice.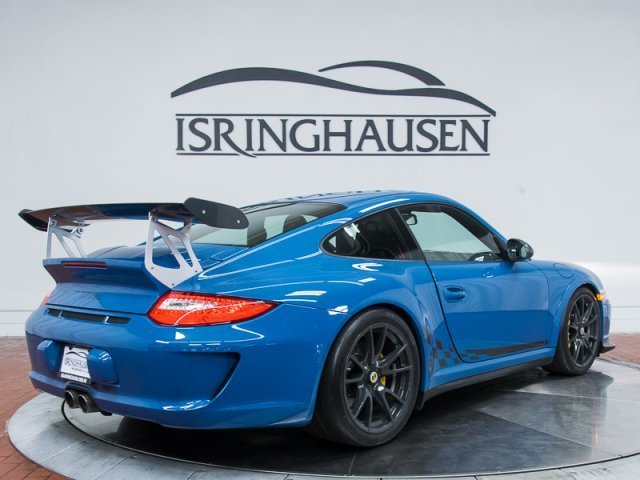 Year: 2011
Model: 911 GT3 RS
Engine: 3.8 liter flat-6
Transmission: 6-speed manual
Mileage: 2,339 mi
Price: $309,900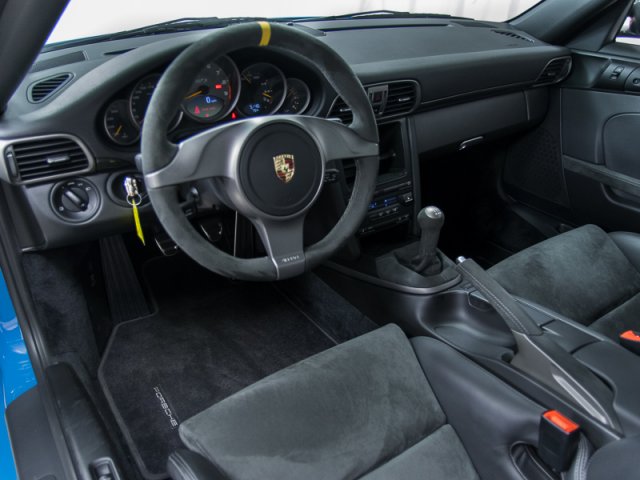 Type: Used
Year: 2011
Model: 911
Trim: GT3 RS
Body: 2 Door Coupe
Engine cylinders: 6
Engine displacement: 3.8L
Transmission: Manual
Exterior color: Oslo Blue Paint to Sample
Interior color: Black
Options: Air Conditioning Delete,Lightweight headlights,Porsche Ceramic Composite Brakes (PCCB): carbon fiber reinforced ceramic brake discs internally ventilated/cross-drilled brake calipers painted yellow,Deletion of Audio System,DZL Customization Package
Description: This 2011 GT3 RS in Paint to Sample Oslo Blue is truly one of a kind being the only 2010/2011 GT3 RS that was painted in this stunning color. Oslo Blue resembles Voodoo Blue in most lighting situations, but it is slightly darker and more understated. In addition to this extremely rare paint the car was factory optioned with the very rarely seen DZL option package which includes deviated graphics, wheels, mirrors, GT3 RS logo and wing tips in Slate Grey as opposed to the two standard options found on the configurator, white gold or guards red. To make the vehicle even more unique it was configured without road car creature comforts with radio delete, AC delete, lightweight bucket seats and PCCB ceramic brakes. This special RS is a raw and one of a kind paint to sample color/graphic vehicle that simply cannot be replicated. It could not have been ordered more perfectly for the collector as Porsche's street legal track focused machine. At 1,550 miles the engine was replaced under the original 4-year/50,000 mile warranty by Porsche and has zero over-revs in all six ranges. We are very lucky to be able to offer this 1 of 1 example that cannot be duplicated. To learn more about this special example, please contact a Porsche sales specialist at 877-362-9715.
Stock: 783459A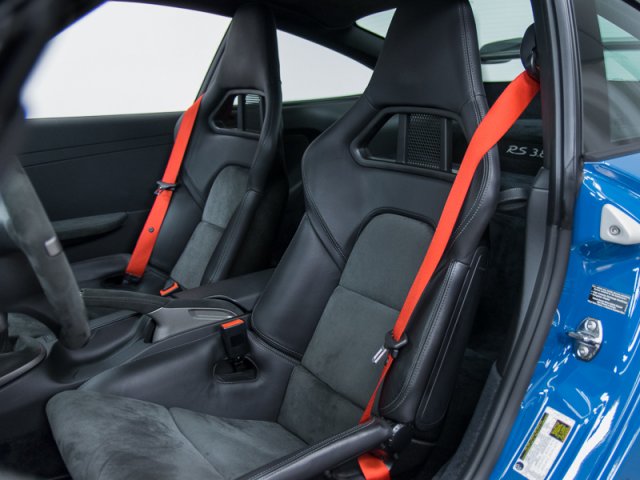 The unique qualities of this GT3 RS are not just restricted to its paint-to-sample exterior, which is said to be the only one produced. It's also gone a more lightweight route by having both the A/C and radio deleted. Add in bucket seats and PCCB and you get an even more track-focused example of an already focused and minimal 911. Further alterations were a Slate Grey graphics package in lieu of the standard red or white. All together you quite literally will not find another GT3 RS like this one. It looks phenomenal.
The seller, of course, recognizes these qualities and the price is very high. It's not quite GT3 RS 4.0 territory, but of the 3.8-liter models this might be the highest price I have seen. With good reason, I'll admit. There's an interesting note at the end of the ad. The original engine was replaced by Porsche after just 1,550 miles. There's no statement regarding why, but I am curious what exactly that will mean for this 911's value. It clearly has collector potential and clearly is a great example of a great car. I would definitely like to know more.
-Rob