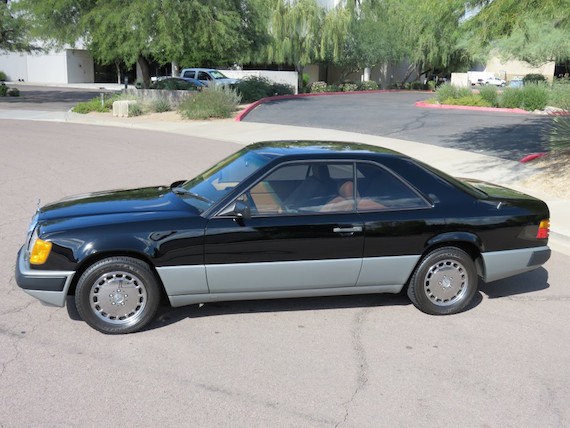 When the W124 debuted in the mid 1980s, it was pretty much business as usual for Mercedes-Benz. First, the sedan made its debut, followed by an estate variant and a pretty pillarless coupe. Then, in the early 1990s, Mercedes revived an old idea and brought back the four place cabriolet. We would get our hands on this drop top W124 in 1993. It didn't come cheap, at the cost of around $80,000. Then again, compared to an SL, two extra people could come along for the ride and enjoy open air Mercedes motoring.
We'll take a look at a pair of two-door W124s today, starting off with this 1993 300CE Cabriolet for sale in Virginia.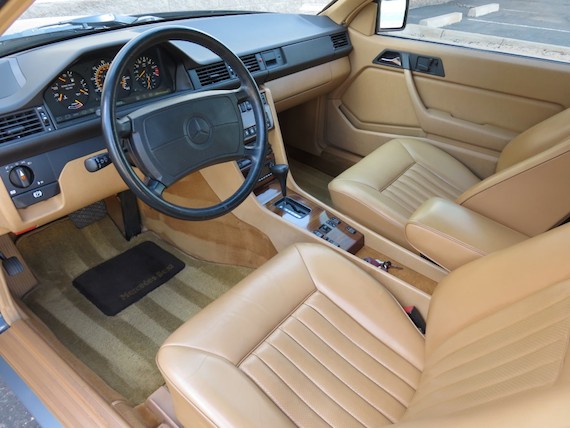 Year: 1988
Model: 300CE
Engine: 3.0 liter inline-6
Transmission: 4-speed automatic
Mileage: 61,260 mi
Price: $12,900 Buy It Now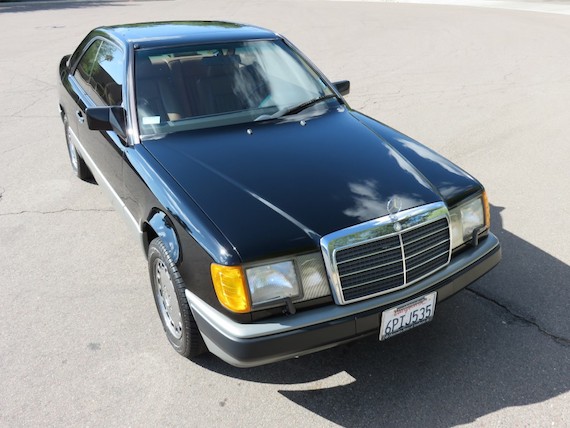 Gorgeous 1 Owner, Unmolested, Southern California MB!

Canyon State Classics brings to market a super low mileage 1988 Mercedes Benz 300CE. This car was bought brand new on 3-11-88 at Hoehn Motors Mercedes by its original and sole owner, as a present to his wife. They owned and maintained it until just a few months ago when we purchased it from his estate. This is a 1 owner life long Southern California Mercedes.

This is one of the last true examples of Mercedes' dependable and comfortable E class coupes. This one has been preserved in it's beautiful original Schwartz Black paint. The interior is no compromise as the crisp and clean palomino color scheme sets off this low mileage classic. This rare example has only 61,000 miles and always owned by older drivers who babied it! Don't miss your chance to own it for a fraction of what has been invested.. BID NOW!!

The following is a list of options as this 300E is currently equipped:

– 3.0L 6-Cyl.

– 4 Speed Automatic Transmission

– 4 Wheel Disc Brakes

– 15″ Chrome Wheels w/ Newer Bridgestone Sport Radials

– Auto Climate Control

– Cruise Control

– Palomino Leather Interior

– Auxiliary Satellite Radio

– Power Seats

– Telescoping Steering

– Power windows

– Power mirrors

– Power Locks

– Etc….

The car is finished in beautiful Schwartz Black and is gorgeous and was just fully buffed and hand waxed. The body on the car is laser straight, and does not have even a single door ding. This Benz has always been garage kept and pampered its entire life and really shows. Even the door jams and under hood areas show evidence of a high level of care and maintenance. The car is 100% certified to be ALL original paint and has always been garage pampered. The car is riding on 15″ chrome wheels,which set off this car extremely well. They are wrapped in newer Bridgestone Sport tires. The car handles extremely well with this tire setup without sacrificing comfort level.

The beautiful palomino leather interior and is all original and looks like new. The car has all of its complete set of tools, jack, and keys. Everything works in the car.. lights, gauges, radio, seats, windows, locks, a/c blows ice cold, etc. The car will also include all of its original books, quick reference guides, and service history. It also has the original full size spare and tire. The car also has an aftermarket XM Satellite radio installed, but has been done so very cleanly and can be easily removed with no trace.

Mechanically, this Benz is in perfect condition and runs and drives great. It has very healthy and very quick 3.0L. These Mercedes engines are built with an extreme level of precision and quality. The car has a very strong automatic transmission that shifts perfect. The motor puts out 178hp and is plenty to move this nimble E Class around. This car is very clean under the hood and really shows how its previous owner took excellent care of it. The previous owner of this car obsessed maintaining this 300CE. We just had the car into our Mercedes tech here in Scottsdale and he did a full tune up, new plugs, oil change, motor mounts and gave the car a clean bill of health. Also noted that the radiator, water pump, and alternator were recently replaced.

This car is ready to go! The car is in excellent condition inside and out. The exterior of this E Class is stunning in Black with Palomino interior and is definitely the most desired color combination for the 300CE Mercedes. This 300CE and will make an excellent driver or collector?s item, and with these super low miles..you can?t go wrong! This car is also CARFAX certified!

If you have any additional questions please call Jon at 480-703-2337. The car is located in beautiful sunny Scottsdale, AZ. Please email or call with any questions and I welcome international bidders! I can also help with shipping quotes and arrangements.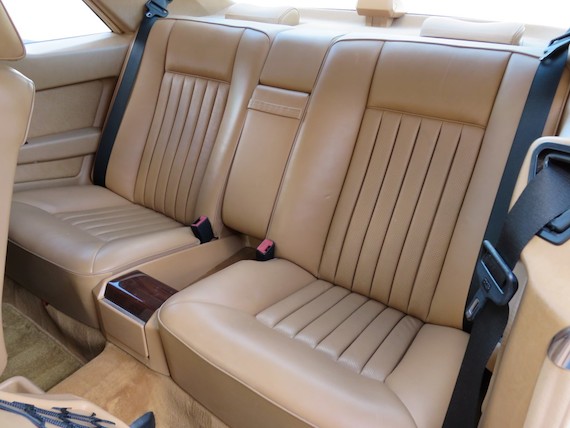 Towards the end of W124 production, the Coupe was not a common E-class. For 1994 and 1995, less than 2,000 examples were produced for each model year. Even more uncommon would be its drop top sibling, which appeared in 1993. This first year example of the W124 Cabriolet for sale in Virginia is not one of the ultra low mileage examples we see regularly, but one that has been used and cared for.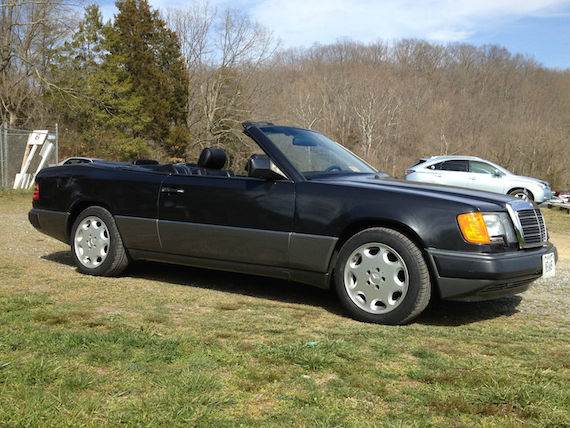 Year: 1993
Model: 300CE Cabriolet
Engine: 3.2 liter inline-6
Transmission: 4-speed automatic
Mileage: 110,488 mi
Price: Reserve auction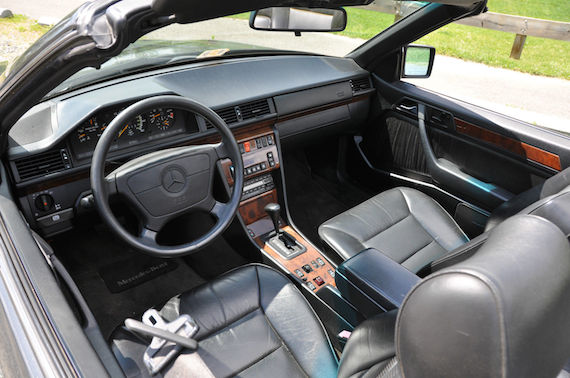 1993 Mercedes-Benz 300CE Convertible – VIN WDBEA66E3PB848296

For your consideration is my clean 1993 124-chassis Mercedes-Benz 300CE Convertible – the last of the handbuilt Mercedes 4-seat cabriolets – which sold for over $80,000 new in 1993.

Wearing just over 110,000 miles (just over 5K/year average), this car has been our family weekend cruiser for the past three years. As a freelance automotive journalist, I'm now on to my next project and am thinning the herd. I have 2 factory keys, original books and manuals and some service records. This is the more unusual pre-facelift 124 cabrio and was a one-year-only car in 1993 with the earlier styling and the later DOHC 3.2 liter engine.

The key major service item on these cars is the wiring harness, which as been replaced on this car. The car does not show any sign of fluid leaks, and the check engine light cycles properly but goes off as it should after the car is started. The oil was changed about 500 miles ago, at which time the battery was also replaced. The underhood insulation is tired and falling down, and a new pad conveys with the car (just haven't gotten around to installing it!).

On the inside, this car is in very nice original condition. The black feintuft velour carpet is in excellent condition, and is covered with factory carpet floormats. The power leather seats and dash are crack and rip free showing only the slightest patina of age and there are a few spots where seat seams have separated slightly. The burl wood trim is very nice. There are no foul odors – there doesn't appear to have ever been any smoking or leaks inside. The air conditioning, power windows, heated seats, convertible top, and power locks all work properly, and the car is current on the stringent Virginia emissions and safety inspections. The factory radio turns on and off properly, and the power antenna goes up and down as it should. There is also a CD changer located in the trunk.

Outside, the car is remarkably straight save for a few small parking lot dings. I have not seen any sign of rust anywhere on the car. The Pearl Black paint carries a nice shine, and the doors shut with the appropriate thunk. All of the lenses are in good, clear condition. The alloy wheels are original-style but larger 16" versions wearing brand-new Continental DWS all-season performance tires. There is a spare tire in the trunk along with a complete tool kit and jack. The convertible top is in fine serviceable condition, but is not new and shows some sign of age, although we have never experienced and leaks of note. There is a small patch in the vinyl trim on the power top cover. The interior headliner is in very nice condition.

The motor starts easily and settles to a very smooth idle. The power steering functions properly, and the 4-speed automatic transmission shifts smoothly, and the shifter bushings replaced recently. There are no odd noises or whines from the driveline. The brakes are in good condition and do not pull. The car pulls like a freight train and achieves super-legal speeds in the blink of an eye.

Please keep in mind that this is not a new vehicle and that it is sold as-is, where-is with no warrantees implied, stated, or otherwise intended. You are bidding to own this vehicle, not to come and look at it after the auction has ended. I encourage bidders to come and see the car if possible. You are welcome to have the car inspected at your expense prior to the conclusion of the auction. Remember, my descriptions are based on my knowledge of the car. I cannot say that it is without flaws. I don't care what classic car you are looking at, it will have flaws. I can assure you that this is a superb car that you can cherish for years to come.

A non-refundable deposit of $500 must be sent by PayPal within 24 hours of the conclusion of the auction. The balance must be paid within seven days of the end of the auction or upon pick-up of the car, whichever is earlier. The balance of the purchase price may NOT be made by PayPal. I will accept cash, bank wire transfer, or cashier's check only. Purchaser is responsible for pick-up or all costs related to the shipping of the car.

PLEASE BE ABSOLUTELY CERTAIN THAT YOU ARE SERIOUS ABOUT YOUR BID. IF YOU HAVE ZERO OR NEGATIVE FEEDBACK, YOU MUST CONTACT ME THROUGH EBAY PRIOR TO BIDDING. I WILL CANCEL YOUR BID IF YOU DO NOT. DO NOT BID ON THE CAR UNLESS YOU ARE PREPARED TO PURCHASE IT AS YOU ARE ENTERING INTO A BINDING AGREEMENT. IF YOU FAIL TO COME AND SEE THE CAR OR HAVE IT INSPECTED BY YOUR AGENT, I WILL NOT ENTERTAIN YOU CANCELLING THE SALE FOR ANY REASON ONCE THE AUCTION HAS ENDED.

I RESERVE THE RIGHT TO END THIS AUCTION EARLY. I WILL ENTERTAIN SERIOUS OFFERS TO END THE AUCTION EARLY. I WILL ALSO ASSIST PURCHASER IN ARRANGING SHIPPING TO ANY PLACE IN THE WORLD AT THE PURCHASER'S EXPENSE.

Thank you for looking!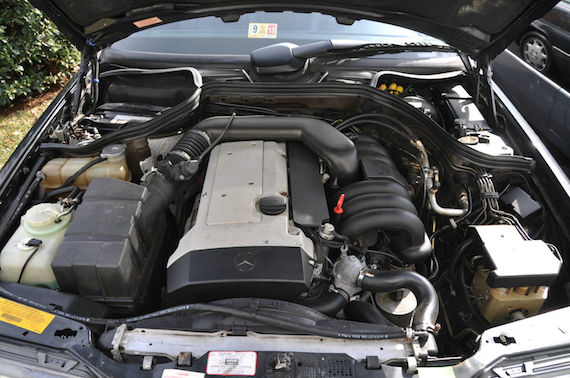 The 1993 model year would be the only year we would get the pre-facelift W124 in Cabriolet form, so it's a bit special versus the later models. I prefer the look of the later model, but this 1993 example certainly looks good as it sits. If I had to choose between the two here, I probably would go with the coupe, simply because you can get a lot of the open air enjoyment with the pillarless design and sunroof. Then again, I'm one of those people that has to deal with cooler winters. Which W124 would you choose?
-Paul