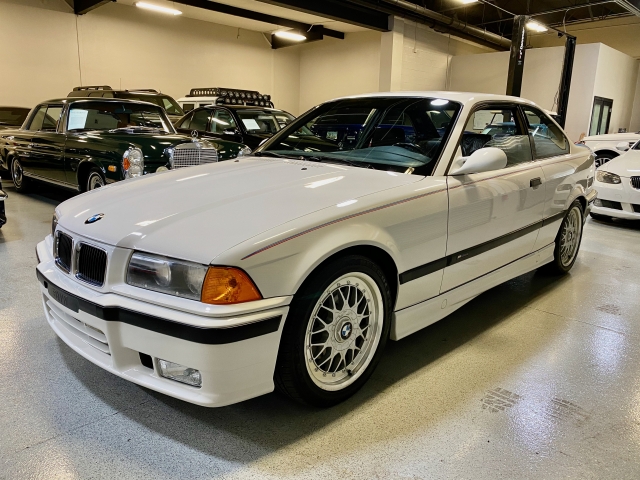 Just prior to the launch of the E36 M3 for North America, Canada got a special run of European-specification M3s. However, they weren't alone in terms of custom E36s available. 1994 also saw the United States get a pretty unique, and quite limited, E36 model.
It was the 1994 325is M-Design. Fans call it the M-Tech, and it was very similar to the Clubsport Coupe that was available in Europe.
While underneath this was basically a stock 325, it was still pretty special. It included nearly all the items that the M3 would have outside of the motor and brakes. You got the M-Tech body kit, mirrors, steering wheel and shift knob, along with the Anthracite M cloth (0506). Many (if not all) were painted Germany's racing color – Alpine White. Additionally, the M-Design included a cool set of 17″ BBS 2-piece wheels. They were referred to as Style 29s, but were actually a multi-piece version of the forged BBS RG wheel. A limited run of only 150 (according to fans, BMW isn't sure) were produced by BMW Individual with a $4,700 premium on the base price of the 325iS. What does that translate to today?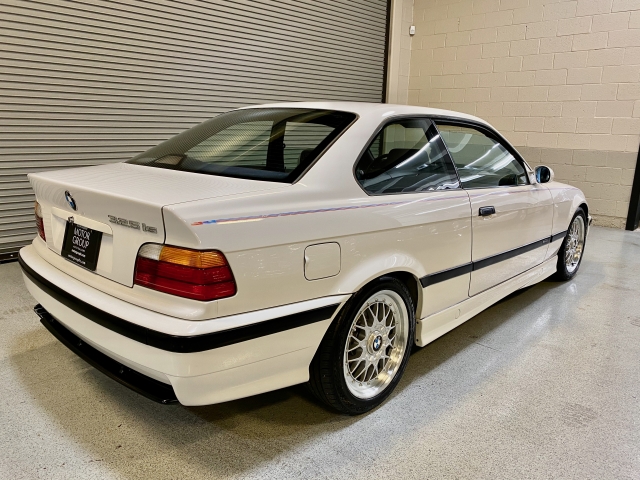 Year: 1994
Model: 325iS M-Design
VIN: WBABF3322REF45395
Engine: 2.5 liter inline-6
Transmission: 5-speed manual
Mileage: 148,000 mi
Location: Scottsdale, Arizona
Price: $15,995 Buy It Now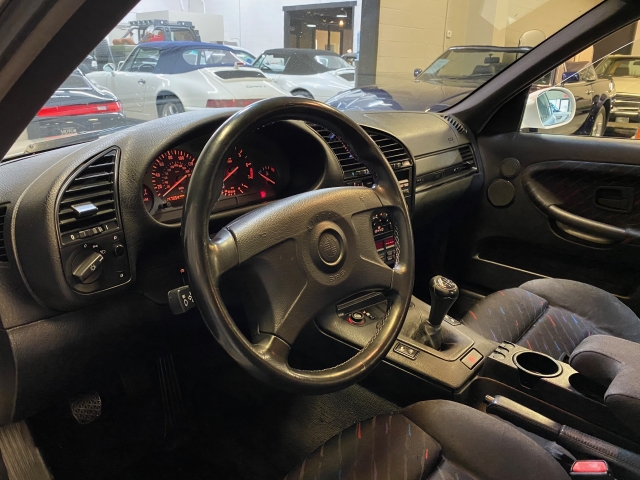 We can help arrange shipping to your door, Nationwide…

Truly a rare find in a young classic, with only 150 cars produced for the American market, the 1994 BMW 325is E36 M Technic was the sneak peek prior to production of the M3 replacement that arrived in 1995.

The M-Design package was created through BMW AG's Individual program. It was a sport package that made the cars so-fitted into virtual M3 clones, save for retaining the standard track and a few regular-duty suspension components, and keeping the stock 325 engine. While the regular 325is wore 15 x 7-inch cast alloy wheels, the M-Design used 17 x 7.5-inch, two-piece forged BBS alloys with 235/40-17 tires; its standard suspension was replaced with a re-engineered M Technic suspension with firmer shocks and thicker anti-roll bars front and rear, and a limited-slip differential was a required option. Accenting the body were the European M3's distinctive aerodynamic twin-stalk side-view mirrors, its side skirts, rear valance and the deep air dam–with three horizontal slats–of the Luxury Package M3. Also included were "BMW Motorsport"-emblazoned door handles, M Technic badges on the body side trim, manually adjusted, heated front sport seats upholstered in a combination of black "Hurricane" cloth (incorporating the M division's trademark blue/purple/magenta colors) and Amaretta faux suede, a tri-color-stitched steering wheel, M shift knob, Anthracite-colored headliner and chrome exhaust tips.

This car, a remarkable, original example that came to us from same Arizona owner of over 25 years, always well maintained , and cared for. Extremely well preserved Arizona car it's entire life. No rust, no corrosion. Paint, Body and Interior all extremely nice for a car of this age. All the provenance, Huge service folder, Books, Pouch, Original Window Sticker, Tools still intact in factory tool kit. Very low production, truly a Rare Young Classic that can be admired, driven and enjoyed !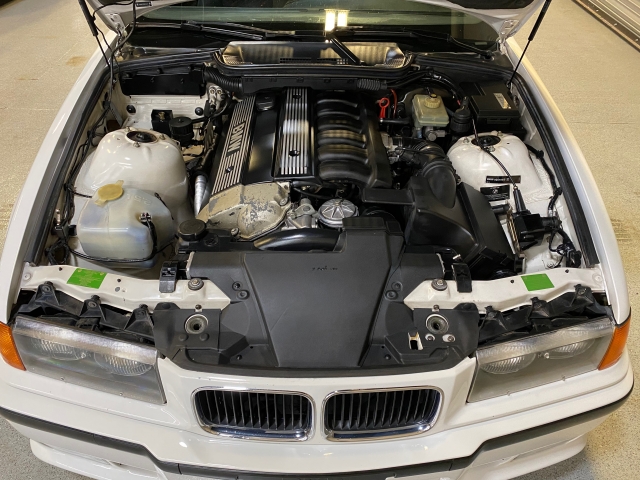 The options on this car are what make it, along with the rarity. The M-Design package, like the ZHP package on the E46, has a pretty strong fan base, and a fair amount of these cars appear well cared for on the fora. Even with nearly 148,000 miles on the clock, this one looks very tidy overall outside of some expected stone chips and a sad-looking shift knob. The seller's ad copy is more or less directly taken from Hemming's 2010 article on the model, but that's neither here nor there.
There are two ways to look at this car. Could you have an M3 for the same amount? Yes, you could. Is this car rare and desirable? Yes, it is. Which is the one for you varies by priorities. If you just want to stand apart and still have a nice driving E36, this isn't a bad solution. The M3 is probably a better choice for performance with the look, but are less rare. Like the ZHP, there's a fringe community that's willing to spend M3 money to have what was a diet M3. While it's probably not something I'd do, I can appreciate that with rarity and a limited run model comes a premium.
-Carter