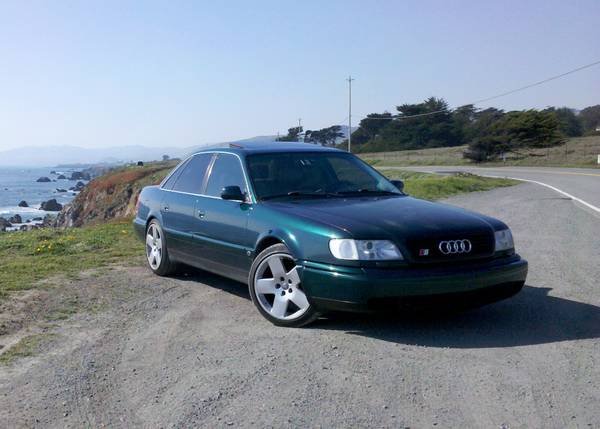 The undisputed winner of last week's S4 showdown was the original S4 powered by the legendary 2.2 20V turbo. While prices of pristine examples have been steadily climbing and we've featured a few nice ones recently, there are still some higher-mile ones in nice condition which can be had for less than the down payment on some new cars. Today I'll take a look at two such examples – higher miles with nice modifications and low prices. Let's start with the Emerald Green example::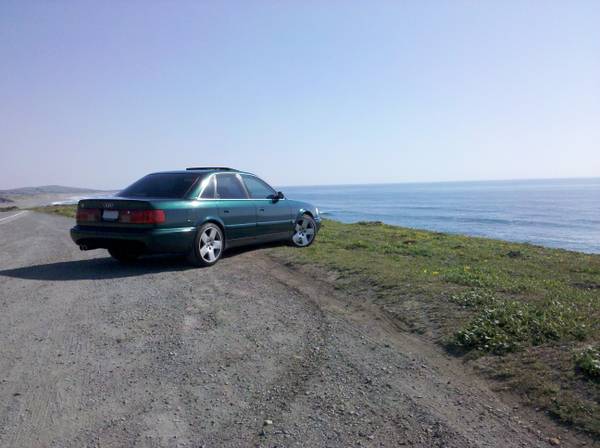 Year: 1995.5
Model: S6
Engine: 2.2 liter tubocharged inline-5
Transmission: 5-speed manual
Mileage: 270,000 mi
Price: $4,950 Buy It Now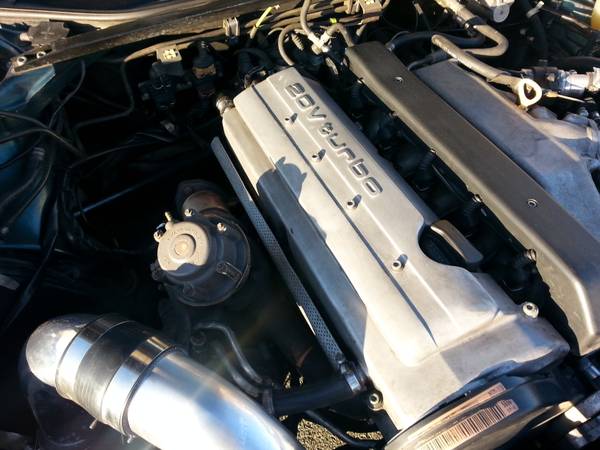 This rare '95.5 UrS6 uber-sedan has been meticulously maintained throughout it's life with full maintenance records dating back to the original owner. I am the fourth owner, and the first three maintained it at 2Bennett Audimotive (2B); the third owner being Andrew Bennett himself. I have maintained it myself during my ownership, and took record of everything. This car is luxurious, fast, versatile, and efficient for it's capabilities. You will not be disappointed.

It currently has 270k miles, but any "Ur-S" guru will tell you that this is largely irrelevant with meticulous documented maintenance. The chassis is tight, and there are minimal squeaks and rattles inside. It is far quieter than most cars with half as much mileage. Audi built them to last.

-Driveline-
This car was built in November of '95, so it is considered a '95.5. The 5 speed manual transmission shifts nicely, and the uprated first gear does not whine. The stock clutch engages incredibly smoothly. The Quattro all-wheel-drive provides unparalleled grip, and rain on the street can be largely ignored. The transmission has poly reinforced stock mounts, and the rear diff mount is polyurethane.

-Engine-
The legendary rally-bred 2.2 liter 20 valve turbocharged 5 cylinder (AAN) is a real gem. They are basically bulletproof, and the main reason I bought the car. The stock K24 turbo has less than 1mm of shaft play, so it will not need a rebuild any time soon. The oil has been changed at the factory recommended interval of 5000 miles with full synthetic oil, with a proper German filter (no Fram junk here) its entire life. There are no leaks, though it does consume a quart of oil every 2500 miles or so. A 2B chip coupled with a Scorpion cat-back exhaust, Magnaflow muffler, and Bailey Motorsports dump valve produces an estimated 300 or so horsepower. It is not loud, but has a nice mellow burble and swishy turbo sounds that make it fun to rev. When the turbo spools up, the torque is impressive, making passing on the freeway or in the city a breeze. I have also added a boost gauge that fits perfectly with the interior colors.

-Suspension-
2B sport springs, Koni externally adjustable shocks (with lifetime warranty) and 2B caster/camber plates keep it planted in the corners, and has a really sweet stance without a harsh ride. It gets compliments and turns heads regularly.

-Cosmetic-
Changes include grille surround blackout, clear corner lamps (stock amber included), window tint (with lifetime warranty), and stainless steel exhaust tips. The stock projector headlights have been upgraded with 55W 5000K HID bulbs. These were fantastic when I commuted at night. Spare xenon bulbs are included.

-OEM Features-
-Power moonroof
-Climate control
-Dual power front seats with memory
-Front & rear heated seats
-Power mirrors with parking assist
-Car phone!
-Bose Delta CC stereo
-Collapsible ski boot (allows skis to be put in the trunk)
-Front and rear fog lamps
-One-touch auto up and down power windows
-Securit (OEM) alarm
-Headlight washers

-Issues-
The Bose stereo sounds great, but the tape deck quit working, and the 6 disc changer in the trunk doesn't seem to be getting power. The radio works fine though. The window washer feed line cracked, and currently does not work. I will be troubleshooting these until the vehicle is sold, so they may be working again soon.

The interior is in very good shape, though the driver's seat is moderately worn. It has wear on the left bolsters, and has been patched with similar color tape. You don't feel or see it when driving.

The only other flaw is the paint on the hood is faded and thin. The rest of the paint is pretty good, with small scratches typical of an 18 year old car. It shines up nicely.

-Extras-
The vehicle is pictured with forged 18″ Audi A8L wheels, but it will come with the stock 16″ Avus wheels as well. Also included is the cold air intake pictured, but it was removed to pass smog. I can knock off a few hundred bucks if you don't want the 18″ wheels or the cold air intake.

This is definitely a driver's car. I never buy cars that don't excite me. So if you just want a point A to point B car, look elsewhere. I just did a big tune-up on Saturday 9/28 (documented) and had it smogged for new tags. It passed with flying colors, barely registering on the sniffer, and the new tags should be in the mail. I also have the pink slip in hand, ready to transfer to a new enthusiastic owner.

Email, call, or text Sean 707-328-zero-one-39 to schedule an appointment or if you have questions. Please, no joy rides and serious offers will be considered. No trades please. Interior pictures on the way soon.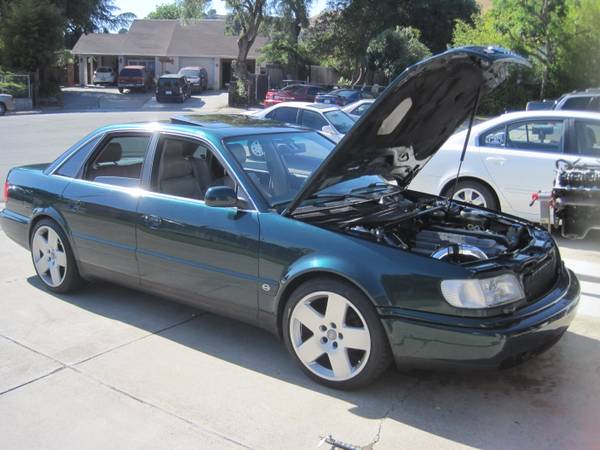 In general, I'd have to agree that the mileage is fairly irrelevant on these cars provided good mechanical work was undertaken, and the Bennetts are some of the best at that. This particular car has some great forged A8 wheels on it, but also comes with the original Avus wheels as a bonus. Green isnt' the most aggressive looking color on these cars, but is period correct (and popular). The downside? Well, often the clearcoat on the green fails as this car's is starting to. Despite this, at below $5,000 asking price it's a lot of car for the money even with the miles. Can the same be said for the even higher mile Silver 1996?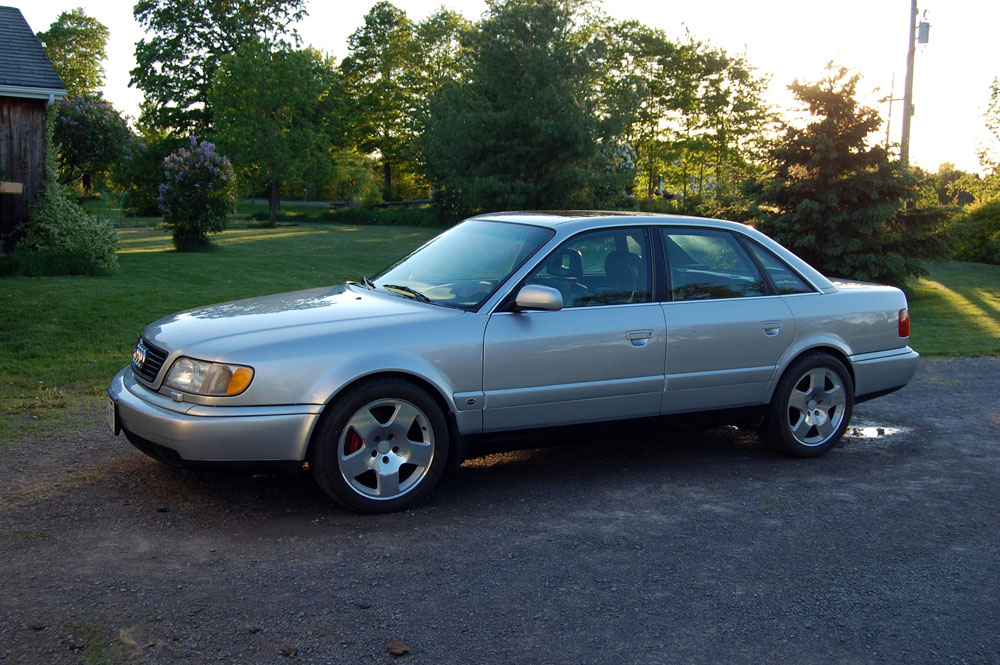 Year: 1996
Model: S6
Engine: 2.2 liter turbocharged inline-5
Transmission: 5-speed manual
Mileage: 325,000 mi
Price: $5,300 Buy It Now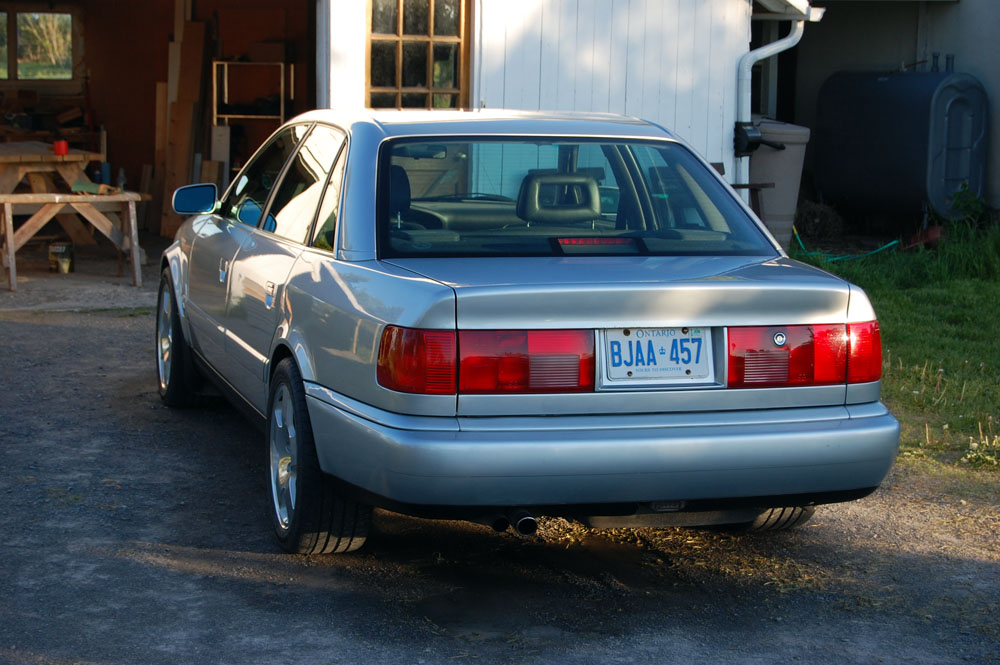 this is the last time i will be posting the car for sale – other life priorities demand the capital from the car sale.

the car is located in picton, ontario, canada. due to US emissions regulations the car can not be registered in most US states; however, some can – michigan, texas, washington, new york are some that legally-registered '96 and '97 models reside in.

i have had this car for 3.75 years now and bought it completely stock (except for a boost gauge). it was very well-kept and i have done that and beyond in my ownership. it currently has 525K km's, or 325K miles. anyone who knows these cars (and this one specifically) will understand what this means. it runs and drives like it has 100K. you will not be disappointed!

full disclosure below, and an extensive excel spreadsheet of maintenance logs are included as well. link at the bottom to a lot more pics.

asking $5300. you simply cannot build this car for anywhere near this number.

Specifications

History
– 3/96 build; 1 of only ~106 S6's to be brought into Canada for 1996 (none for the US)
– 2 previous owners; 2nd owner was an Audi tech, trained on the UrS cars in 1992 and serviced the car for the original owner – so he was the only person to turn a wrench on the car until i bought it (1/2010)

Engine
– MTM 1+ chipset
– 7A exhaust cam
– ARP head studs
– Recently cleaned and balanced stock injectors
– STR RS2 replica exhaust manifold
– Stromung gen4 downpipe
– 3″ v-banded magnaflow 596cfm metal substrate high-flow cat
– 3″-to-dual-2.25″ magnaflow Y-pipe, mated to stock rear section
– EFIexpress LS2 coilpack kit
– Bosch FR5DTC plugs
– Bosch Motorsport 110 DV
– Samco silicone boost hoses
– All-metal UrS4 intercooler
– Metal UrS4 intercooler cross-over pipe
– Recent 14.5v voltage regulator
– Recent head gasket, ARP head studs, valve seals, valve cover gasket, exhaust manifold gasket, intake manifold gasket, oil pan gaskets, and timing belt job (10K km ago)

Drivetrain
– Apikol poly front snub mount
– Apikol poly rear diff crossmember bushings
– Apikol poly rear diff mount
– 034 Motorsport `street' density engine mounts
– 034 Motorsport `street' density trans mounts
– SlaterMounts poly front subframe mounts
– Delrin rear subframe bushings
– V8 Torsen rear diff (only 30K miles on it!!)

Suspension, Wheels and Brakes
– H&R 29828 springs
– Bilstein Sport shocks and struts
– SlaterMounts poly front outer swaybar bushings
– Recent new front LCA inner bushings
– SlaterMounts rear foreward-most trap arm bushings
– Recent new rear inner trap arm bushings (BOGE)
– 1992 UrS4 rear subframe with 17mm swaybar
– SlaterMounts spherical bearing swaybar endlinks
– Porsche 996/Boxster S monobloc front brake calipers (red) with Apikol RS2 brackets, 323x30mm rotors and Pagid RS-421 pads (semi-race pads), braided lines, SpeedBleeders
– OEM rear brakes with Textar pads, SpeedBleeders
– 17×8 ET35 C5 A6 4.2 wheels

Exterior
– Silver
– Recent respray by Andrew Warner (all but roof), which included proper sandblasting of minor rust (several 3mm bubbles and some surface rust behind front mudflaps)
– Recent lower door moldings
– Some rust on trunk lid in license plate light area; clean trunk included with car
– Minor blemish in front bumper below RF grille (details in pics)
– Recent ding in LR door from my son's bike (see pics)
– OEM NOS exhaust tips (one is recently missing – trying to locate another)
– VVME 55w 4300K HID kit (low-beams)
– C5 A6 full-size passenger mirror (new mirror glass in both mirrors)
– Custom Reese hidden hitch (very stealth)

Interior
– Black leather, heated front and rear seats
– Everything works!
– Recently replaced sunroof panel with good unit – no broken tabs!
– 2W dash bulbs
– OEM 6-disc CD changer (added by me, was a pain to source)
– 3.5mm input added with DPDT switch to plug in phone or MP3 player
– Boost gauge
– UrS4 passenger seat (open headrest); original passenger seat had mysterious bolster tear when i bought the car – can be repaired by upholstery shop, and is included with sale)

Misc
– Always warmed up and cooled down properly
– A/C was leaking – found leak at compressor, tightened loose connections. Needs recharge, full o-ring kit and new receiver/dryer included with car regardless (compressor still works)
– Spare parts bin included with sale
– Alignment 5.17.13
– Passed emissions test 5.27.13
– Replaced rear calipers, lines, rotors and pads 7.13.13
– Replaced starter two weeks ago!

please feel free to contact me at peter AT tenecom DOT com for any questions.

thanks for looking!

peter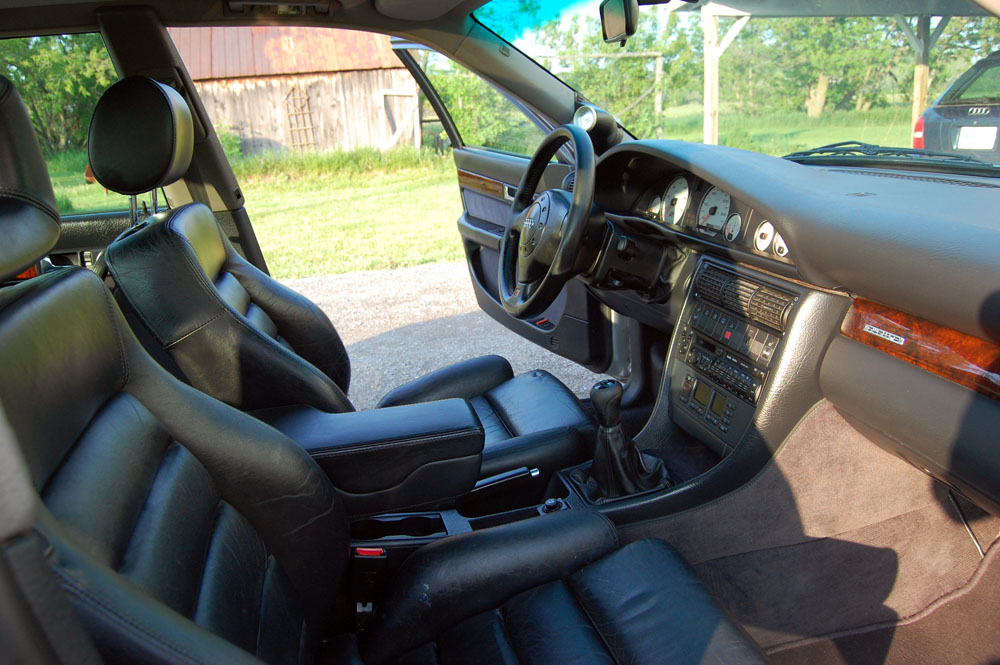 Like the green car, lots of modifications and maintenance, with well placed newer wheels to complete the look. At a few hundred dollars more than the green car, you gain some miles but lose the paint issues as this car has been resprayed. It certainly looks the part and corrects many of the lower fender rust issues and peeling trim these cars experience over time. At $5,000, either one of these cars strike me as good potential deals but I'd take my favorite shade on these – the silver one. Yeah, you'll have to fix some things, but at least you wouldn't be worried about putting too many miles on the clock!
Which one do you think is a better deal?
-Carter