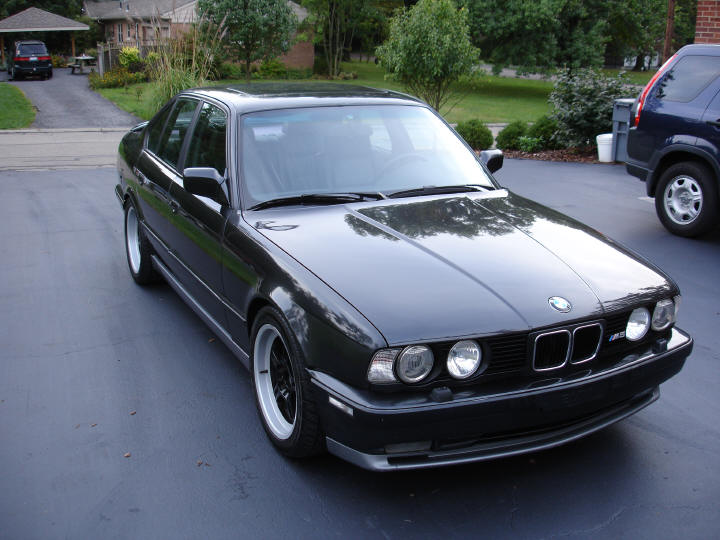 In my post about last week's 2JZ swapped M5 many questioned why you would go through the expense and difficulty of swapping in the Toyota unit, or at least that it was downright sacrilegious to do so. Perhaps I have a looser sense of how to do things the proper way, but I certainly can recognize that the 2JZ unit is capable of higher levels of power than the original S62 V8 was for less money, and that at least makes some sense to me even if I wouldn't do it. When I first came across today's E34 M5, I was initially struck with awe, but as I've sat wondering what to write up about this car, that awe has slowly turned to a bit more confusion. The reason why is fairly straightforward – some enterprising individual has taken a quite nice Euro-market E34 M5 (great start) and swapped in the equally great S70B56 V12 from a 850CSi along with a 6 speed manual transmission. Take a look for yourself at this monster: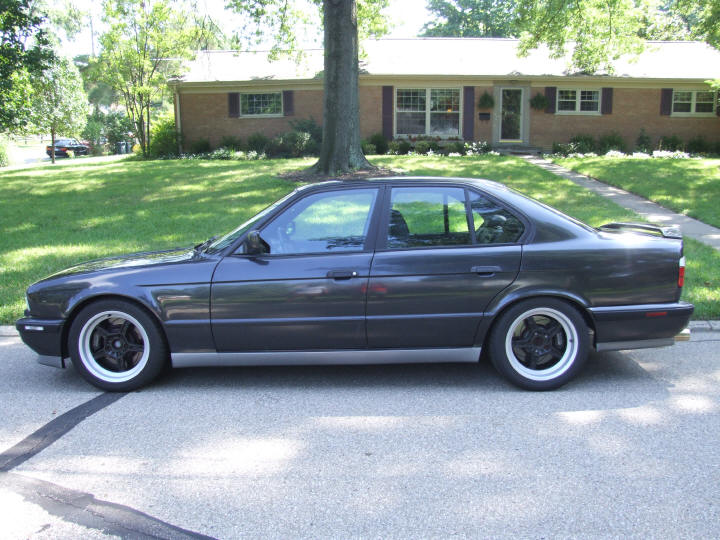 Year: 1993
Model: M5
Engine: 5.6 liter V12
Transmission: 5-speed manual
Mileage: 76,000 mi
Price: $20,000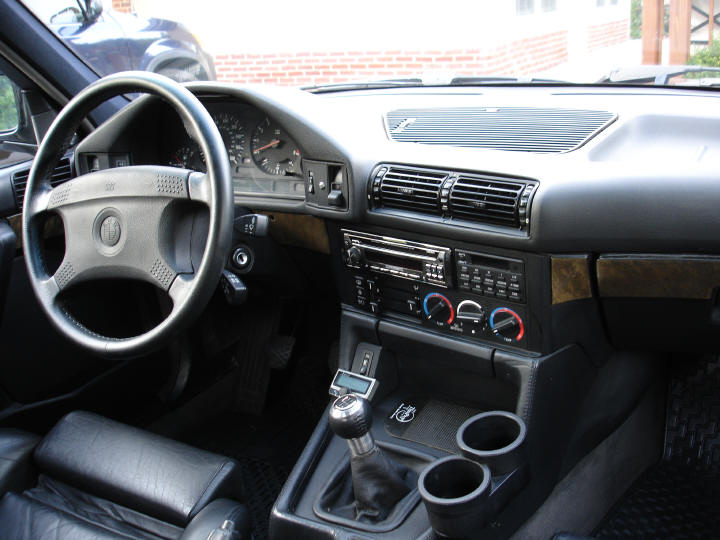 Model: 1993 European M5 chassis
Chassis: WBSHC91090GD63011
Build Date: June 1992
Mileage: 76,000 miles
Colour: Black
Motor: 5.6L 850 CSi engine (S70B56) conversion
Interior: black leather mechanical sports seats, leather stitched center console and door skins
Transmission: new 6 speed manual
Traction Control:
Brakes Front: 2-piece, 355 (14″) rotors UUC 4 piston aluminum calipers
Brakes Rear: vented 328mm (12.9″) rotors
Wheels: 17 x 8 forged system II
Tires: 235-45 and 275-40 Dunlop Sport 5000
Features: front strut bar, HR springs, uprated sway bars, UUC short shifter, Eisenman stainless exhaust, in dash CD
Options: single air bag, ABS, rear deck wing, rear window shades, E code headlights, clear blinkers, Motorsport door handles
Comments: Hand built custom driveline by Brett Anderson from Koala Motorsport, Cleveland OH. Sold and registered as 1993. Self-leveling not removed – still functional. New EDC shocks all 'round. Quaife LSD.
As I said, initially I thought "Holy beep that is awesome!"; seeing that monster V12 in a real M car is sort of like 1995 got all sorts of better. But then I sat on it and thought about it some more, and came away confused. The S38 is a pretty strong motor and this car didn't have many miles when it was yanked from what I can tell, so there's that question. Then, the replacement motor is that awesome 5.6 V12. Well, at least it was awesome in 1995, but my main question comes from the result. That V12 is effectively two inline 6s, meaning you have double of nearly everything in the engine bay. On a 20 year old car, that's not always a good thing – especially those early computers, which seem to have hiccups.
Then there is the second main question when you look at the performance. Sure, the S70 has a healthy bump of torque over the S38, but only 70 horsepower more than even the lowly 3.5 – bump up to the optional 3.8, and those numbers are closer. Then there's the question of availability; it's not like the S70 is a cheap motor to come by, so this was intentionally done at great expense. Further, unlike the all-aluminum M73, the M70-based S70 has a big old iron block, so you're throwing off the balance some. While I have no doubt this car is a blast to drive and looks fantastic, I am left scratching my head a bit. Still, like the Supra-powered E39, I'm happy that someone went through the effort and created what would have been the ultimate handbuilt M-car. And it can all be yours for less than the price of most E39 Ms…
-Carter