Warning!
This post is in our archives. Links in this post may have been updated to point to similar cars available to bid on eBay.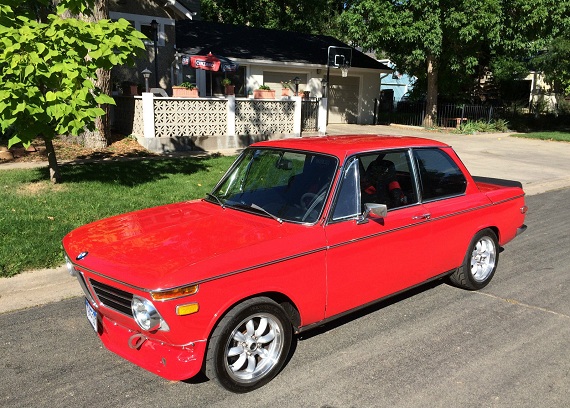 One of the great things about personalizing a car is the variety of ways that it can be carried out. Some people choose to return their car to near original showroom shape while others wildly modify the car with a total lack of regard for originality. The 2002 has traditionally been one of the favorite modification platforms as BMWs go; out of the box, it was blessed with good handling and balance, distinctive looks and it's a car that's easy to work on. Most that are in a condition that need or warrant modifications can be had fairly inexpensively, and the myriad of directions you can take means that possible permutations and combinations of parts rarely leave two looking identical. Today is such a case – two fairly similar platforms that take two very different directions – which is your favorite and why?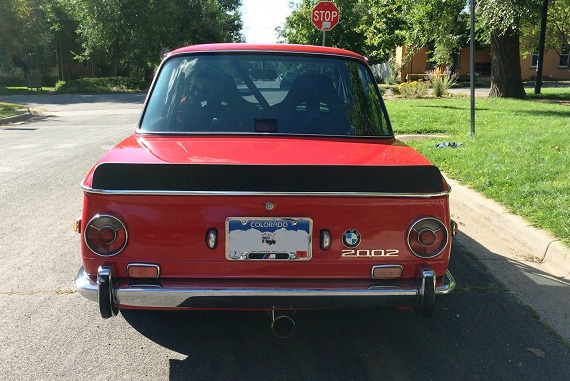 Year: 1970
Model: 2002
Engine: 2.3 liter inline-4
Transmission: 5-speed manual
Mileage: "0" mi (~90,000 miles on engine)
Price: $27,500 Buy It Now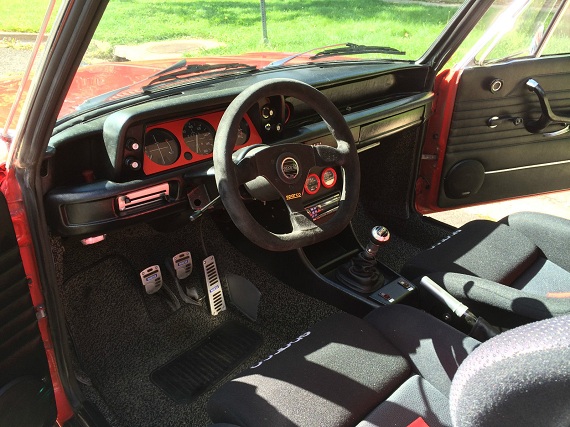 1970 BMW 2002 M2

Coupling the handling and low weight of the 2002 with the high revving S14 power plant from the legendary E30 M3, the "M2″ is the enthusiast's dream car! I have been driving and sorting this car out for the last few months and feel it is a particularly nice example. It is an absolute blast to drive! The car is a 1970 base model 2002 that has been restored and heavily modified to compliment the upgraded power plant. The engine comes from a 1990 E30 M3 with 88k miles on it at the time of the install. It is coupled to a Euro spec, close-ratio 5 speed transmission (dogleg pattern) – a perfect match for the rev happy S14. It has been driven ~600 miles since completion. It handles like a go-kart and is ready for your favorite canyon, car show, track day/autox, or just driving to the coffee shop in style!

Engine and Exhaust:

2.3L S14 from 1990 E30 M3 (88k miles at time of install)

Turner Motorsports Chip

EVO Exhaust Cam Gear

Oil Windage Tray

Remote Oil Filter

Earl's Oil Cooler with Braided Lines

MSD Ignition with Magnecore Wires

Curt Ingraham Custom Radiator and Overflow Tank

Custom 2.5" Full Stainless Steel exhaust with Sebring Resonator and Muffler

VIDEOS:

Cold start, idle, light revs: https://www.youtube.com/watch?v=XEVwk4puVso

Engine bay and exhaust at idle: https://www.youtube.com/watch?v=BNcaDk2NBhU

Transmission and Driveline:

Getrag 245/10 Close Ratio (Dogleg) 5 Speed Transmission

Short Shift Kit

Sachs Heavy Duty Clutch

JB Racing 8 lb. Flywheel

3.90 LSD (25%)

Suspension:

H&R Sport Springs

Bilstein HD Struts and Shocks

Ireland Engineering Front and Rear Swaybars

tii Front Struts

Custom Boxed Rear Trailing Arms

Optima Redtop Battery relocated to trunk (with keyed battery disconnect)

Top End Performance Rear Shock Tower Brace (and Battery Mount)

Mason Engineering Front Strut Tower Bar

All suspension components and sub-frames were removed, refurbished and reinstalled with new Poly bushings throughout.

Brakes:

tii Master Cylinder

Stainless Steel Brake Lines

Wilwood Superlite 4 Piston Calipers (Front)

BMW 320 Vented and Cross Drilled Rotors (Front)

BMW 320 Drums (Rear)

2002 Turbo Wheel Brake Lines (Rear)

Wheels and Tires:

Rota RB 15×7 Rims

Toyo R888 Tires 195/50-15

Ultra-light Titanium Lugnuts

Exterior:

Body was stripped and had a complete re-spray in "Dodge Viper Red"

Tinted windows

Euro red center taillight lenses

Euro flush mounted front turn signals

All lights, turn signals, windshield wipers/washer work perfect and have been refurbished or upgraded where necessary

3rd brake light installed in rear window for safety

European short bumper

BMW OEM 2002 Turbo model rear spoiler

Custom tow hook and front license plate bracket

Front bumper has been removed, but is included with sale (older picture shows it mounted for reference)

Interior:

Rear seat delete

Autopower 5 point Rollbar (bolt-in)

Sparco 'Evo 2' Driver and Passenger seats

Sparco 6 point Harness

Custom mounted Fire Extinguisher

Sparco shift knob and pedals

Custom carpet (including trunk)

Custom center console with body color matched gauges

European instrument cluster (reads km)

E30 M3 Rear View Mirror

New headliner and sun visors

BMW Cup holder

Custom Dogleg Shift Pattern Emblem

2002 Tii Clock with Bezel Color Matched

Sparco L360 steering wheel

ICE:

Hardwired connection for radar detector

Alpine 9856 Head unit (includes iPod docking connector)

Pioneer Door speakers (currently not hooked up), Boston Rear Deck Speakers

Sony Xplod 600W Amp and 1200W Subwoofer with 500k Capacitor

Known Issues:

Two very small paint blemishes in hood (picture shows them circled)

tii Clock currently does not work

The odometer does not work, it stopped working at 49828 km. I have the new gears to fix it and will include them. (The speedometer works just fine.)

The dash has been replaced and is in very good condition, but there are still some very minor cracks, as shown in the photos. They could easily be repaired.

There is some very minor oil seepage from the engine. It isn't bad enough to cause me to want to fix it (1-2 drops/month), but I wanted to point it out.

Sparco steering wheel horn button is not wired up (I just bought and will include the contact plunger required to make it work)

Every time you drive people will wave to you and want to talk about your car.

I have done my best to document all of its features and anything I feel still needs to be addressed, but feel free to contact me with questions. The car is 100% rust free (spent its life in AZ and CO). I have all of the documentation and receipts for this car including that of the previous owner for a full history.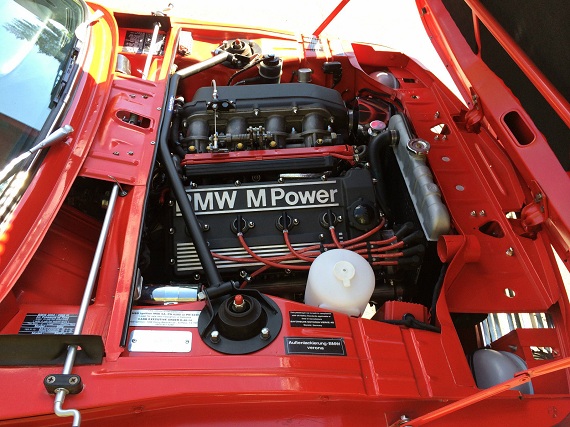 This car is really an interesting compilation of parts, from the obvious like the S14 engine to the subtle, such as the E30 rear view mirror. Some of the details are really nice; the Rota Minilight replica wheels look great and overall the car maintains a simple, clean resto-mod look. Then there are other details that look glaringly out of place – such as the subwoofer in the back. Overall, it's okay to me that it's unoriginal; I bet it's quite a bit of fun to drive and it looks fairly well screwed together. However, the entry price seems pretty steep even considering the S14 power plant under the hood. It's a unique package, but at that price I think I'd prefer a clean Tii that was more original.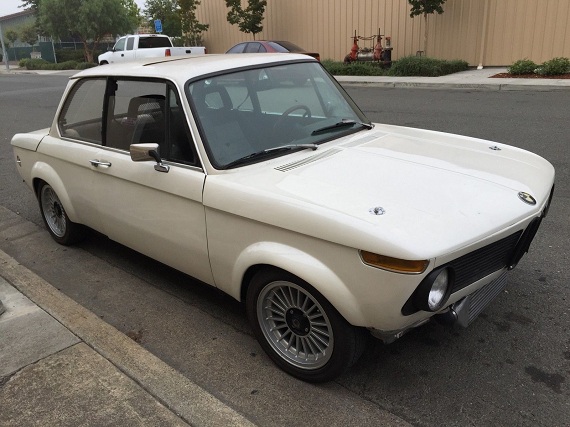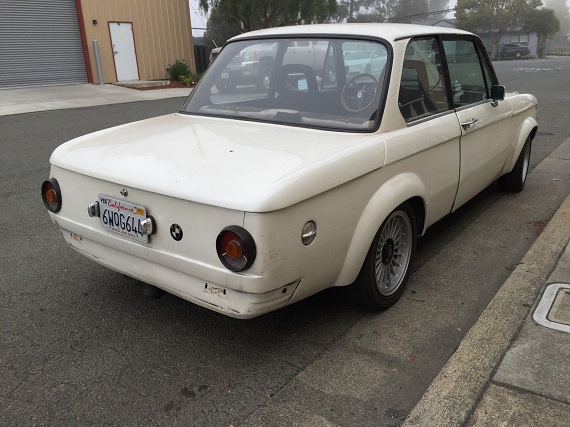 Year: 1968
Model: 2002
Engine: 2.5 liter turbocharged inline-6
Transmission: 5-speed manual
Mileage: "150" mi
Price: No Reserve Auction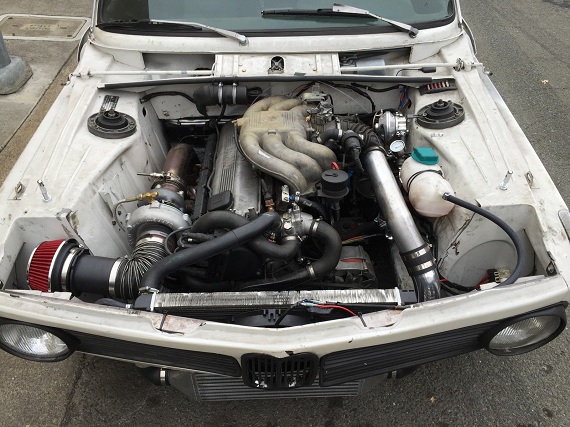 1968 BMW 2002 M20 turbo . This has been built by a BMW performance & repair shop in my home town they have done all of the work.

The m20 engine/transmission/ECU was pulled out of a 1991 BMW 325i, bought the whole car the shop pulled out the engine

While the engine was out of the 1991 BMW the shop had it sent to a local machine shop to have
it rebuilt bored .20 honed, forged, and it is blueprinted with all new internals ARP Stud kit.
I have the receipt with all the info for this build it was done by ALC Machine Inc and Engine Parts in Santa Rosa.

A new ClutchMasters FX-300 clutch with new JB racing flywheel on the 5 speed transmission were installed

This car has a new lower front mount intercooler, piped up to a new
Garrett T4e .58 45 Trim Turbo ,
new Miller performance turbo tuning m20 package.
It also has 3″ pipe exhaust, with a muffler in black, which was done by a local exhaust shop, Johnny Franklins .

Battery is mounted in the trunk with a rear stabilizer.
All new parts were used for this build I have receipts for all parts and for work done on this vehicle by the shop.
plugs, ignition, radiator + cooling fan, fuel pump, fuel lines, wiring, ect..

This car has all New 4 wilwood disc breaks for 15″ wheels. Needs new brake master cylinder.
Vintage Recaro seats adjustable. New carpet but it has not been glued down yet (so you can run speaker wire)
New headliner
5 autometer gauges with a GPS speedometer
New Nardi Steering Wheel with hub

This car has not been properly dyno tuned yet. you can upload different tunes on to the chip.
Miller Performance, who makes the chip/tuning package that is installed will be in The Los Angeles California Area starting October 10th
for a couple weeks and they said they could tune it when I contacted them recently about the tune for this build.
Contact Miller performance and ask them about a tuning job here in California it has the m20 turbo tuning package installed.
Toll Free: 855 269 8863

Miller performance turbo tuning:
https://www.millerperformancecars.com/store/turbo-tuning/turbo-tuning-package-m20-detail

Included with this car for the body is a new fiberglass turbo front air-dam, a fiberglass euro rear bumper, and a fiberglass hood that have not been installed or mounted.
The stock hood is mounted and pinned in right now for security if you pull the hood pop latch inside
then pull the 2 pins out of the hood, it will then lift off 1 person can do this.

Over a year ago I purchased this clean 1968 it had the Turbo Flares, Clean Dash, suspension,
15″ Aplina style wheels, the car cost:$8000
$1000. M20 engine transmission ECU before rebuild
$4,500.00 cost for the rebuild including the ARP stud kit
$900 FX-300 clutch & JB flywheel
$1500. Garret Turbo/ turbo Manifold/ Piping/ intercooler
$1300. Miller Tuning package
$700. Exhaust
$2000. Wilwood disc breaks
$500. Gauge set up
$400. Nardi wheel

+Aside from the cost shown above I have over $9,000.00 in receipts and info on all the work done by the shop.
Comes with extra parts : a retrosound Old school looking radio, interior handle straps,
extra autometer gauges (oil temp, oil pressure, fuel pressure, speedometer)
Exterior trim pieces some new.

Please email me with any and all questions. If you would like to come take a look the Car is at the shop that
did all of the work on it in is in Santa Rosa, California.

I am selling this car because I need funds and the space for another project that is about to start by the same shop.

On Oct-10-14 at 14:47:29 PDT, seller added the following information:

Here is the car the day I picked it up, very clean sorry for the dirty pictures.
photo ScreenShot2014-10-10at24519PM_zpsc39d1bf7.png

On Oct-11-14 at 09:29:55 PDT, seller added the following information:

No rust rot on this car. The undercarriage / body is clean.

The sunroof is missing the gear, it can still open by pulling it while cranking the handle.

The brakes still work as long as you pump them up.
This car needs a new brake master cylinder while it was in the shop I ordered a new one but it was the wrong part
Supposedly they no longer make brake masters for 1968 and older so you can rebuild the one that is on it or wilwood makes brake masters.

The wire on the passenger seat in the picture is a 20′ USB extension cable.
The computer for this car is in the glove compartment it has a 6′ USB cord coming off it wired to the chip along with a 4 position switch
that you can switch between 4 different tunes while on the road.

On Oct-11-14 at 17:49:17 PDT, seller added the following information:

There is 30K into this build, it must be towed on a flat bed or enclosed trailer when you pick it up.

It needs to be put on a dyno an properly tuned.

http://www.speedhunters.com/2013/05/barvaria-vs-sweden-a-murderous-turbo-bmw-e30/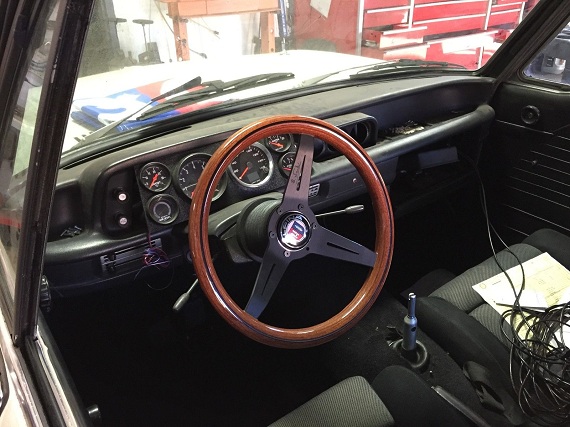 It's pretty immediately evident that this car is neither as well buttoned up as the last example, nor is it indeed turn-key. However, overall I think the package is even more appealing – with some great Alpina details matched to a classic 2002 Turbo flares on a simple "roundie" chassis minus bumpers. It's a clean race-inspired look that I love on these 2002s, even if it's not quite as clean as the S14 example. Inside, this car pleases again with more period details like the steering wheel, better looking seats and less resto-moding. But under the hood, my preferences begins to change – the turbo M20 is, I'm sure dollar for power, a much better engine than the S14 – but I think the S14 is so much more in character with the car. Plus, the engine hasn't been dialed in – leaving the next owner with a bit of a headache to complete along with some other small details.
Which is the winner? On looks alone, I like the turbo car much more. It's a near perfect stance, wheel combo, flares and bumper-less race look that really suits the 2002. But as a package, the S14 car is more appealing – turn key with the right motor. If only you could combine the two! I'd love the looks of the turbo model with perhaps a much more affordable M42 swapped in. Which do you like and why?
-Carter