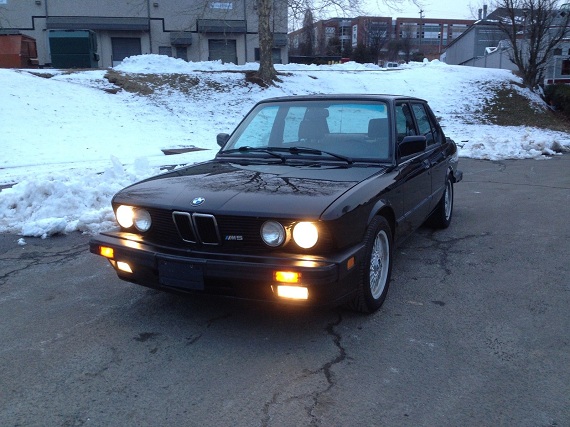 Has it really been 4 months since we looked at a 1988 BMW M5? Fellow author Nate has just refreshed his M5 and been raving about it once again. It's easy to understand why; with a 1988 M5 in my family also, I've had the pleasure of driving the legend that has become the M5 many times and it's enjoyable in every single instance. These M cars have also been one of the best values in classic BMW ownership for a while, though that's been changing over the past year or two. But like the Audi C4 S4/S6, owners of these classic but traditionally more affordable have enjoyed driving them and most have higher miles by this point in life. Despite that, aided by reports by classic magazine and online sensations like Chris Harris, the star that was the M5 has gotten even higher in the sky and they're all on their way up in value. Time to jump in, then? There are three E28 M5s on Ebay right now, and you can have any color you'd like, as long as it's black: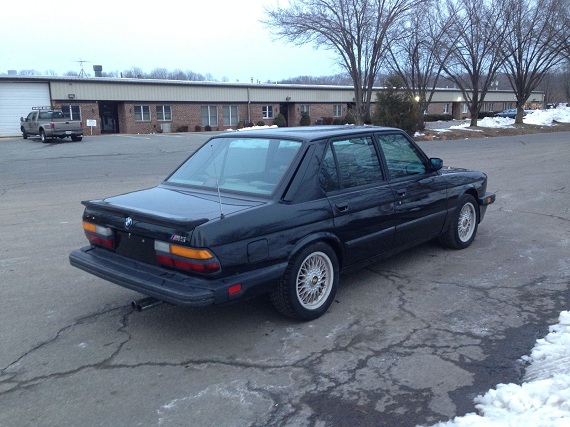 Year: 1988
Model: M5
Engine: 3.5 liter inline-6
Transmission: 5-speed manual
Mileage: 189,000 mi
Price: No Reserve Auction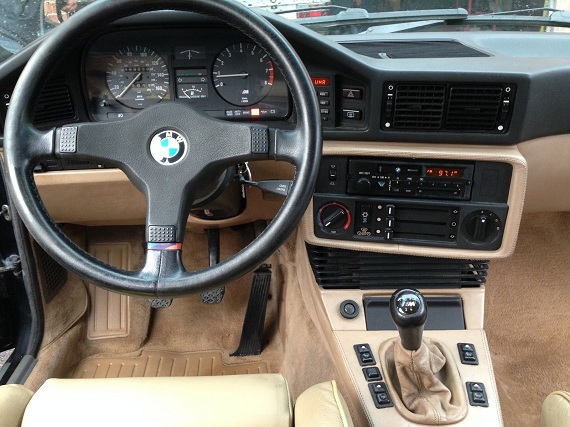 Up for sale is my 1988 BMW M5.

The car runs and drives perfect. Engine runs very smooth and strong also transmission shifts very easy and smooth, clutch feels very strong and unlike most e28's shifter is very tight without any kind of play.

under the car is pretty dry and leak free.

suspension feels very solid and HD bilstein shocks doing their job just fine that the car still after more than 25 years gives you the feeling of a race car and puts the smile on your face as you accelerating the beast down the road.

paint is very shiny and nice and there are absolutely no dings or scratch or fade on it. exterior of this car is almost 10 out of 10 or if I don't wanna rate it 10 I would definitely rate it 9.75 out of 10

as you can see the interior is also in great shape, it has a crack free dash (very hard to find an e28 with a crack free dash)

body is very solid and nice and free of rust, tires are about %70 .

all the electrical in this car work as they should including power door locks, windows, original radio, heat , AC , and everything else.

this is a very solid and original e28 m5, there is absolutely nothing wrong with the car but it is a 26 years old used car and is being sold as is.

email me if you have any questions or need to see more pictures.

On Mar-06-14 at 21:06:29 PST, seller added the following information:

Please make sure you have the funds ready before bidding. If there is anyone you need to ask (husband ,wife , girlfriend , parents, …) please do it before bidding. Also if you have any questions about faith of the car ask before bidding. This is a real auction and please treat it with respect.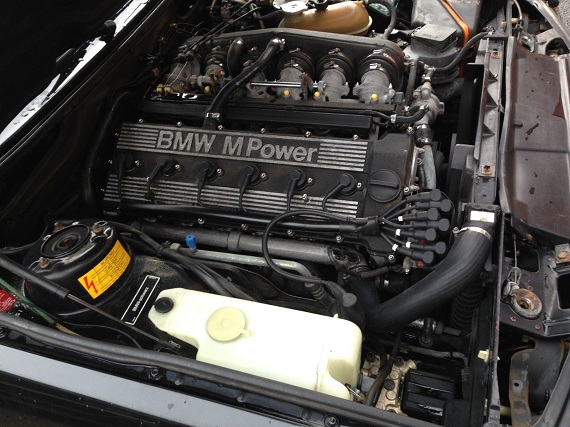 Well, the car presents well though there are several things that you could have done easily to make it look a bit better. For example, replacing the Roundels on the wheels is an easy and inexpensive way to refresh the wheels a bit, though with nearly 190,000 miles on the clock it's no surprise they look a bit tired. Otherwise, this car presents well both inside and out; but perhaps it's a bit too scary at over $13,000 with a few days to go? Perhaps this equal miles but cheaper example is the way?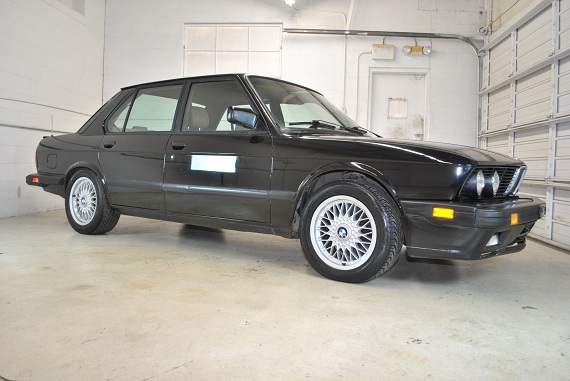 In general, when talking about expensive to maintain, complicated 25 plus year old cars, looking for a cheaper example is not a good idea. This car shows why; yes, it's currently $8,000 less than the last example but what you save in purchase price you pay for in condition: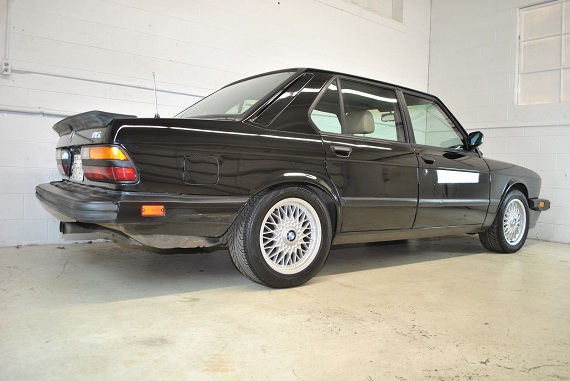 Year: 1988
Model: M5
Engine: 3.5 liter inline-6
Transmission: 5-speed manual
Mileage: 190,305 mi
Price: No Reserve Auction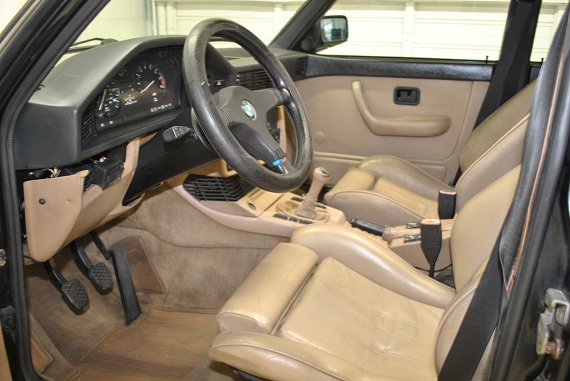 This is a 1988 BMW M5. It is a southern owned car it's whole life and appears to be a 2 owner, according to Carfax. Car appears to be rust free and shows an accident on Carfax in the rear in 2005. Although there are no obvious signs of the work that would have been done to repair it.

The car does have Severe Hail Damage! I have been told by my PDR tech that this can be fixed by pdr, but would more than likely crack the paint.

The car appears to run and drive well. Starts normally with no smoking when cold, comes up to operating temperature and does not over heat. The battery is new. The transmission shifts well, brakes feel good and steering feels tight.

We are selling this car AS IS and have only driven it about 15 miles on a 20 minute trip across town. We are not BMW experts and have not done any kind of inspection on this car and are not guaranteeing any other operation of gauges, ac, heat, windows, etc.. We encourage anybody interested in this car to come look at it and inspect before bidding. You can also call with any questions you may have and we will do our best to answer them. (865)603-9835

We would not recommend driving this car long distances, but have no reason to believe it wouldn't make it anywhere (you will need to use your own judjement). Please do not bid unless you have inspected this car personally, called and asked us questions about the car, or feel 100% comfortable bidding with the information listed here.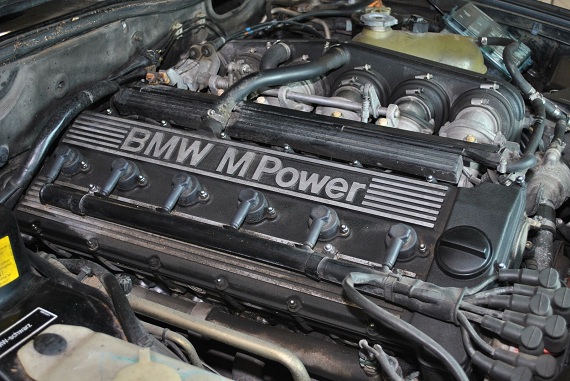 The cover shot makes this car appear much better than it actually is. There is severe hail damage, the interior has been hacked in a few spots and the claim that you can't see the bodywork in the rear isn't supported by the photos. With no history other than the accident documented, this is a car to stay away from; you could easily spend $10,000-$15,000 trying to get this car sorted. With that in mind, it's always better to buy a car with a more solid history: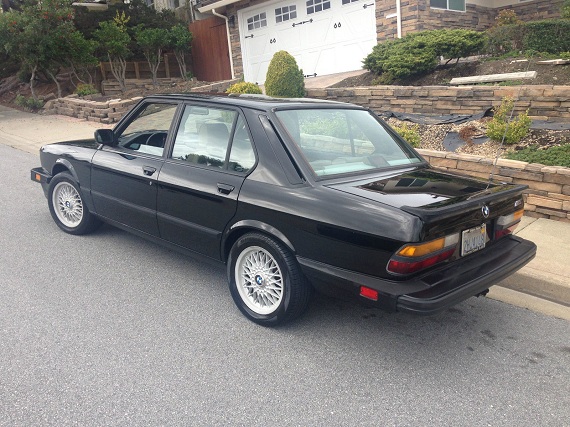 I always chuckle a bit when "one owner" cars are being sold by their second owners. Nevertheless, it's impressive that mostly one person drove this M5 for a quarter million miles. That's a testament to the build quality of the E28 and also the owner's devotion to it; it certainly appears pretty reasonably kept overall: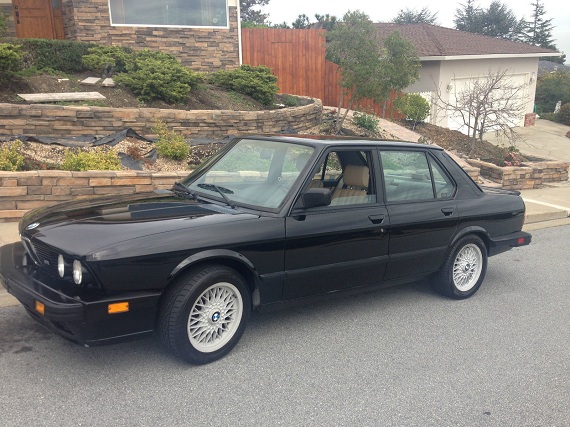 Year: 1988
Model: M5
Engine: 3.5 liter inline-6
Transmission: 5-speed manual
Mileage: 255,000 mi
Price: $25,000 Buy It Now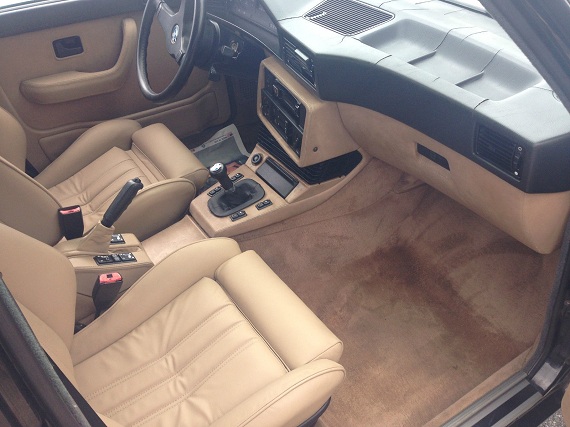 I recently inherited my late uncles 1988 m5. He was the original owner and took care of this car perfectly. The car is 100% stock except for a short shifter installed and aftermarket CD player. I had the front seats redone with real leather and back seat bench about a month ago. All other interior parts are original. The car does have 255k but my uncle had this car serviced better than a human being. It starts up on the first try, runs strong, and can even pass CA smog. The paint is all original as far as I can tell. The engine is 100% stock and is very clean. I am very familiar with this car and just about everything works with the exceptions below. I just drove the car from San Jose to San Francisco at night. THERE IS NO RUST on the car. The car spent its life in Northern California its whole life. I even have the original California pink title. You can even see the 1980s style plates on the car. Export Friendly. Will ship anywhere with prior payment. No warranty. Car is being sold AS IS as part of a family estate.

Some of the issues I noticed.

1. door dings from shopping cart on rear doors, front spoiler has some bottom out scratches.

2. AC blower motor needs repair, but air still flows out

3. Wheels should be repainted, look a little dull (but original)

4. The drivers side seat works somedays and doesn't on others, I just adjust it when it does work.

5. usual e28 dash cracks

If you are looking for a virgin 1988 BMW m5 from a mature owner this is it. No rust, ready to drive cross country.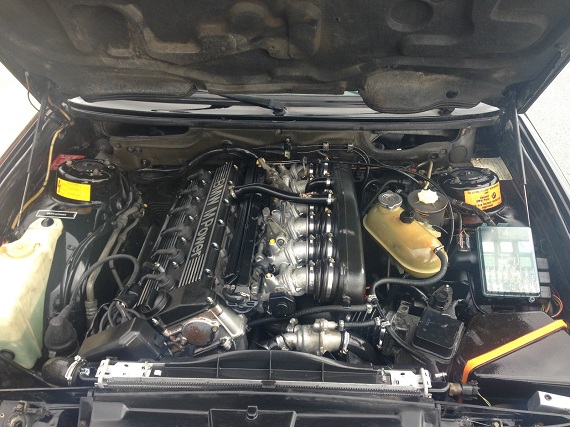 Despite the careful ownership, there's no way to hide 255,000 miles. There are dings and scratches, the foglights are missing, the wheels are tired, electrics are touchy, and the A/C doesn't work. Well, thankfully it doesn't "just need a charge"! But at an ask of $25,000, this car is well outside where it should be priced. At best, this car should probably be priced at half that amount considering the condition and mileage. Of the three, the first is the best condition and mostly honestly presented, but even then you're buying a complicated, expensive to maintain 26 year old BMW with the best part of 200,000 miles. They're sure to bring smiles interspersed with many headaches and big bills.Caveat emptor, indeed.
-Carter