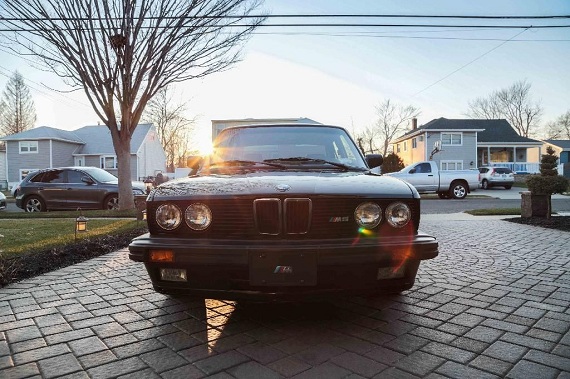 What's going on here? Tax returns are still heading out and we're feeling rich? Well, not so much but it is nice to dream. While normally on Friday we look for the best deals, this duo was too good to pass up. You could argue about who started the super-sedan trend, but there's no doubt that the Germans perfected it. Two of the most memorable of these are the E28 M5 and W124 500E; blunt instruments that achieve their goals of luxurious speed in very different ways. We've covered many M5s recently of different generations, but as I mentioned in the M5 Roundup, while it's tempting to buy the cheapest M5 you can get your hands on that's often a poor decision; in many ways, the same could be said about the 500E. So, here are two quite nice examples to choose from – which would be your dream? Let's start with the M5: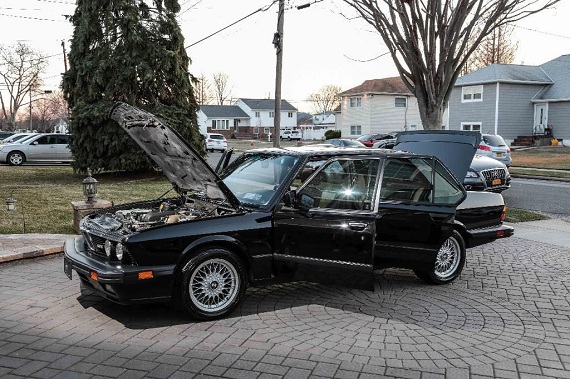 Year: 1988
Model: M5
Engine: 3.5 liter inline-6
Transmission: 5-speed manual
Mileage: 107,000 mi
Price: Reserve Auction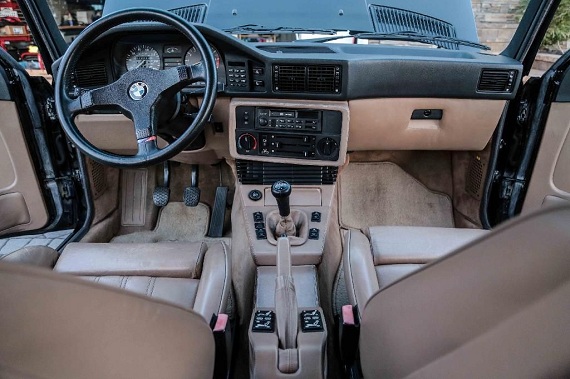 Black with Tan Interior

107K Miles

Fully Serviced with all OEM BMW Parts

I have over $13,000 in receipts of services and maintenance that has been performed on this vehicle over the past 2 years.

1 of 1236 produced

New Yokohama S-Drive Tires which have been mounted on the OEM wheels.

Billy Boat Cat-back Exhaust (Stock included in sale)

Bavarian Auto-sport Catalytic Converter

4 New Brake Calipers, 4 New Rotors, New Front and Rear Suspension as well as a new Battery along with a long list of other services performed.

The car is mint inside and out, the interior is free of any rips, tears or stains and has not been modified in any way. The front seats show very minimal wear and the rear seats look as if they were never used. The exterior is mint as well, the paint shines like brand new and is coated with top of the line wax, polish and sealant. The car was maintained by me and Andrew from Long Island Detailers. It has been opticoated recently. It has been garage kept since it was purchased in 1988. The car is free of rust, rot and any body work. The car is all original and literally looks as if it has been in a time capsule for the past 25 years.

I have all the service documents, receipts and paperwork on the vehicle. The owners manual and all OEM BMW booklets are in the glove box just like the day it rolled off the showroom floor. The car was purchased by my neighbor in 1988 from Manhattan BMW, it was sold to my other neighbor 15 years later and he was the one who sold it to me last year. The car has always been within 1 mile of where it resides now.

If I had to rate this car out of 10 I would say it's a 9/10 Exterior, 9/10 Interior and a 9/10 mechanically. They're are no noticeable scratches, dings, dents, paint fade or anything. The car is tight as a whistle, pulls strong and handles amazing. You will not be disappointed and I can confidently this is probably one of the cleanest all original E28 M5's left in the country. The dash is crack free as well which is extremely rare in an E28. Also the full tool kit is in the trunk as well and looks like new which is a other rarity.

The Cluster was changed by BMW at 68,956 miles and I have NYS documentation to provide to show the mileage matches up. The odometer currently reads 39,152.

The Carfax is clean as well and that will be provided as well in the documentation that comes with the the vehicle.

The best part of this car is the fact that everything is here and everything works as intended. Every button and every control works flawlessly. Nothing needs to be done to this vehicle, just buy it and enjoy it. Transmission shifts smooth, engine runs beautifully and the car handles like a dream.

I've seen these cars all over the place in pricing but from what I've seen, in similar condition and mileage they seem to be going for anywhere between 28-34k. I've seen some outliers in the low 20's and a few in the 40's, some in the 50's and a very low mileage example fetch almost 80k!

I'm confident that this car will be continually gaining value and not only is it a awesome car but also an even more awesome investment.. Only reason I'm selling is because I just got into a new business and planning on getting married over the next 18 months and I want to free as much cash as possible and this is one of the things I must get rid of.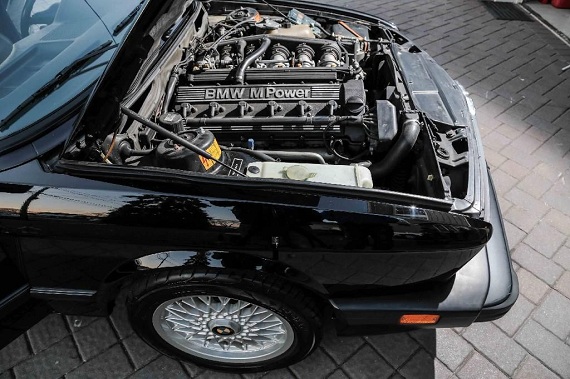 With due respect to the owner/seller, I think they have slightly over-represented the condition of the car. They point out several issue areas which leave me feeling that it's just not a 9/10ths car. It's not far off, granted, but the worn leather, numerous chips, broken lens, worn rubber and faded decals point towards more more of a 7-8 by my standards. That's not a bad thing – the car has been used, and I think just about anyone in the market would accept a discount for a well cared for but driven car versus a garage queen that was perfect but needed mechanical freshening from lack of use. Still, the numbers the seller throws out also seem out of line with the market; we watch pretty closely, and I haven't seen many M5s changing hands in the 30-40K range as claimed. There have been a few outliers that have had ridiculous asking prices, but realistically I think this car is probably a $24,000 – $26,000 car at most. I will agree, however, that the M5 in general has been on the rise and will continue to be. Were I in the market, this is exactly the car I'd want; cared for, maintained, documented and honestly presented, even if it is a bit of a reach on the price. Need something with a bit more shove for a bit less money?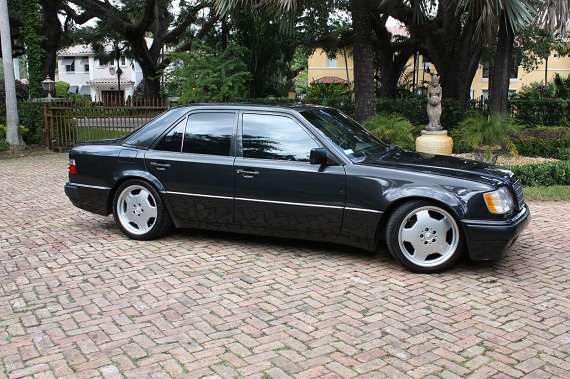 If the E28 M5 has been on the rise, so have good examples of the W124 in general, but especially the 500E. This Porsche-build super-sedan has long held the fascination of the enthusiast world, with seemingly effortless performance mated to a hefty amount of luxury, built-from-granite quality and wrapped in one of the best looking packages Mercedes-Benz ever produced. While low mile examples have been trading north of $30,000, if you're willing to accept a few more miles you can get the price tag down to more reasonable levels: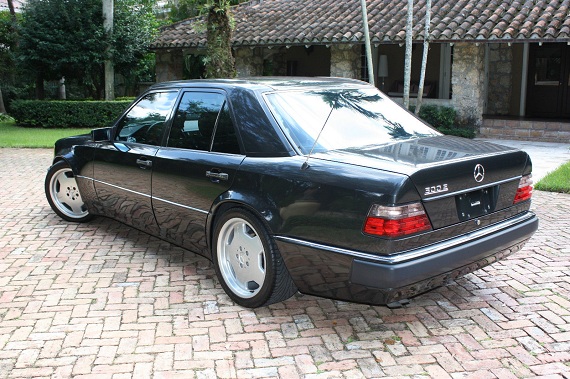 Year: 1993
Model: 500E
Engine: 5.0 liter V8
Transmission: 4-speed automatic
Mileage: 131,000 mi
Price: $19,500 Buy It Now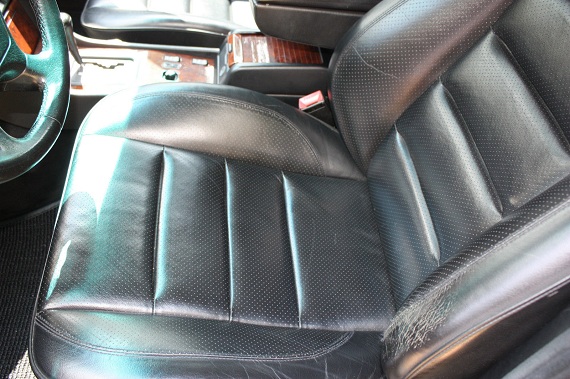 If you are looking at this ad, I am sure you know all about the Porsche history of this car, in addition to the pre – AMG mainstream cars. Pictures speak louder than words.

As nice of a used car you could buy. 131k miles, dark gray/blue exterior with black interior. Full tune-up and recent upper wiring harness. Everything works as it should. In exceptional shape, only modifications are Eibach lowering springs on factory self leveling suspension. Since the pictures were taken, I have added a Kenwood IPod ready stereo (I have the original Becker). Also, brand new Kuhmo tires and alignment, with new tie-rods.

Car starts, shifts, accelerates and stops as you'd expect, no issues. I drive this car 110 miles per day, it is ultra-reliable.

Known issues:

1. Tachometer back-light sometimes does not turn on when I switch on the headlights, nothing a light (no pun intended) tap in the dashboard does not solve.

2. When stereo was installed, the lights for the HVAC unit suddenly don't work. It doesn't bug me anymore, but it am sure a bulb or wire was pulled loose as the lights worked perfectly before the stereo install.

3. Windshield washer fluid leaks, I tracked it to a small plastic mesh covered tube/line that runs from the reservoir to the headlight washers. If I keep the car, I will order the line and fix it.

4. There was an aftermarket stereo installed at some point in it's life, which generated some annoying issues: The passenger front dash speaker sounds blown once the volume is turned up beyond normal levels, particularly with high bass. There was some sort of metal or aluminum mounting bracket or sheet under the rear shelf that makes a vibrating noise when you go over some bumps in the road. Both are not significant enough for me to solve, but worth pointing out.

5. When I bought the car, I removed the Michelin Pilot Sports as they were very noisy, and replaced them with Kuhmo all-seasons. I had the car aligned and also has some tie rod ends replaced. The Kuhmos are great, but I think they could use a road force balance as there is some level of vibration, that smooths out once tires are warm and car has been driven.

6. Some light scuffing on the front spoiler from day to day use. I have touched some of it up, but want to be upfront.

It's my daily driver. Serious inquiries only. Rare and appreciating car.

Clean CarFax, clear title, zero rust anywhere on car (including undercarriage). Car was in Miami before I bought it and shipped it to CT.

Selling only to consolidate cars.

Good Luck!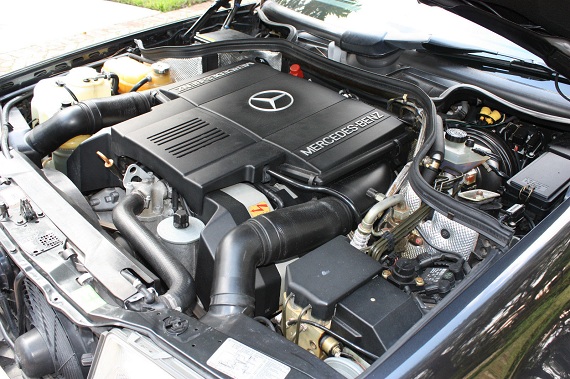 Again, a well presented and honest car; this one looks to have led not quite as pampered of a life, but is still well within the realm of reason. There's some minor wear in and outside, but it presents very, very well. The Blue-Black Metallic is an attractive color and the upgraded AMG wheels fit the package well, giving a modern "Hammer" look to the 500E. I especially like that the seller has been upfront even about small niggles.
Though I'm a big fan of both manuals and the M5, I'd have to say if it was my money between these two, I'd take the 500E. I've spent a fair amount of time both driving and riding in my father's E28 M5, and there's no doubt that it is a nice car; but as the market climbs on good examples, I'd rather own the 500E and have money in the bank for repairs. If anything, the 500E is more of a sleeper than the M5 and seems to get its job done with less fuss. Sure, the wail from the S38 is incredible; but then, the M119 V8 isn't exactly a bad sounding lump. While these two never squared off in the actual market, in terms of desirable, collectable sports sedans they're on fairly even footing these days – so the question is, which would you choose?
Thanks to our reader Vic for sending us the 500E!
-Carter