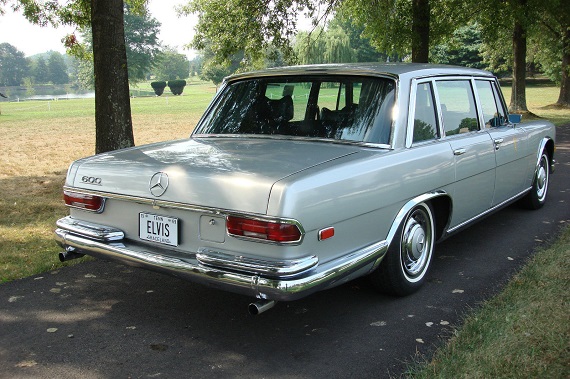 (lights lift slowly over a sole figure on stage, the band strikes up the first notes to the familiar tune Jailhouse Rock. The singer breaks into verse…)
"Seller threw an auction up on eBay's site
He was hopin' that the listing got his price just right
He thought that the famous owner would take bidding far
'Cause that giant Mercedes-Benz was Elvis' car
Let's bid, everybody let's bid
Anyone who remembers who Elvis was
Will want to get in his old cars…"
I was going to make a concerted effort to write this entire post without referencing either a Twinkie or the signature catch phrase "Thank you, thank you very much", but I've just failed. Look, I'm not here to give you a history lesson on Elvis or his importance. I'm not here to recount the leather jump-suited Vegas years, whether I like fat old Elvis or young vibrant Elvis, or even debate if he stole music from African Americans. I'm not going to give you a history lesson on the Mercedes-Benz 600, either. But let's consider a few things about this car. The 600 was expensive. Really, really expensive. Arguably, in the late 1960s it was the nicest car that money could buy, and since it took a lot of money to buy, some really famous people owned them. Only about 2,600 were made, mostly in short wheel base variants like the one that Elvis bought. We learn he put $5,500 down and yet still had 36 monthly payments of $344. That equates to $17,844 in 1969; a figure which doesn't seem particularly outrageous today and even inflation corrected it's "only" about $116,000. But it was far more expensive than your average car, and it took near royalty to get into the 600. You needed to be someone like Elizabeth Taylor, John Lennon, or…well, Elvis to buy one. And if you weren't an A-list celebrity , you were probably a dictator; Chairman Mao, for example, was a famous owner, along with Tito, Ceausescu, Pol Pot, Papa Doc, Hirihito, de Klerk, Marcos, Kim Jong-il, and Saddam Hussein. Basically, you go through history, and everyone the West considers a "baddy" owned a Mercedes-Benz 600. But, universally they're still lauded as one of the most impressive automobiles ever made, and when you couple a celebrity owner (which, proportionally, is perhaps more likely than any other single model car in history other than some really low-volume models of Ferraris and Duesenbergs) you've got a recipe for a high asking price: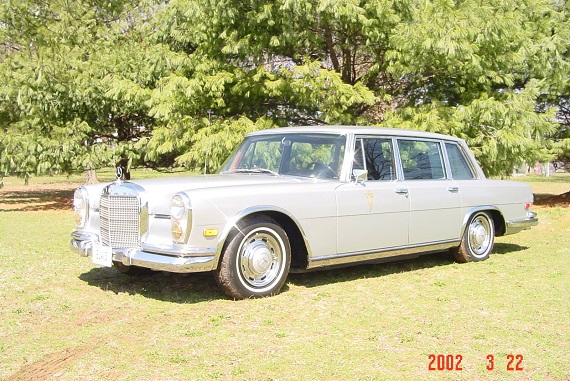 Year: 1969
Model: 600
Engine: 6.3 liter V8
Transmission: 3-speed manual
Mileage: 59,664 mi
Price: $550,000 Buy It Now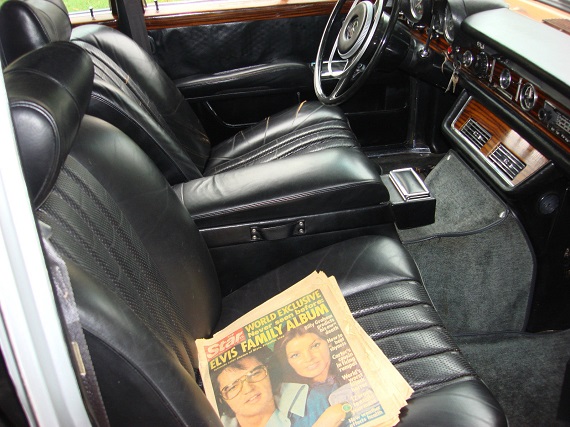 Elvis Presley's car that is incredibly documented from new:
This is definitely a piece of Rolling Art probably better described as Rock and Rolling Art. Elvis purchased this car and titled it in his name. One of the very few cars that were ever titled and registered in his name. This is the one with the famous "Lightning Bolt" in gold leaf with TCB logo on both front doors. I have copies of the original bill of sale, Elvis's registration card, the Retail Delivery Statement from Mercedes, the title and the finance contract..Yes.The "King" financed this car placing $5500.00 down payment and 36 payments of $344.44 per month. Amazing! I also have a copy of a great photo of Elvis in a tuxedo getting the Mercedes. After owning it for several years he gave this car to his friend the famous Jimmy Velvet somewhere between 1976 and 1977 supposedly because he was having problems with the car.
This car was displayed at the Mercer Museum's Route 66 event for about two months that drew thousands of people.Please note just today these photos were taken showing the tear in the driver's leather has widened.I will either repair it or replace it without any charge.I would not do it myself because it must still have Elvis's DNA and I like keeping it original.The reason for this is that there we countless people who wanted to have their photos taken sitting in Elvis's seat.This car was also displayed as a fund raiser at the Philadelphia International Auto Show.

This will probably be proven to be the Best Investment of the Century for the successful bidder. Not only an investment but a joy to drive.. It runs better, quicker and smoother than any Rolls Royce. This vehicle will attract hordes of people making it a great instrument for promotions, advertising, public relations or fund raising.
Recently over $36,000 was spent covering the brake systems, the air suspension, a new exhaust system, the air conditioning, a new drive shaft, hoses, belts and full servicing. It is a pleasure to drive.It shows only 59,644 miles which are believed to be correct.
We also have Roy Orbison's 1972 Mercedes 600SWB that has an incredibly low 13,000 miles and it like brand new.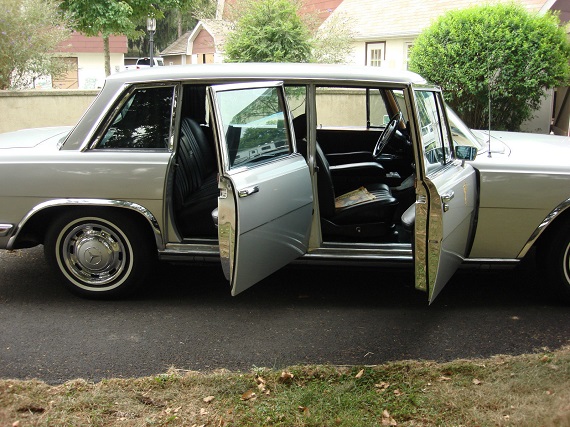 I guess, in some part, I question if Elvis' name still holds as much weight as it did a decade or two ago. Dead for my entire lifetime (he died just days after I was born), I understand his relevance in the rock and roll world, but the current generation? No, I don't think names like Elvis or the Beatles will mean much to any of the iPhone generation. Of course, teenagers today aren't the market demographic for the Grosser. Still, it's going to take a seriously devoted Elvis fan with a large amount of disposable income to ante up the $550,000 asking price – over triple the market value of a condition 1 SWB 600. And this car isn't condition 1, though it has had some serious maintenance done. I love how people complain about things like Audi's V8 chain guides or the Porsche IMS bearing failures, but check out the servicing costs of the braking system on the 600 for a reality smackdown. Owning one of these cars still puts you into a realm of celebrity, but boy the cost is high.
-Carter