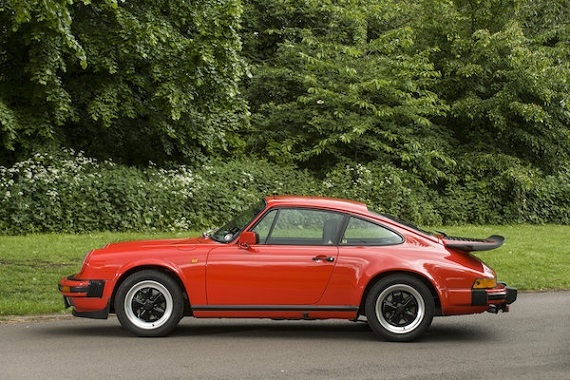 Fans of the BBC motoring show Top Gear are familiar with the travails the show has gone through over the years and I assume are aware of its current status due principally to Jeremy Clarkson's constant ability to cause problems. Always found in the midst of Jeremy's bellowing and Hammond's whining stood James May, otherwise known as Captain Slow. As a constant source of jabs from his two ridiculous co-presenters, May provided balance to the show, but behind the staid exterior was a genuine motoring enthusiast who has owned a number of interesting, and fast, cars and bikes over the years. Some of his machines have made appearances on Top Gear itself, while others have appeared in separate one-off shows he has been a part of during his Top Gear tenure. One of those, his Guards Red 1984 Porsche 911 Carrera Coupe with just under 55K kilometers on it, will be put up for auction at this year's Goodwood Festival of Speed on Friday, June 26. Among cars with famous owners this Carrera is somewhat unique in that it is currently owned by James rather than being a car that is an owner or two removed from its famous owner's stewardship. For fans of the show, that makes this low-mileage Carrera just that extra bit more special.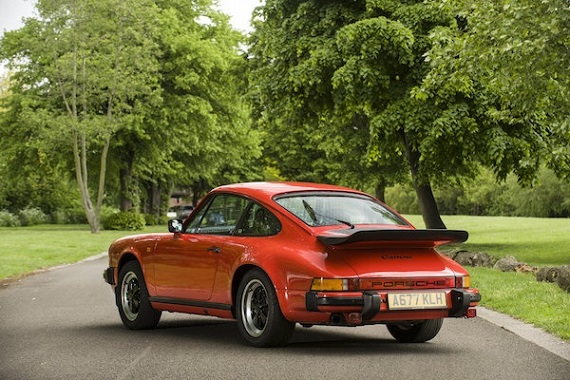 Year: 1984
Model: 911 Carrera
Engine: 3.2 liter flat-6
Transmission: 5-speed manual
Mileage: 54,977 km (34,161 mi)
Price: Auction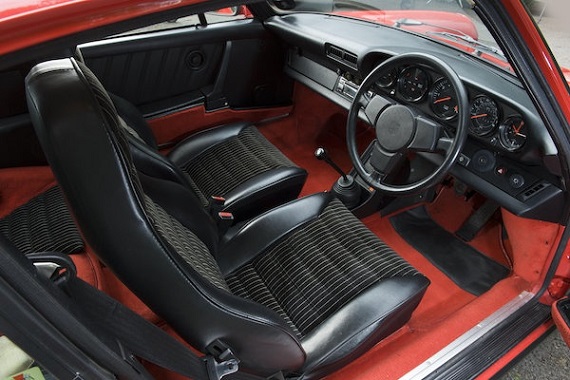 The property of James May
1984 Porsche 911 3.2-Litre Carrera Coupé
Registration no. A677 KLH
Chassis no. WPOZZZ91ZES102350
Engine no. 63E04283

Porsche revived the Carrera name – previously used for the competition orientated versions of the preceding 356 model – for its luxuriously equipped, top-of-the-range 911 in 1973, applying the evocative title to all 911 variants, co-incidentally with the introduction of the 3.2-litre engine, from the start of the 1984 model year. Although it remained an air-cooled 'flat six', the '3.2' motor was 80% new and incorporated an effective cam chain tensioner and associated lubrication system that at last addressed a perennial 911 shortcoming. This enlarged and extensively revised new engine produced 231bhp, 27 horsepower up on its predecessor, endowing the Carrera with a level of performance approaching that of the original 911 Turbo of 1974, the bald statistics being a 0-60mph time of 5.3 seconds and a top speed of 152mph, with 100mph reachable in a breathtaking 13.6 seconds. Some 30 years on, Carrera 3.2s are now highly sort after and for very good reason, though finding one is not that easy.

James May bought this Porsche 911 Carrera in 2007 during recording of the Radio 4 documentary 'Speed, Greed and the M25'. He visited Paul Devyea's workshop and showroom to borrow the car to record its engine sound, it being properly representative of the 'Thatcher's Britain' yuppies' favourite, the Porsche 911. The car was in excellent condition and for sale, so James bought it on the spot. It has appeared on screen too, notably in the 'Airfix' episode of 'James May's Toy Stories' and in the widely acclaimed Top-Gear online film, 'James drives to work'. Paul Devyea's sales invoice is on file together with detailed service history recording mileage totals.


James tells us that the 911 has only been used as a 'hobby' car, in good weather. The recorded mileage of 55,000 is almost certainly correct and the history file is comprehensive, to say the least. In 2011, 'A677 KLH' was displayed at Top Gear Live as part of the Autoglym concours competition. It won a runner-up prize: a pack of car-cleaning products.


'It was donated to my dad to use for the past four years, as he never owned a proper sports car,' James revealed. 'Recently he decided that he was getting on a bit to be seen in a retro stockbroker's car, and my mother hated it.

'As a 911, it's significant for being near the tail-end of the development of the original 1963 car. As a piece of social history, since it's Guards Red and has the sports pack, it stands as a monument to everything 1980s Britain was about. It's the 911 that Denis Thatcher would have driven, if he'd had one.'

The car is currently fitted with a CD player but James has a broadly period radio/cassette to go with it, if wanted. 'It has the cassette storage rack fitted, after all,' says James. 'The ideal environment for listening to Duran Duran, etc.' Also included in the sale is a Haynes workshop manual; Porsche GB correspondence; service booklet; sundry service invoices; old and current V5 documents (the latter in James May's name); and quantity of expired tax discs and MoTs dating back to 1984.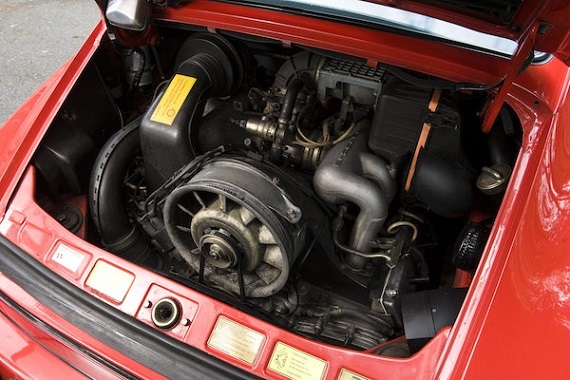 Naturally, we would expect any car owned by James May to appear in excellent condition both inside and out with little wear to be seen. In that regard, this Carrera does not disappoint. The ad only provides us one picture of the interior, but that one picture hints at the level of cleanliness revealing little wear to the seats and carpets and a dash that appears in excellent condition. Mileage and condition aside, this otherwise is a fairly standard early Carrera though we should expect a small premium to come with it given the current owner's popularity. Bonhams estimates its value at $44K-$54K, which feels about right all things considered. With Top Gear on hiatus and it appearing more and more unlikely that the show will return in a form we've all become familiar with, Captain Slow seems poised to take advantage of his name and garner a little extra attention for this 911.
-Rob