This past weekend I drove by the spot where I first encountered the M Coupe. The year was 1998, and to be honest the Z3 lineup had been pretty forgettable. In many ways, the car's signature launch through the James Bond film Goldeneye summed up how most felt about the Z3:
"Hey, look, a new convertible BMW!" (moves on)
But that changed with the launch of the M-tuned models. The E36/7 and /8 suddenly had the performance to back up the hoopla associated with the launch when the S52 from the M3 found its way under the hood. Augmenting that were upgraded brakes, giant shadowline Roadstar wheels with massive (and awesome) lips, and wide flared fenders culminating in quad exahusts emerging from the rear middle of the car – what would become signature on the next round of BMW M models. It looked great, it drove great, and was available in some pretty wild colors. It was pretty much the instant recipe for a collectable, but values languished for some time before the Coupe models really started taking off a few years ago. But it's still possible to get into a collector-condition Z M model for not an outrageous sum: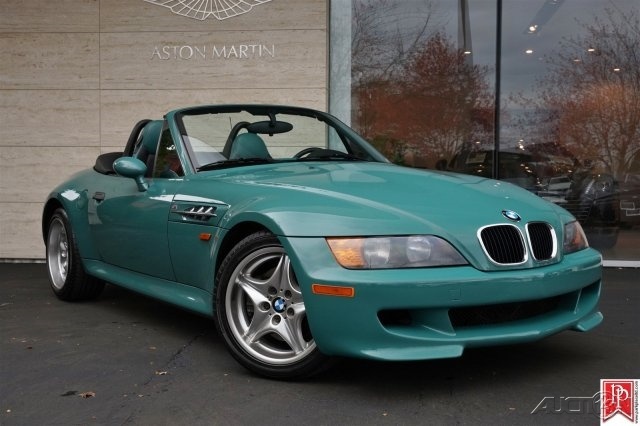 Year: 1998
Model: M Roadster
Engine: 3.2 liter inline-6
Transmission: 5-speed manual
Mileage: 38,123 mi
Price: $22,950 Buy It Now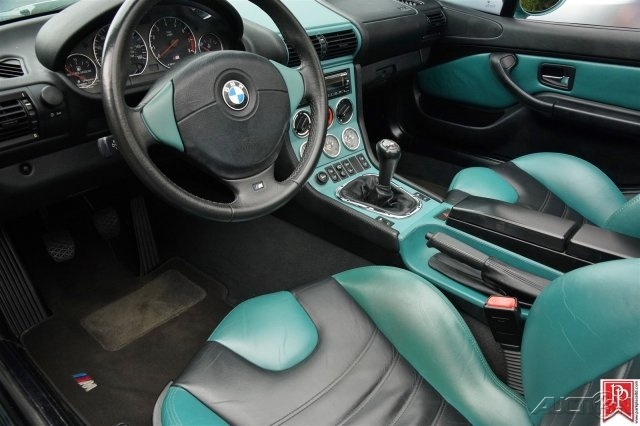 Description
1998 BMW M Roadster with only 38k miles from new. Finished in unique Evergreen with Evergreen Leather Interior, this M Roadster is a very powerful and nimble cabriolet. 3.2L/240hp S52 6-Cylinder Engine. 5-Speed Manual Trans. Limited-Slip Diff. Factory Options include; Softtop in Black, Roll-Bar Protection System, Harman Kardon Premium Hifi System, CD Changer I-Bus Prep, Electro-Hydraulic Softtop Operation, Air Conditioning, Cruise Control. Standard features include; 17″ M Alloy Wheels, Sport Seats, Front Seat Heating, M Leather Steering Wheel, Heated Windscreen Washer Nozzles, Electric Window Lifts, Main Battery Switch.

BMW's renowned S52 engine, combined with the small and lightweight chassis of the Z3, gave birth to one of the best-performing BMWs of the '90s.

This is an extraordinary 1998 version with just 38k miles from new, and it's one of only 179 that were finished in this Evergreen color.
The 1998 models were the only ones offered without traction control, making them extremely fun to drive. There were also some mild design cues that differentiated them from all other years. This car is finished in a very rare and gorgeous Evergreen paint color and a two-tone Evergreen with black interior. BMW made only 176 examples in this color combination, which was only available on the M roadsters and coupe. Ground-hugging body cladding, dual exhausts and chrome side-grille accents identify the M Roadster as an M car, you'll get all the power, handling and character that BMW M-cars are famous for, and a healthy dose of fresh air, as well.

Wearing most aggressive bodywork, exposed brake cooling ducts, and sitting a full inch closer to the ground, the M Roadster was the bad boy of BMW lineup. Much of the M3's bone and sinew was transplanted into the smaller, lighter M Roadster, including the company's 3.2-liter in-line six-cylinder engine with 240 horsepower and 236 foot-pounds of torque, disk brakes more than 12 inches in diameter, and beautiful 17-inch alloy wheels.

Rare color: Click Buy it Now! Where are you ever going to find this car again!
#bring a trailer #Rare #awesome find #buy it now – today!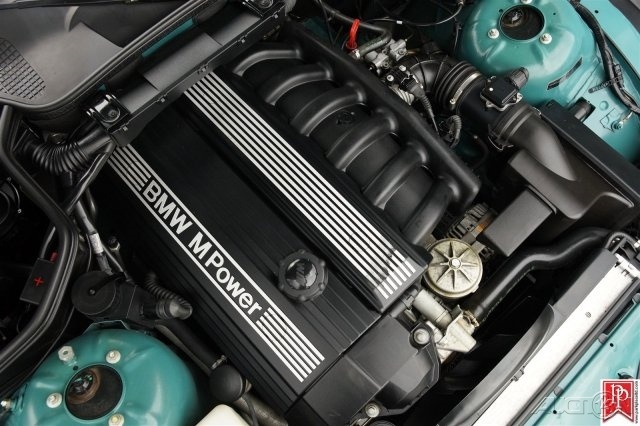 The seller's production numbers are off slightly from what I found; the M Roadster Buyer Guide lists 201 Evergreen (358) produced, 176 of those with Evergreen (Q6EV) interiors. It's not the most rare combination out there, but it's not far from it – but in terms of rare colors, there are a bunch of single digit combinations such as Phoenix Yellow and Kiwi leather (2 produced). Condition appears to be all original, miles are claimed to be very low, and as a more rare color combination it should remain desirable in the collector market even if the combination is polarizing.
What's interesting about this car, and undisclosed in the listing, is that it has option 902 – "Special Check Press Vehicle". That could be good or bad; it's neat that it may be a magazine star from 1998, but it may have also been thrashed soundly. Paying nearly $23,000 for an S52, though, you'd be wise to do a thorough PPI prior to purchase. If it checks out, the pricing doesn't seem far out of line with the current asks for rare, low mile Z Ms.
-Carter