It's been a while since we've seen this Mint Green 1992 Porsche 911 Carrera 2 Targa and since we have featured it before it is technically a revisit. But it's moved on from its previous seller and been given a cosmetic refresh. I'm not sure if it's the refresh that's doing all of the work here or if it's simply better photography, but the Mint Green exterior certainly looks much better than when Paul originally featured it. It's one of his favorite Porsche colors and since we've been going through most of the rare greens Porsche offered it seemed worthwhile to check back in. According to the previous auction it sold for $62,100 so the asking price here represents a substantial increase. When it sold the air-cooled market was doing pretty well, but it has since backed off. Even if the 964 hasn't suffered in that regard quite as much as the 911SC and 3.2 Carrera I think this will be a tough sell. There's said to be only two of them so it's definitely rare, and they've taken care of most of the maintenance items that would have concerned buyers the first time around. We'll have to see where bidding takes it, but I don't think that will be to $93K.
The below post originally appeared on our site April 29, 2015: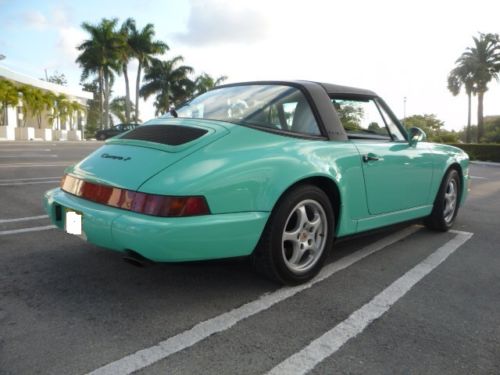 Vintage Porsches are some of the most collectable cars out there on the market these days, but for those looking to kick up the collector quotient, there are plenty of options. Chief among these options are colors. Porsche is known for its color palette and perhaps the heyday of this was the 1990s, in the twilight of the air-cooled 911 era. One of the most affordable ways into the air-cooled 911 game is to opt for the Targa version. The 964 Targa still had the classic removable roof panel before Porsche switched to a powered glass roof for the 993 Targa. This 1992 Targa is reportedly one of two Mint Green examples in the world. The color might look very 1950s, but I pine for the days of the imaginative hues carmakers used to offer.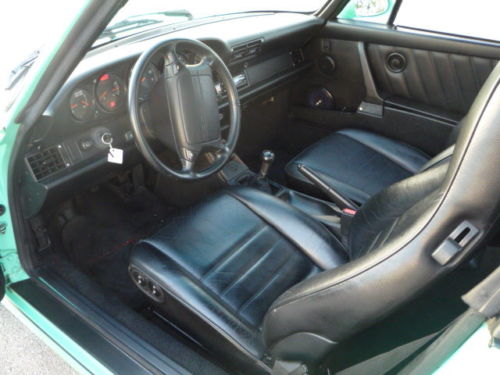 Year: 1992
Model: 911 Targa
Engine: 3.6 liter inline-6
Transmission: 5-speed manual
Mileage: 51,500 mi
Price: $69,964 Buy It Now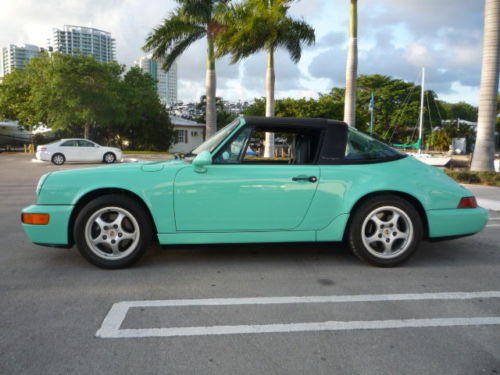 1992 Porsche 964 Targa in factory original color of Mint Green with Black Leather interior. This highly collectible air cooled Porsche is the only known uber rare Mint Green example in the United States and supposedly one of two in the world (with the other one being in Japan). There have been zero modifications to this Porsche since it left the factory 23 years ago. While a more modern sound system has been installed, an original OEM CD-2 radio comes with the sale of the car. The car drives, shifts and brakes properly. No visible oil leaks, excessive oil consumption or smoke at cold start up. Overall excellent condition with no dents or dings on any of the body panels.

What makes this Porsche special? It is a one owner car (leased, then purchased by same owner) and driven approximately 2,000 miles per year since new. 964s in general have skyrocketed in value over the past 2-3 years. Specifically manual shifting model years 1992-1994 are next to impossible to locate in any configuration, coupe, targa or cabriolet, due to overall limited production figures and exports back to Europe. Of the 3 styles, the targa has the lowest production numbers with only 211 versions produced in 1992, 137 in 1993 and none in 1994 (and this includes both manual and tiptronic variants). Lastly, the 964 Targa is the final iteration of the classic removable folding roof, offered in the Porsche 911 since the 1960's. The 993 targa was a completely different system that has proven to be problematic and unloved by enthusiasts and collectors.

Values of 964 3.3 turbos have doubled over the past 2 years; low mileage and desirable colors trade in the $150,000 – $175,000 range. 964 3.6 turbos trade in the $250,000 – $300,000 range. The collectibility and potential for appreciation of this uber rare mint targa has more upside potential, given it relatively modest five figure value. At $90,000, the cost to insure this car, given its eligibility for "collector car insurance" is less than $1,000/yr. Here are the highlights:

1 of 1 uber rare Mint Green Targa
Model year 1992 and later are highly sought after
One owner from new; driven 2,000 miles per year
No accidents; excellent Carfax report
Books, records and factory supplied accessories (spare tire, compressor, tool kit, plastic gloves, car care kit)
Mechanical and electrical condition represented as excellent
Unmolested and factory original condition
Recent fluid service, new battery and presale inspection by independent Porsche exclusive shop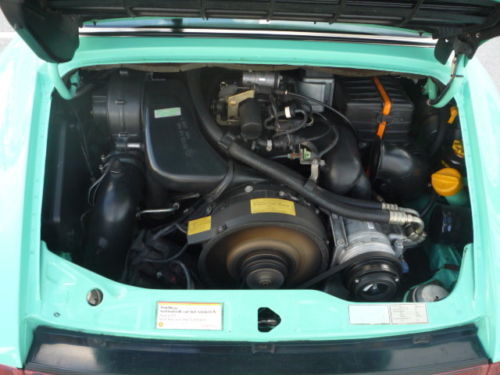 I was relieved upon seeing this car that it had a relatively unobtrusive black interior and had the all important manual gearbox. Too often these one of one colors on Porsches are configured in such a way that it would make it hard for me (and many others) to digest. The price on this car is very steep and beyond anything we've seen in terms of 964 Targa money. Good Targas of this vintage tend to hover around the $45,000 to $50,000 territory these days, so this is a sizable premium for exclusivity. However, it wouldn't surprise me if the 964 Targas start to skyrocket in value, as everything seems to be coming up roses for the air-cooled 911s.
-Paul