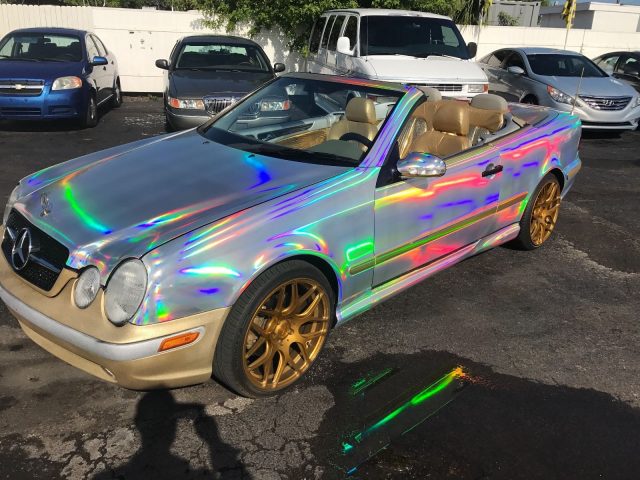 Welcome back to 'Fail Friday'! Today's vehicle, well, you can probably tell how we got here. Wraps have become all the rage over the last few years and of course with the good, comes the bad. This is the very bad. It's one thing to pick out a wrap that has the power to blind an entire row of traffic, but it's another thing to apply it so poorly that you gave up and grabbed the spray paint. This CLK430 Cabriolet for sale in Florida (what a surprise!) was never anything special to begin with but that doesn't mean you have to literally try your hardest to ruin it. Almost everything on the exterior of this car has been touched to make worse in one way or another. And don't worry, the inside is as equally as bad!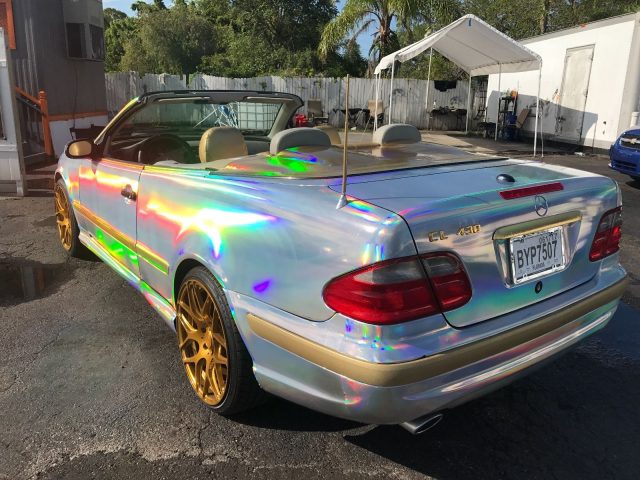 Year: 2002
Model: CLK430 Cabiolet
Engine: 4.3 liter V8
Transmission: 5-speed automatic
Mileage: 60,549 mi
Price: Buy It Now $9,850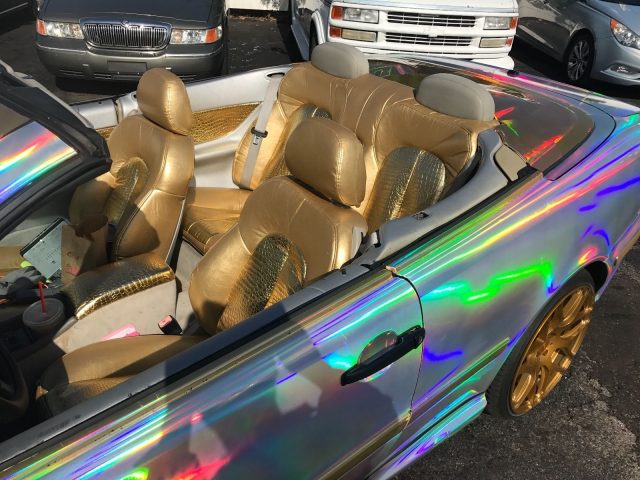 "Good condition, normal wear and tear, Brand new tires, New Battery, Top works perfect, Windows and door locks work great, good brakes, I have all the original books, 1-keyfob remote, has spare tire and jack with tools, radio has code on display from dead battery and I am in touch with dealer to get code off radio asap."

Just wrapped Chrome Holographic by VVivid Vinyl, brand new 19″ wheels and tires, brand new custom GOLD Leather interior, Beautiful CLK430 convertible. Top is dark Blue and works great, 60k miles – just spent $7,000 on items listed to customize this car – you won't find one like this!!!!!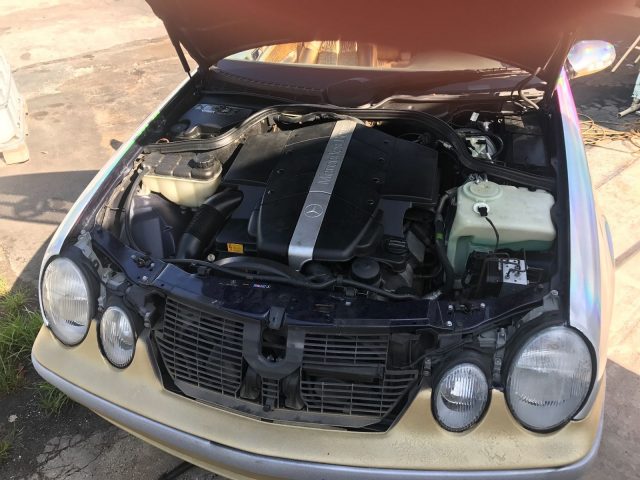 I've been looking at this car the past two days and I'm still trying to figure out what happened. There are a ton of things wrong, but I'm just going to hit the high lights low lights. It looks like whoever wrapped this car had a really tough time with it. On the rear bumper you can actually see the line where they cut away a piece then started a new one on top of it. The rest of the edges look like they were simply torn away they look so rough. Then the front bumper and trim pieces are all spray painted gold. Either the person wrapping this car knew they couldn't do a decent job on the front bumper or they ran out money and/or materials. Of course, the paint is all flaking away and the color isn't even close to the gold that the wheels are painted.
Inside, this doesn't get any better. The material used to cover the seats looks like the same stuff they make cheap Halloween costumes out of. They are also very gold and you guessed it, a different shade from the spray paint and the wheels. I also noticed that somehow they wired up a Comand unit from a W163 ML-Class which I've never seen done before in place of what should be the factory Comand 2.0 system. I'm sure seller saying it doesn't work has nothing to do with that. To no ones surprise, the Dunkin Donuts bag and drink couldn't be bothered to be removed before taking all the wonderfully horrific photos of this poor CLK.
At first I thought it was totally out of line to ask $9,850 for this thing. Then I realized that if a person is crazy enough to think that all this junk actually looks good and adds value, then they are crazy enough to think to ask almost $10,000 for it. So if you are willing to go off the deep end, you might as well go head first. I'll stand back and watch.
– Andrew