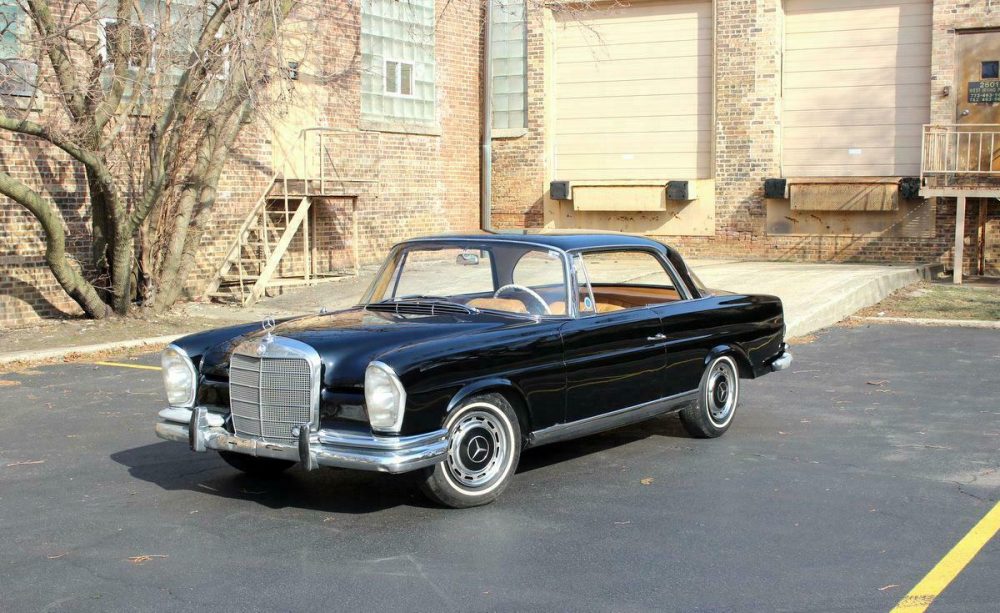 Last week I went on and on about a beautiful 1970 Mercedes-Benz 280SE and how it was quintessential classic Mercedes styling and durability. Timeless is a word that maybe comes to mind, but no car person will ever look at that the W108 and not be able to tell it was the late 1960s or early 1970s. Maybe that is a part of the aura around it. It's a car old enough to have grand children but still water skied on weekends when the knees were feeling good. The W108 and W109 didn't wither away, they felt every bit as good as they did forty years ago if you kept up on them. Today, I wanted to look at another car that came just before that 1970 280SE and still has that classic Mercedes feel, the W111 220SEb Coupe.
The 220SEb was the top of the range W111 Coupe that featured Bosch fuel injection as opposed to twin Solex carburetors found on the 220Sb. As you might have guessed, everything improved when fuel injection was added to the 2.2 liter M127. More horsepower, better acceleration, and the ability to gobble up miles. This 1962 220SEb up for sale in Chicago looks like it did exactly that. This W111 Coupe isn't a pickled show car or museum piece. It was enjoyed thoroughly.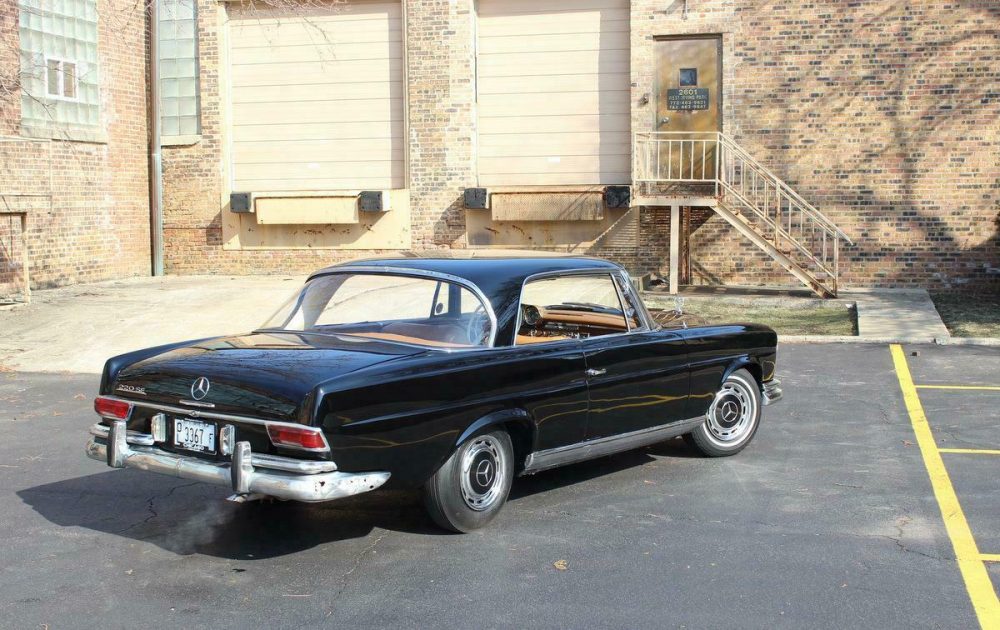 Year: 1962
Model: 220SEb Coupe
VIN: 11102110018868
Engine: 2.2 liter inline-6
Transmission: 4-speed manual
Mileage: 56,454 mi (True mileage unknown)
Price: $41,500 Buy It Now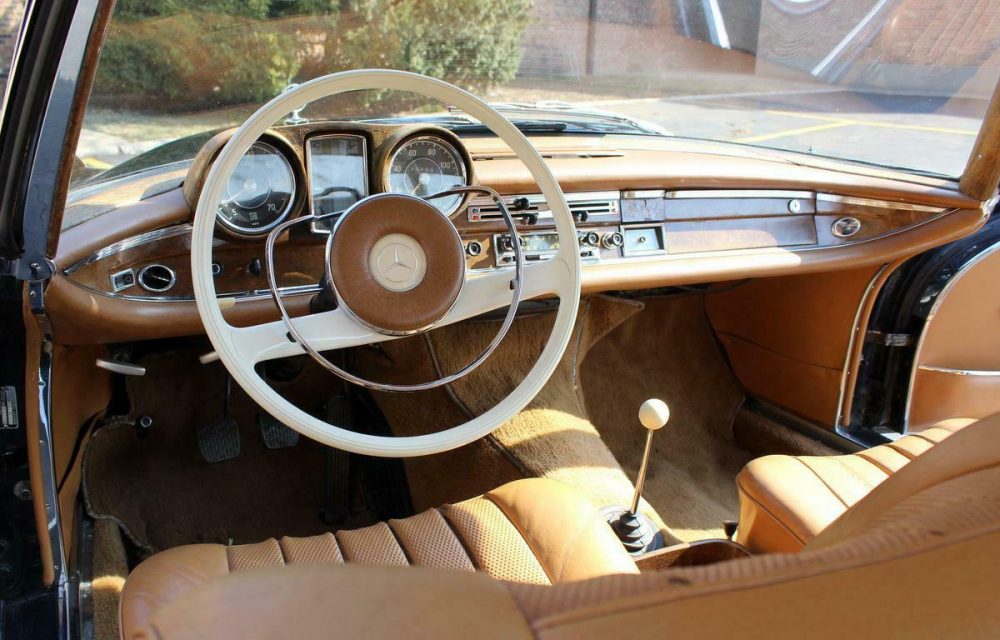 1962 Mercedes 220SEb Coupe

4spd Manual on the Floor!
Euro-Market Car
VIDEO WITH LISTING

VIN: 773-273-82578868

We purchased this beautiful W111 out of Omaha Nebraska, where it had remained with the same owner since 1985. As the owner was elderly, the car sat for the last few years of his ownership. Over the course of the last couple months, weíve been going through the car, servicing it and adding mileage when the weather cooperates. Since purchasing the car, weíve done the following services: Replace fuel tank, repair fuel pump, replace all fuel lines, replace ignition coil wire, repair fuel pressure regulator, replace fuel filter, bleed clutch system, check brakes, and change oil/filter. The tires, while in decent shape, are due for replacement, so the next owner should address that before embarking on any long hauls. The car will come with a good bit of documentation, including the original manual, receipts for a complete engine and transmission rebuild in 1978, as well as receipts for the work weíve performed this year. Please inquire for scans of the receipts if interested. We were able to get a hold of a previous owner who had the car in the late 70s, and he informed us that the car spent the 60s with the original owner in Colorado before moving to the Omaha area in the early 70s. As it sits now, this is a nice driver-level 220SE Coupe with the desirable 4spd manual on the floor. A sweet, sweet car.

Exterior:
– Please see the video along with the listing, as the car is covered in detail. Blemishes are all shown close up and under direct sunlight.
– Older respray, and the car does appear to have always been black. The paint cleans up nicely, but isnít top-notch. There are a few small spots where dust is visible under the paint, most notably on the roof, and a couple other spots where the paint shows its age. Again, please defer to the video.
– Front and rear chrome bumpers arenít very good. Particularly the passengerís side of the rear bumper. All the other polished trim, like the window/windshield surrounds, rocker trim, grille, etc, are very nice.
– Wheels are in great shape. Hubcaps show no curb rash or damage. Tires, as mentioned, should be replaced sooner rather than later.
– Glass is all clear and crack-free. Lights and signals are all functional.

Interior:
– Interior in these cars is just gorgeous. Wood within the dash is good for the most part; there is a crack on the passengerís side where it meets the windshield, see photo/video. Driverís seat appears to have been reupholstered at some point, as it is in great shape and the passengerís shows some wear. Upholstery work was done in the correct material and it matches the rest of the interior. Headliner is clean and tight.
– Odometer reads 56455 and is functional. While odometer reads 56k miles, we are not positive as to actual mileage. The car wears a 200,000km badge on the front grille, so itís certainly possible that this car saw some miles in Europe before being imported and having the speedo swapped out. Other gauges are also functional.
– Becker Mexico is not functional, but we do hear an audible tick when turning the knob. Sounds like the speakers are good.
– Blower motor and heat are functional. AC is not. Lights, signals, wipers, dash lights, and interior lights are all functional as well.
– Headliner is nice and intact. Steering wheel is in great shape, with no cracks and just a couple small blemishes.
– Carpet appears to be original. A bit tired on the driverís floor, as to be expected.

Under the Hood / Underbody:
– Frame is solid. Very much structurally sound. There is a tiny bit of rust inside the passenger front rocker, as visible in the underbody photos. Aside from that, quite good underneath.
– The car runs and drives very well. It starts first turn, idles cool/steady/quietly, pulls through the rev range with impressive gusto, shifts smoothly, and brakes straight and effectively. There arenít any concerning creaks or squeaks from the suspension over bumps or through turns; the car feels solid and confidence inspiring. As mentioned earlier, tires should be done sooner rather than later, but the car is in good running and driving condition.
– The 220SEb was the top of the range at the time, coming standard with Bosch fuel injection and producing 120hp at 4800rpm. This car can be driven and enjoyed as-is, or, with itís very desirable spec, would serve as an excellent candidate for a high-level restoration.

With any further questions, requests, or to discuss purchasing, please reach out to Jake at 773-273-8257.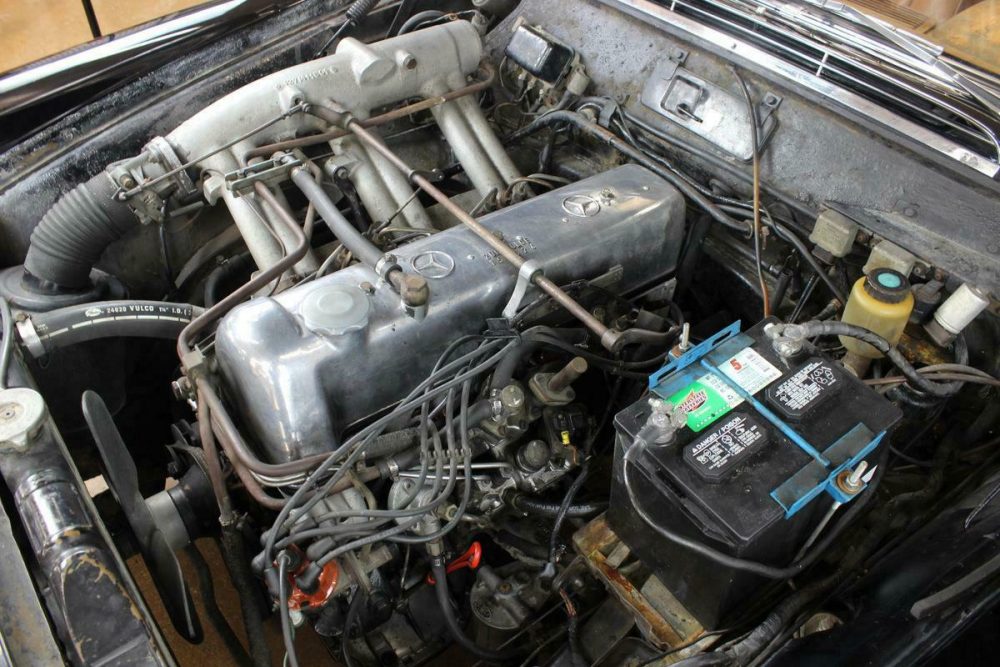 If you want to dip your toe into the classic Mercedes coupe market, this might be the car for you. The sky is the limit when it comes to coupes from this era and they can hit multiple six-figures before you can blink. The interesting thing about this specific car is that it is a European-spec coupe with its much nicer one-piece headlights that are pricey and tough to find if you wanted to convert your U.S.-spec car. As you might have seen, this is not a concours example but it is not presented as such. It has been well-loved, but the good news is because it is tough as nails, it probably has a bunch of life still left in it. If you wanted to tidy up some things and drive as-is, it is completely presentable. If you wanted to go a bit further, it wouldn't be a bad investment.
Values of these cars have been steady for many years and they probably aren't getting any cheaper, nor are they making more. If you were looking for a black one to play with and slowly refresh at the same time, step right up. The enjoyment of refreshing this car might be just as fun as driving it because it is so satisfying. I really hate to go with the terrible clichť of "they don't make them like they used to" but if that ever applied, these cars fall under that category.
– Andrew