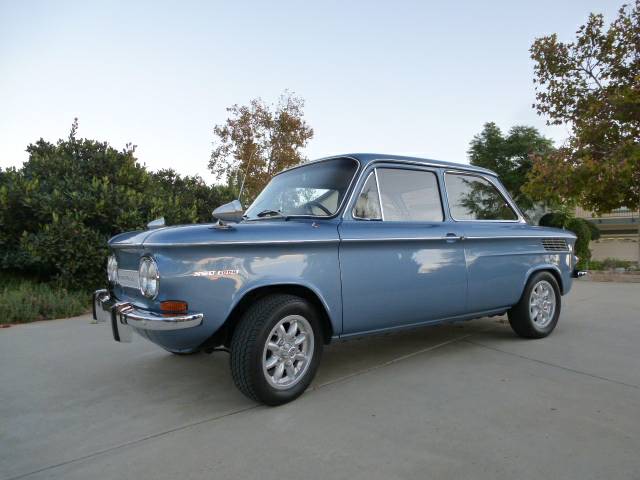 As Konrad Adenauer slowly rebuilt West German in the post-War era, the resulting Wirtschaftswunder finally realized the economic prosperity necessary for personal automobile ownership; something that Germany had lagged far behind its rivals in until well after the War. Though they had developed the first motorized carriages and had a reputation as a nation of drivers thanks to some clever Nazi propaganda and the development of the revolutionary highway system, the reality was that in the 1930s, 1940s and 1950s Germany was a nation of riders – motorcycles, that is.
It comes as no surprise, then, that the fledgling car companies which were the most successful at first were able to incorporate motorcycle technology into their automobiles. This kept development and production costs down, and in turn meant that the company could bring a small, economical car to market much more inexpensively than a traditional manufacturer. This worked perfectly for BMW, whose Isetta and later 700 models paved the way for the modern car company you know today. But BMW was not the only motorcycle-engine toting company, and though the name isn't as well-known today, it was NSU Motorenwerke that was the world's premier motorcycle producer in the 1950s. So, in the late 1950s, NSU put those great engines to work in the back of their new economy car – the Prinz.
The Prinz would go on over the next decade to develop several times. The Prinz I-III models featured continuous upgrades, better driveability, and more power from the twin. But in 1961 the Prinz 4 model took NSU to a much larger market. It featured modern 3-box sedan styling, though it retained the twin drivetrain from the earlier models. The Prinz 1000 model rectified the motivation issues, introducing a new air-cooled 1000cc inline-4. This package was then further developed into a sporting model; the TT. Named after the famous 'Tourist Trophy' races of the 1960s, a bigger motor with more power was met with larger wheels and tires and revised styling. Like the BMW 700, these NSU TTs and the subsequent TTS model formed the basis of their respective companies post-War racing efforts, and are still fan-favorites in vintage racing today. But in the U.S., though all NSU models are rare, the TT and TTS are especially so. That's what makes it such a treat to see an example like this one for sale today: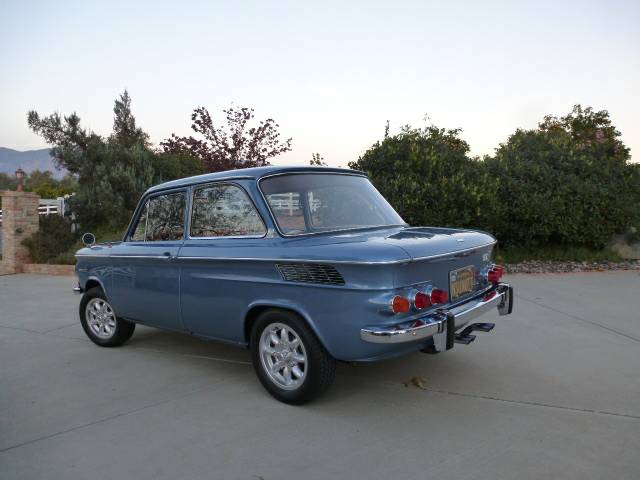 Year: 1967
Model: TT
Engine: 1.0 liter inline-4
Transmission: 4-speed manual
Mileage: 66,250 mi
Price: $34,500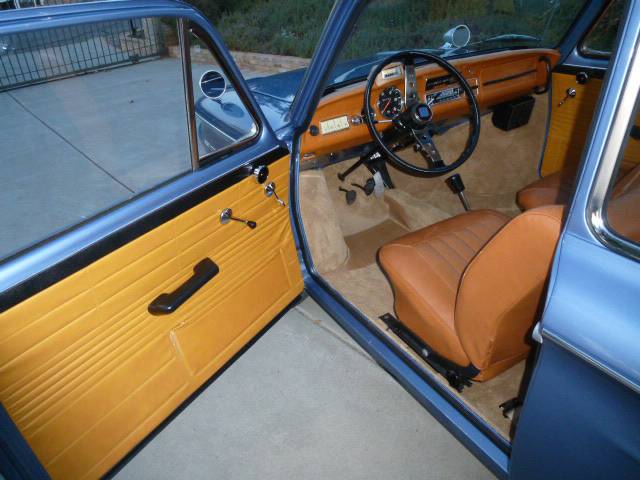 FOR SALE – 1967 NSU TT – $34,500 OBRO
66,250 miles, Terrific condition, Excellent engine, Drives awesome

This is a low mileage, 2nd owner, rust free, California car, serial number 76 008058. It is in excellent condition, the engine runs great and is a lot of fun to drive. It gets looks and turns heads everywhere and is a past winner at local car shows. It is certainly one of the nicest, nearly original NSU TT in the US. Not many TT examples survive (and if they have, not in original condition) as many found their way onto the racetrack and were/are extremely competitive in their class.

The TT was a standard NSU Prinz 1000 sedan with larger displacement engine, 13″ wheels, front disc brakes, quad headlights, rear flip out windows, a dash mounted ribbon tachometer, unique Geminiblau metallic paint and TT badge with checkered flag.

– Repainted with Geminiblau Metallic paint from Germany
– Minilite aluminum wheels
– Seats very nicely re-upholstered, close to original
– New interior and trunk carpets
– New Talbot fender mirrors
– Blaupunkt AM/FM radio
– Thermal coated heat exchanger and Abarth muffler
– MSD ignition, blaster coil and wires (can easily be returned to original points)

Many, many other new parts, including:
– Shocks and springs
– Disc calipers, brake master cylinder, hoses, shoes
– Suspension, king pin bushings
– All rubber seals
– Air intake housing
– Side trim
– Wiper arms and blades

Details
Engine: 4 cylinders, in-line, air-cooled
overhead camshaft, four stroke
1085 cc (66 cid), 9.0:1 compression, 69 horsepower
Rear engine, rear wheel drive

NSU was named after its first business in 1887, which was making knitting machines (Neckarsulmer Stricktmaschinen Union) in Neckarsulm in the Swabian area of Germany. The company evolved from manufacturing bicycles to advanced motorcycles and automobiles. NSU was quite innovative and merged with Audi in the late 1960's. After that time, the NSU engineers were integral in advancing the technology at Audi-NSU.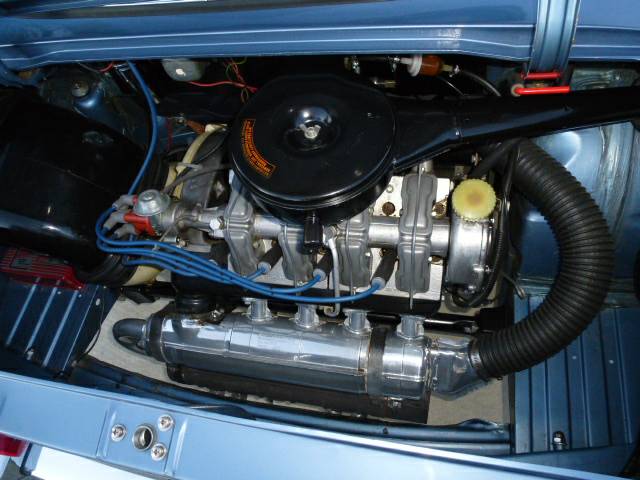 1967 was the year that the TT moniker became a stand-alone; prior years were called the Prinz 1000 TT. Sadly, it's also a reminder that this was the end for NSU, which was swallowed up by parent company Volkswagen, which finally eliminated the NSU lineup in 1973 as it launched its own new water-cooled, front-engine models. Enthusiasts keen on honoring the brand can still celebrate; the "N" in NSU stood for Neckarsulm, and it would be that plant that would go on to produce most of the early Audi range, along with the Porsche 924/944 series. Despite their modest overall numbers, the TTs and TTSs have become legendary in their own right and are still actively raced today.
This one is as lovely as lovely gets; great paintwork and interior quality are a stunning combination, while the Minilight alloys are an appropriate nod to the racing heritage of the performance-oriented model. The details disclosed are fantastic; the horizontal tachometer, the fender-mounted mirrors, the waving flag behind the proud TT badge. Finding an NSU at all in this condition in the U.S. is very difficult, so it comes as little surprise that this listing is from the same seller as the wild and ultra-rare Wankel-engined NSU Spider we featured a little over a year ago:
As with that example, today's TT is in superlative shape and among the best available anywhere on the market. And also like that example, it remains very attainable for most enthusiasts. This is the type of car which you could easily pick up today and drive to a show tomorrow, walking away with a trophy or two to embellish the hundreds of curious questions about it you'll surely have to answer. But this is not a car full of excuses; it's an amazing bit of German automotive history with tremendous presence that is a hard to replicate package.
-Carter