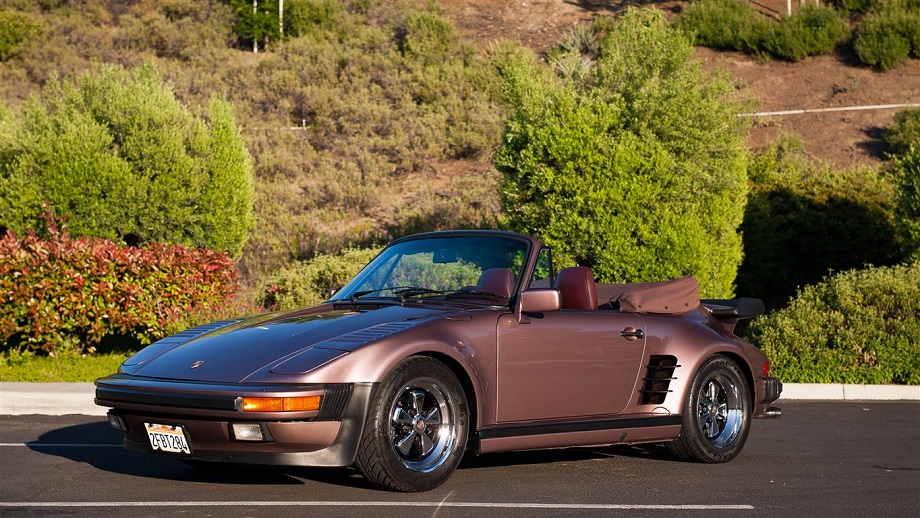 Last week I presented a 930 Slantnose that I thought was about as '80s as a Porsche could get. While I don't think this one pushes beyond it, it certainly brings with it its own '80s appeal and includes elements that 930 Coupe lacked.
Here we have a Cassis Red Metallic 1987 Porsche 930 Slantnose Cabriolet with just 45,400 miles on it. The very fact that it's a Cabriolet, rather than a Coupe, garners it an extra dose of excess in appearance. The Slantnose, side strakes, and massive spoiler when paired with a top-down environment really bring a peculiarity to the design that we don't often see. The chrome wheels take it over the top. The full wood dash too strikes me as very much an '80s sort of feature. Not that a wood dash itself dates the car, but when fitted to a Slantnose 911 Turbo it creates a disjunction combining luxury and aggression that feels very at home in the time period. It's all quite fascinating, really.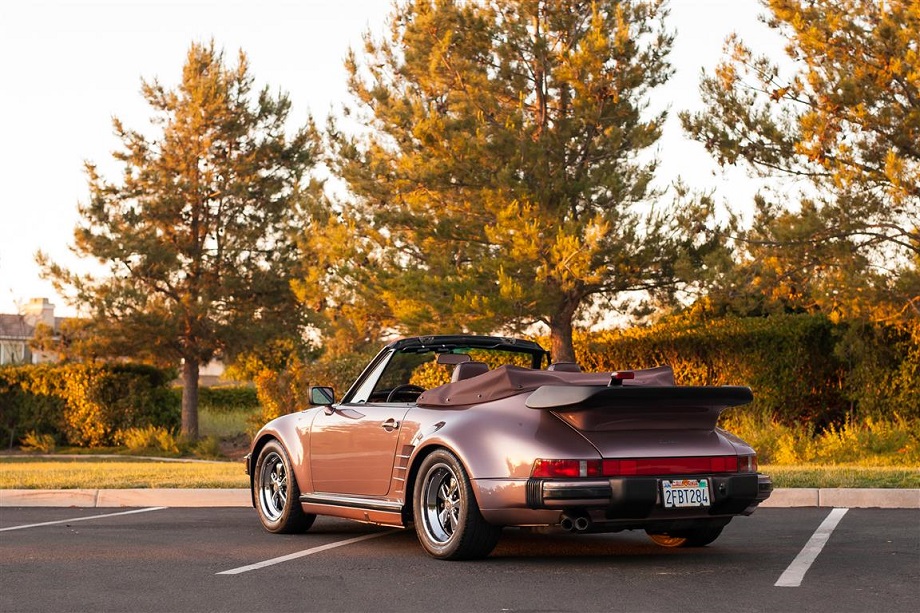 Year: 1987
Model: 911 Turbo
Engine: 3.3 liter turbocharged flat-6
Transmission: 4-speed manual
Mileage: 45,400 mi
Price: $150,000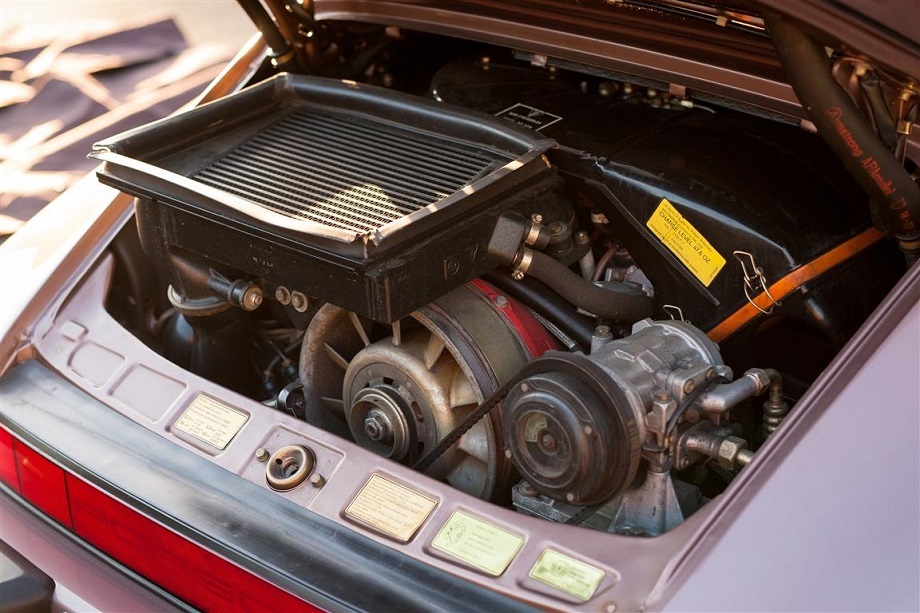 This is a very rare Factory Code 505 930 Turbo, purchased from the original owner in 1989. Optional Equipment includes: Slant Nose Body Option, Power Operated Top, Limited Slip Differential, Tonneau Cover in the color of the top, Steering Wheel with raised hub, Lumbar Seats Left and Right, and Burl wood dash. This car is amazing to drive and comes with a ton of extra stuff. The paint is all original and looks awesome.
Car comes with a COA from Porsche.

Some History on this car.
This car was ordered in 1987, Delivery was made in Stuttgart with the Euro delivery option. The original owner did a bunch of factory tours, met a bunch of Porsche Executives, and met the man that did the factory Burl wood dash install, which is a rare factory option. There is a bunch of documentation of their trip that comes with the car as well as some original magazines and brochures. In 1989, the car was sold to its current owner. A new top, using factory materials was installed in 2004 due to a mechanical issue with the top which cause a tear in the original top. In 2010. The motor was taken out and gone through.

Car has some aftermarket items including a Clifford alarm, a wired-in K40 Radar (all installed by Original owner back in the late 80's,) and an aftermarket Radio. There are a few Porsche original items that come with the car including 2 air compressors, First Aid Kit, Gloves, hazard triangle, and tool bag with all the original never used tools. There are a few chips in the front bumper from just normal driving. There is a rock chip in the original windshield that happened before the 2nd owner purchased the car.

Car comes with most of the service records, however, there are a few years that the service records missing. Somehow that folder got miss-placed over the years. Car has never been re-painted or in any kind of accident. Everything is original except what was listed. Car has always been garaged.

Between 1987 and 1989, 591 examples of the Slant Nose, also known as a "Flachbau" were hand built in Porches' Special Wishes Factory. 144 were produced for the U.S. in 1987 and this car is one of 3 in the special color of Cassis Red Metallic. From my research, this is the only Cab in the 505 option that is in this color for 1987.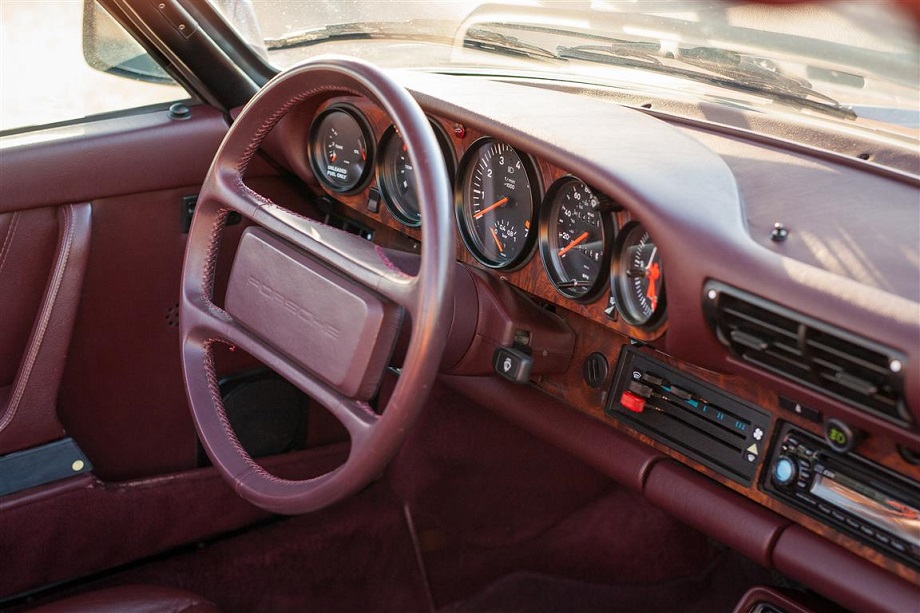 This Slantnose Cabriolet has been for sale for quite a while. The original listing dates all the way back to last June and I'm guessing it's been bumped back up now in the hopes that the right buyer comes along. Interestingly, when first listed some Rennlisters (along with the seller) seemed perplexed that it hadn't sold quite quickly. I'm not sure what the original asking price was, but when I saw the current price of $150K my reaction was the opposite. I'm not surprised at all. The air-cooled market hasn't been what it once was and asking $150K for anything other than an '89 930 always makes a tough sell.
This 930 does appear to be of excellent quality though. It's only on its second owner, who has had it since 1989, and is mostly original. The condition of the paint and exterior both look fantastic. It's also said to be reasonably well documented, though not possessing a complete history. All in all this 930 makes for an excellent example of a very rare model. It's in search of the right buyer though unless the seller is willing to lower the price a bit further. There likely is someone out there seeking a Cassis Red (or something similar) Slantnose Cabriolet, but there aren't going to be many of those people. While a beautiful color Cassis Red isn't for everyone, a 930 Cabriolet isn't for everyone, and a Slantnose 911 isn't for everyone. All combined that makes for a limited market. But for the right buyer there may be few other options existent and surely very few models that can serve as substitute.
-Rob