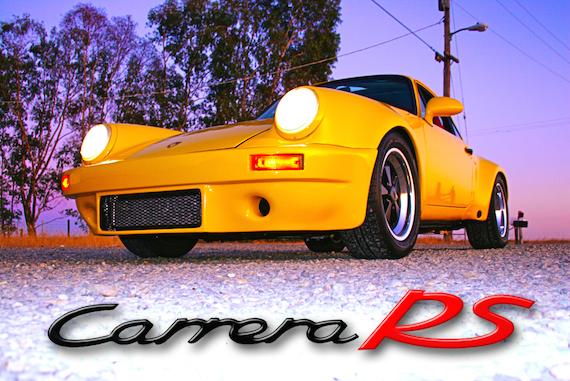 With air cooled 911 prices always on the rise, it seems that enthusiasts are more fearful than ever than to modify their precious sports cars. However, there are still a few adventurous owners out there willing to give their 911 their own personal touch and improve upon the standard formula. Such is the case with the follow mid 1970s 911 coming to us from our reader Nate, looking sharp in RS livery.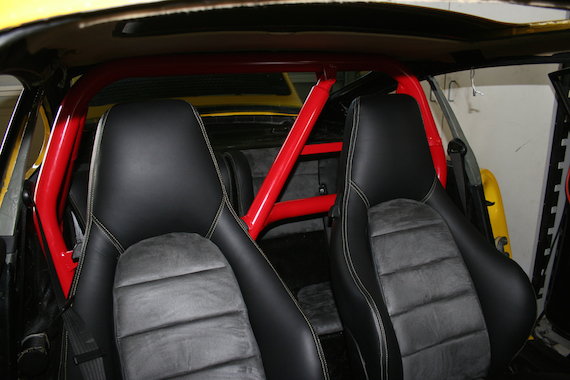 Year: 1974
Model: 911 Carrera RS
Engine: 3.0 liter flat-6
Transmission: 5-speed manual
Mileage: N/A
Price: $34,900 OBO
Porsche 1974 RS – Track Ready – Street Legal – Daily Driver!

Asking price: $34,900 O.B.O. Cash offers only. I am ready for anyone who wants to do a PPI on it, or test drive it. Clear Title, currently registered till MAR 2015. (Smog Exempt)

Call Nathan Pizzo, owner: (916) 792-6915

WHAT IS THIS CAR?

Velocity Yellow 1974 911 RS, Built from a straight rolling chassis, 930 turbo metal flares. No rust anywhere on this car. Completely sorted out prior to painting January 2009. 1980 SC motor rebuilt by Tom Amon (40 year veteran Porsche mechanic). DUCK TAIL, red roll bar, Sunroof, 74 Tranny gearing, mechanical speedo. Custom built for the sporty look that is so classic. Aero Mirrors, Minimal graphics, not over done. (Economy in California forces sale – I love everything about this car – it's gritty, no nonsense, driver dream).

It's not 100% polished, but has that edge that is lacking in every other car I have owned. It's mean, plenty of power, but demands your attention. A pleasure to drive daily, but weekend thriller. It's got that slightly 'un-civilized' feel. It's not tame. You have to respect the car. "It's that throaty roar and rumbling CAMs that make the personality of this car truly irresistible!!"

Basic Specs: (So many to list, but here's a start)

FULLY STREET LEGAL – but track ready. SMOG EXEMPT!!!!
Motor: Completely rebuilt 1980 3.0 Liter CIS SC engine: *6303619* (motor stamp)
Upgrades: 9.3:1 CIS pistons, 964 CAMS, all Carrera Updates (tensioners, intake box pop off)
MSD Ignition 6AL (7K limiter)
74 915 Tranny, close ratio 1st, 2nd gets off line quickly
Mechanical Speedometer
Standard SC brake system, Mercedes type Master Cylinder.
Custom Yellow Sway bars (powder coated)
26mm 930 Rear Torsion Bars installed, standard front
Bilstein struts and shocks front and rear.
Custom Shock tower brace.
Lightened custom bumpers – solid 1.25″ alum bars front and rear for safety.
7′s, 8′s 16″ Fuchs, black centers, polished lips.
Custom Sports Seats, yellow stitching, seat heaters installed, 2 way Carrera electric adjustable.
Custom dark grey dash (suede)
Front oil Cooler installed, keeps motor at operating temp, even in hot Sacramento weather.
Motor properly broken in – working perfectly.
Exhaust: custom 2.5″ TIG welded 2 in 2 out.
Fully ready to roll. It needs nothing, but a few NON-essential odds and ends remain.

OWNER'S NOTES:

This car is not a garage queen. It gets driven almost daily in Sacramento. It's got a 3.0 Liter and Tom or any other Porsche guy will verify for you that if you want reliable, rock solid transportation in a 911, you get the 3.0 Liter, with CIS. That is what it has. It's basically bullet proof. You can drive it hard all the time, and it just begs for more. It's not a delicate machine. It's built to last.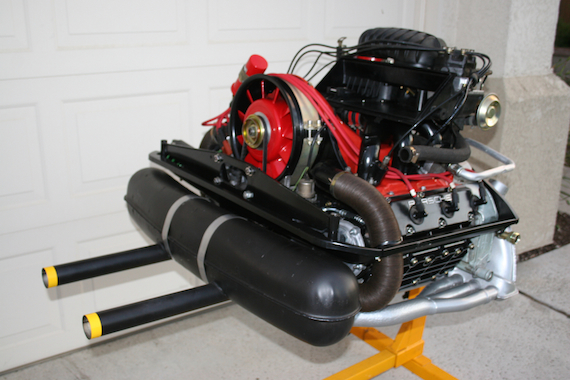 At first glance, I had this mistaken for a CTR Yellowbird, but on close inspection, this car certainly has its own unique cache. Placing a value is always difficult on cars that are built to spec like this, but the asking price is close to a level where this should certainly draw some interest to the right parties, whether they are looking to take it to the track or press it into service on the street.
For those interested in this machine, you can reach the owner, Nate, at (916) 792-6915
-Paul