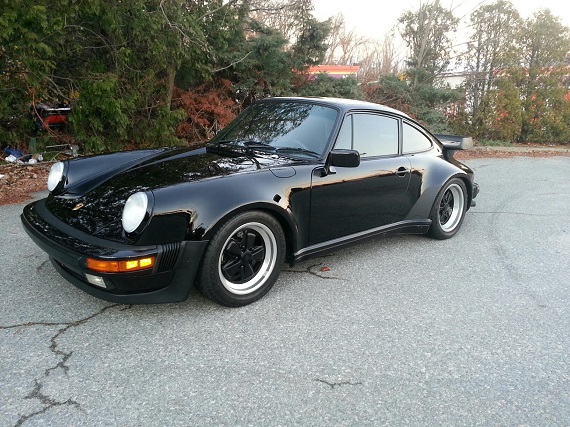 I still love a Black Porsche 930 Coupe. I will admit it isn't an exciting color, but a clean black car in good condition still seems to possess something that attracts me even if I can't quite describe why that is. On the 930, with its bulging aggressive lines and whale tail, I feel that black fits the persona of the car better than almost any other exterior color. I suppose if I really had my druthers, I'd prefer a non-black interior, but that might depend upon the cost difference. That brings us to the car we see here: a Black 1987 Porsche 930 Coupe with Black leather interior and 39,664 miles on it. By 1987 the 930 would be nearing the end of its run and in many ways it had come a long way since the first iterations left the Porsche factory in 1975. There were some weight gains over that time, but Porsche had long ago decided that its Turbo would be a showcase of the civility and refinement possible within a car so capable of exceptional performance. This one still has the 4-speed transmission of its forebears and remains capable of delivering all of the excitement its owners can handle.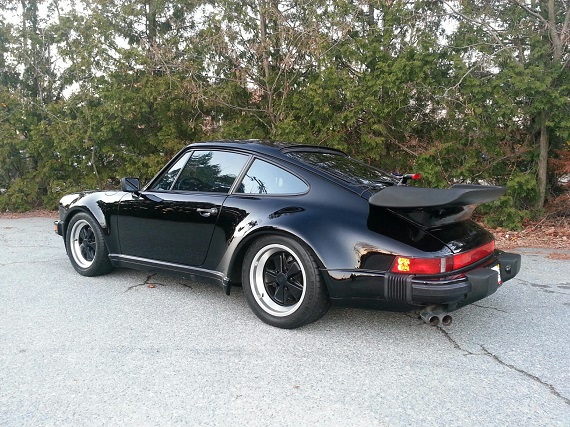 Year: 1987
Model: 911 Turbo
Engine: 3.3 liter turbocharged flat-6
Transmission: 4-speed manual
Mileage: 39,664 mi
Price: $129,000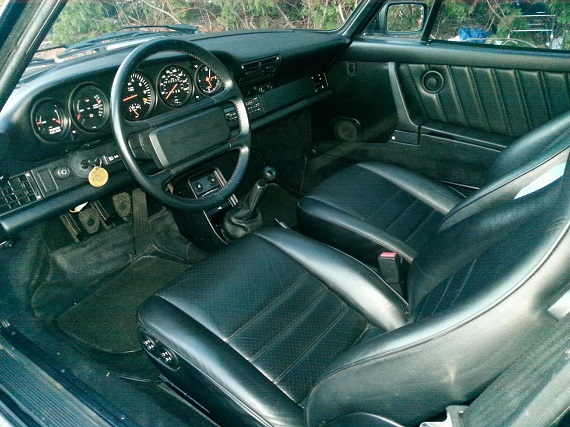 1987 Porsche 911 Turbo Coupe
Black w/black leather, 39,664 miles, One owner dealer serviced and completely stock. All original
Car comes with all documentation including books and manuals, original window sticker, and original bill of sale. Has a few stone chips on the hood and mirrors. The suspension was lowered to European spec but can be brought back up easily if someone wanted to. One of the best pieces of automotive history to own and drive. Priced at $129,000
Call 508-326-6359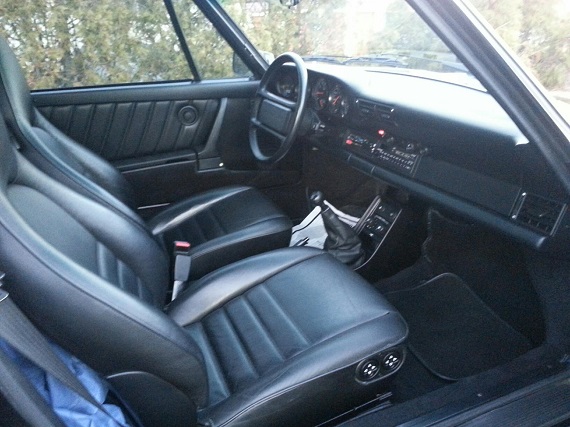 At first blush I thought this 930 was somewhat overpriced. But looking around at comparable examples and thinking back about where we've seen the 930 market, I'm not sure it's overpriced at all. In fact, this asking price may even be pretty reasonable. The '86-'88 model years, because they lack the 5-speed transmission of the '89 models, are sometimes harder to value when they don't possess some other potent combination such as the extremely low mileage and Cancan Red interior of the '86 930 we featured earlier this month. Of course, the asking price for that 930 was $80K above this one. It wasn't long ago that $80K would buy you this 930 outright. In a market with such rapid escalation there's almost always a buyer that wants to take a chance, but again those buyers look for rare attributes to help insure their investment remains hot. This 930 comes with all of its documentation, is low mileage, and looks in very good shape so it's got a lot going for it. And because its Black on Black combination lacks the rarity of other combinations the price should stay somewhat on the reasonable side. At least in a relative sense. It's becoming increasingly difficult to find good 930s these days. The mileage here is probably low enough that buyers would still have to be fairly careful about adding additional miles, but it shouldn't have to stay locked up full time.
Interested buyers should contact Richard Valente at 508-326-6359.
-Rob