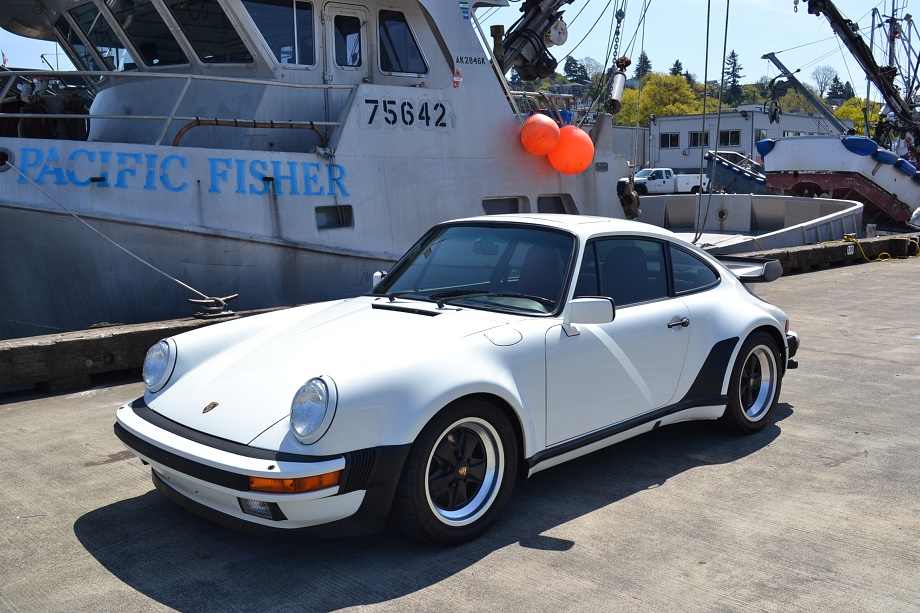 If you've been reading these pages long enough you'll know that I love a bright red interior. You might also recall that for me a white exterior is a color for which I have a very love/hate relationship. I think it can work incredibly well on some cars and look incredibly boring on others. In both cases, what I like about these colors comes down to contrast. It is not the individual color itself that I enjoy, but rather the way in which it complements other colors. I can think of few better examples of this than the presentation of this Grand Prix White 1988 Porsche 930 Coupe with Lipstick Red interior and just 26,842 miles on it.
The interior is about as bright as they come on a Porsche. Contrasted with the Grand Prix White exterior it stands out in sharp focus. It's ostentatious, but because the exterior is white I don't find it garish. It brings some excitement to the car in a way that the much more standard black interior simply could not do and it enhances that white exterior. Overall, this is really nice looking 930 whose color combination is quite befitting of the car's dynamic capabilities.
Year: 1988
Model: 911 Turbo
VIN: WP0JB0932JS050514
Engine: 3.3 liter turbocharged flat-6
Transmission: 4-speed manual
Mileage: 26,842 mi
Price: $159,000 – Email sennducati79@gmail.com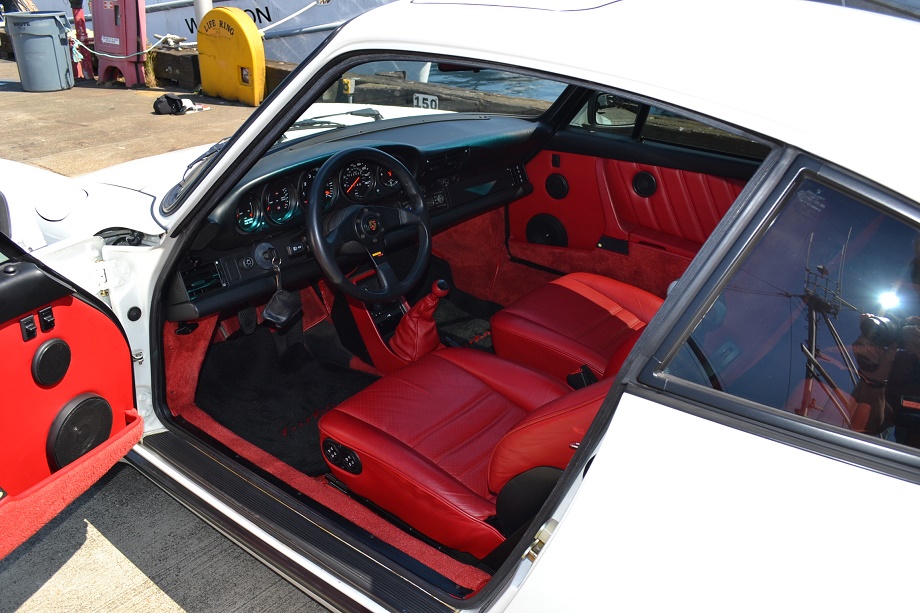 Concours quality, original car
Matching numbers with Porsche Certificate of Authenticity
Comes with original book, tools, compressor, jack and spare
Fully serviced and maintained, heated private collection.
3.3-liter turbo air-cooled flat six
Revealed at the 1974 Paris Auto Show, the concept Porsche 930 sparked a turbo street car era and was
the beginning of what would span a long 15-year production run from 1975 to 1989. Taking their
motorsports experience and applying it to their street car, the 930 became the turbo-boosted hot rod
911 that you could buy from the factory, with a warranty. Originally released with a 3.0-liter engine, in
1978 the 930 received a 3.3-liter engine which helped with turbo lag and power, bumping up the power
from 260hp to 300hp
This 1988 Grand Prix white 930 Turbo has been owned by two high end collectors. Delivered new in
Fresno California. 26k Original miles. This pristine example has been in a heated climate controlled
building its entire life. Grand Prix white on Can Can Red Leather interior, black dash, black headliner,
rare and stunning combination. Pictures do not do the combination justice. One of 701 built, today
exactly 26,842 miles, 1440 miles put on this Porsche since 2011. This car is being offered for the first
time on the Internet. This has never seen poor weather condition or rain, it is spotless.
This thoroughbred Porsche has never seen rain, correct cosmoline under side of motor and tub. Vehicle
is factory certified, with all tool kits, books, manuals, spare keys. Original Grand Prix paint in like new
condition. 3.3 liter Turbo motor and 4 speed gear box, all original and matching number Porsche. This
has never seen a track or ever abused, owned by 2 prominent business owners and collectors of very
high end vehicles. Complete service history and records. The Porsche has only been touched by both
Porsche and Ferrari combo certified technicians. The driver's seat is NOT broken down and worn, the
interior on this car is beyond pristine and cared for, no cracking or tears, soft and perfectly preserved,
carpet, dash all gauges work perfect, no flaws or imperfections.
New correct Bridgestone Potenza RE11 245/45R16 rears and 205/55/16 Fronts mounted and balanced
on factory Forged 16×8 and 16×9 inch wheels with proper Factory European bumper height chassis
lowering, plus weight balance to 180 lbs. driver, the stance is at a 1.5 degree rake which is correct for
the 930 Porsche chassis. Currently has a MOMO steering wheel on it and we have the factory Porsche
steering wheel, along with the factory black Porsche Fuch wheel center caps. Currently the wheels have
aftermarket colored Porsche crests on the wheel centers. These centers were purchased in the UK and
made in Germany. The glass is all factory Porsche original, windshield had a small epoxy repair in the
early 90's you cannot tell, it was saved as the factory radio antenna is in the glass. Overall this example is
very rare and unmolested. You will be very hard pressed to find one in this combo as correct and clean
as this example is, literally has been 20-30 th toy in the collection and it shows. While there are many
examples out there, this color combo is rare and owned by 2 successful collectors that know the

meaning of true Motor sports vehicles of this caliber. You will not be disappointed. Serious only please.
Perfect time for Rensport. Very hard to find another 1988 at this level.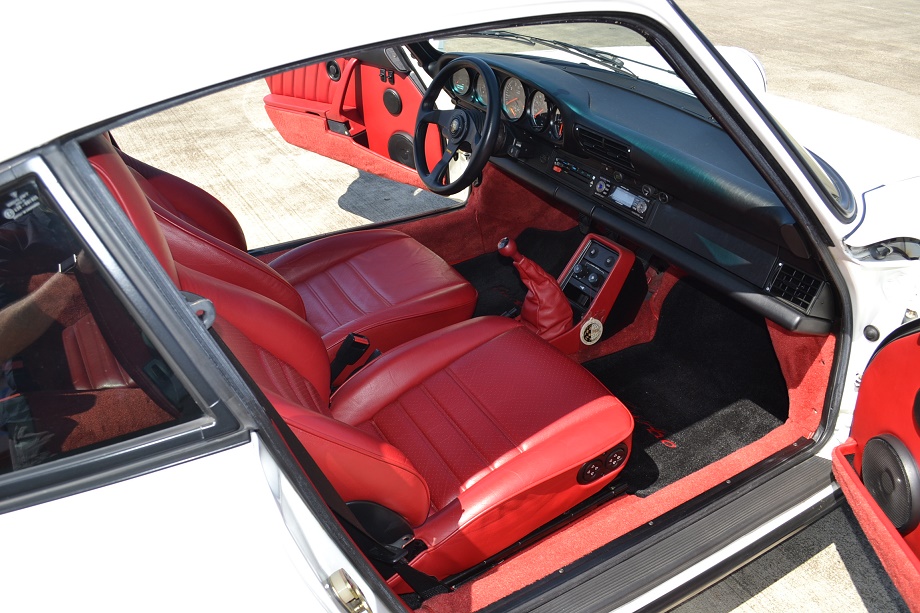 Obviously, much of what stands out about this 930 is the color combination and it's what I have focused on most so far. However, it is the overall condition of this 930 that is making that color combination work so well. If it weren't so clean and well maintained these colors wouldn't stand out as much as they do and wouldn't attract our notice as much as they do. We're told that it is entirely original outside of the MOMO steering wheel and the center caps on the 16×8 and 16×9 Fuchs wheels. I think both of these additions are improvements to the car and in both cases the original pieces come with the car so collectors need not worry about spoiling the originality. I believe the radio is non-original as well. The paint is entirely original and looks in great shape. The interior too is original and looks almost entirely free of wear.
Given the very low mileage we would hope for fantastic condition and overall this 930 does not disappoint. It's said to have been owned by two collectors and spent all of its time in the comforts of climate-controlled garages and driven only in good weather. Given that it has averaged fewer than 1,000 miles driven per year all of this makes sense. Of course, I'm sure we'd all like to see it spend more time being driven; I know I'd certainly love to see a 930 like this on the streets near me. But while that hasn't been the case to date at least the condition allows us to enjoy it as a time capsule and reminder of these great machines.
Interested parties can email Shaun at sennducati79@gmail.com for all inquiries.
-Rob