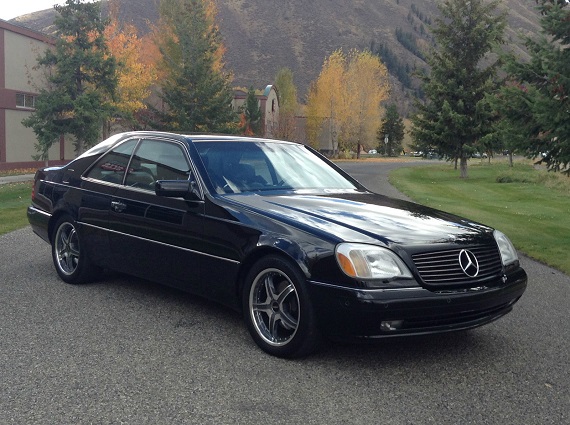 In many ways, modern executive sedans – especially the top-tier fully loaded examples fit for the Wall Street elite – have become appliances. They ooze of technology, features and exclusivity but to me the designs have all become too similar. On the surface I can tell the difference between the S-Class, the 7-series and the A8, but they're really birds of a feather with few distinctive differences. In many ways, leveling the playing field between the big three has resulted in a homogeneous market place full of leisure suit wearing, rhinestone-studded Elvis impersonators. Some may be slightly better looking than others, and some may do a great job. But like a Vegas show that's run its course, would you really want to own one out of the service warranty when the budget conscious construction, mega complicated electrical systems, suspension and drive train items start breaking? 'Thank you very much!', but I'd prefer to look to history for a lesson on how to do it right.
I remember well when the W140 Mercedes-Benz launched. It was a big deal back then, because as they have always the S-Class models represented the absolute best engineering available. The W140 externally was an evolution of the W124 design more than an update of the W126 in my eyes, though the visual similarities were no surprise as Bruno Sacco was at the pen of all three. While the design wasn't revolutionary, it did bring Mercedes into the current trend and in its own way is handsome. The W140 also pioneered many electronic systems into the large executive market, including cutting edge ABS and Anti-Slip technology, Xenon headlights and near silent interiors thanks to glazed windows. While Mercedes-Benz continued to offer a large coupe version of the platform, unlike the previous generation the C140 featured a completely revised body that made the large 2-door imposing and impressive. All of this cost – a lot – as Mercedes-Benz engineers racked up a reported 1 billion dollars of development costs. Luckily they managed to retain the pillarless design – one of the best aspects of the coupe. The C140 came in a few different engine configurations; under the hood of this CL500 was the same M119 that had powered the legendary 500E. With over 320 horsepower on tap, the 4-cam V8 was capable of providing and entertaining drive even in the quite heavy W140. This particular CL500 is from the last year of production for the 140 chassis: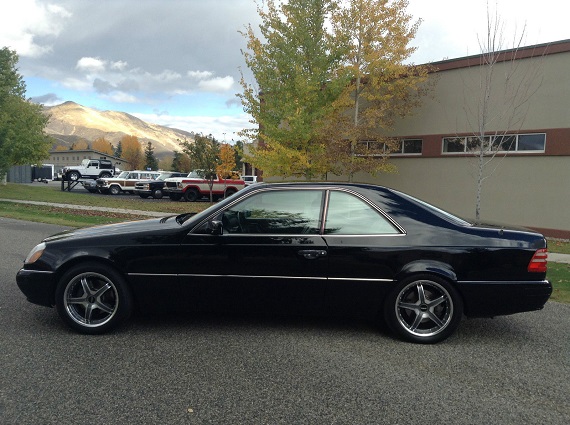 Year: 1999
Model: CL500
Engine: 5.0 liter V8
Transmission: 5-speed automatic
Mileage: 131,536 mi
Price: $7,500 Buy It Now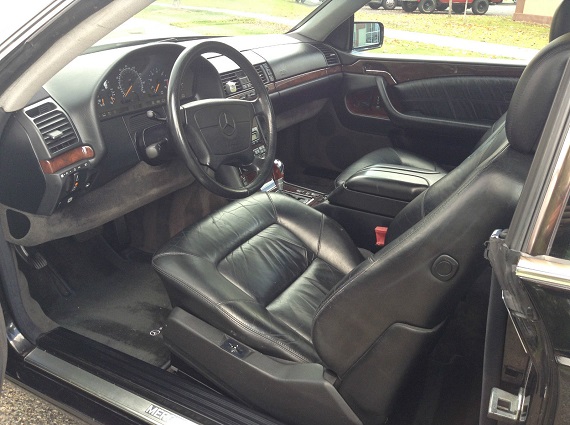 Black on Black
Maintenance records
Great ownership history
Accident free
Rust free

We have one of the last well built and engineered Mercedes-Benzes for sale. For its age this car is in very good shape. Stunning pillar-less opera coupe finished in a very deep black. I true interstate bomber. This is the correct way to buy a CL 500. This Benz has lived its life in Nevada, California, and recently Idaho. This specific car has never seen an accident either. We put new all season tires on the aftermarket 18″ wheels (Old tires pictured). Our in house mechanic Wolfgang has maintained this car for the past few years. You will be buying this car with good maintenance records. The previous owner has invested over $5,000 during the past few years he has owned it. Do not buy one of these cars with out service documents. This was the last year this platform was produced and sold back in 1999 and it has the robust 5.0 V8 engine. Many publications regard this V8 engine as one of the best engines ever produced. Being much lighter at the front, the CL500 tended to have better handling characteristics than the heavier V12 flagship. Be sure to watch our test drive video. Give Max a call at 208-720-8854 or Shep at 208-721-1973 if you would like to purchase this nice CL 500.

Click to view a test drive video
Click for additional photos

Fee and Tax Information: Out of state buyers will not be charged Idaho sales tax, you will be responsible for taxes in your home state at time of registration. In state purchases will be charged Idaho sales tax of 6% to be remitted by Sun Valley Auto Sales. Documentation fee of $195, In state temporary 72 hour registration $8, Out of state 30 day temporary registration is $5. Winning bidder must contact us within 24 hours of auction end, and make arrangements for payment at that time. A $500.00 deposit is due within 24 hours of end of auction. The remainder is due within 3 days of auction end. If no contact is made within 24 hours we reserve the right to re-list the vehicle, sell it to the next high bidder, or sell it otherwise. If you need financing I can work with your lending institution or I can help you arrange financing. You must have approved financing arranged before the end of the auction. Buyer is responsible for pickup or shipping of this vehicle. We ship 8-10 classics a month through our broker. If you want a quote call or email me. If you wish to have it shipped using your service, we will gladly cooperate. We reserve the right to end the listing if the vehicle is no longer available for sale.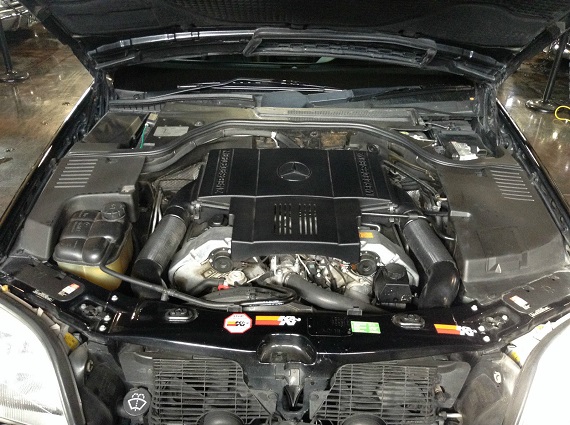 These W140s can often be found with high miles and in poor condition, so running across a good condition, reasonable mile driver is a treat. The color combination is classic Mercedes S-Class, and as the last of the run, this car features all of the development changes throughout the line such as rain sensing automatic wipers and side airbags, as well as the Parktronic system that judges parking distance instead of relying on the deploy-able pillars on the rear of early W140s. The only item that stands out in my eyes is the aftermarket wheels which could be easily remedied by changing to readily available stock units, or perhaps some AMG E55 wheels if you want to stay large. The 18″ rolling stock does fill out the wells quite a bit better than the stock 16″ wheels did and make the car look proportionately correct. With a tremendous amount of luxury and reliability that is equal to other classic Benz models, these W140s haven't yet gained traction as a collector-status car, but they certainly offer that potential long term. Over the past two years we've watched W126 models increase rapidly, making a nice C140 like this both appealing as a luxurious driver and as a potential collector on a more reasonable budget. The 140 chassis personifies the expression of a lot of car for your money, and this looks like a nice one to enjoy legendary style, luxury and Mercedes reliability – the hallmarks of what made the company great.
-Carter