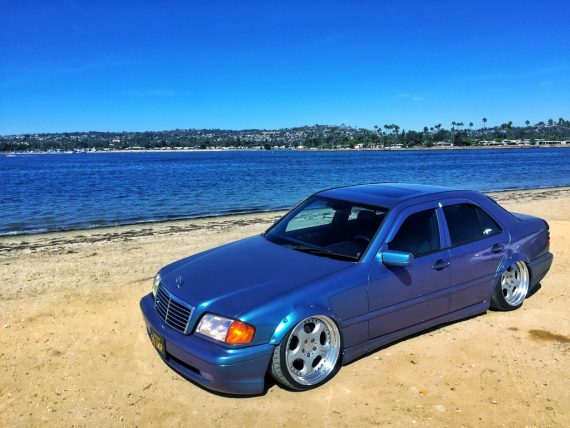 Put down your pitchforks and extinguish your torches, that's not needed today for this Frankenstein creation. What is needed is a little bit of perspective and thought beyond what you initially see – a bagged car with a wild color wrap and bolt on fender flairs. Normally these things would be off-putting to most enthusiasts, but are the bones of this build sound? Let's take a look at this W202 AMG for sale in California.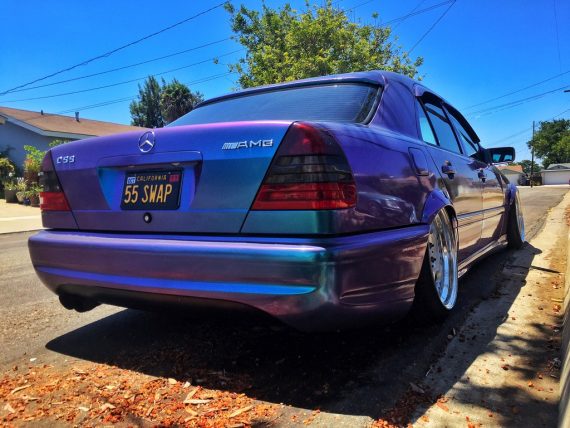 Year: 1999
Model: C43 5.5
Engine: 5.4 liter V8
Transmission: 5-speed automatic
Mileage: 235,500 mi
Price: $7,000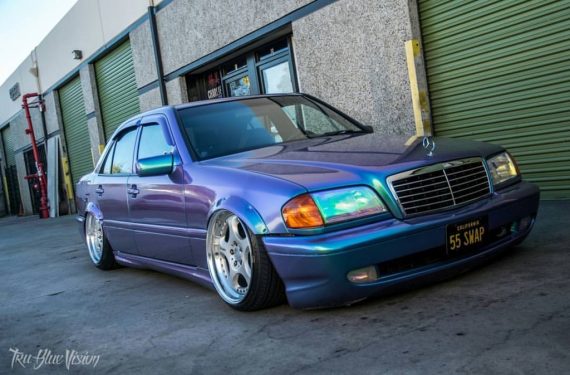 Need to sell by the end of the year, bought a new toy and cant keep both, No low ballers and no test drives without cash in hand.

1999 C43 AMG With E55 5.5 engine swap
Car has 235k Miles on the chassis, engine has less than 5k miles on it full rebuilt from the ground up M113 E55 AMG 5.5 liter V8 from a 2001 E55 donor car. This car hauls ass.

Wheels: Brabus IV three piece wheels 18×9,5 18×10.5 freshly built by VR Wheels

good tires all around 225/35/18 255/35/18

E55 engine swap
full rebuilt with new
-Water pump
-Thermostat
-Rear main seal
-Rear main seal plate
-New valve cover gaskets
-New breather hose gaskets
-New radiator hoses
-All new fluids, Oil, coolant, trans, etc
Have pictures of entire swap and receipts for all parts used.

Also have documents since cars original Owner Previous two owners were very close friends, car has always been a CA car

Suspension
-Air ride suspension
-paddle valves, 5 gallon air tank, viair compressor

Complete audio upgrade still under warranty
-Sony DSX-S310BTX Head unit
-Alpine Type R Amp
-Hifonics 1000 Watt amp
-JBL GTO608C Speakers and tweeters
-Pioneer TS-D1002R Rear speakers built in tweeters
-MB quart QA800 Amp

Exterior –
Car has been professionally Vinyl wrapped in Oracal Turqoise Lavender
2.5″ fender flares all around

Interior-
Extremely rare Black/Blue interior from the factory in great condition.
Diamond stitch / suede headliner
Any other questions feel free to call or text, like I said not in any rush to sell, no low ball offers and no test drives without cash in hand! Thanks

PRICE:
7k As is
5.5K without wheels

619- Five One Eight – 6514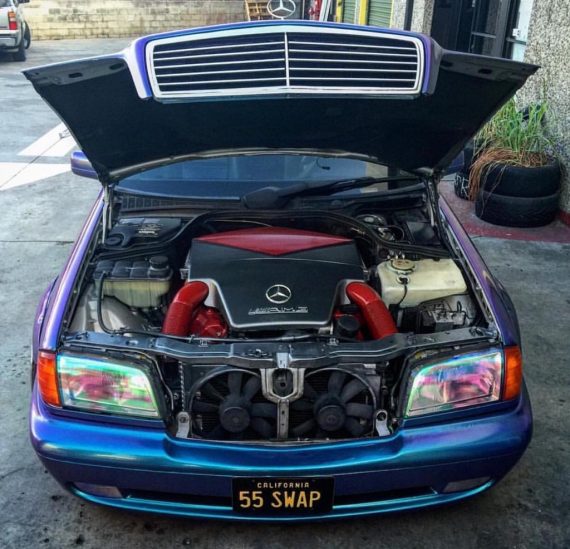 This car started off as a standard silver W202 C43 AMG and was transformed into much more. The mystichrome wrap, bolted on fender flairs, air ride suspension and extremely wide Brabus wheels took this car from subdued sedan to Instagram superstar. But it's under the hood where the real money is at. The 4.3 liter V8 M113 engine was swapped out for the 5.4 liter M113 from the from the big brother E55. Because both engines are the M113, the swap is straight forward and fairly common within the C43 circles and is an easy way to gain 50 horsepower and nearly 100 ft·lb of torque. In addition to the swap, the seller mentioned he did all the maintenance items while the engine was out to make sure everything was on the up and up.
According to the ad, the asking price for this car is $7,000 with the Brabus wheels and $5,500 without. Doing the quick math in my head here, there is a lot more $7,000 worth of car seeing where prices of C43s typically are plus all the parts. Without the wheels, you have a rocket ship for very little money. I admit, you wouldn't catch me dead in this car as is – but many of the undesirable modifications are reversible. Unwrap the package and set the suspension so it doesn't have the bumpers touching the road, and it's much more appealing to most. It's a California car that probably isn't a total bucket of rust yet either. So for very little money, you can have a lot of car and probably revert is back to something a little more subtle with only a little bit of effort.
– Andrew