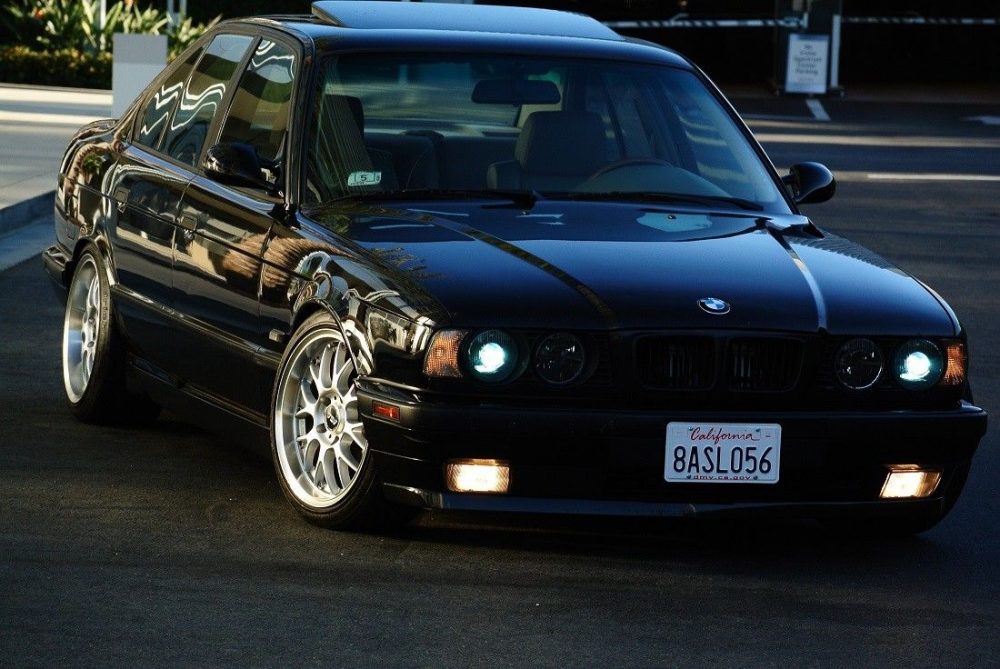 Update 11/26/18: Although listed as sold at $7,100 last auction, this car is back again with no reserve and sold for $7,099.
Update 11/15/18: This E34 sold for $7,100.
After selling earlier this year from out Feature Listings, this built and supercharged "540i" is back on eBay with a no reserve auction and some slick new photos. Bidding is currently only at $5,600 with a day and a half to go.
In the early years of the 1990s, the writing was on the wall for the high-strung M88 derivatives. They were excellent motors, no doubt, but power levels were rising to the point where the M5 was no longer top trump. It enjoyed a small power advantage over cars such as the V8 4.2 quattro, true – with 276 horsepower and 295 lb.ft of torque, the Audi had less punch but more pull. But cars like the M119-equipped 500E changed the playing field; 322 horsepower was enough to overcome the S38 in the M5, but the big number was the 354 lb.ft of torque. That was nearly 100 lb.ft more than the S38 and it was more usable, too.
BMW wasn't to be outdone, launching its own series of V8 for the 1992 model year. in 3.0 and 4.0 form, the modern aluminum motors dubbed the M60 brought new levels of power to the third generation 5. In fact, so potent was the 4.0 version that BMW decided the more expensive M5 was effectively redundant in the marketplace. The M60B40 was rated at 282 horsepower and 295 lb.ft of torque and and good enough to scoot the luxury car from 0-60 in 6.9 seconds even when equipped with a 5-speed automatic.
But there was a 6-speed manual option as well, and of course you could opt for the sport package that would give you better seats, springs and a limited-slip differential. These options turned the two-ton Teuton into an athlete. While this particular E34 started life as a 525i, it's been given the full 540 treatment and then some, culminating in a Vortech supercharger for some serious punch: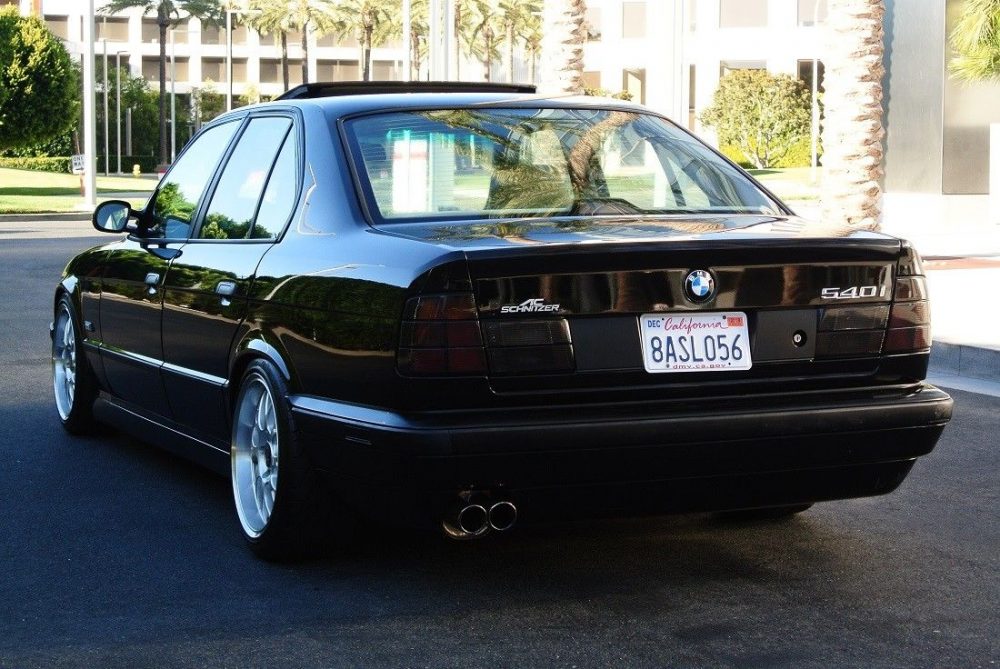 Year: 1995
Model: '540i'
Engine: 4.0 liter supercharged V8
Transmission: 6-speed manual
Mileage: 136,100 mi
Price: No Reserve Auction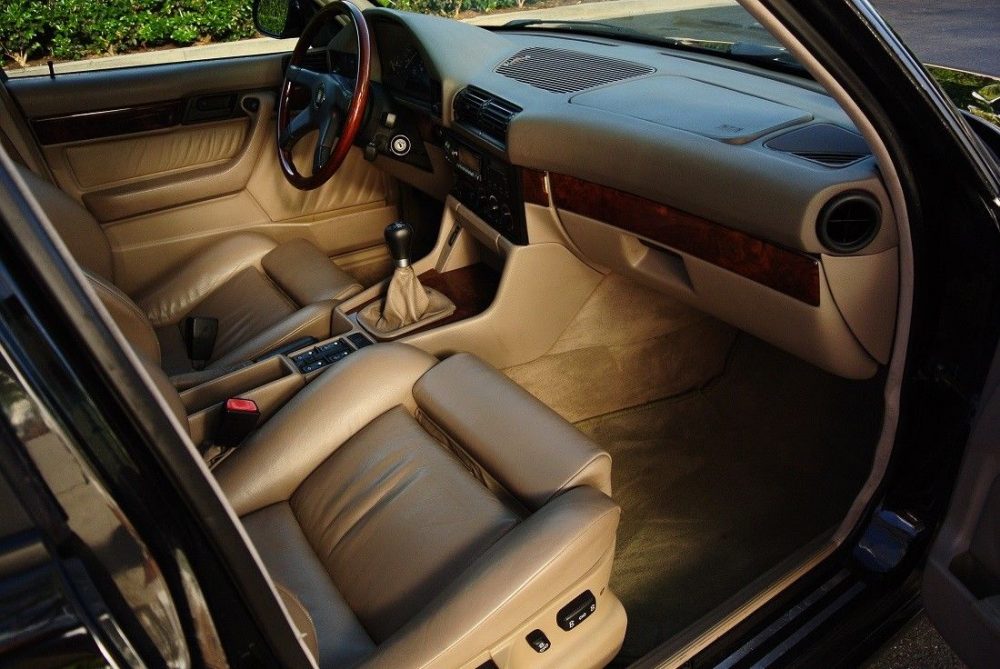 New Description
1995 BMW
RARE AND HARD TO FIND
CUSTOM RACE 540I WITH SUPERCHARGER V.2
ON 525I BODY CHASSIS
THE MOST BEAUTIFUL AND MOST RACE LOADED
ULTIMATE 5 SERIES VEHICLE
949-306-1036
702-480-8991
YOU ARE BIDDING ON BEAUTIFUL AND THE MOST UPGRADED RACE RETRO BMW 1995 540I 6SPEED MANUAL TRANSMISION WITH SUPERCHARGER ENGINE. THIS BMW HAS OVER $15.000 IN UP GRADES.COMES WITH LARGE INTERCOOLER,THIS CAR DRIVES VERY STRONG AND SOLID LIKE ORIGINAL ULTIMATE DRIVING VEHICLE.THE ENGINE AND TRANSMISION IS IN VERY GOOD CONDITION ALWAYS SERVICE ON TIME WITH SYNTETIC GERMAN OIL, THE INTERIOR IS IN VERY GOOD CONDITION.XENON HEADLIGHTS, HEATED M-SPORT SEATS,SPORT NARDI GARA 4 STEERING WHEEL ( OEM STEERING WHEEL IS INCLUDED) THE LEATHER HAS NO TEARS OR WEARS STAINS.
V2 SUPERCHARGE E34 540I MANUAL 6SPEED TRANSMISION.
THIS IS CONVERSION FROM 1995 525I TO 540I M60 B40 AND 420G
VORTECH V2 SUPERCHARGER WITH FRONT MOUNT INTERCOOLER,WITH MILLER WAR CHIP (WRITE AND REMAP) WITH A DINAN BASE MAP MILLAR AIR FLOW SENSOR ,DINAN 32LB INJECTORS DINAN CRANK PULLEY, CURRENTLY RUNNING WITH 3.3 INCH PULLEY, 3.0 IS INCLUDED WITH A CAR, ALUMINUM RADIATOR WITH ELECTRIC FAN CONVERSION.
B&B TRI-FLO CAT BACK EXHAUST
UUC DSSR WITH EV03 SHIFTER
JB RACING 13LB FLYWHEEL WITH CLUTCH MASTER STAGE 1 CLUTCH
3.15 LARGE CASE LIMITED SLIP DIFFERENTIAL
NEX SS COILOVER
MEYLE HD CONTROL AND THRUST ARMS,NEW DRAG LINK AND TIE ROD ENDS ,
POWERFLEX POLY SUBFRAME AND CONTROL THRUST ARMS BUSHINGS,
A/C IS DISCONNECTED DUE TO BAYPASS FOR INTERCOOLER SUPERCHARGER,CATS WAS REMOVED FOR BETTER ENGINE PERFORMANCE,THE CAR MAY HAVE SOME NORMAL WEAR IMPERFECTIONS DUE TO YEARS , LIKE DOOR DINGS AND MINOR SCRATCHES, THIS BMW IS IN GOOD CONDITION AND NEVER BEEN IN ANY ACCIDENTS.

ANY QUESTION PLEASE CALL (949)-306-1036

NO BLOCK CALLS PLEASE.

TERMS:: Please Be Sure That You Serious And Ready Financially And Have Enough FUNDS. For The Price You BID. IF You Have Any Questions on This Car Please Ask Call Or Email.***$500-DEPOSIT is Due within 48 hours . Remaining balance is due within 5 days.***

Old Description

Supercharged 540i/6 Speed.

Drivetrain:

* Vortech V2 supercharger with front mount intercooler, Miller WAR Chip (Write And Remap)with a Dinan base map, Miller draw-through Mass Air Flow Sensor, Lucas/Dinan 32lb injectors Dinan crank pulley. Currently running a conservative tune with a 3.3 inch pulley which equals about 5psi of boost, 3.0 inch pulley included with the sale as well but will need a new tune.
* Aluminum Radiator with electric fan conversion
* B&B Tri-Flo Cat Back exhaust
* UUC DSSR with EVO3 shifter
* JB Racing 13lb flywheel with Clutch Masters stage 1 clutch
* 3.15 Large Case Limited Slip Differential

Interior:

* Heated Sport Seats in Great Condition
* Nardi Gara 4 steering wheel (OEM Air Bag Steering also included)
* DEPO Euro smoked smileys with HID Conversion, real Hella smoked rear tails and m5 filler plate
* BMW ZHP Shifter

Suspension:

* NEX SS coilovers
* Meyle HD Control and thrust arms, also new drag link and tie rod ends
* Powerflex poly subframe and control and thrust arm bushings

Car started it's like as a 525i and had a full 1995 540i drivetrain swap with m60b40 and 420g 6 speed trans. Matching VIN's on every panel. All panels read 2.5 Mils except passenger side fender that has been painted and is currently showing 11.5 Mils, hood has rock chips and road rash and could use a repaint to better match the rest of the car, front doors have some rust at the bottom that is visible from the inside. Windshield has a crack on the side and not in the eye sight. I would rate the exterior as a 6.5 on 1-10 scale because of these issues. AC condenser has been removed to make room for intercooler, has AC compressor and is currently bypassed. Current CA tags through December, clean CA title and a year away from qualifying for classic plates. I don't need help selling the car.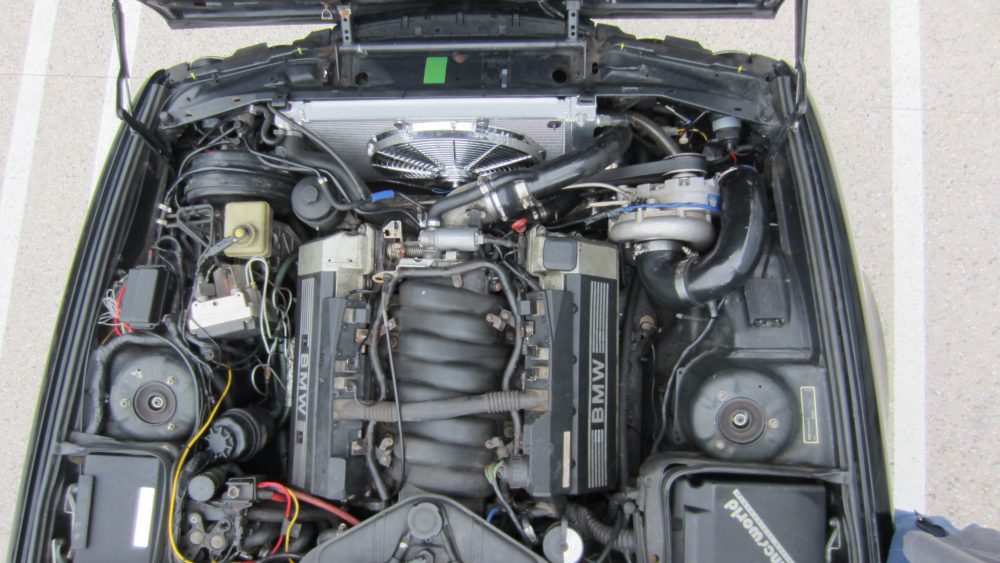 This car really channels the look of the U.S.-spec E28 M5 well, with the all black exterior being matched well with a set of great-looking sport seats. The 6-speed manual and M60B40 were sourced from a 540i to help the performance match the sinister looks. Power levels aren't supplied, but Vortech claims 410 horsepower and 395 lb.ft of torque on the M62, for reference. The exhaust and cooling system has also been upgraded, and coilover suspension gives you the ability to tune the ride height and spring rates to your desire. For most, this probably wouldn't constitute a daily driver; but then it's a 23 year old car at this point, on the verge of being considered vintage. It's a 90s hot rod with a great and understated look, but one that's refined enough for you to carry your friends for a romp to the track or show.
The seller has provided a high-resolution photo gallery of the car including paint thickness readings.
-Carter