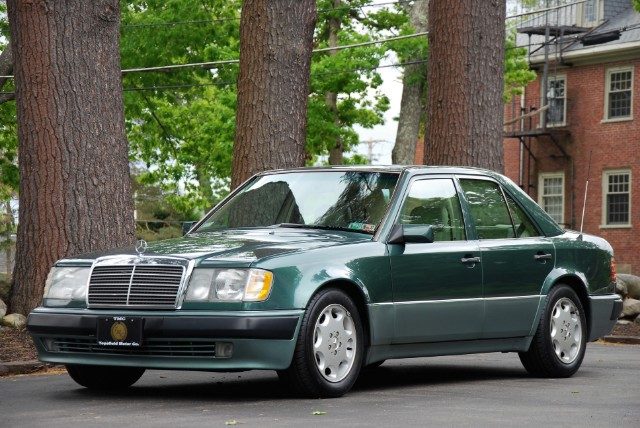 Last week I looked at the legendary E500 that seemed like a really good deal considering the market for these beasts. Today is another W124.036 that also presents good value for the condition this 500E is in. Sporting the lovely Spruce Green Metallic with creme leather like the 600SL I checked out back in the spring, this car just reaffirms why it is one of my favorite colors on 90s Mercedes. Unlike the E500 last week, this one has about 50,000 more miles on it. But taking a quick glance, you could never tell. So how much of a price difference will there?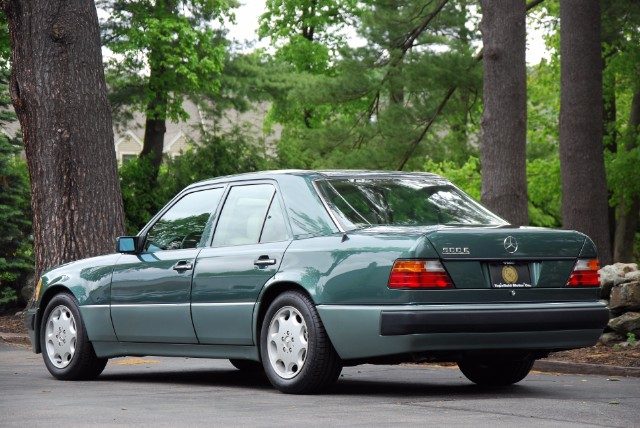 Year: 1993
Model: 500E
Engine: 5.0 liter V8
Transmission: 4-speed automatic
Mileage: 152,696 mi
Price: $19,900 Buy It Now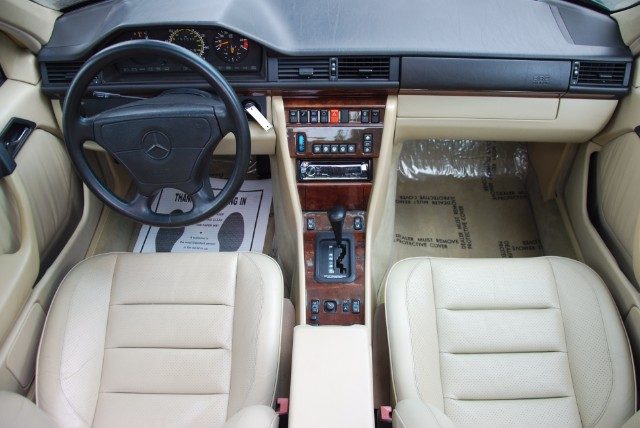 Extremely Rare and iconic "Wolf in Sheep's Clothing" 1993 Mercedes-Benz 500E Sedan with 152k..Finished in rare Spruce Green over Cream-Beige Leather interior for a stunning color combination…These rare 500E Models were was hand-built in close cooperation with Porsche Engineering Team that modified the engines for this model…With the 500E's aggressive stance featuring 1.5 inches wider track 0.9 inch lower profile flared fenders side skirts front air-dam and wide tires and over 325hp the 500E sets itself apart from other E-Models. These models were built only from 91′-94′ and only have production numbers just over 10000 units making these extremely desirable on the market. This particular 500E has been extremely well maintained throughout it's life and has an accident free history and clear Title. This was primarily a Pennsylvania Car for it's entire life and shows no rust anywhere on the vehicle…Please give us a call for more information or to schedule a test drive or showing…978-631-1968..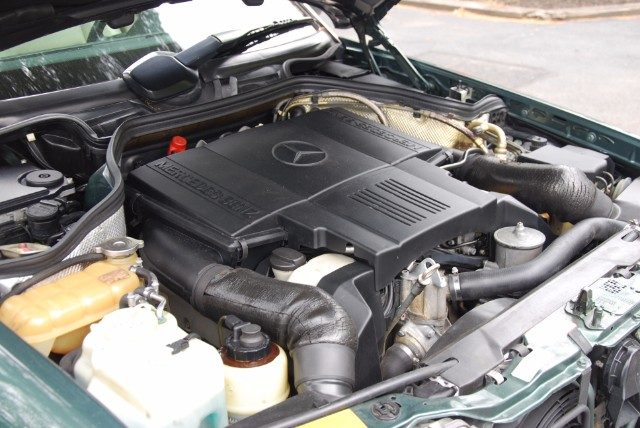 Our friends on the 500E Board have a nice paper trail of how many times this car has been sale in the last couple years — which is a few. It started out at a private seller, then to a used dealer, another used dealer, sent to an auction and now is up for sale here north of Boston at another used dealer. Luckily, the car looks like it has been well cared for in the many hands it has seen in terms repairs it has needed because the photos when it was first listed for sale back in 2012 are a lot different from the ones we see today. Everything looks really nice on this car outside of the unfortunate aftermarket stereo it gained last year. This .036 does has aftermarket headlights but I can live with them over the standard US spec lights. With any car, I'd really want to see if this car had a transmission work or any other 500E specific problems that have been remedied.
This car being offered at $19,900 is reasonable seeing where prices are at for these cars and the comparables on the market. Spruce Green isn't everyone's cup of tea so it will turn away some people, but that won't hurt this one in finding a buyer. A $3,000 price difference for 50,000 miles might not seem like a good trade-off from last week's car, but the low production combined with hot market that these cars are in skew the market sometimes so this is to be expected. Personally, if I had the $20,000 to spend, I wouldn't stay away. Just keep it away from the winter months and your $20,000 investment shouldn't decrease all that much.
– Andrew