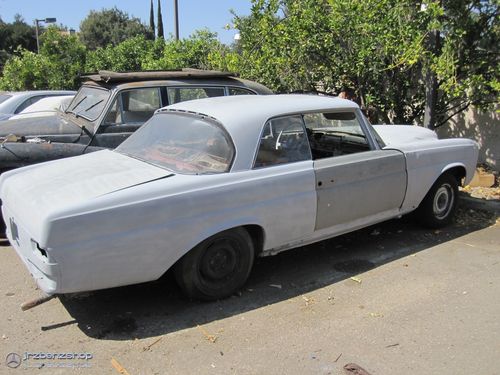 We've featured some neat and rare cars in the "Heap of the Week" feature, and here's another seldom seen model that is in need of your love. When I look for these cars, I often feel like looking through the ads should be accompanied by soft Sarah McLachlin "Arms of the Angel" playing in the background. There are plenty of hard luck cases that it would just be great to save. For example, this week there was a neat Karmann Ghia coupe and there always seem to be plenty of rusty buses available. There also always seem to be a glut of older Mercedes-Benz models that someone thought they would restore and never completed. Such is the case with today's rare 220 SE Coupe. 1965 was the last year of the 220 SE as they shifted towards larger engines in the W111. Correctly done, they're very pretty and stately Coupes, with a pillar-less design that seems elegant compared to later models. Today's example is in need of a hefty amount of work, but is available for a low purchase price: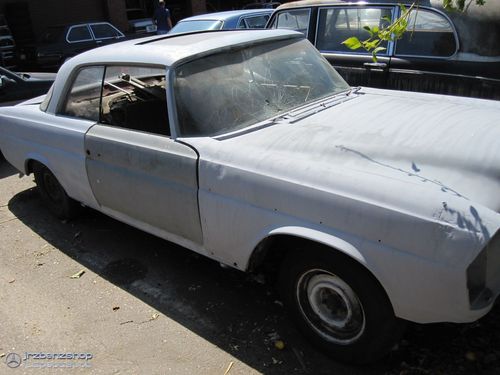 Year: 1965
Model: 220 SE Coupe
Engine: 2.2 liter inline-6
Transmission: 3-speed automatic
Mileage: N/A mi
Price: $4,500 Buy It Now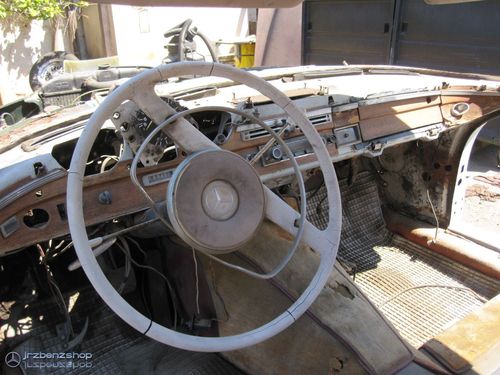 VEHICLE WAS PURCHASED FOR A RESTORATION PROJECT YEARS AGO BUT WAS NOT COMPLETED.

PARTS CAR OR PROJECT. NO CALIFORNIA TITLE. IMPORTED FROM GERMANY IN 1983 CUSTOMS DUTY PAID BUT NO TITLE WAS EVER ISSUED. CAR IS LEGALLY IN CALIFORNIA UNITED STATES BUT NOT REGISTERED OR TITLE ISSUED.

1965 220SEB, ORIGINALLY PURCHASED FROM GERMANY IN 1983 AND SENT TO LOS ANGELES, WHERE IT HAS BEEN SINCE. ENGINE WAS RUNNING AROUND 5 YEARS AGO AND HAS NOT BEEN STARTED AFTER. ALL PARTS PICTURED ARE INCLUDED WITH PURCHASE. CAR IS SOLD AS IS, AS A PARTS CAR OR PROJECT CAR. CAR COMES WITH GERMAN TITLE, NOT CALIFORNIA TITLE. REGISTRATION IS NOT CURRENT. IF BUYER WISHES TO REGISTER CAR, BUYER WILL HAVE TO GO THROUGH THE NECESSARY STEPS TO COMPLETE. OTHERWISE KEEP AS A PARTS CAR. THERE IS SOME RUST, BODY NEEDS WORK. THE CAR IS LOCATED IN WESTLAKE VILLAGE CALIFORNIA AROUND 40 MINUTES NORTH OF LOS ANGELES. I WILL ASSIST IN SHIPPING VEHICLE BUT ALL ARRRANGEMENTS WILL HAVE TO BE MADE BY BUYER. PICK UP IS RECOMMENDED BUT IF YOU ARE IN ANOTHER STATE OR COUNTRY CAR CAN BE SHIPPED. NO GUARANTEES, NO WARRANTIES, CAR IS SOLD AS IS. DEPOSIT OF $500.00 USD IS REQUIRED WITHIN 24 HOURS AFTER WINNING BID IS MADE BY PAYPAL. REMAINDER OF BALANCE IS TO BE PAID WITHIN 48 HOURS OR AT PICK UP IF ARRANGED. PLEASE BE SURE TO ASK ANY QUESTIONS YOU HAVE PRIOR TO BIDDING.

INCLUDED ONE SET OF DOORS NO EXTRA DOORS OR BODY PARTS. I WILL CONSIDER OFFERS BUT NOT REDICULOU$ ONES. THESE PARTS ARE BECOMING MORE RARE EVERY DAY.

I MOSTLY SELL MERCEDES PARTS AND ACCESSORIES. OFTEN I HAVE A FRIEND ASK ME TO SELL SOMETHING FOR THEM. I TAKE AS MUCH PRIDE IN MY NON-MERCEDES ITEMS. I MAKE SURE ALL MY ITEMS MEET HIGH STANDARDS. PLEASE KNOW IF YOU SEE SOMETHING THAT IS NOT MY SPECIALTY, I HAVE TAKEN THE TIME TO MAKE SURE YOU ARE RECEIVING A GOOD PRODUCT FOR A FAIR PRICE. WE HAVE BEEN INVOLVED IN THE MERCEDES BUSINESS FOR OVER 50 YEARS. WE HAVE A GOOD SELECTION OF PARTS AND GOOD SOURCES FOR THEM. PLEASE EMAIL US IF YOU NEED A PART YOU DO NOT SEE LISTED.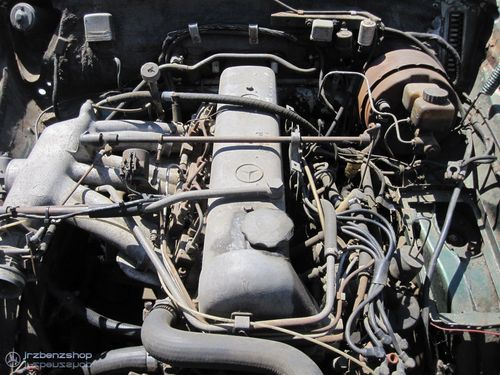 While this model has been taken apart for restoration that restoration never happened. Fortunately, the pictures seem to document that most of the trim pieces remain intact, though it appears this car will need a healthy dose of time and energy to get it back to working order. When and if that occurred, it could look something like this: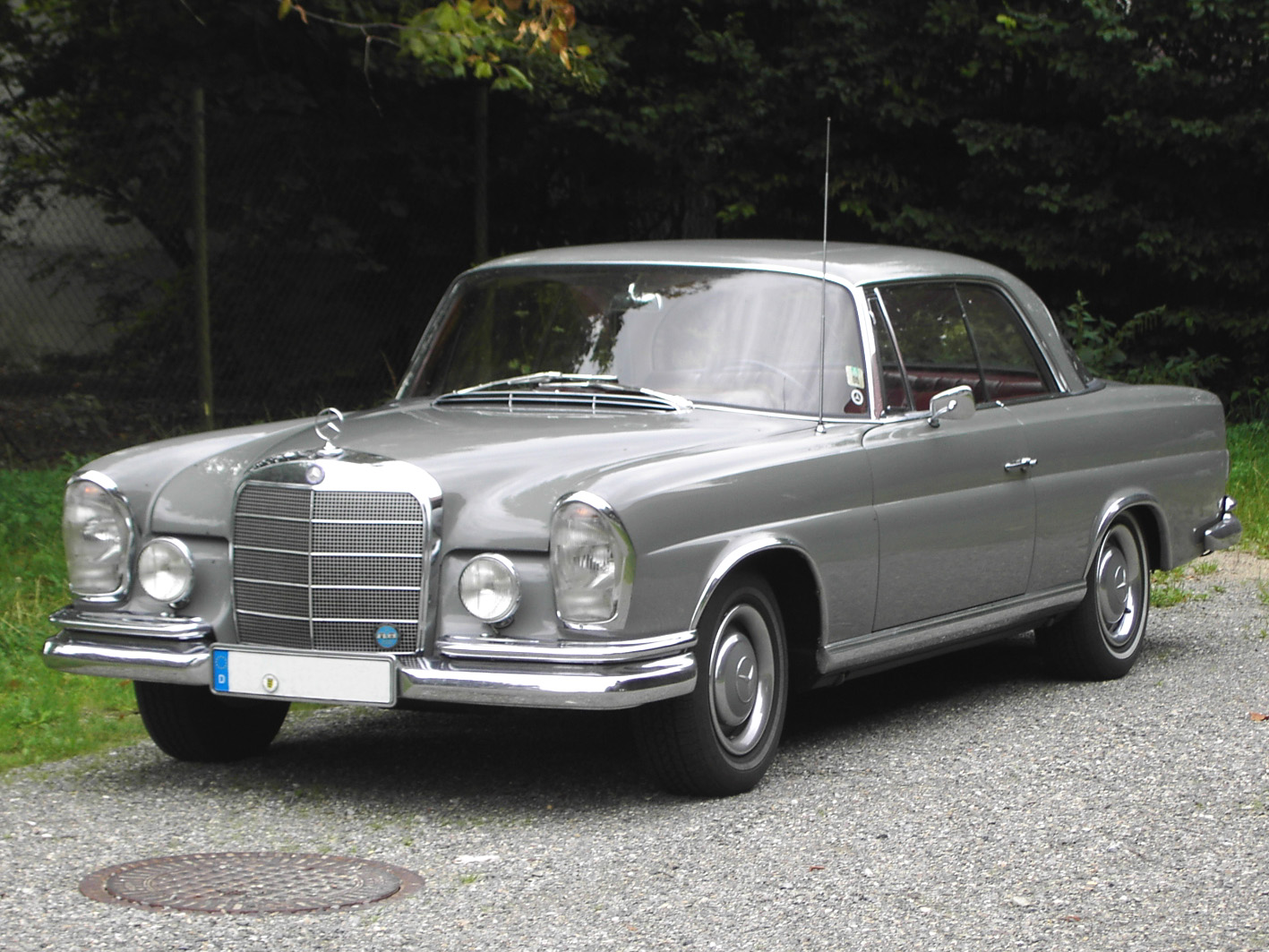 There are several problems, though – in addition to the headache of restoring this car, there's the headache of sorting out the correct paperwork, as it retains a German title. I'd imagine that could be creatively overcome given the age of the car, but it will take some legwork. Second is the much larger problem; value. These cars, even in very good condition, seem to be on the lower end of the classic Mercedes-Benz market – it's not uncommon to see clean examples trading below $20,000, and Hagerty lists the average value for the 220 Coupe right around $18,000. So, that leaves you a budget of less than $15,000 to make this car a viable option. Let me be first to say "No way". Unless you own the body shop, are a handy backyard mechanic and have some favors owed to you by an upholsterer, there's just no way you can get it done and have the car be under the value of a decent one. That's a shame because it's a cool, rare car that doesn't deserve to die (cue the Sarah McLachlin) and it would be great to see it restored. If it were a cabriolet, it would be a no-brainer. But unfortunately, even if this one was free, I'm still not certain it would be worth the time and effort to restore to original condition.
-Carter