Warning!
This post is in our archives. Links in this post may have been updated to point to similar cars available to bid on eBay.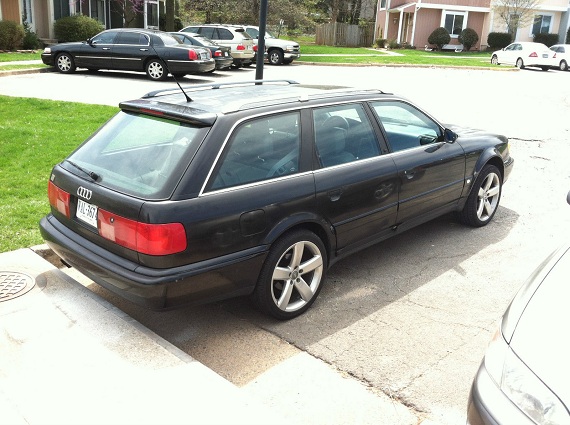 It's been a mixed week at GCFSB for C4 Audis; yesterday I wrote up the best of the U.S. S4 which reminded us how incredible these cars can be; but more folks pine for a good example of the Avant. A few days earlier, I wrote up aslightly rough 1995.5 S6 Avant, which needed some trim work, a good cleaning and some center caps for the wheels but otherwise looked decent. In that post, I talked about how these Avants were used hard and most turn up in worn condition; today's example is no exception. Looking a bit tired but – as they say with houses – with "good bones", will this S6 Avant be a heap worth restoring?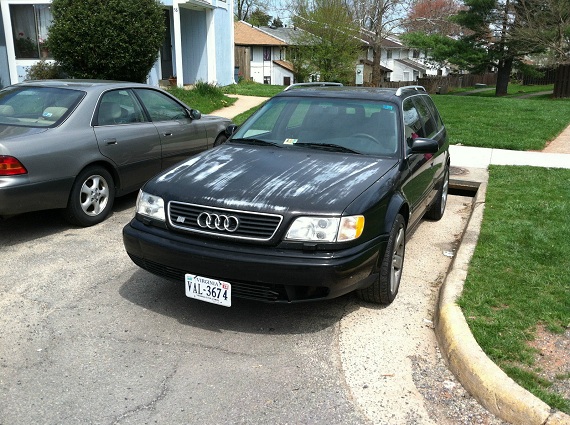 Year: 1995
Model: S6 Avant
Engine: 2.2 liter turbocharged inline-5
Transmission: 5-speed manual
Mileage: 153,821 mi
Price: $6,000 Buy It Now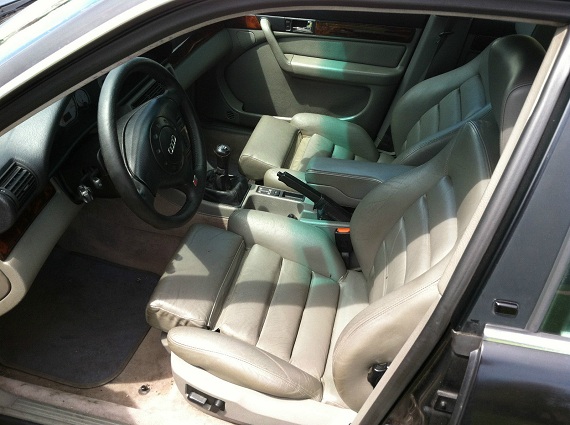 I am selling my 1995 Audi S6 Avant. If you know anything about the '95 S6 Avant you know there are less than 300 of these on the road in the US currently. I bought it with the intention of fixing it up it but I have the opportunity to buy one of my dream cars so I have to sell the S6 to raise money. I will try to describe the vehicle as accurately as possible.

1995 Audi S6 Avant, black on gray. 153821 miles. 5 speed manual, power seats, windows, mirrors, door locks, etc.

The good:

Rebuilt front suspension, new Bilstein shocks, lower control arms, upper strut mounts, strut bearings, left outer tie rod end and sway bar bushings.

Upgraded igniton system to Apikol coil conversion, car runs well and pulls hard, has MTM stage 1 chip.

Front brake pads are pretty new, have lots of life left on them

A/C and heat work great, I just replaced the blend door actuator.

Clutch has plenty of life, transmission shifts smoothly.

Replaced transmission mounts, front axles have been rebuilt recently (have receipts from previous owner on axles)

Cylinder head was replaced with a used head with 70k miles on it, have receipts for this too.

Locking rear differential is working.

Interior is in pretty good shape (minus a sagging headliner) drivers seat has 2 small holes but no rips or tears in bolster. Passenger near perfect No real cracks to speak of either. I have used leatherique on the seats since I've owned it and they are pretty supple now.

HID conversion, works great with stock projectors.

Bose stereo works and sounds great, surprisingly good for a car of this vintage.

Comes with 2 sets of wheels, original 16″ Avus wheels and the 18″ VW wheels pictured on the car. The VW wheels are a bit bent and the Avus wheels are straight but with no tires. I can include a set of used but good tires on the stock wheels if you wish.

Power windows and mirrors work, heated front and rear seats work with the exception of the drivers seat.

Have flushed the brake and clutch systems since I've owned it as well as the cooling system.

Engine is strong and the turbo makes a lot of boost, its really a blast to drive, especially in its current condition, its quite a sleeper. I get about 18mpg driving it moderately in some stop and go traffic, so its even pretty efficient for what it is.

Timing belt and water pump were replaced with cylinder head around 20,000 miles ago. Have old parts and recepits.
The Not So Good:

Obviously, it needs a paint job, but there is no rust on the vehicle so there is that as a plus. Lower door trim pieces need replacing, parts can be had for about $50 here on ebay.

Drivers heated seat and power seat does not work. Has 4 different memory settings that work and cover a wide range of seating positions, so I have been able to find a comfortable seating position without the side control working. I will try to resolve this issue before the vehicle is sold.

The input shaft seal is leaking on the transmission, I have the part just have not had a chance to install it yet. I can install it if you'd like for a nominal fee, I also have the rear main seal I was going to do at the same time, not sure if it's leaking too, but I like to cover all bases. The leak isn't terrible, I checked the fluid level and fluid came out of the fill plug after about 3oz of fluid was added, so it's not too severe, no clutch slippage.

As stated above the headliner is sagging and could use re-gluing.

Front bumper is damaged, I am going to try and fix it best I can before the sale, one of the supports is broken behind where the lower grille sits (center and left side grilles are needed as they are broken, can be had here on ebay for not much money at all) I will try to fabricate some sort of bracket to secure it.

Right rear caliper was seized when I got the car, I have since freed it but the pads need to be changed in the rears due to uneven wear. I can include an OEM pad set if wanted.

Overall the car is in pretty good mechanical shape, but could some cosmetic restoration. I would really love to keep this as a project car, but it needs to go so I can take advantage of this opportunity to buy the car I've wanted for while.

As you can see the title says it exceeds mechanical limits on the odometer. This box was checked by mistake by the previous owner… The odometer is digital and as you can see from the history report, the mileage is all in order, not sure why he didn't fix this before he titled it.

I've tried to describe it as accurately as possible, I'm sure I'm forgetting something so please don't hesitate to email me with questions, offers, setup a test drive, anything. Make me a good enough offer and I will end the auction early as I need it gone fast. If you meet my buy it now price I will fix the input shaft seal leak, throw some tires on the stock wheels and include a set of 18 inch Avus wheels (from a 2002 S6) with good Michelin PS2s for free. Thanks for looking and good luck bidding!

4/22: As you can see I've added pictures of the factory wheels. I also have all 4 center caps for the wheels too.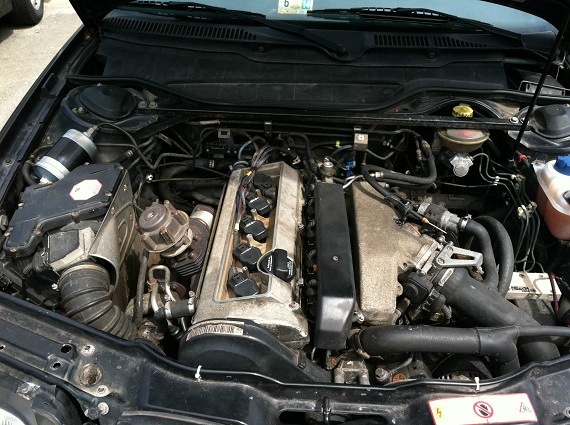 It's sad to see such a rare car in this state, but the reality is that it's not alone – many vintage Audis sit in this condition or worse. The good news is that this car sports a fair amount of mechanical work, with suspension and engine being recently attended to. The seller is right that it's rare to have a good functioning Bose unit in the car, and even the air conditioning works. The interior also looks great and is the more rare grey interior; this is one of a handful of cars that came to the U.S. with this color combination. It's there that the wheels start to come off; the headliner, trim, and front bumper all need work, and then the car needs to be repainted. There are also some additional mechanical work that needs to be performed and some electrical gremlins. But, ultimately, the miles aren't unreasonable and the car is certainly worth rebuilding. My guess is that long term these Avants will be even more valuable and desirable than they currently are. Getting this car into good condition would certainly be a labor of love, but is also certainly very possible. I'd guess you should make your budget $15,000 and you could make this a great looking and reliable classic Audi. That may sound like a lot of money, but it's equivalent to a base level Jetta and this car is so, so much more special.
-Carter