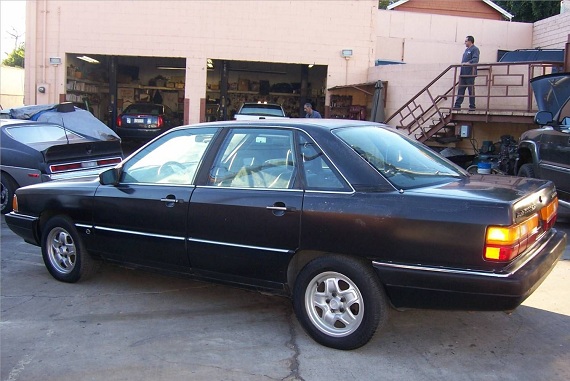 Recently the plethora of good condition Audi Coupe GTs and 4000 quattros have drawn into sharp contrast the relative lack of 5000s that seem to come up for sale. One of our Facebook comments noted this; it's just become very rare to see Audi 5000 quattros for sale, or indeed 5000 quattros at all! The 5000 was an interesting counterpoint to the BMW and Mercedes-Benz large sedans. It was extremely aerodynamic for the early 1980s, offered good luxury items and the awesome quattro drivetrain. For enthusiasts, it was turbocharged and ran effectively the same motor as U.S.-bound Quattro coupes and came only in a manual. The early 5000s, like the 4000 quattro, had manual engaged locking differentials for serious snow. Despite these specifications, the 5000 suffered serious depreciation following the farcical and infamous 60-minutes "Unintended Acceleration" story and few seem to have survived. Today there is a good basis for sale on Ebay, though it'll require some work to get it back to it's former glory: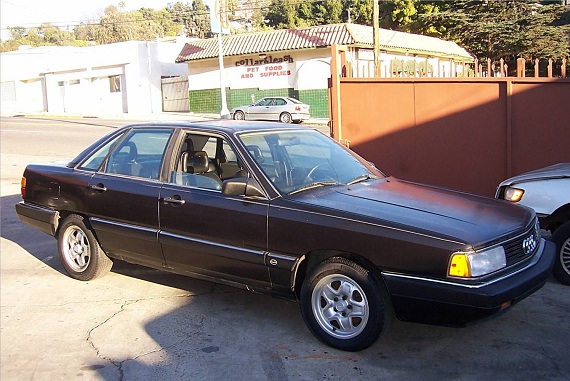 Year: 1987
Model: 5000CS Quattro
Engine: 2.2 liter turbocharged inline-5
Transmission: 5-speed manual
Mileage: 135,000 mi
Price: No Reserve Auction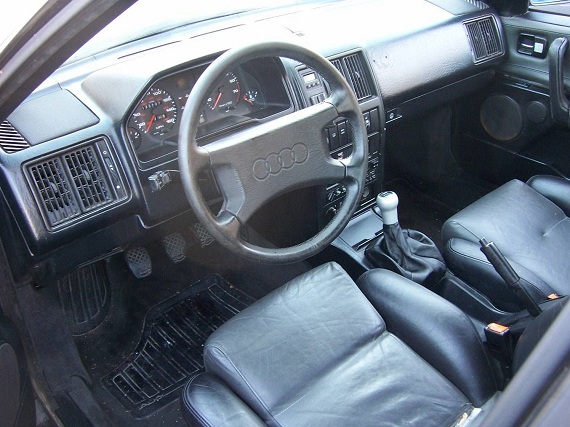 This is the legendary 1987 Audi 5000CS Turbo Quattro in Diamond Black with with a two tone black/gray leather interior- rare vehicle! Five speed manual transmission w/Quattro all wheel drive transmission. Western car w/135k original miles with no rust or accident history. Original books and manuals. If you are an Audi enthusiast such as I, you know all about this wonderful car. I purchased this car in August of 2012 and overheated the engine due to a faulty thermostat two months later in October. It has sat in my garage since then until I had it towed to Hyperion Automotive here in Los Angeles last month to have a new engine installed into it. I purchased a good used low-mileage engine w/turbo (71k miles from a wrecked '87 5000CS Turbo- Carfax mileage verified) earlier this month for $1200 which has a 180 day warranty that needs to be installed (see photos). I am moving to San Francisco in January for work and will not have the time or garage space to "tinker" with this hobby/project car on the weekends, so unfortunately I am reluctantly selling it. I grew up in the 80's and this was THE car to own back in the day, so I have much nostalgia for the Audi 5000's- especially the Turbo Quattro's as they were very rare! The original paint is oxidized, but the body is extremely clean and straight (hence why I purchased it to eventually have it re-sprayed). The interior is clean and intact- the gray leather inserts for both driver's and passenger side is split in the center seat bottom panel, so only those panels would have to be replaced. The rest of the leather is in good shape (I was quoted $150 to replace both panels which I was going to have repaired once I had the car up and running). New Pirelli sport tires with the rare Audi Fuchs style alloy wheels. The car was running great until the overheating issue- everything worked fine except the passenger's side window would get stuck open (motor still works) due to a bad window regulator. Yes, this car has much potential and has all the right features worthy to the Audi enthusiast (Turbo, Quattro transmission, black on black color combo, manual transmission, no rust Western car, etc.), so it is definitely worth putting the work into it. My mechanic quoted me $700 to have the engine installed and all the fluids changed, and I was going to have the interior worked on and have the car re-painted after I had it up and running, but my move will prevent me from devoting the time needed to get everything done. If you purchase the car, I can have the engine shipped included with the sale of the car via Central Freight Inc. to the mechanic/shop of your choice (I paid them $125 to have the engine shipped to me from Florida- centralfreight. com). I really wanted this car to be my weekend hobby car, so I'm sure another Audi enthusiast will enjoy bringing it back to it's full glory. If you are looking for an Audi 5000 to purchase/restore, this is the one!
So without looking too deeply, there's plenty to do. On the outside, the clearcoat metallic paint appears to have lost most of it's clearcoat and will need to be repainted – though it's interesting that with matte paint so in vogue these days many try to make their cars look like this. The engine is claimed an overheating candidate, so it likely has at least a blown headgasket, though it comes with a spare engine. The 5-cylinder turbos are damn near unkillable so the failure of the engine in the car perhaps raises some questions about the previous owner's care. Then there is the interior of the car, a unique and high-end two-tone grey/black leather setup that unfortunately will need repairs. Couple that with many known issues in the larger body Audis – hydraulics and electrics, for example, and the future owner has their work cut out.
Despite that, as I said in the introduction it's become rare to see good condition examples of these cars at all, and this one appears to be a very good basis. It's equipped with the very desirable and rare forged Fuchs alloys which make the look of the car. Black over black looks great on these larger Audis and was very popular. And, when properly set up these early quattros are just about unstoppable in any weather condition but the 5000 gives luxury that was not present in the smaller coupe and 4000 quattros. Bidding with two days to go has yet to commence, and the car sits at opening $1,000 bid. That's the tip of the iceberg unfortunately, and to get into this car – even at a seemingly good deal such as this – you'll have to want a 5000 quattro over other cars. You could easily have a nicer and faster 200 20V quattro for under $5,000, and I doubt you could get this car back up to snuff for less than that.
-Carter