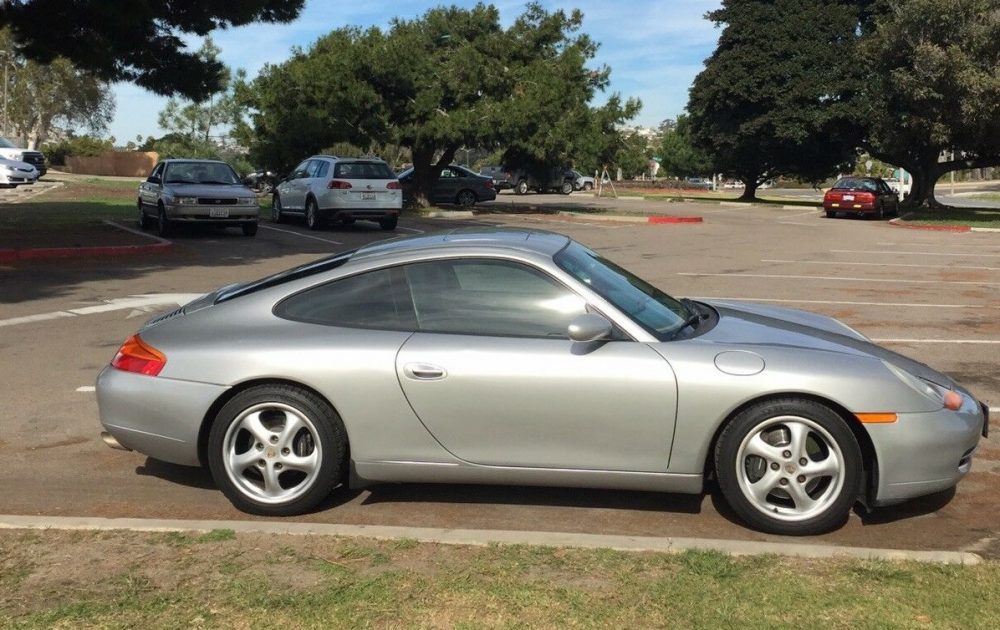 I love crazy interiors. Give me a crazy interior, even an ugly interior, over a sea of beige and tan any day. I'd rather look at some color than a vast display of nothingness and take the heat online as well as in real life. Today's a car, a 1999 Porsche 911 up for bid in San Diego, has one of the craziest, and probably ugliest, interiors I've seen in some time. This first-year 996 has the standard Arctic Silver exterior but inside, Jade Green and faux Burl Wood as far as the eye can see. It's garish, it's gaudy, it doesn't match anything and even worse, there is a strange-looking slot with a knob sticking straight up where the normally 6-speed manual transmission should be. Yes, that means this car is also an automatic. So this is a first-year automatic 996, with a 166,000 miles and an interior that even the Porsche factory was probably shaking their heads at. Is this possibly the least-desirable 911 … ever?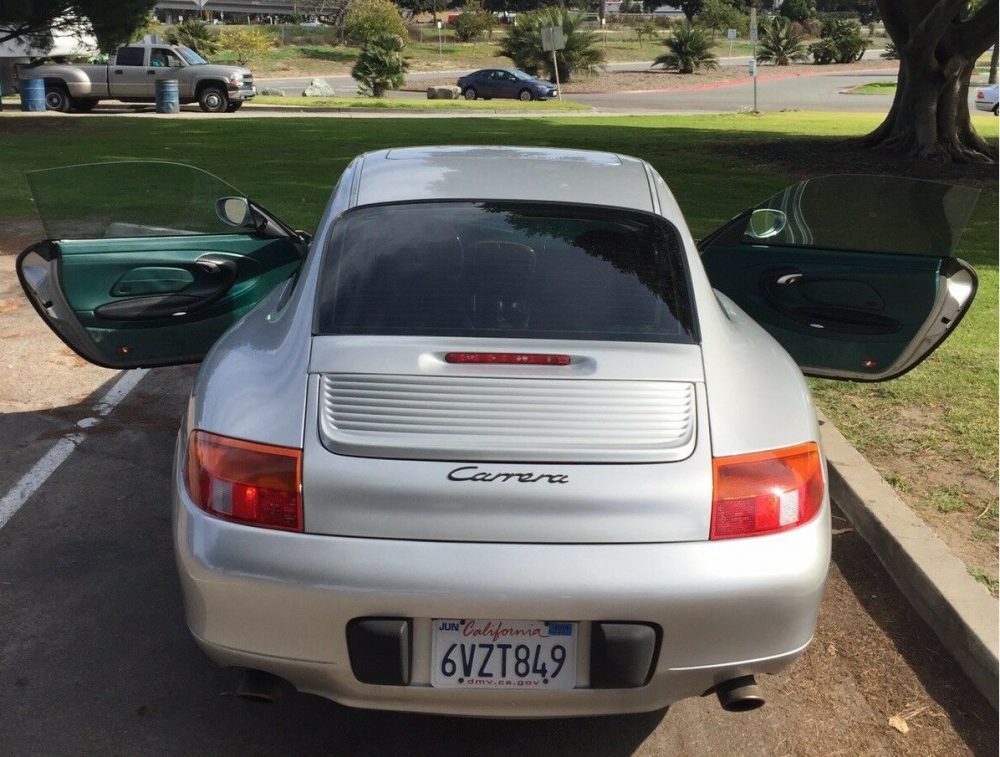 Year: 1999
Model: 911
Engine: 3.4 liter flat-6
Transmission: 5-speed automatic
Mileage: 166,000 mi
Price: No Reserve Auction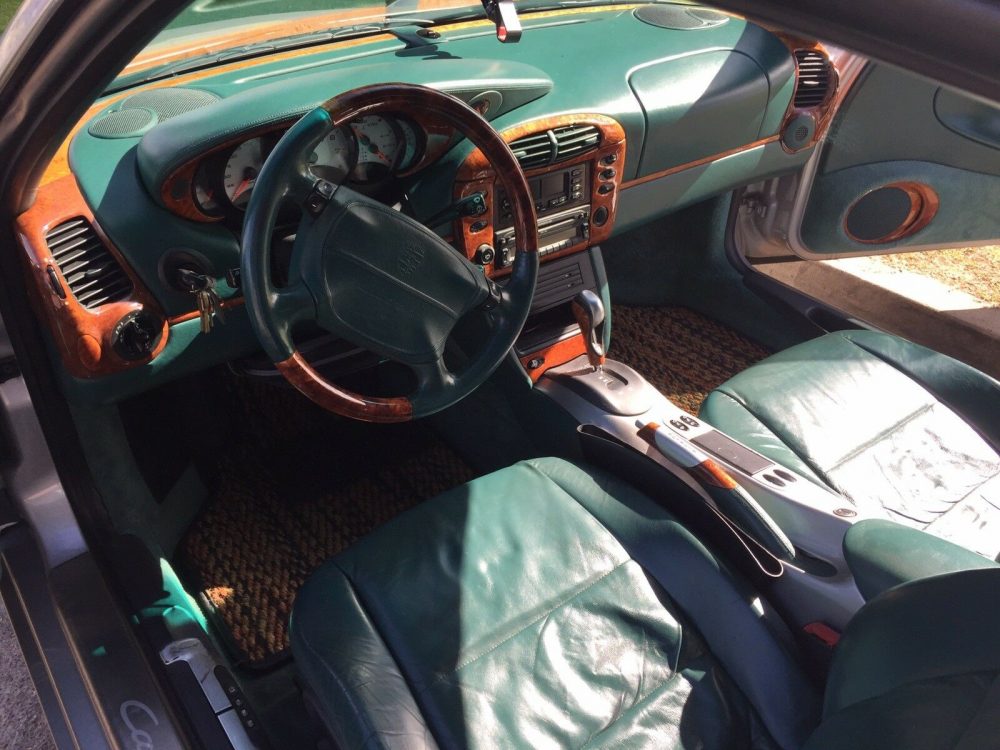 Artic silver 10 year owner, daily driver, reliable, dependable, never in accident, automatic- tiptronic so no ims worries. FULL leather jade green, with burl WOOD trim, heated seats, no warning lights, actually every button, gague, and light WORKS! Very anal owner would like to see her go to another Porsche enthusiast . I have owned 3 Porsche's in 45 years, this is a Rare and SPECIAL offer.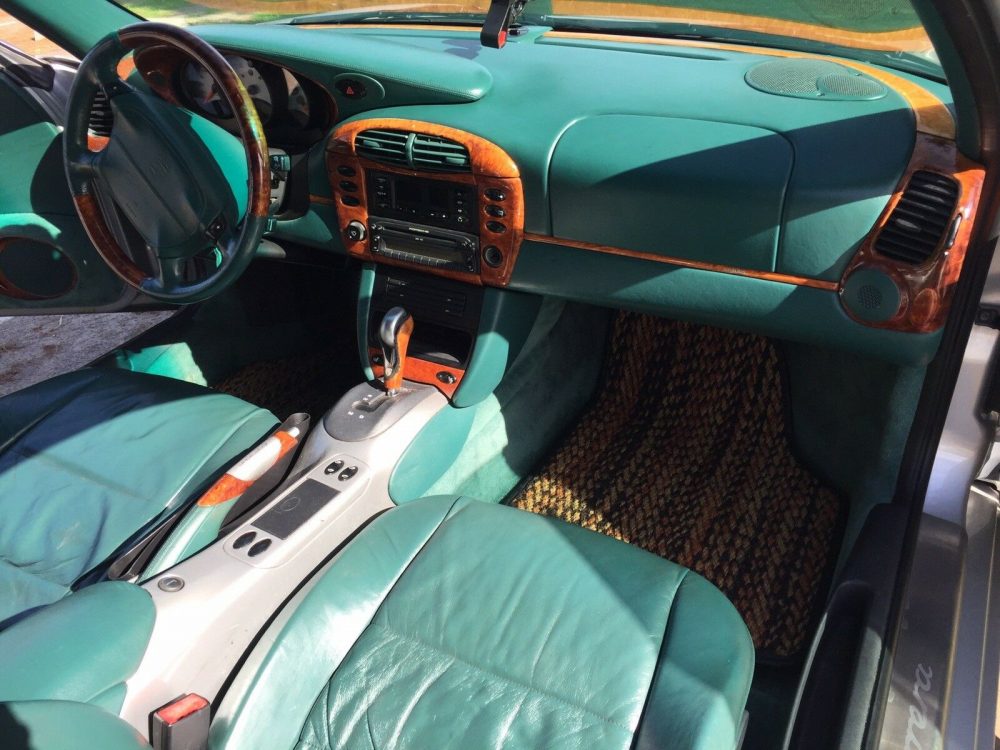 The photos seem to tell the whole story about this interior. I honestly don't mind the Jade Green as much as I mind the wood. It just looks so cheap and I can imagine how it must feel when you touch it. Add in the fact that the center tunnel is painted silver and then another gray color around the automatic shifter and you are looking at a real mess. I would must prefer to have the entire interior be Jade Green like this or have the trim be black like this. As much as I love the crazy interiors, I think this one is just a little too far for me. Even more so when you consider the price.
How much? Well, this car has been listed many times with a Buy It Now of $19,500. Around $20,000 seems to be the sweet spot for pre-facelift 996s with over 100,000 miles but, and I do mean but, those cars aren't automatic and certainly don't have interiors like this. The string of no sales at $19,500 seem to be telling a lot and I just don't see anyone signing up for this odd ball at that price and these circumstances. Then, of course, there's the question of the IMS bearing. In prior auctions the seller claimed it's no issue on Tiptronics. While there does seem to be some anecdotal evidence that backs up Tiptronics are less susceptible to the failure (and the earlier dual-row IMS, which this car should have being a '99, also had much lower failure rate), I'm not sure there are hard numbers that make anyone super comfortable when considering a now twenty year old failure-prone design with the best part of 200,000 mile accrued. Even worse, if you DO need to fix the IMS on the Tiptronic, it's much more expensive due to additional labor. The question then is, how much should someone pay? $17,500? $15,000? You certainly won't see me ponying up the cash for this one.
– Andrew