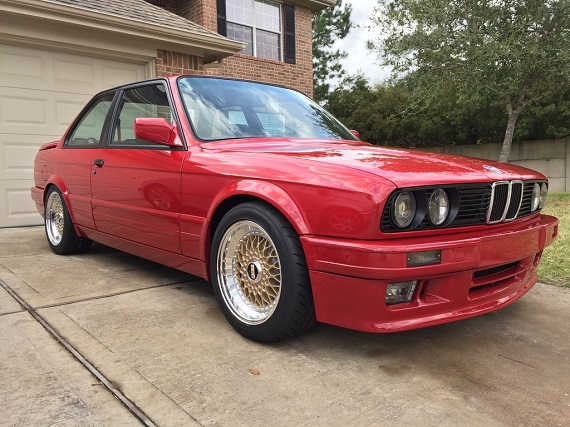 You don't have to cast a very wide net to find a modified E30 BMW. Though they've been out of production for the U.S. market for some 25 years, they're still a massively popular choice for enthusiasts – so much so, that they're a bit ubiquitous and border on cliché.
As a result, we've seen our share of modified E30s on these pages with varying results. But today's example really is something special. It's not the first time I've heard an E30 be referred to as the cleanest, best built car in the country. I clicked the link with my normal base-level of E30 skepticism.
"It'll be way, way overpriced for what it is. Lipstick on a pig. I'd prefer a stock one" rolled through my head.
You see, if I told you the value on a 318iS was such that it justified a full disassembly and restoration, you'd likely laugh. There could not possibly be a return on that investment, right? And on top of that, a resto-mod in a non-original color in a market which has highly prized only completely original, low mileage and stock examples to date?
Naysayers, bear witness.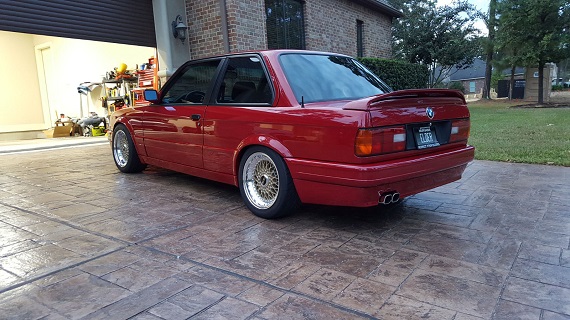 Year: 1991
Model: 318iS
Engine: 3.0 liter inline-6
Transmission: 6-speed manual
Mileage: "261" mi
Price: No Reserve Auction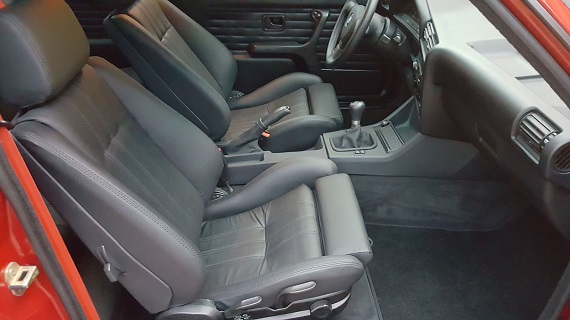 1991 BMW E30 318iS, Full Restoration, Tasteful Modifications

This vehicle was purchased as an abandoned project. It had been nearly stripped with the best of intentions by the previous owner, but he decided to let it go when he realized how in over his head he was. Over 6 months I have painstakingly restored this car with as many new parts as possible following a complete inside and out respray in BMW Imola Red II. I've taken care to follow an OE Plus methodology in the restoration, picking the finest original options and period correct upgrades, deviating only in the powertrain choice to make the car an absolutely delightful driver with its more modern, powerful engine and transmission.

As little used hardware as possible was put back into the car. No fasteners with tool marks or plating corrosion were tolerable. Anything that could not be purchased new was stripped and replated to like new appearance. Every nut, bolt, clip, clamp, wire tie, grommet etc possible was purchased new from the dealer.

The entire car was dismantled to allow for a complete, through and proper respray covering every square inch of the chassis inside and out with new paint. While the chassis wiring harness was out of the car it was meticulously laid out, gone over, inspected for damage, and rewrapped with new OE BMW fabric loom tape as required.

I think you would be hard pressed to find a finer more well rounded example of a non-M E30 on the market today.

All original features on the car operate as originally designed. The car is mechanically like new.

Jalopnik featured an article on it several months ago as the car neared completion:
http://thegarage.jalopnik.com/how-to-turn-a-250-craigslist-beater-into-the-sexiest-b-1765735730

Here is a short video overviewing the car, mixed driving and a demonstation of its acceleration capability:

Exterior:

The car was Alpinewhite II as it left the factory, and was resprayed Imolarot II inside & out. Nothing remains white. Under the carpet to above the headliner, front to back top to bottom a proper color change. All paint product used on the car is PPG's top tier Deltron line.

This car features complete OE BMW MTechnic II bodywork in European spec (no sidemarker cutouts) carefully fit to the vehicle with all new original hardware.

The lighting on the front end, foglamps, turn signals, and headlights are all brand new.

Vehicle trim, seals are either brand new, or reconditioned, refinished to as new appearance. All trim is a deep satin black as is OE original. The crisp contrast of the shadowline window frames on the Imolarot paint really sets the car apart.

Glass:

All of the glass on the car is brand new OE BMW tinted to 35% with carbon ceramic tint film. Windows were tinted to perfection outside of the vehicle so tint extended into all areas otherwise unreachable as installed

Interior:

The interior is almost entirely brand new. Carpet to headliner, dashboard to parcel tray, everything possible that could be purchased new was. The door panel cards, quarter panel cards and visor panel are all that are original.

The seats were recovered in 3 hides of Genuine OE BMW black leather, as were the parking brake boot, shift boot and steering wheel. The leather is soft and smells amazing. The interior truly has that new car smell.

The headliner is black alcantara reproduced in the original style.

The seatbelts are custom made in red for this car using original seat belt assemblies.

While the interior was apart the IKHS box (heater/AC) was completely disassembled, throughly washed, and rebuilt with new gaskets, seals, and so on. These get incredibly gross inside after 25+ years with no access to clean them, and the air you're otherwise breathing passes through it.

The instrument cluster original to the car did not come with it when I purchased it, and given the extensive nature of the restoration the replacement cluster I sourced, with new odometer gears, was set to zero miles. Current indicated mileage on the car is 238mi.

Sound System:

The original OE Premium Sound System speakers are all left intact for appearance sake. They are powered by an Alpine PDX-5 providing 75w x4, and 300w to the JBL subwoofer in the German Audio Specialties enclosure custom made specifically for the E30 chassis. The headunit is an Alpine CDA-105 which is as subdued as possible in terms of cosmetics, while providing a reasonably modern update.

The resulting combination lends a strong musical performance.

Powertrain:

This is the only true deviations from original are found here. The car did not come to me with the original engine or transmission and I found myself at odds with sourcing and replacing them on such a nice car.

I elected to carry out an elaborately finished engine/transmission swap from a E46.

The engine is an all aluminum M54b30 which weighs ~5lbs more than the original cast iron 4cyl that came out, yet makes nearly double the power. The engine as configured should be generating 250-265hp. The engine is run on factory Siemens MS43 engine management, tuned by MarkD. Factory drivability and functionality is untouched from the donor. With Double VANOS and DISA this engine has phenomenal low end torque, and pulls like a freight train. Should it suit you… you could easily embarrass most cars on the road today.

The transmission is a 6spd manual, also pulled from an E46. A ZF GS6-37bz which shifts devilishly good like a bolt action rifle thanks to a UUC Evo3 shifter kit.

Flywheel & clutch are OE units to the engine/trans.

Differential is a Torsen Helical 3.46 LSD

The fully functional OBDII port is located in the glovebox.

The air conditioning system has been updated to R134a with a R134a expansion valve, parallel flow condenser, and custom built lines to mate to the E46 variable displacement compressor.

Exhaust:

The headers are Supersprint sytle, with VBand flanges integrated at the collectors. The remainder of the exhaust system is carefully constructed from 2.25″ and 2.75″ mandrel bent stainless steel. The car is pictured with catalysts that have since been removed. The 2 into 1 resonator is taken from a E83 X3 and terminates any rasp. From there another VBand couples 2.75″ tubing carrying exhaust to the rear of the car where it goes into a Remus sport muffler. It has a nice deep tone, but is not loud or obnoxious in any way.

Suspension:

The car is modestly lowered on IE3 springs with Koni SA dampers. That aside the suspension is largely as original with every single balljoint, bushing and wear part replaced with brand new OE/OEM parts. New rubber throughout with upgraded OE style parts where prudent. The steering rack is also taken from a E46, the 712 "ZHP" rack which has a 13.7:1 steering ratio. The vehicles ride is impeccable, and steering perfectly responsible.

Brakes:

Brake calipers were stripped, replated in the OE finish, and rebuilt. Brake pads are OEM Textar. Parking brake hardware is all new or again replated. Rotors are all new, specially coated units to resist unsightly corrosion. All rubber brake lines have been upgraded to teflon coated stainless steel units. ABS is fully functional.

vWheels:

The wheels are vintage, period correct 3 piece forged BBS RS. 16×8 ET22. Restored to a condition better than new, finished in BBS Motorsport Gold. Extremely light weight and strong. The period correct BBS wheel cap wrench is included.

Wheels are wrapped in 225/45R16 Dunlop Direzza ZII. Tires are fit and square to the wheels and grip the road very well.

An extensive gallery photo documenting the cars restoration can be seen here:
http://s1279.photobucket.com/user/JSarette/library/91-318iS-EE72454

I'm sure there will be many questions, and by all means feel free to ask them. I'm happy to speak with any serious buyers at length about anything that concerns them. Please don't hesitate to contact me. The vehicle is of course listed for sale in multiple venues so I must reserve the right to end the auction earlier if sells elsewhere.

All of the image below depict the car throughout the restoration. Current pictures are included at the very top.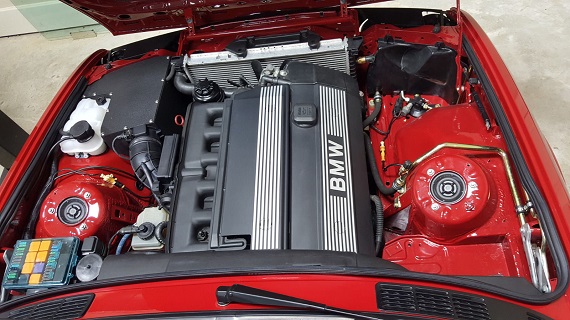 As I started to roll through the pictures of the restoration, my mouth slowly fell to a solidly open position. The pictures of the restoration stages are simply outstanding, bar none. That this was undertaken on a 318 makes it all the more impressive, in my mind. But gone is the original fun-but-anemic M42, replaced by the M54 we saw out of yesterday's convertible. It's an unusual but awesome choice. The installation and execution of the swap is perfect and looks factory. The paint is perfect and looks factory. The slightly oversized tires give away the non-rolling stock, but the forged BBS RSs are the wheel to have. Every single aspect, even down to the radio installation, is top notch. As an enthusiast and one who really enjoys cleaning hereto unseen parts of his cars, I'm floored by the under body shots and the efforts to re-Zinc coat bits that will likely never see light again. You'd be forgiven for thinking this car just rolled out of the production line.
No, that's not even accurate. It's better than Munich would have produced.
As a result, the market has recognized the staggering quality of this undertaking. With three days to go, this lowly 318iS is treading on E30 M3 money. Bidding has already surpassed $30,000 and shows little sign of slowing with the reserve off. Where will it end? All bets are off, and this car sets a serious precedent for looking at 80s cars as restoration candidates.
Thanks to our reader Jordan for the excellent spot!
-Carter