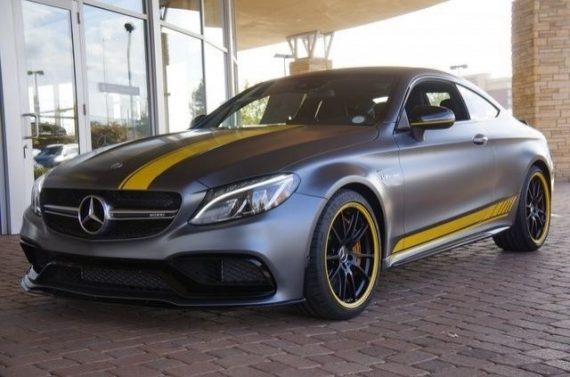 It's been awhile since I've featured a new car and today's car is a good enough reason as any. Mercedes-AMG rolled out the W205 C63 S Coupe Edition 1 as a road going tribute to the same car that competed in the 2016 DTM championship. This is great if you are one of the few people in the United States who actually watch the DTM but 99% plus of the people you come across will think you just went a little crazy with the yellow vinyl. But I guess if you are the kind of person who both has the ability to and wants to drop $94,000 on a C-Class you don't really care about others' thoughts.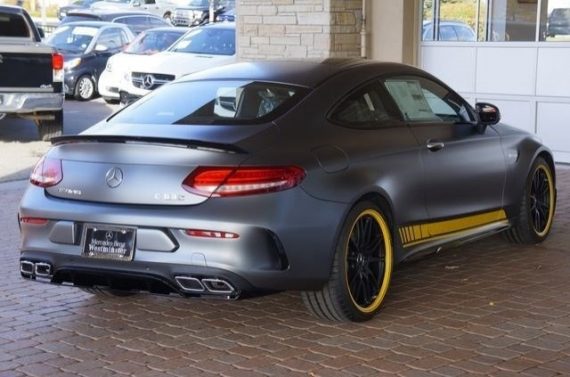 Year: 2017
Model: C63 S Coupé Edition 1
Engine: 4.0 liter twin-turbo V8
Transmission: 7-speed automatic
Mileage: 12 mi
Price: Buy it Now $94,000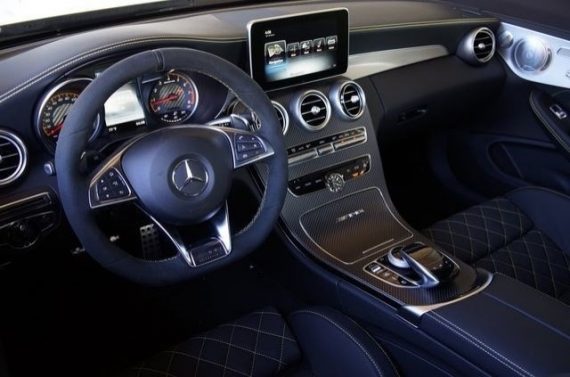 VIN: WDDWJ8HB0HF444649
Stock: HF444649
Mileage: 12
Color: designo Selenite Gray Magno Metallic
Trans: 7-Speed Automatic
Engine: 4L V8 32V
Drivetrain: RWD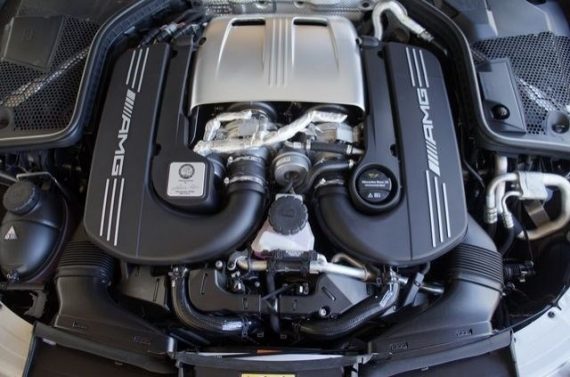 The interesting thing about this car is that Mercedes offers it as a $16,000 'package' rather than a limited edition model that has a cap on the production. So it's unknown how many of these Edition 1 models will actually be produced. It's not a huge deal because like I mentioned, I can't imagine there is a line of people down at your local dealer who are dying to spend the money on this car no matter how great it is.
Despite the price tag, Mercedes-AMG really made an amazing car once you get past the Designo Selenite Gray Magno paint. It shares the similar twin-turbo 4.0 liter V8 from the GT (the GT is dry sump, this is wet) that gets this car to 60 mph is 3.9 seconds. Knowing Mercedes, that time is probably a tad conservative as well. Inside you get a pair of sport seats with yellow diamond stitching that is unique to the Edition 1 as well as a special steering wheel. The standard brakes are ceramic composite which will not only stop the car on a dime but will also stop your heart when you see the price for replacement rotors and calipers. This W205 AMG also has 19 inch wheels in the front while the rears are 20 inches, so no wear rotation for you! This may seem a little atypical for Mercedes, but its probably a sign of things to come.
I can't get over the looks of this thing. I know it's "DTM inspired" and all that but a normal color or even just losing the yellow accents would do so much more for this design. I highly doubt this will ever be a collectible in years to come since everything that is different from the standard C63 S is purely cosmetic outside of the standard brakes. The sticker price is $94,000, so to drive one of these home you'll be cracking $100,000. Seeing as you could grab a new GT for about $10,000 more, you'd really have to fall in love with this car to justify it.
– Andrew