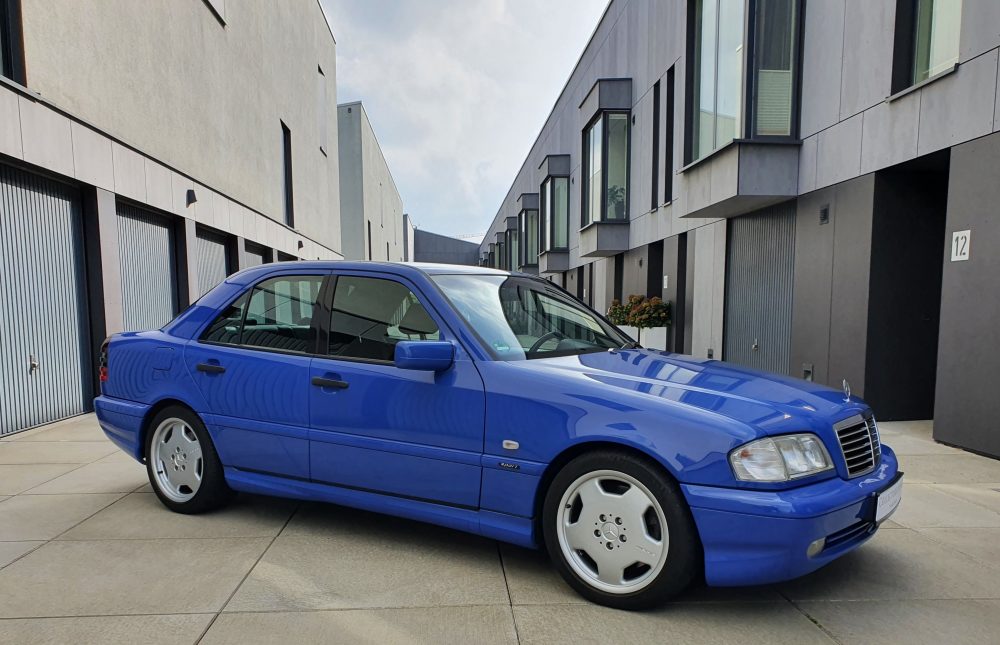 I did not expect to see this. In a world where all the 1990s Mercedes-Benz AMG cars were painted in some sort of black/white/silver/grey, seeing the rare one in red was a treat. However, I was not expecting a bright blue.
This is a 1999 Mercedes-Benz C43 AMG is Lapis Blue. Looking at the build sheet, this one was a Mercedes version of "paint to sample" judging by the 'Z98 Painting outside the sample card' entry on the decoder. This color is not to be confused with Porsche's Lapis Blue which is clearly a much darker blue. Needless to say, a rare example. You know what that means.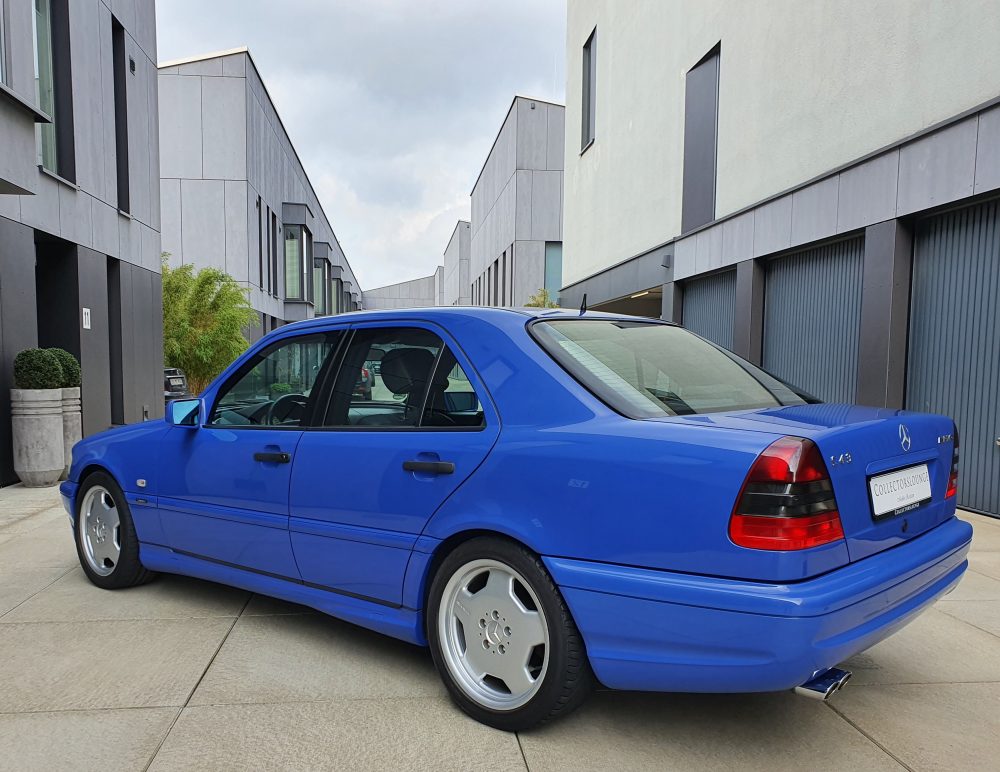 Year: 1999
Model: C43
VIN: N/A
Engine: 4.3 liter V8
Transmission: 5-speed automatic
Mileage: 111,000 km (68,972 mi)
Location: Bremen, Germany
Price: €28.043 ($33,000)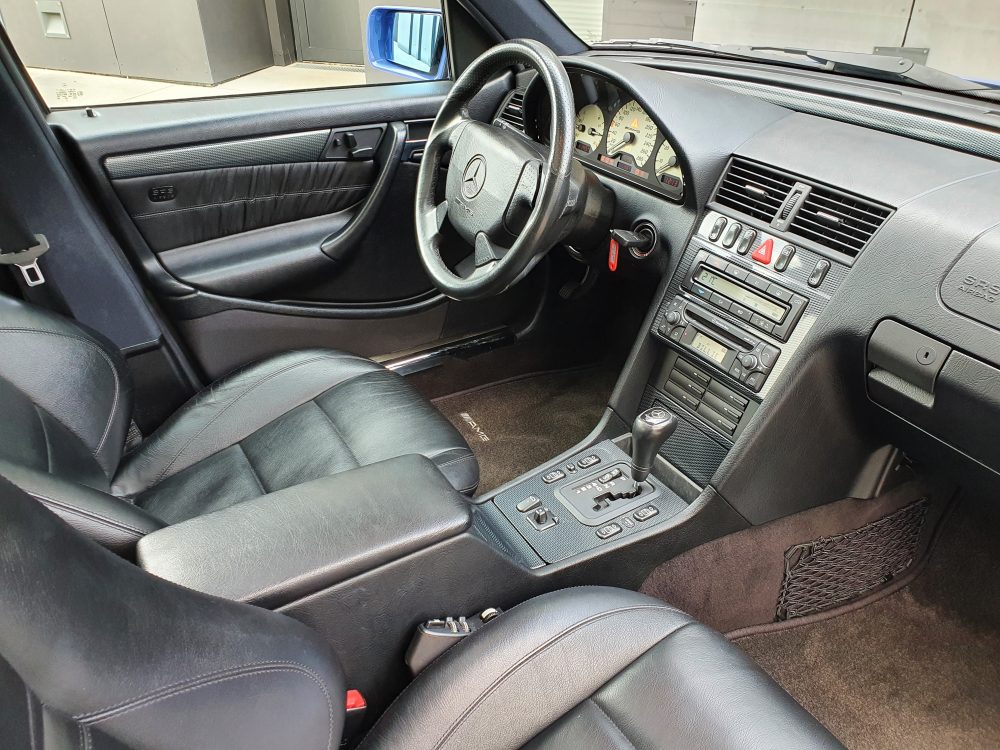 AMG Mercedes C43 (W 202) one of 3085 cars produced
Production period: 10/1997 – 05/2000

Every engine in an AMG Mercedes is handcrafted by a specialist.
And otherwise every AMG Mercedes offers a lot of individuality:
The equipment and design have been subtly adapted to the brand and underline the sporty genes that go into every AMG Mercedes.
The AMG versions have long since developed into sought-after young timers.
The selection of well-kept cars is relatively small – high time to secure an upcoming AMG classic.

The vehicle we offer is in 100% original condition.
No changes – data card status – special paint (945) lapis blue uni.
According to research, no second vehicle in lapis blue has been found so far.
Complete on-board portfolio including checkbook with data card available.
Very good, traceable history up to and including ordering a new car.
Former new price: DM 123,406.60
(There was also a small terraced house for this in 1998)

The AMG C43 has recently received an inspection from Mercedes including 4 new tires.

Special equipment:

SA code description
221 DRIVER'S SEAT ELECTRICALLY ADJUSTABLE LEFT
222 DRIVER'S SEAT ELECTRICALLY ADJUSTABLE RIGHT
240 OUTDOOR TEMPERATURE DISPLAY
273 PRE-EQUIPMENT FOR NETWORK D – MOBILE
331 CASSETTE COMPARTMENT
354 ANTENNA ON ROOF REAR CENTER FOR TELEPHONE
363 INCOMPLETE DELIVERY NOTE (FOR SAS U. KWS)
414 ELECTRIC SUNROOF IN GLASS DESIGN
472 ELECTRONIC STABILITY PROGRAM (ESP)
570 ARMREST FOLDABLE FRONT
581 AUTOMATIC AIR CONDITIONING
584 ELECTRIC WINDOW REGULATORS (DRIVER AND REAR DOORS)
673 BATTERY WITH LARGER CAPACITY
753 RADIO MB AUDIO 10 CC WITH VK / RDS
772 AMG LOOK PACKAGE – FRONT SPOILER, SIDE SKIRTS AND REAR SKIRT
774 BODY MODIFICATION FOR AMG WHEELS
809 MODEL YEAR CHANGE,
810 SOUNDSYSTEM / BOSE
873 HEATED SEAT, DRIVER'S SEAT LEFT AND RIGHT
875 WINDOW WASHER HEATED
925 EMISSION CONTROL EURO 7 TECHNOLOGY (WEU + COC)
956 EQUIPMENT PACKAGE SPORT
988 VEHICLE LETTER AND COC PAPERS (WITH EC TYPE PLATE)
Z98 PAINTING OUTSIDE THE SAMPLE CARD

Our vehicles are NOT open to the public and can be viewed by appointment. (also on Sundays and public holidays)

For an interesting trade-in or exchange with value compensation, please contact us.
The sale takes place on behalf of the owner (customer order).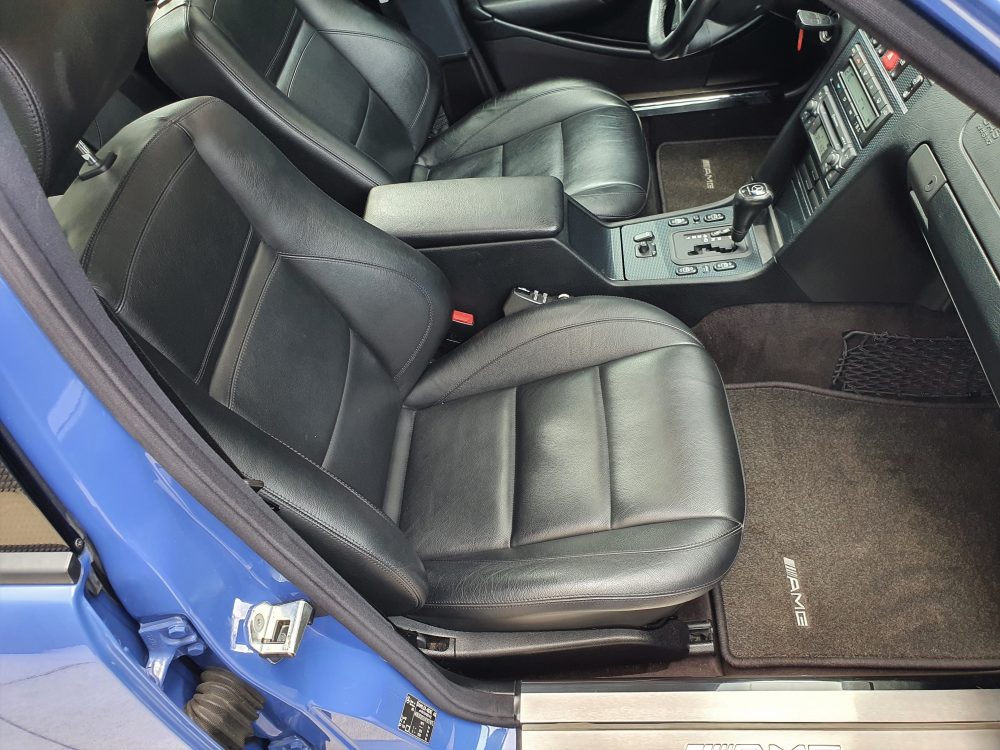 I love it. After looking at an endless sea of the W202s in the said bland colors, this is such a breath of fresh air. I don't remember ever seeing another C36/C43 in this shade of blue before and I'd doubt there is even another out there. Inside the pretty standard black and it looks fairly nice for 69,000 miles. The thing is, this is $33,000. Crazy? Maybe not. A one-owner C43 with just 20,000 miles sold for a hair under $33,000 last week. Clearly the demand is very strong for the mint AMG cars and I don't think that is changing. Too bad this one is in Germany as I'd be very tempted.
– Andrew