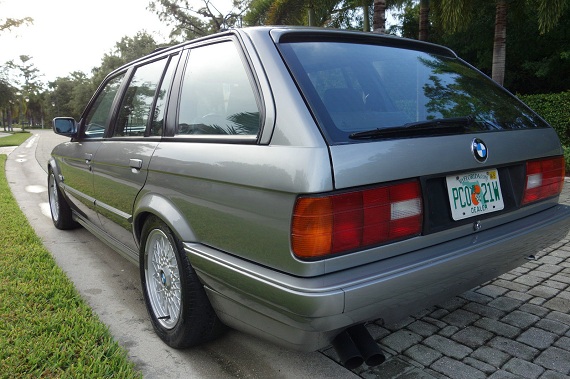 If I'm honest, I'm not a huge fan of the entire E30 scene. I think it's a bit overplayed, over-hyped and over-priced. Granted, they're nice cars, but even though they're slower I'd take a clean 4000 Quattro or Coupe GT over a 325i any day. There are two exceptions, though; the E30 M3 is of course a favorite of mine but firmly out of reach in any meaningful condition. The other exception is the Touring model – I'd love it if Audi had made a B2 quattro Avant, but they didn't. Sure, there's the Quantum Syncro wagon, but park one next to this 1988 325i Touring and for me the clear winner in looks is the BMW. In fact, it's so much better looking to me than a Quantum, even the steering wheel on the "right" side wouldn't bother me: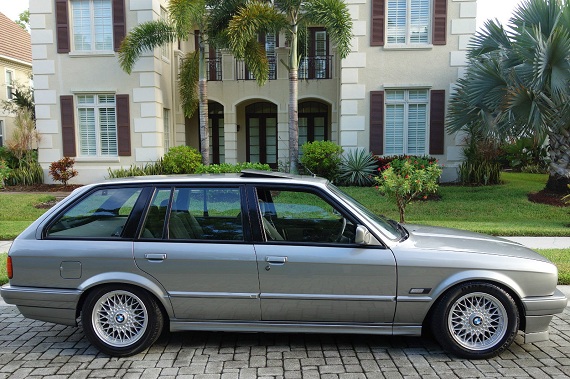 Year: 1988
Model: 325i Touring
Engine: 2.5 liter inline-5
Transmission: 5-speed manual
Mileage: 89,900 mi
Price: No Reserve Auction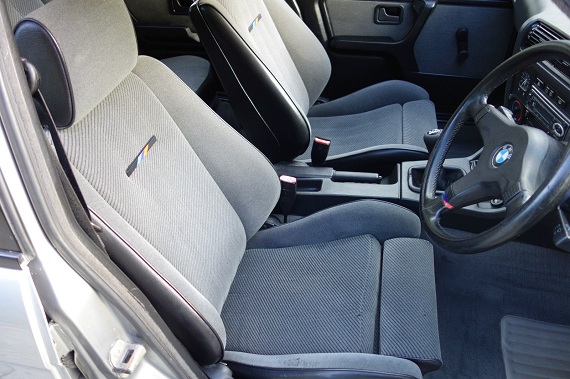 For sale European Right Hand Drive 1988 BMW 325i Wagon Estate Touring.

Here is a BMW E30 325i wagon, Laches Silver, fitted with 5 Speed Manual transmission, electric sun roof, Black Grey Sport seats with Rear head rests in good condition, finished off with a set of 15″ Basket weave/ X- Spoke alloy wheel rims Lowering springs KYB shocks, Wagon / SE side skirts iS Front lip Spoiler and M Tech 1 Leather steering wheel.

I bought this 1988 BMW E30 325i wagon from England last year after months of trying to locate decent ones and imported it over to Florida, It has been registered / titled with Florida DMV, It would be the same to title this car in your own state as it would with any Florida Titled car, However being from Europe it is not fitted with a catalytic convertor or airbags, So you may need to check rules for smog test in your own state before bidding.

The car is showing its covered 89,900 miles although this is an 26 year old car so i can not verify its 100% accurate, I have just fitted New cross drilled rotors, New brake pads , Parking brake shoes & Sensors, New rear Flex Hoses , Car has also just been service replacing oil and filters & Fan belt , car runs great, its fitted with factory 2.5 M20 Engine and mated to a 5 speed manual transmission, Car is not fitted with air con which is usual due to the european mild climate, however i can offer the winning bidder a used kit for $375 to fit them selves.

Inside the car is in Good condition for 26 years old, dashboard is crack free, headliner is decent, not hanging like most, Sport Seats are in good shape, with rear head rests & folding rear seats which makes the car very practical and roomy, there is a cargo area rear retractable blind to cover the trunk area, Carpets are in good order with no rips or tears, Fitted with an OEM M Tech 1 sport leather steering wheel (none airbag), and M Tech 5 speed shifter, European analogue clock, all switch gear is working and in good condition, Manual front & Rear windows & Electric sun roof, After market CD radio.

Outside the Laches Silver paint has recently been repainted to a good standard and looks very good, nice and flat with a deep shine, Door handles and Door trims have been color coded, i do have the standard black items that could be changed back in minutes if required, rear wheel arches, strut towers, windshield scuttle , floors doors are all solid without any major sign of rot, Front head lights are fitted with city lights, The wagon is sat on a set of OEM 15″ x- Spoke alloy wheel rims in good condition, and with the iS Spoiler the wagon looks sharpe.

On the road the wagon runs great, engine runs smooth and performs very well, pulling strong with no untoward noise or fuss, Gear change is smooth, and the new cross drilled brakes stop the car nicely with good pedal feel, the suspension smooth and composed, with no knocks or rattles, is easy to see why the E30 is such a sought after car and has become a great classic every day driver, Its a simple and dependable car thats great fun to drive without all the fuss and gadgets that some modern cars including newer BMW's sometimes detract from the pleasure of actually driving a fun car.

Don't miss your chance to buy this Great E30 325i 5 Speed Manual Wagon.

Car runs great and looks Superb

More pictures are available on request, If you have any questions please ask before the auction ends not after, Please only bid if you intend to buy, any inspection is welcome and should be done before the auction ends.

Shipping is available

FL, GA, AL, $175.00
MS, SC, TN, NC, AR, LA $350
KY, VA, WV, IN, OH, PA, NY, DE, CT, MA, NH, RI, VT, ME, MI, WI, IL, MN, IA, MO, TX $650
OK, KS, NE, SD, ND, NM, CO, WY $850
MT, ID, OR, CA, UT, WA, NV, AZ $1000

Sorry no shipping to AK, HI, PR or islands.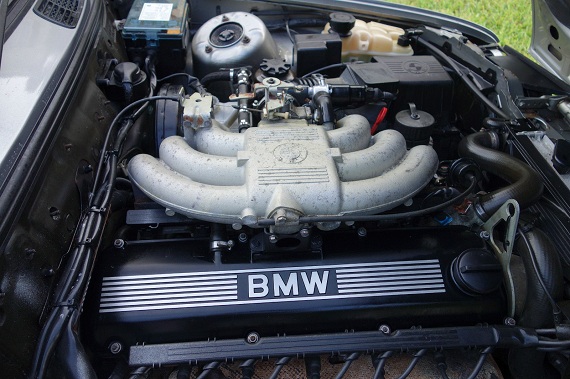 These cars are absolutely crazy right now, but as more come leaking in to the market your options are expanding. Overall this model looks nice; desirable engine and transmission, recent paint work that looks good and a great looking interior. Unfortunately, the steering wheel is on the wrong side of the car, but as I said for the right model, I think it's something I'd learn to cope with. Of course, as I've mentioned I like cars that are a little different – so sitting on the opposite side as most drivers is just right to me. The M-tech and is items are well incorporated, but if there's one complaint I have I think the car sits a bit too low. It's a relatively easy fix that would leave you with a great condition and unique driver.
-Carter