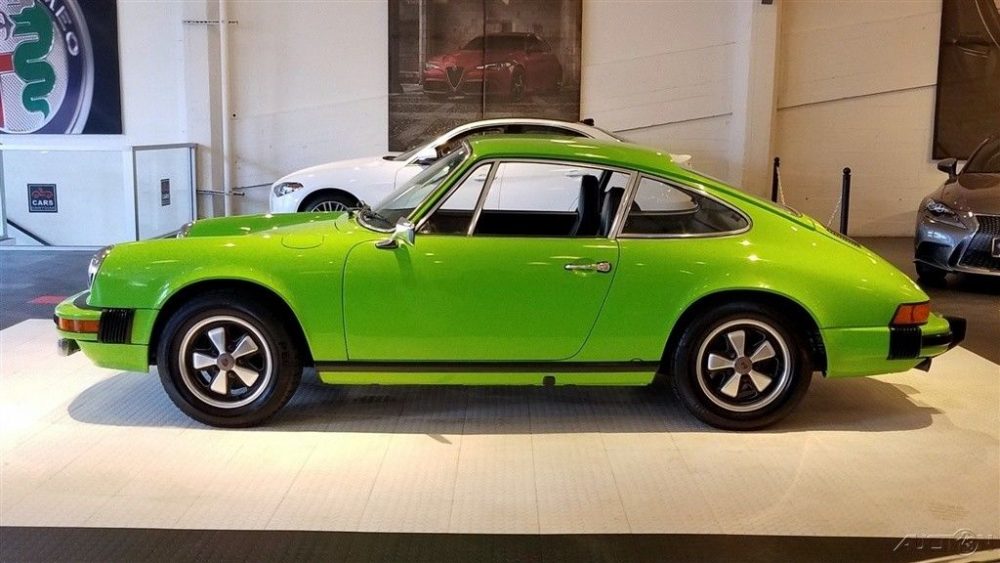 The love for the unloved. Almost every Porsche 911 model is popular among enthusiasts. Sure the models enjoy varying degrees of appeal as we consider simple measures of subjectivity relating to taste and levels of sophistication. However, there is one particular exception; a model range that largely goes ignored and remains mostly unloved by any other than those who own one. Here is just such a beast, yet this particular example has been shown a ton of love and sits in nearly pristine unrestored condition.
The 1974-1977 911, typically called the mid-year 911, suffered from numerous reliability issues and sapped power as Porsche adapted to changing emissions regulations. That these were also the first 911 to wear the new impact bumpers wasn't helping as the new aesthetic seemed so much less clean. The cars suffered, the owners suffered, Porsche suffered. Right up until the release of the 911SC when the new 3.0 liter flat-six proved to have solved the power and reliability issues. The impact bumpers remained. That left the mid-year 911 as a footnote between models and one that many would hope they could forget.
But not everyone forgot about these cars, like this Lime Green 1974 Porsche 911 located in San Francisco. We are told that it is unrestored and entirely original inside and out with the exception of the radio and the wheels. The paint, the interior, the drivetrain: all said to be original. Among rare 911s, this one is a rare find indeed.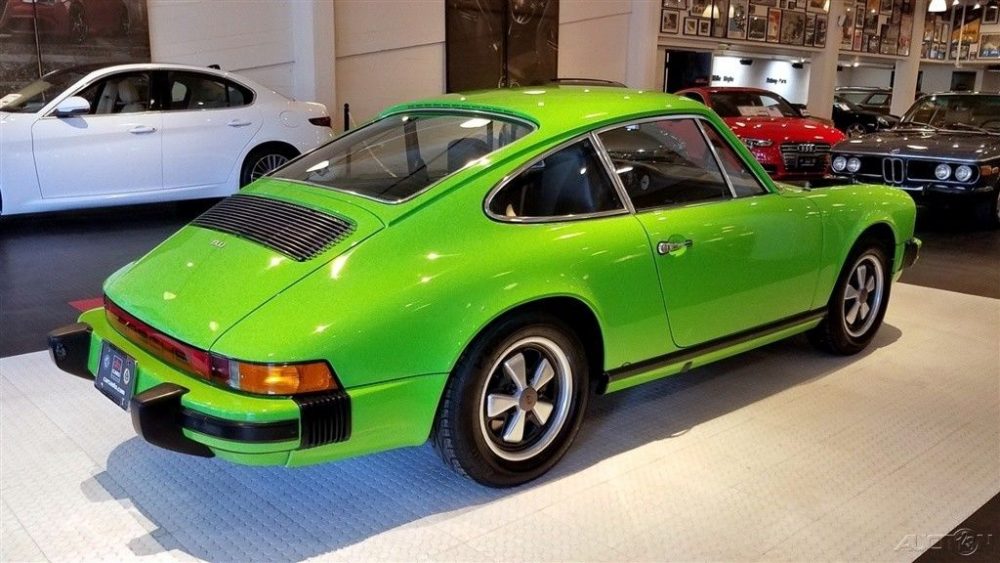 Year: 1974
Model: 911
Engine: 2.7 liter flat-6
Transmission: 4-speed manual
Mileage: 67,890 mi
Price: $99,000 Buy It Now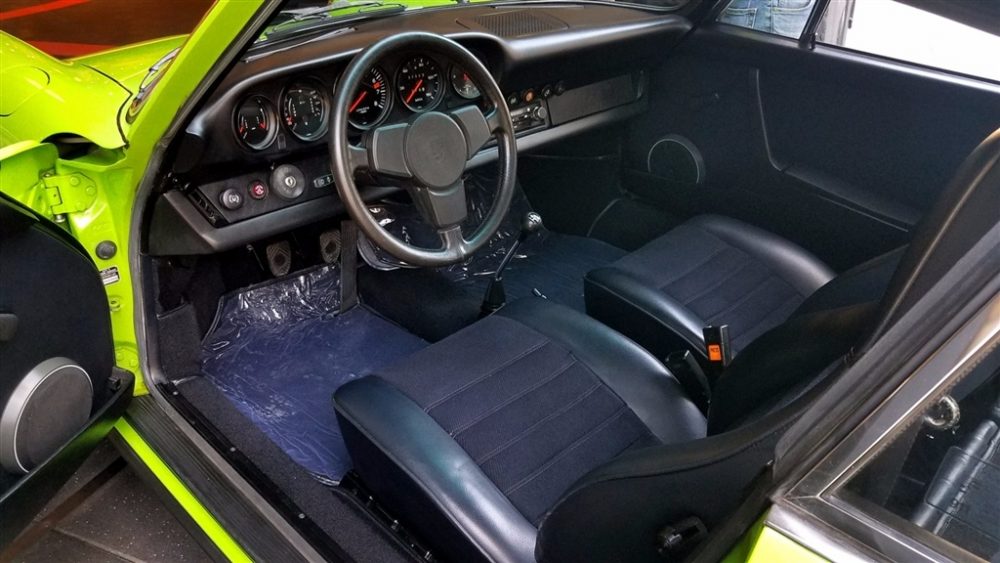 You are viewing what is most likely the most original 1974 911 left in existence. This is a completely unrestored 67k original mile Northern-California Porsche. The factory Lime Green Paint is all original, the velour and vinyl interior is original and near flawless, all numbers match, and the car was immpecably cared for and maintained for it's entire life. It's history is unbelievably documented with photos dating all the way back to 1976 and receipts back to 1974. The only alterations performed to the car were the addition of Fuchs wheels circa 1977 (the original wheels were the ever-so unpopular cookie cutter alloys), and a cassette stereo from approximately the same time period, which both were performed by the second owner of the car. The engine is dry, the clutch is strong, the Pirelli P6000 tyres are almost new, and the vehicle recently received a major service including spark plugs. Much of the history of the car is laid out below in a letter from the third owner, who owned this incredible Porsche from 1978 until 2016 (at which time in was placed in a collection and stored in our climate controlled storage facility for the past year and a half). Finding a nicely restored 70's 911 is tough enough, but finding an original unrestored yet pristine example? Impossible…June 2, 20151974 Porsche 911 Serial No. 911 410 2894The first owner of this vehicle was Kurt E. Kahn. Mr. Kahn was in the military stationed in Germanyat the Kaiserslautern facility in 1974. He was at the headquarters for the 15th Military Police Brigade,an Army function. Mr. Kahn was approximately 45 years old when he purchased the 911 in 1974. Oneof the German records is a delivery certificate. It states many of the specifications of the car and namesthe VIN number. I have translated the information contained on this certificate and it's quiteinteresting. Also on this document is the name of the dealership in Kaiserslautern where the car waspurchased. The dealer was autohaus Georg Rittersbacher. Upon researching info concerning thisdealer, I found that it's still in operation in Kaiserslautern today. Included in the binder on the car are afew pages relating to this auto dealer.Mr Kahn previously participated in the Vietnam war and was listed as Command at the HeadquartersCommandant. He received a Joint Service Commendation Medal Achievement on 7/20/1969. He alsoreceived a Bronze Star on 8/25/1969. Today, it appears that Kurt E. Kahn is approximately 86 years oldand lives with his wife in Melbourne, Florida.The following section about the second owner is particularly interesting because there is a man by thename of Charles C. Baldwin who was in the Air Force and achieved the rank of 2 star General at theheight of his career. He was Chief of Chaplains in the Air Force and retired in 2008. But he is NOTthe Charles C. Baldwin I purchased the 911 from in 1978. Unfortunately, the Charles Baldwin Ibought the car from is not prevalent on the internet mainly due to two reasons I believe. First,uponfurther reflection, I believe my Major Baldwin was quite a bit older, perhaps 50-55 in 1978. Therefore,finding info on an elderly person on the internet is most often not successful. Secondly, the 2 starGeneral Charles Baldwin casts a huge shadow on the internet and it's near impossible to search otherCharles Baldwins without finding info on the retired General. This is understandable, but makes thesearch task near impossible.The second owner of the Porsche was Air Force Major Charles C. Baldwin. I, Ken Struven, purchasedthe Porsche 911 from Major Baldwin in May of 1978. From the German service records I know thatMajor Baldwin was stationed at Ramstein Air Force base. The APO number on the recordscorresponds with Ramstein. So this much is clear.I always wondered how and why the second owner, Major Charles C. Baldwin began ownership of thecar in approximately March of 1976. When I researched Kurt Kahn, I discovered that the MilitaryPolice Brigade to which he was attached went inactive in Germany in June of 1976. This fact explainswhy Kurt Kahn decided to sell the Porsche to Major Baldwin. Kurt Kahn probably didn't want to orcouldn't afford to ship the car back to the US, so he advertised it and sold it to another person who waspresent at Ramstein AFB in Germany (Major Baldwin).Further research showed that both the Air Force, which Major Baldwin was in and the Army, whichKurt Kahn was in, were situated in the largest military base outside of the U.S.A. The militarycommunity was and is known as KMC (Kaiserslautern Military Community). Major Baldwin wasaffiliated with Ramstein AFB, which is part of the KMC complex. In all the KMC complex has about53,000 military personnel today. I have been the caretaker of the 911 since May of 1978. I purchased the car directlyfrom Major Baldwin. Major Baldwin was driving many of the cars he was importing and selling in theU.S. What I remember is that he was moving cars back to the U.S. on a space available basis on theAir Force transport planes. The marques he was importing, as I remember, were mainly Porsches,Mercedes and BMW's. His favorite auto, the green 1974 911 was most often stored away while he washaving fun driving all the others. He decided it was senseless to keep it stored, so committed to sellingit to me. He later regretted this decision, as he called me twice in the years following, asking if hecould purchase it back from me. I said no both times as I was enjoying it immensely.I learned of the car from a fellow at a jewelry store (Hiltons Jewelry Store) here in my hometown, SanCarlos. This fellow, Bob Hilton knew that Major Baldwin had brought the 911 to California and it wasat Baldwin's family home in Diamond Springs, near Highway 50 on the way to South Lake Tahoe.Bob Hilton, as I remember, was dating Baldwin's daughter (maybe her name was Yvonne) andtherefore, that's the connection. Furthermore, I believe Baldwin chartered Bob Hilton to sell the car byadvertising it in Northern California. It seems Major Baldwin believed that selling his 911 in NorthernCalifornia made more sense than selling it in Arizona because the 911 didn't have air conditioning. Ibelieve Charles Baldwin's wife was living at their home in Diamond Springs. Charles Baldwin'scurrent residence at the time was in the Phoenix area of Arizona, as they were separated as Iremember.When I heard about the 911, it sounded good, but all I could picture was that it was in horriblecondition due to driving on back country dirt roads around the Placerville/ Diamond Springs area in themountains. I arranged to go to Diamond Springs to view the car. Major Baldwin drove up fromArizona to meet me and allowed me to test drive the car. When I went to see it, I knew that it hadn'tbeen driving the back roads around Diamond Springs, as it was beautiful. I was a little put off by thebright color and when I tried to negotiate the price down a bit because of the color, Major Baldwin putme in my place very quickly. I also asked to have it inspected by a mechanic of my choosing and hedeclined that offer immediately. He assured me it was in A-1 shape as verified by his mechanics, sothere'd be no more checking than that. He didn't want the car going to some shop he didn't know. Sothere was little left to say other than I'd buy it. He drove the car down to the Bay Area and wecompleted the transaction/DMV transfer at CSAA in Redwood City.I have never used the car as a daily driver. It was always garaged and kept covered when not in use.The furthest the car has strayed from the Bay Area is the Napa/Sonoma wine region to the north, LakeTahoe in summer time to the east and San Luis Obispo, just north of Santa Barbara to the south. It hasalways been taken care of to the best of my ability. I understand automobiles quite well as I haverepaired, restored and enhanced many types and models for years. I helped to completely restore a1960 bug eye Sprite in approximately 1971 and 1972. That was one of my earliest completerestorations and planted the seed for all the subsequent auto activities.In 1986, a friend of mine at my workplace, Bruce Saito, from Siltec/Cybeq Systems in Menlo Parktalked me into showing the 911 at three PCA concours events in the area. Bruce had a beautiful brightred 356, but it wasn't concours quality. He helped me prepare my 911 and we showed it first in PaloAlto at Carlsen Porsche/Audi on Embarcadero Road. It took a third place despite our ignorance aboutconcours shows. The judges were blown away by the car and one of them said it had the potential togo all the way to the nationals in the right hands. I think that was a direct slight to us as we reallydidn't know what we were doing.The next show that came along was at Pasa Tiempo golf course on Highway 17 on the way to SantaCruz. At this point we had seen what they liked and didn't like and how these folks judged. So weprepped the car more carefully and went to the event. It was a good day. The judges were highly complimentary and scored the car very high. It gained point standing too because it had a little morethan 50,000 miles and that gave it another 10 points due to mileage accumulation to boost the total. Ittook 1st place that day. The judges wondered who we were and where we came from, because weweren't PCA members. It was a fun day.My formal education was in Mechanical Engineering (BSME, UC Davis) and business (MBA, Collegeof Notre Dame). I have worked in the engineering field my entire career, first as a Mechanical DesignEngineer and most recently, up until my formal retirement at the end of Feb. 2015, as V.P. ofEngineering for many years at the company I co-own. Since 1980 or so, I have continually worked inR&D, design, and manufacturing of semiconductor manufacturing/processing equipment. I've soldequipment into companies all around the world large and small. Many are names you'd instantlyrecognize, others are small and more obscure, but important to the industry just the same. It was afascinating and rewarding career in many ways. At this point I'm happy to pursue other endeavors andtake it a little easier. So far it's been a very good time. The combination of working just enough to stayactive and yet, having loads of discretionary time is an irresistible combination.There have been vehicles that I sort of regret selling. One was a beautiful dark green 1967 Mustangfastback with high output 289. Another was a 1973 Land Cruiser FJ40 completely restored andenhanced in many ways. It was a brute off road. And another was my little race car, a 1993 Miatathat I worked on for a year and a half and put over $5000 of parts into by means of my own engineered,original modifications and work. I sold the Miata because my son was turning 16 and starting to drive.I knew that car was the very definition of trouble in the hands of a 16 year old! But it was tremendously exciting to drive! It just took a good measure of restraint to not get into trouble.Something most 16 year olds are not known for.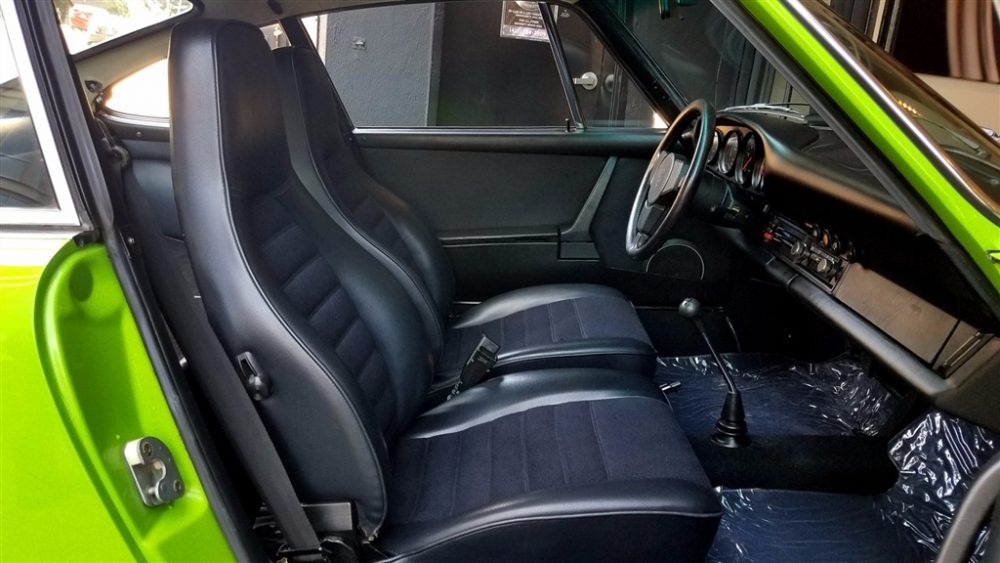 Lime Green is itself a pretty spectacular color and on this 911 it shows all of its brightness and verve. It's another in a line of Porsche pastels from this period that remain so desirable and it's not often we see any of them looking this good. That this one remains original is all the more noteworthy. The interior shows a similar level of care and the combination of the leatherette and velour inserts is always a nice touch.
The big question obviously will be whether its originality can be verified. It's said to be very well documented, with documents stretching back to its original sale, and hopefully those will reveal as much as we need to know about its life. A paint and mechanical inspection should take us a long way in that regard as well. The ad text provides some interesting details about its ownership history, along with a lot of other information about the owners, though not about the car. Everything here looks the part, it's just a matter of whether we can confirm it.
Given the asking price it is those details that will be of significance as this 911 is priced well above any other base 911 from the period I can recall. The high price likely is worth it (though perhaps not this high) given the relative rarity of this car. I certainly don't imagine I'll come around many more in this condition and in this color.
-Rob