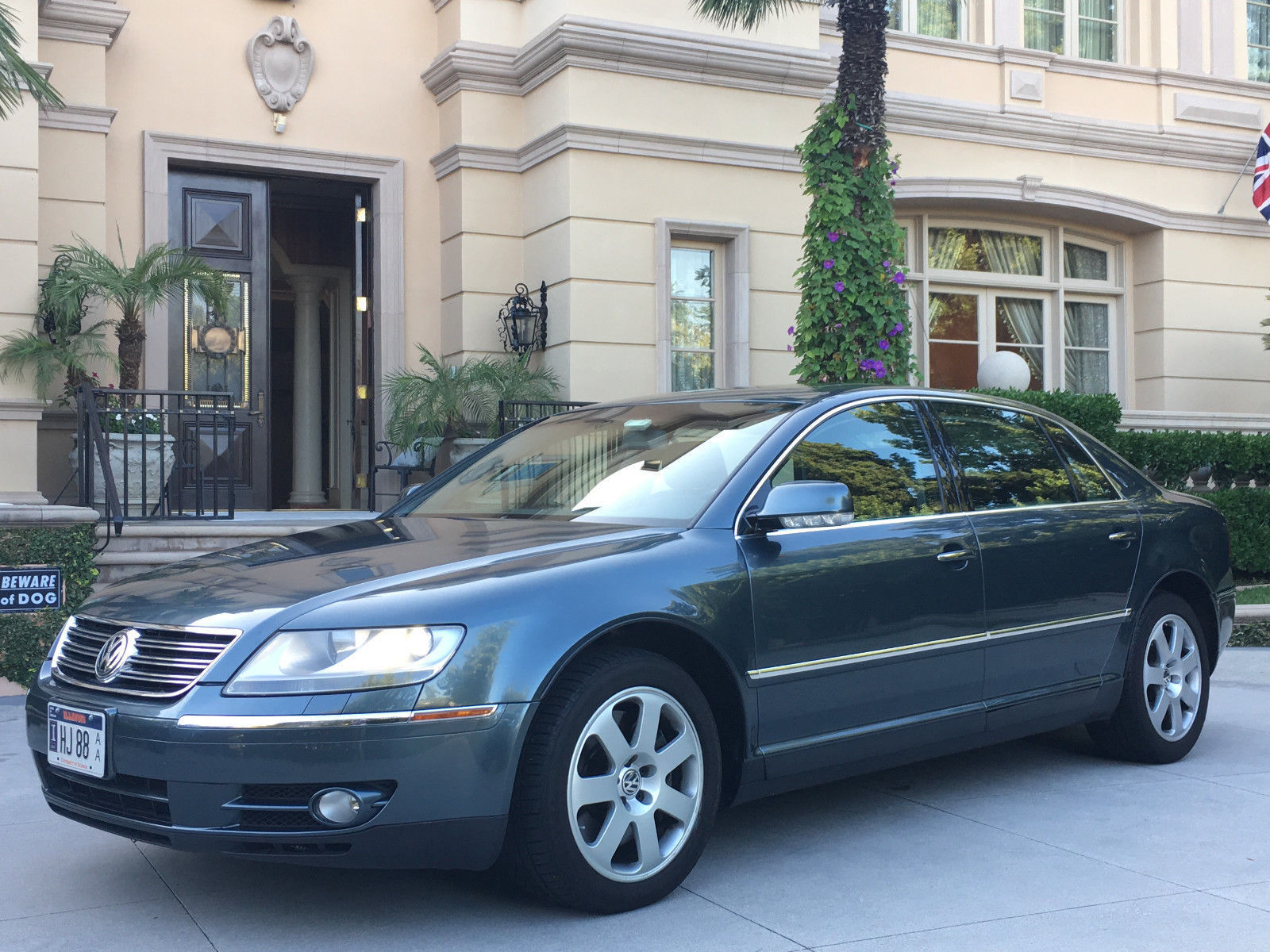 The Phaeton is a very perplexing car. It was established as a plan to produce a no-expense spared, world-beating luxury car – and, in many ways at the time, it was world beating. It offered similar luxury and performance to the established German standards – Mercedes-Benz's S-Class and BMW's 7-series, but also challenged stable-mate Audi's A8. Yet it was available on a more Volkswagen budget – at least, in theory. That's because if you walked into a Volkswagen dealer in the mid 2000s and wanted a basically optioned model, you'd be out about $75,000. For reference, that's about three times what my expensive-for-the-category Passat cost in 2002. And the big problem with that was how the Phaeton looked, because a bulk of the population wouldn't be able to tell the two apart.
But that wasn't the point about the Phaeton. Nor was it that you could get the lighter, aluminum version of what appeared to be the same car from more upscale Audi that would arguably attract much more attention for not much more money. And it was this exact confusion that befuddled the market; why would you ever pay $75,000 for a Volkswagen? The trick came in realizing what you were getting, which actually shared little architecture with the Audi corporate partner. Park a Phaeton next to an A8 and you'd swear they were just about the same car with light badging changes, but you couldn't be more wrong.
Although the model shared components with the D3 A8, it also shared much more architecture with other side of VAG's portfolio – the Bentley Flying Spur and Continental. This meant a steel chassis rather than the aluminum space frame, and that meant more weight – a lot more weight. To mitigate this, Volkswagen upped the power slightly over the A8's V8 to 335 and dropped its axle ratio to 3.65:1. The result was that the BGH equipped 4.2 liter V8 Phaeton could run with the A8 in a straight line – just. To outdo the Audi, then, Volkswagen had to up the luxury quotient in the Phaeton, and they did. Inside of these cars is a simply amazing place to be, with double-laminated glass, hectares of wood and enough leather to make a Village People audience envious. There were heated, cooled and massaging seats, navigation systems, 420 watt stereos and disappearing cabin vents. Shut the door and they're quiet – eerily, disturbingly quiet, in a "Uh-oh, what broke?" kind of way if you're used to the People's Car. Remove the VW badge from the steering wheel, and you could easily be fooled into thinking you were in a Rolls Royce from the period.
But not everyone was convinced, and as a result they sold slowly in the United States. Volkswagen offered boutique colors and wheels to help set the Phaeton apart from the rest of the VW run, but it was only really in Germany that the appeal of the understated Wundercar ever sold in number. Only a few thousand were brought into the United States, this 2004 being one of the claimed 1,433 to make it the first year: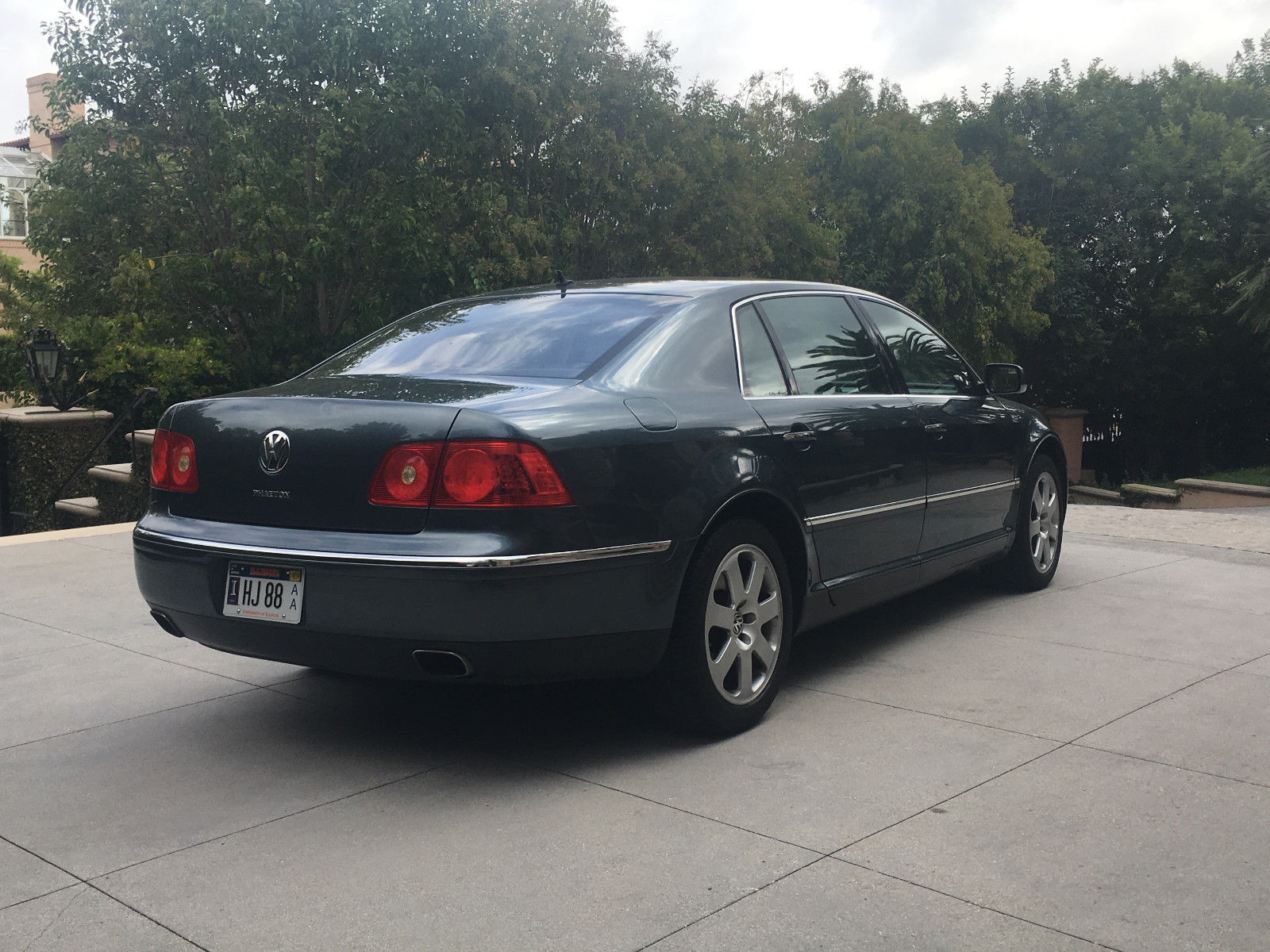 Year: 2004
Model: Phaeton
Engine: 4.2 liter V8
Transmission: 6-speed automatic
Mileage: 105,560 mi
Price: No Reserve Auction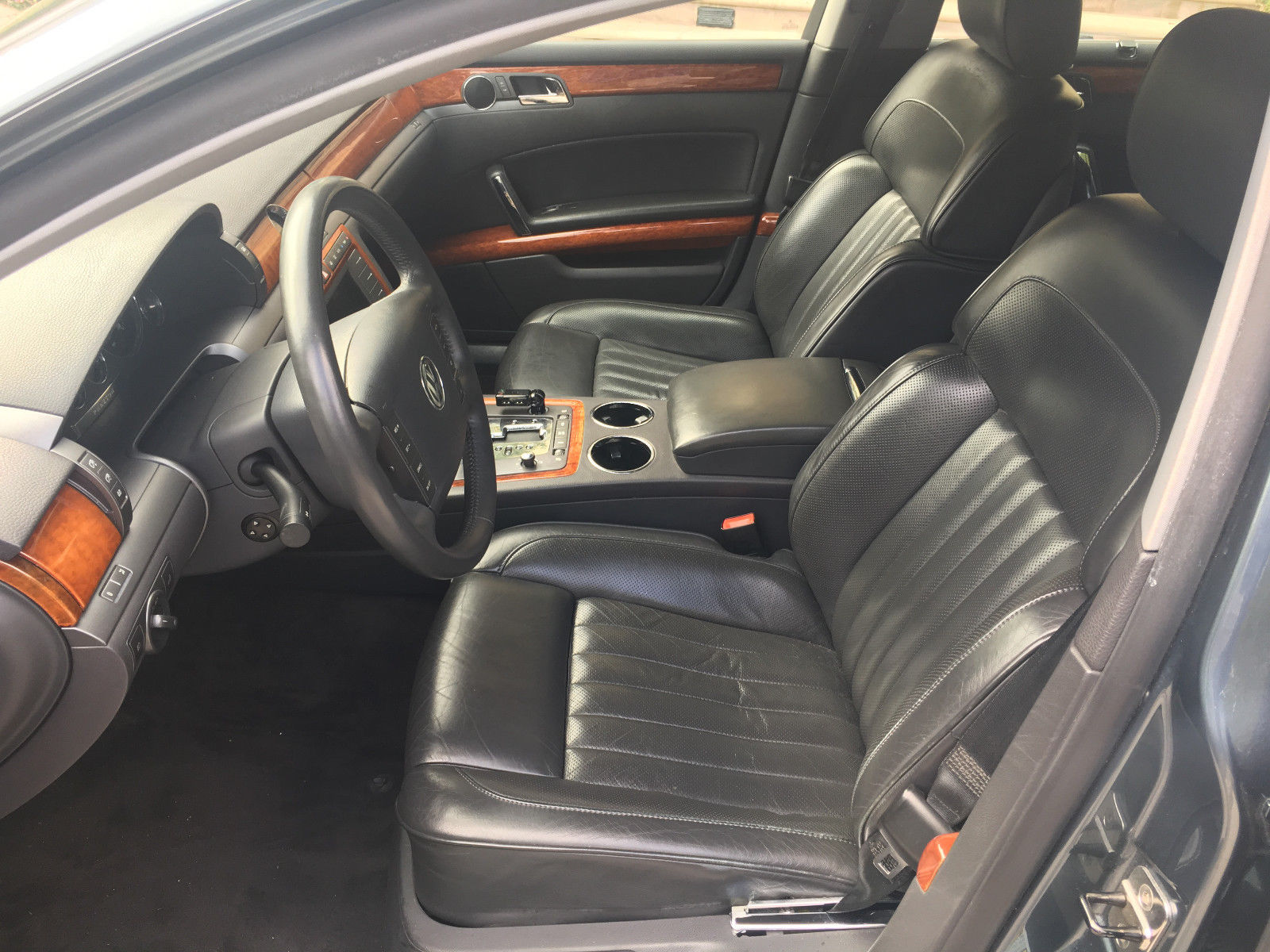 !!5 Day No Reserve Auction!!

Only serious paying bidders Please

Please Only Bid If you Have Full Finances Available

Up for auction:

Up for auction is A Very Nice RARE 2004 Volkswagen Phaeton V8 AWD

I was asked By a Friend To Sell This Phaeton, As I know these cars Well and have owned several of them.

This Vehicle is originally From Illinois -Has Been Garaged,Has NO Rust and is in Great Mechanical Condition – well maintained With only 105k Original Miles -Runs/Drives Fantastic…

The Phaeton is Now In Beverly Hills California and is Overall Great – It comes With A Clean Illinois Title

If you Look at the pics there are some dings, scratches, scrapes, scuffs… The Front Bumper Has some cracking and there is a ding on the front hood, Overall Nice Condition but not Excellent..

This Is the Highest End and Best VW Ever Created Built on the chassis of The Bentley Flying Spur

It frankly is a Bentley with a VW logo- the similar shape body, interior

Only Has incredible LOW 105k Original Miles

Amazing Powerful 4.2L V8 VW Engine – This is 1 of the Best German Motors Ever engineered !!

Excellent Automatic Transmission with Sport mode and Comfort Mode

This Vehicle Runs and Drives Great, Powerful and Luxurious

No Check Engine Light on No Leaks, No rust… Just A beautiful Luxurious Vehicle

Suspension Works Great Goes up And Down Correctly Has Comfort and Sport Mode!! A true Pleasure to Drive

Loaded!!

This Amazing VW Phaeton Is practically a Bentley Silver Spur and has many Features!!

All Direction 16 way Power Seats Driver and Passenger

Massaging Front Seats – And They Do Work

Also Has Massaging Back Seats

Amazing Sound System With Premium surround option effects

GPS/Navigation

It has 2 Remote keys with Keyless entry feature

Power Steering With Steering Wheel Warmer

Seat Warmers and Coolers

Climate Control With Rear Climate Control

Excellent AC and Heater

Amazing Cruise Control

Telescopic Wheel

All Airbags All Around

All Power Windows With Power Rear Sunshade All In working Order

Power Sunroof Even Has Power Moonroof

Luxurious Seats So Comfortable with Extra Leg-Room Rear Seats And Foot Rest for Back Seats _ And HAs the Extra Feature Of Back Massaging Seats

HID Head – Lights

Traction control / ABS

Great Tires In Great Condition – The Tire Pressure Sensor is on

Excellent Air Suspension with Sport And comfort Mode

Air suspension Height adjustment of vehicle

All unique matte Wood – Grain Interior

And The List Goes On & On…..Truly Amazing How Much Luxury This Vehicle Has!!!

Beautiful Very Very Rare Color

This Beautiful V8 Phaeton HAS Beautiful Factory Original Color Combo Pearl Effect Aqua Blue Exterior On Black Leather Interior!!

Exterior body is Great!! original VW Metallic Pearl Effect Aqua Blue in color (Very Rare, Unique And Gorgeous Color) In Nice Condition especially for the age!! Has scratches, Chips & Dings, Front & Back Bumper, On the Hood… Look At Pics

Overall In Solid Condition especially considering the age!!

Interior is original Beautiful Luxurious comfortable VW Phaeton Black leather and in Fantastic Condition

Has the Wood-Grain Interior all around in Great Condition

Overall A Great Unique Rare VW Phaeton In Great Condition With Low 105k Miles

Do Not Miss on this opportunity On This NO RESERVE Auction and Bid to Win!!

Title:

Vehicle Comes with a Clean Clear Illinois Title

Buyer responsible for Dmv fees, taxes,smog…

AGAIN PLEASE ONLY BID IF YOU ARE SERIOUS AND HAVE FULL FINANCES TO COMPLETE THE SALE

Out Of State or Out of Country Buyer:

Buyer will receive Clean Clear Illinois Title

We Welcome Out Of State and Out of Country Buyers and we work Diligently with Your Shipping Company to make the Process as Smooth as possible

Sale terms:

Immediate non refundable paypal deposit of $200 due within 24hrs

Full payment due within 72hrs

If you do not contact us within this time period we will report you to ebay and relist the vehicle

Cash or Cashiers check only (once verified)

No credit/ debit card or personal check

We reserve the right to end auction for any reason

To Schedule viewing of the vehicle or to schedule pickup (winning bidder) should contact us through Ebay message
This Vehicle is Located in Beverly Hills, Ca

NO RESERVE AUCTION – what you win the vehicle for is what you pay!!

This vehicle is used and is being sold as-is where is with no warranty
Thank you and Happy Bidding!!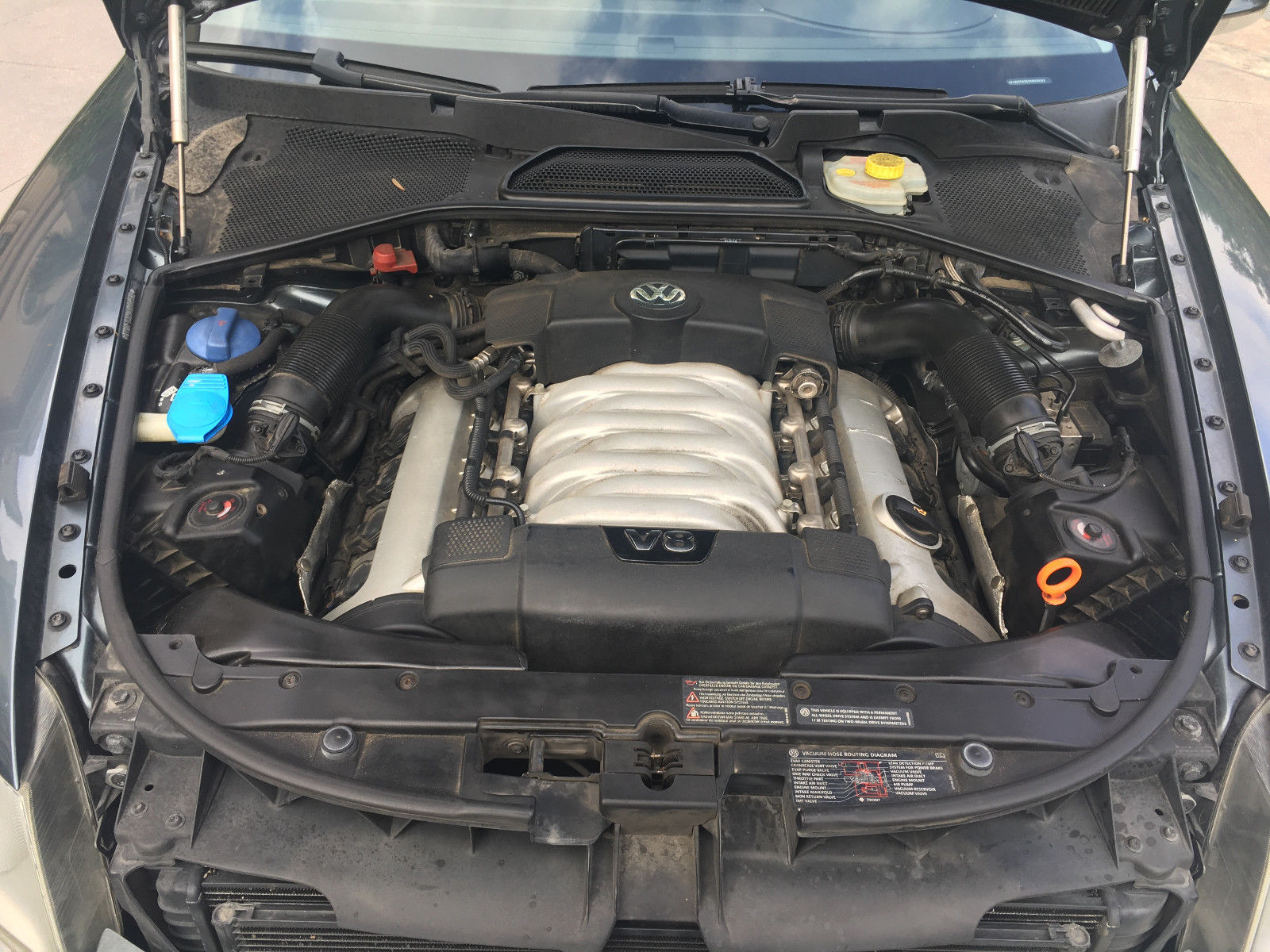 So back out the looks for a second – what are you actually getting with one of these cars. Well, unlike other Audis from the period, the 2004 Phaeton featured the 6-speed ZF gearbox. The ZF 6HP19A is very similar to the gearbox used in many other luxury marques from the period, including our own 530xi Touring which used a different model number but the same basic box. Though there are faults known to them, they're generally considered more robust than the earlier 5-speed Tiptronic. How about the motor, then? The BGJ/H 4.2 liter is the same basic motor found the the B6/B7 S4, C6 A6 and D3 A8. That means chain issues are possible, along with various other VAG V8 problems. But if you're buying a Phaeton, it wasn't likely driven in the same manner as the performance-oriented S4 was, so there's likely less cause for concern. Then there are the electrics, and there are a lot of them. Those you certainly should be concerned about; on this example, they're about to be 14 years old. As someone who has a complicated, 11 year-old BMW, I fidget a bit every time it rains out, a large bump is it or someone opens a door – you know, normal things a car encounters. And if you're interested, you should be worried, too. The CD-driven Nav is horribly outdated at this point and I'd wager finding Phaeton-specific parts will become difficult quite soon in typical 10-year old VW fashion.
Are there upsides, then? It looks great. I've always liked the "Challenge" design wheels, some of which were produced by BBS. They give a more athletic feel to the car. The color combination is nice, too – the dark leather offsetting the warm wood tones. The Phaetons came in some very cool colors, and I think Aqua Blue Pearl Effect is a pretty and understated color in keeping with the car's mission, though if I were picking I'd choose Waterworld Pearl Effect. General condition is pretty good, though there are a few dents and a cracked front bumper. The big draw is the no reserve auction, which is currently at only $4,000 – about what you'd pay for an equal condition, equal mileage contemporary Passat. It also represents about what the taxes and fees would have originally been to register this car, or viewed another was a staggering 94.3% depreciation. When these cars were new, the thought of anteing-up what was effectively the downpayment for a nice house to drive a Volkswgaen might have been laughable to most. But when that luxury is the cost of around a 10-day stay at a nice hotel in Boston, suddenly I'm tempted to consider a cross-country cruise in one of these undercover Bentleys.
-Carter