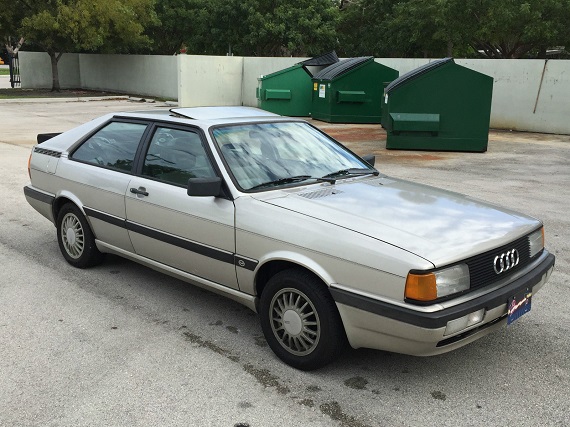 I've been part of a broader discussion about values on 1980s Audis over the past few years. In one corner, I've suggested that values have been steadily increasing and that very good examples of 1980s Audis – the 4000 quattro, the 5000CS quattro and the Coupe GT – are higher now than they have been since the early 1990s. But have they really been increasing? Hagerty, among others evidence we've collected, would seem to say yes. The problem is that few examples of 1980s Audis in really exceptional condition come up for sale. But today is part one in a mini-litmus test of the market on one of my favorite models – the Audi Coupe GT. I've suggested that really excellent examples of these cars are currently $6,000 – $8,000. The basis for my argument is twofold; one, it's so uncommon to come across a really top-condition, low mileage Coupe GT these days, and two – that between no longer available parts and the cost of a proper restoration, you're better off paying top-dollar for a no-needs example rather than trying to bring a lesser example up to show-ready quality. So, let's take a look at part one – a reportedly "excellent" Coupe GT: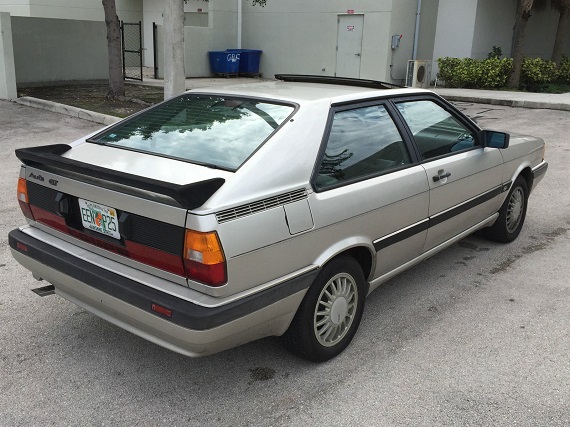 Year: 1986
Model: Coupe GT
Engine: 2.2 liter inline-5
Transmission: 5-speed manual
Mileage: "75,009" mi (TMU)
Price: No Reserve Auction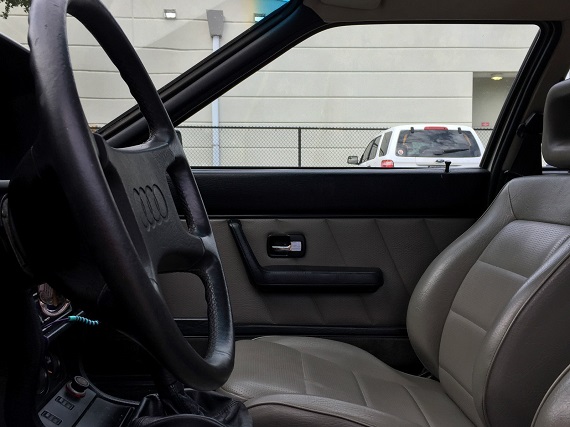 1986 Audi Coupe GT. Lots of recent work. Excellent condition, daily driver. Runs and drives great. Florida car; have original window sticker and bill of sale.

Brand new ice cold A/C. New clutch. Fuel injection just rebuilt. 5-speed manual transmission. Aftermarket stereo w/ amp. Sunroof. New exhaust.

Will upload more pics Saturday 1/16.

On Jan-17-16 at 13:35:43 PST, seller added the following information:

UPDATE: Pics uploaded.

This car is in excellent condition for its age, and is very reliable. It has the minor flaws any 30 year old car should be expected to have. The gauge cluster is a replacement. Two tears in driver's seat leather. Rust is not an issue! 🙂

Fast and powerful!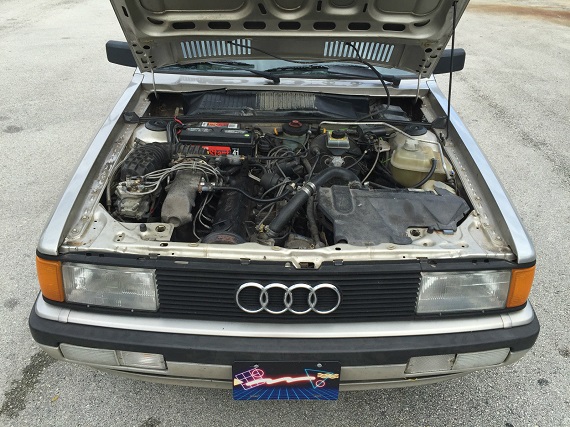 First things first; Zermatt Silver Metallic is a fairly rare color among the later cars, which predominantly are either Tornado Red or Alpine White. The condition of the paint does not appear to be top notch; there's a period pin stripe, cosmetic damage on both bumpers, some surface rust at the trailing edge of the fender lips, the passenger side appears to mis-match and it's very possible the rear deck was resprayed. I say this because there's a secondary pinstripe that ends at the lid on either side and the "GT" badge is improperly spaced, as well as the lid looking slightly out of alignment and the stainless trim is slightly pulled up. The wheels are original but quite tired looking and need a refresh; there may also be a flat tire, because in at least one shot the spare is mounted on the driver rear. In front, the center lower grill is missing. It's the easiest of the three to source, but it's a NLA item. There's a strange wire running across the lower part of the grill – perhaps old aftermarket fog light wiring. The driver's blinker is also not original, though both reflector blanks are in place. Inside is another rare to see item on the later cars; grey leatherette. It generally seems to be in good shape though the seller does disclose driver's seat tears. The radio is probably the worst part; it looks out of place, but not as badly out of place as the replacement speakers. The driver's map pocket is also missing. Then there's the odometer, twice shown. While disclosed as a replacement, what isn't disclosed is that it's not working. The cruise control stalk is also broken. Now, the seller does claim that the air conditioning is working and the car has a new clutch – both relatively expensive items to fix – and the sunroof still functions, sometimes a problem on these cars. We don't learn about any other mechanical workings or what works electrically – window motors often break, and some of the gauges can be flaky notoriously – like the dynamic oil pressure system. But, overall I'd wager that this is at best a condition 4 car. It's a survivor, but it needs a lot of attention to be in really good condition, and it looks likely that it has at least double the mileage that the odometer reads, if not more.
Now, the litmus test part – a few years ago, this would have been a $1,500 to $2,000 car. Yet, with a few hours to go, bidding has already gone beyond $2,500. This isn't the best GT on the market, but you could do a lot worse and it's interesting to me that even with a fair amount of easily spotted issues it's already surpassed the value that would have been a truly excellent GT 5 years ago. As this is a no reserve auction, we'll see where it ends up – and I want to compare it to the other GT on the market tomorrow.
-Carter