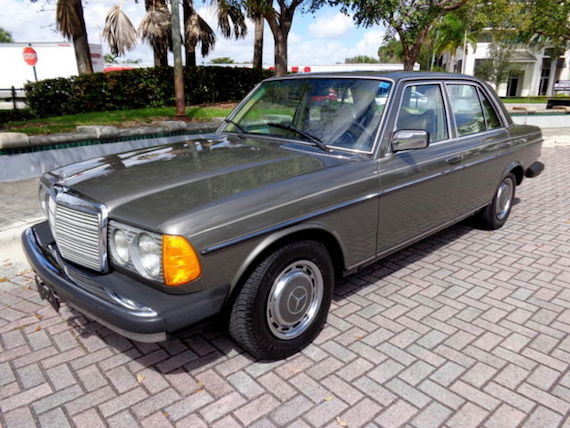 Is there any car more revered in the last half century than the Mercedes-Benz W123? Amongst the Mercedes faithful, this model stands head and shoulders above them all in terms of durability and timelessness. It is also known as quite the gas miser, with plenty of biodiesel conversions out there on the roads. Let's take a look at three very different W123 models, beginning with this early 1977 300D sedan for sale in Florida.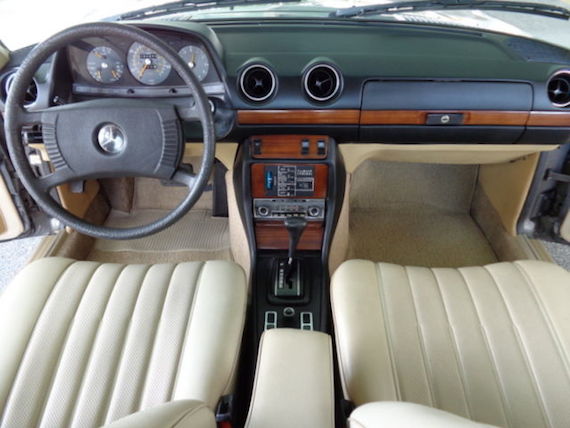 Year: 1977
Model: 300D
Engine: 3.0 liter inline-5 diesel
Transmission: 4-speed automatic
Mileage: 131,256 mi
Price: No reserve auction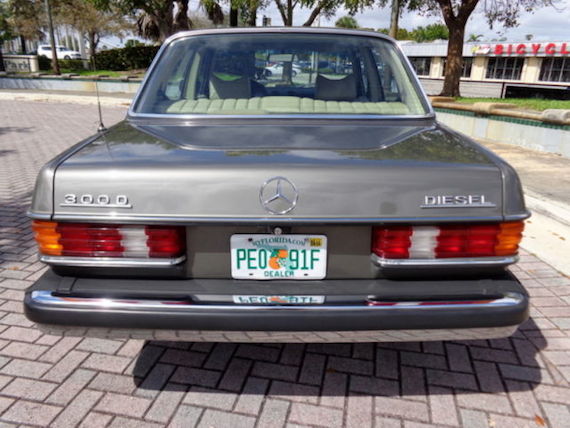 Hello and welcome to our "No Reserve" auction for this amazing 1977 Mercedes 300D diesel sedan! "Strong, stoic, a true warrior." "Economical luxury that lasts and holds value!" Well maintained and cared for, this Mercedes-Benz, W123 sedan, as its known internally, offers safety and a great ride. Absolutely one outstanding piece of machinery for her year and miles! This is a collectors dream! This car is very reliable and reasonably fast for a diesel. Thoroughly inspected, serviced and ready to go, no known issues on this above average Mercedes! I planted myself behind the REALLY big steering wheel and enjoyed the surprisingly comfortable seats. Being the best Mercedes Benz cars ever built, at 6'3″ I had no problems finding a position that was comfortable for me.

The 5-cylinder 3.0L diesel engine feels strong and solid. The automatic transmission shifts smooth through the gears, no hard shifts. The air conditioning is ice cold and the heater works perfectly. She features, crack free-wood grain interior trim, 14″ wheels, good condition tires, Becker radio, working cruise control, first aid kit, accent stripes, floor mats, floors are clean under the mats, no dash cracks, spare tire, jack, tools, rear defogger, owner's manual, power windows, power sunroof in fine working order and more! As you can see in the many detailed pictures taken, the "Gray" metallic exterior is in very good condition for a 37 year old vehicle and still shines like the Florida sun. The extra clean and very good condition "Beige" interior is truly beautiful, no rips.

This car is not a beauty-it's a DIAMOND! Frankly, you couldn't pay me to drive a newer Mercedes, and lots of people with new Mercedes cars button hole me outside the bagel shop to tell me how they had a car just like mine and would still be driving it if they hadn't been rear ended by a loaded dump truck on the freeway and totalled the car, but walked away. "Car saved my life. Don't ever sell it – these new ones aren't half as good." "This car will probably outlast 4 gasoline powered cars!"

By far, this one couldn't be replaced. All of our vehicles are sold with free and clear title of any and all liens. At the time of delivery, we will include any extra keys/remotes that we received for the automobile when we purchased it. We also use our detailed pictures as a physical description as well so look at them closely. Please be realistic in your expectations. Pre-sale inspections are welcomed and encouraged. Please read our "Terms and Conditions" below. If you have any questions about this or any of my other auctions, or would like a "Buy It Now" price through Ebay, please feel free to contact me, Avi at bestofflorida@rollingwheelsinc.com or please call me, in the office, at 954-527-5522.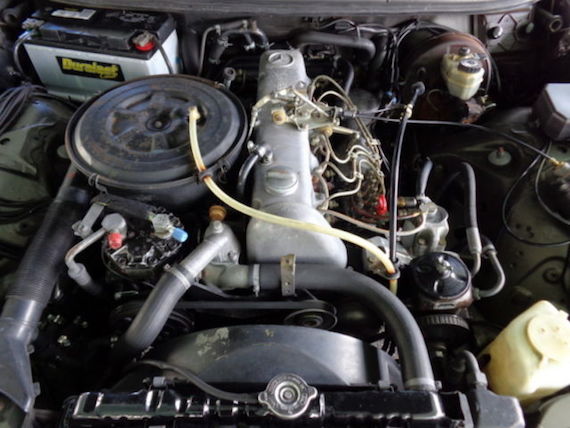 Those familiar with this car know that the mileage seen here is no matter for the W123. These cars regular tack on hundreds of thousands of miles at a clip without breaking a sweat, so this one is just getting broke in. The color combination is also rather modern, but few will mistake this for anything but a classic Benz. The one drawback to this car is that it's not the later turbo diesel model, which bumped horsepower from 77 seen here to 125. Given the condition though, this one should bring somewhere between $6,000 to $8,000.
Next up let's take a look at this Euro market 230CE coupe with a 4-speed manual transmission for sale in Oklahoma.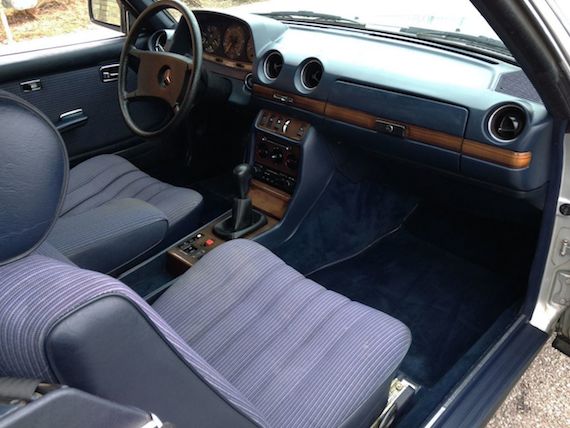 Year: 1984
Model: 230CE
Engine: 2.3 liter inline-4
Transmission: 4-speed manual
Mileage: 129,000 mi
Price: $9,500 Buy It Now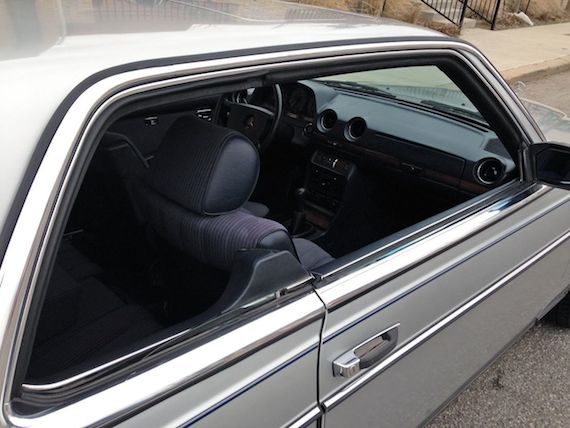 This is one of the rarest versions of the classic Mercedes Benz W123 chassis. This was a European only spec car with the sportier 4 cylinder engine (same as the 190 sedan) with a 4 speed manual transmission and in the ultra rare CE or Coupe model. I have owned many rare Mercedes, but until I purchased this car, I had never seen one.

In my opinion, this is one of the best looking Mercedes built in the 1980's. It has clean classic lines with pillarless coupe style. This is made even better with the clean looking slim-line bumpers, flush headlights, and the classic Bundt alloy wheels. This example is actually an 84 model (ebay will not accept gray market VIN numbers and makes you list as a 1980) and was brought over to Oklahoma by Cordel Foreign Motors.

The first US owner took extremely good care of this rare Mercedes, pampering it and keeping it in excellent condition, serviced by local Mercedes Specialists. Cosmetically as you can see, It is in wonderful condition. The original Classic German Silver paint still holds a great shine and is virtually unmarked. The interior is nearly 100% original and still in excellent condition.

Mechanically, it is in great shape having been well maintained and it shows. The engine runs very well with no smoke etc. The transmission and clutch are just as they should be with no bad noises or popping out of gear. It has been recently serviced and received a new factory Mercedes Fuel pump.

If you are looking for one of the most stylish and well built Classic Mercedes for a reasonable price, this could very well be the car for you. While not perfect, it is a very well maintained and preserved specimin that is ready to use and show.

Terms: Must be paid for within 5 business days. Sold as is where is with no guarantees or warranty. Buyer to pay shipping, although I have some good contacts and can help you save $$. Happy Bidding!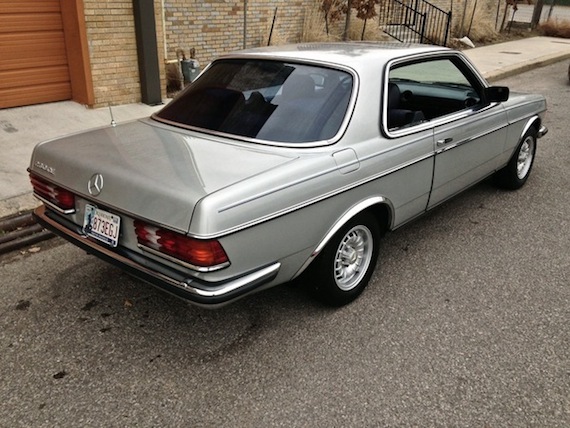 The petrol powered W123s were always the odd man out here in the US market. While we got a few examples with the 2.8 liter inline six, we never saw the smaller 2.3 liter four cylinder seen here. For someone who enjoys rowing their own gears and wants a bit more pep than a diesel engine of the period can provide, this coupe would be a solid choice. The silver over blue cloth interior is a classic Mercedes-Benz look. The asking price here is not far off the mark, offering a lot of style for your dollar.
Finally, we have a US market 300CD in a very rare shade of Inca Red for sale in California.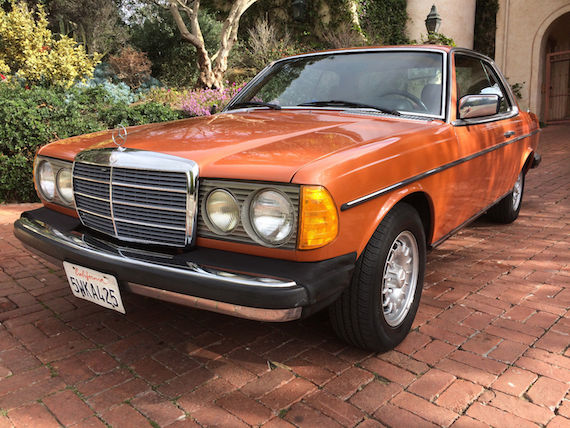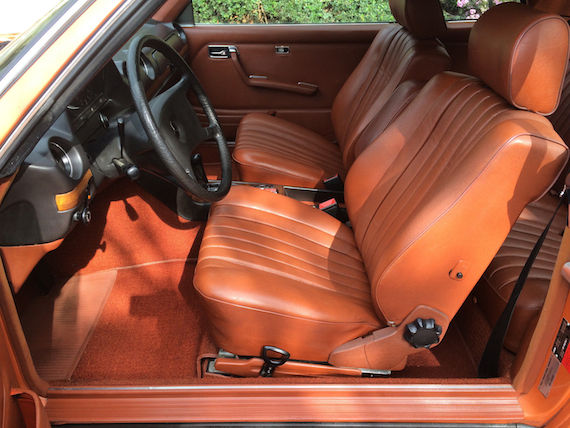 Year: 1979
Model: 300CD
Engine: 3.0 liter inline-5 diesel
Transmission: 4-speed automatic
Mileage: 89,588 mi
Price: No reserve auction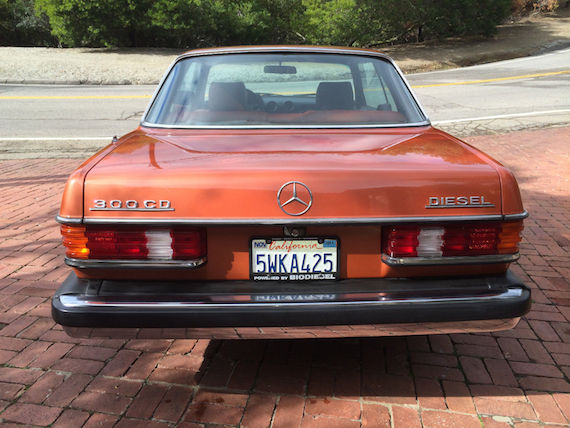 As a collector I have to say this is the nicest coupe have ever seen. I have been collecting these specific cars for almost a decade. This one and my black on black 85 300D 4 door are the last and best 2 of my entire collection. Please bid with enthusiasm and realize that you may never see a car like this ever again. I am sorry to see it go. Truly.

All my auction sales to date have received a feedback rating of 100% and I take pride in knowing that I am making automotive dreams come true. You can call me with offers or questions at 323-467-7870 I do reserve the right to remove the auction at any time for any reason but please respect the auction process and don't wait until the last day to show up with the cash because Ebay does not allow an auction to be removed on its last day (I learned this the hard way).

This is not a bargain car and the price it will sell for will not be low. This car is going up in value every year so you will be able to sell it for more than you bought it for provided you care for it. I just cannot afford to keep up my warehouse garage anymore and I refuse to store my cars outside.

The reserve price will be set lower than expected by those who know what this car is, its real value, know how many were made (7502 total) and have survived especially in this condition with such low mileage. This is a custom ordered car because the manufacturing completion tag says built in October 17 of 1979 but the Original California Title was issued in 1980. Also to add interest my research shows only 8 were made in this color! Plus with this seat choice of color and carpet I think personally it sends the senses into overload. This car not only looks new but smells new too.

Ok that all being said… I'll try to include all the info I can:

Maintenance done at regular intervals with NO expense spared
Complete all point inspection with new fluids, oils and filters (transmission oil & filter, engine fluids, oil, glow plugs, coolant, fuel filters)
Receipts and logs of all upkeep done over the years including insurance documents – no accidents or body repairs
Garaged and babied – never smoked or eaten in this car
PAINT – Original paint looks pristine – only one little knick, see pic of small scratch not touched up so you can see it clearly… easy touch-up
Four keys plus a valet key
Original Mercedes dealer books including purchase receipt
Manufacturing plate
Clear California title with no bad car fax or any other issues
Registration to November 2014 – these cars never need to be smogged btw – they are smog exempt
Bumpers show no chrome wear or scuffing
Brakes in excellent condition
Parking brake also excellent
Rubber parts all around look superb and subtle with no signs of age whatsoever
Seals are factory plump and doors shut like a vacuum – clunk… that Mercedes engineering air pocket thump when the door shuts
Window rubber seals are excellent with windows shutting as they should not letting air or water enter the cabin
Grill as new with inserts and chrome showing zero age
No leaks
Clean under carriage with no leaks or any rust of any kind
Bushings are excellent
Suspension and shocks are A1
Steering is perfect with power assist in factory condition – no play at all – as new
Alignment is straight as an arrow
ENGINE compartment clean and not detailed – this is the way this car sits – yes it is that good
Motor starts right up with factory specification
Glow plug glow light illuminates for less than 3 seconds
Car starts immediately even if car has been sitting for months
No smoking exhaust or issues of any kind whatsoever
Motor purrs and smells so good – love that
30 miles approximately to the gallon – subject to verification but I swear I get more, it depends on how you drive
Spare tire wheel as new – rubber new too
Tools for tire removal intact
First Aid kit intact and never opened
First Aid kit cover perfect with the exception of the small sticker deteriorating over time
All emblems in tip top condition – the hood ornament showing slight chrome age but in need of detail polishing shown here in the pics
Tires with approximately 80-90% plus age left on them – new Michelins
Windows in front work fast and efficiently
Windows in rear work but slower than front
Sunroof operational but slow
Rear window defrost operational
Door locks work great on both sides
Gas cap lock and trunk lock work as they should controlled by drivers door key
Wipers working great and are as new
All turning signals and lights including fog working perfectly
Interior lights including trunk, engine, visor, glove compartment and rear all work as new
All switches ALL work everywhere
Cruise control worked last time I used it
All dash lights work including variable switch to dim interior accessory lights
Dashboard AS NEW with no signs of any wear or cracks anywhere.
Rear deck also showing no issue except a slight fading in the California sun
Rear seats also in brilliant condition complete in every way including removable armrest
Rear seat belts look never used
Carpet throughout looks as close to factory new as you could ever get with no signs of wear including on the drivers side floor
Headliner in immaculate condition with a tiny imperfection / tear that is hardly noticeable on the sunroof section
Speakers all stock and all working with no noises, blown tweeters or woofers
Stereo also stock and working perfectly (they do not sound great but they do work!)
Fader switch on shift panel works great with no static
Antenna goes up and down plus the switch works to decide how high you want it to go up as a default setting
Hazard switch illuminating as it should with the hazards working fine
Parking brake pedal works as it should
Door panels look amazing and are complete with material covered rubber trim – important detail as most of these cars have been compromised here and are without this as it's the first thing to go
WOOD is absolutely delicious with continuos lines and no cracking or chipping anywhere
Glove compartment opens, shuts and locks with the key as new
AC works and blows in every mode – new servo unit installed recently
Climate control is working perfectly in all switchable positions
Heat works
Cool works
Defrost works
Interior AC component lighting works and is dimmable
SEATS are as beautiful as they were they day the car was bought new – amazing how these seats just show zero age and feel perfect
Seat adjustment and handles to adjust seats are intact and work as they should
Seat back netting tight and pretty
Front seat belts work great too and also look new – there is a small piece of plastic that has chipped off at top of drivers belt below the window
Floor pedals are showing next to no wear – another tell tale sign that a car has the miles stated
Dash controls all light and work
Oil Pressure, clock, trip meter, odometer and gas gauge all working perfectly
Warning lights for brakes, seatbelt, glow plugs, headlights, hi-beam and battery all working
TRANSMISSION just serviced with fresh filter and oil – shifting smooth and strong – nice
Wiper arm and knob working as it should including window washer
Brake release and hood release work great
Hood liner is intact and looks great
Trunk liner also in excellent condition as is the carpet and side panels
Wheels are original Bundt that are showing great care has been taken not to skuff on curbs
Door panels and handles are also near perfect
Seat recliner knobs and buttons working and looking fine
Horn beeps! beep beep

Ok so I got into some scrubby jeans and gave her a good detailing and made a couple of videos (my battery died just after video 1 so that made for a good reason to make a second one 😉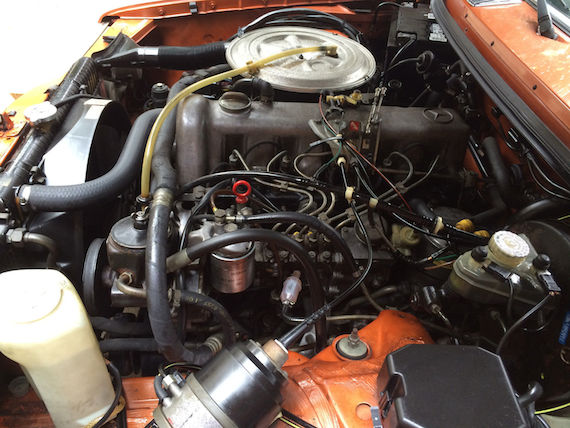 This is my favorite W123 of the trio here. True, I'm partial to the manual gearbox, but this Inca Red mates with this 300CD perfectly, lending a very period correct look. Any W123 with under 100,000 miles brings strong money and this one is certain to bring the highest return of the three.
-Paul