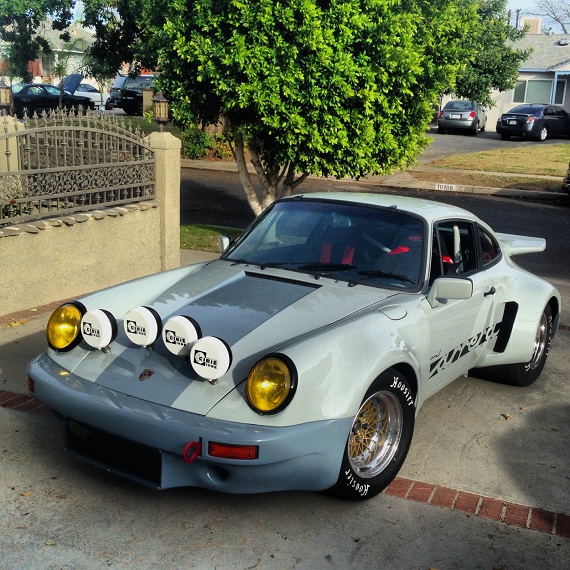 The 1970s Porsche 911 Carrera RSR are without a doubt one of my favorite race cars. Stretching the limits of that rear-engine design, Porsche employed both monstrous rear tires and aerodynamic aids to help tame the serious amount of grunt they were able to extract from the race prepared flat-6. And while I'm not alone in loving the RSR, not many were made leading to a fair amount of replicas of the various iterations. Some, like the last RSR replica we featured, take the iconic IROC cars as their inspiration, while others replicate more unique examples. But over the past few years backdating Carrera 3.2s and 964s has become popular, and it comes as no surprise to see today's example – a 1984 Carrera 3.2 that's been given the full-on RSR look – but unlike many other replicas, has remained streetable: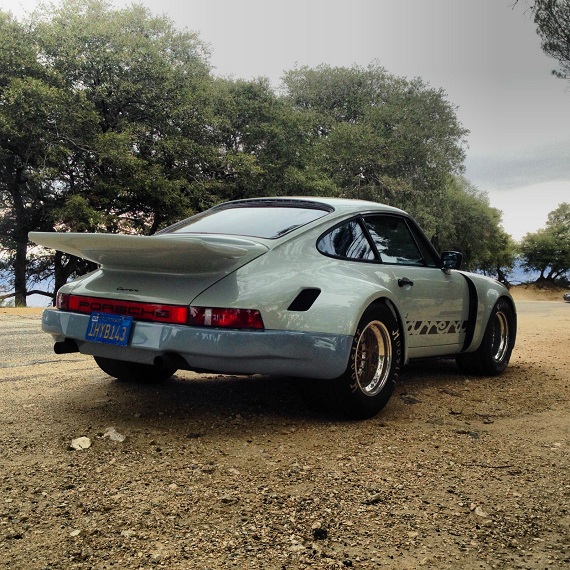 Year: 1984
Model: 911
Engine: 3.2 liter flat-6
Transmission: 5-speed manual
Mileage: 19,530 mi
Price: $35,000 Buy It Now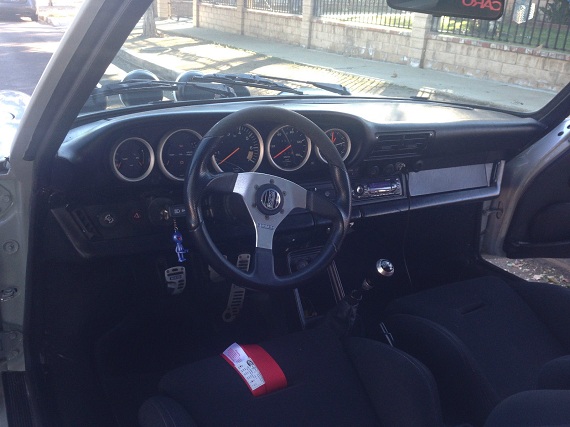 The porsche 911 doesnt need much introduction.A great machinery that hasnt changed much in design in the past 50 years.

Im listing today my 75 RSR tribute for sale.I am the 3rd owner of this 911,it has always been a california car.
It still has the blue california plates on it.Has no rust or body damage to it.
This tribute car was built on a 84 Carrera.
Here is a detailed list of what ive done to the car.
You can also check out a video that ive made of the car,basically a walk around video.
Search "The Dolphin 1975 RSR Tribute" on youtube.

Many more photos here,copy to your browser.
s283.photobucket.com/user/oprah85/library/1975%20RSR%20The%20Dolphin?sort=3&page=1

The body
Beautiful paint and bodywork by PJ Bonifacio's shop.Windows were taken out,door jambs were painted,color sanded and buffed.Shines really nice.
The color is a 66 porsche color "dolphin gray".
I bought the bumpers,fenders and tail from TRE motorsports.Very authentic,high quality parts.
The gas filler cap was carefully crafted into the fender so it looks stock.
The car still has a functional sunroof and power windows.
Nice restored authentic Compomotive 3 piece wheels with magnezium centers,wrapped in DOT legal Hoosier fatties.Gives the car a nice early 70's look.While they are street legal,theyre also very sticky.
Wheels are 15×10/12 with 10×26 front and 11×26.5 tires
Bumpers were painted a different color,custom mixed like a light oxygen blue.
Nice euro H4 amber lights,4×7″ cibies on the steel hood and black headlight rings make this car look nice from the front.
All the lights work,turn signals crafted into the front bumpers.
Front fenders have functional vents just like the real one.
Rear fenders also have front and back vents.
Most of the window and door seals were changed,so no leaks.

Drivetrain:
3.2 L carrera motor,original to the car.
Runs strong,good compression (155-160).Doesnt smoke,no leaks.Recent valve adjustment and oil change.
Top end rebuild 46k miles ago.
Steve Wong 911chips installed,also have the stock chip and the catalytic converter.
Cat bypass and sport muffler
K&N air filter
915 transmission,original to the car.
Transmission shifts good,new shifter bushings
New clutch
New brake calipers,front drilled rotors.New steel braided brake lines.
Revalved Bilstein shocks
New suspension bushings.
RSR solid aluminium engine mounts.
I have all the maintenance records for the car in a big folder.
The car runs and drives great.The suspension is tight and the brakes are excellent.

The interior:
I made this car more for the street driving.
Still has AC with new ac lines and updated compressor.It was converted to modern refrigerant.
Still has heater and defrost,power windows and a nice Alpine stereo with ipod connector.Working sunroof.
Neat silver trim around the gauges.All the gauges work including the clock.
Sparco steering wheel,pedals and shifter knob.Horn works.Interior lights work.
The headliner is black and perfect,still original.
Nice pair of cloth recaro seats,with no rips.
New pair of 6 point Crow safety harness,also still has the 3 point seat belt if youre driving on the street.
Safety roll bar with harness bar painted body color,welded in.
Stock door cards in good condition.
Dash in good but has one crack in it.
All the doors lock.

The car has a clear california title and current registration.
The car is smogged and its transferable for 90 days for california buyers.The car passes smog with the stock chip,or a stock EDM.

This car is a blast to drive.Runs good,handles great and stops on a dime.A lot of fun in the canyons or just driving it around town.Tremendous amount of attention and interest,thumbs up, "-beautiful car man!" and so on.You wont go unnoticed.
The only reason im selling this so I can finish up my 76 930.

I prefer calls 8l8-3l0-l866,happy to answer all questions.

TERMS:
Reserve the right to end auction at anytime,because the car is offered for sale locally as well.

Buyer pays and handles shipping,I can help you connect with some good and affordable shipping companies.
Car will not leave until payment has cleared,cash in person or bank to bank wire transfer.
Please ask if you got any questions before you bid.
Car is sold as is ,where is ,no warranty.
Welcome to come by and inspect the vehicle before the auction ends and not after.
Non paying bidders will be reported.
There is a 1500$ non refundable deposit required within 24hr after the end of the auction via Paypal.

Happy Bidding!

On Jan-14-14 at 18:51:39 PST, seller added the following information:

Video link:
youtube.com/watch?v=-Gn6UGVXxGE&feature=youtu.be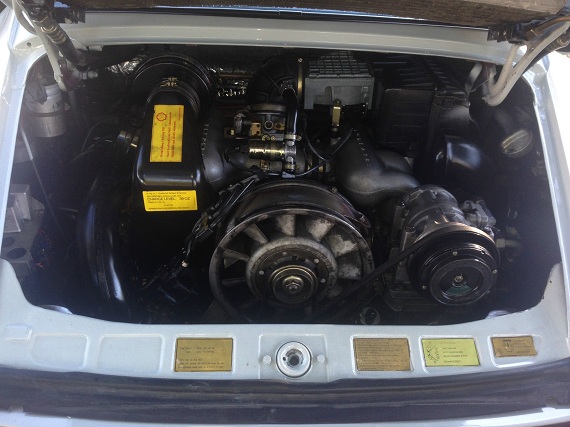 From the build specifications, it looks like the seller has gone to great lengths to create a drivable tribute; retaining such amenities as A/C, power windows and a sunroof. These are all first-to-go items in usual RSR builds. The look is great; the two tone grey-scale Gulf inspired scheme works really well in my mind, and of course the requisite very wide wheels are there. In this case they're not the usual BBS variants but Compomotive; they look a tad undersized in the rear (shocking to say, I know) but the overall look is great. Retaining the original power unit – and not heavily modifying it – means this car is drivable, more dependable, and more easily fixable than racing counterparts. The question of value is an interesting one; clearly there's a tremendous amount of effort, time and money that has gone into the conversion. The results are in my mind great, though I'd have to say if I really wanted a streetable 911 this probably isn't the route I'd go – I'd probably take the much more modest and original Carrera 3.2. Despite this, $35,000 doesn't get you an engine rebuild on a real RSR, and so few even get to see them in person that if you want a 911 to make you special and occasionally fling around, perhaps this is the one.
-Carter