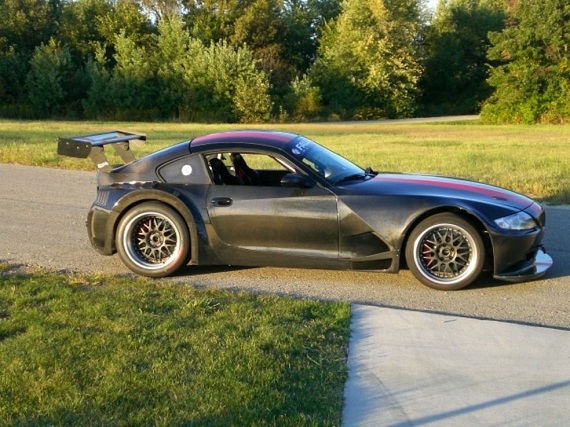 The E86 Z4 was a fairly radical departure from the E36/8 that it replaced. In many ways, the Z3 was born out of a series of spare parts and in some ways almost seemed an afterthought. It wasn't as innovated as the Z1 and while the original M Coupe has become a fan favorite, the Z3 just overall seemed the odd-man out in the BMW lineup. On top of that, the design just overall hasn't aged particularly well in my mind. But in 2002, the redesigned Anders Warming penned E85 Z4 roadster launched. It was bigger in every dimension, with cutting edge new styling that managed to incorporate both round and angular designs into one fluid package that somehow worked well. Over a decade on, it still looks quite new to me – one of the best tests of the staying power of a design. Also one of the best tests is that it was somewhat controversial at the time, but by 2006 and the launch of the M models most critics were convinced that it was a nice package. The addition of the stellar S54 powertrain certainly didn't hurt, and with just 1,800 examples of the new Coupe design in the U.S., it was guaranteed classic status. But that hasn't stopped some from converting the coveted Coupes into race cars, such as this Fall-Line Motorsports built wide body:
Year: 2007
Model: M Coupe
Engine: 3.2 liter inline-6
Transmission: 6-speed manual
Mileage: Not Listed
Price: $109,000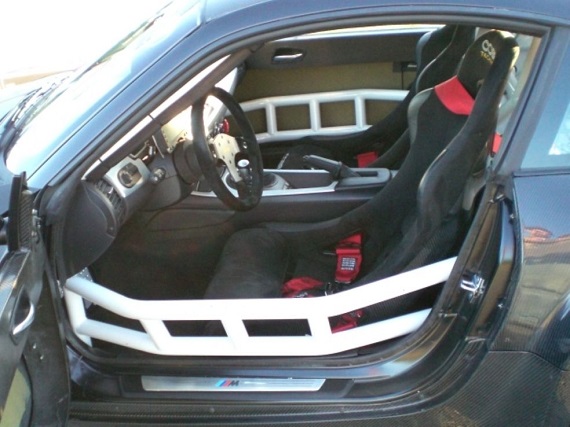 • Built 3/08. • Full race carbon widebody. • Fall-Line 1-3/4, .095 wall chromoly 6 point cage with NASCAR bars on both sides. Ties into chassis A and B pillar. ​​• Safecraft 5 lb. fire safety system. • Cobra Imola drivers and passenger seat. • Scroth 6 point Profi II harnesses. • Pedal cover set with heel/toe extension. • AMB Transponder. ​• Supersprint Headers. • Custom 3" Fall-Line exhaust. • CSL Airbox. • Dinan overbore throttle bodies. • Dinan Camshafts. • Underdrive pulleys. ​• Quaife Limited slip differential unit. • Moton 2-way Clubsport shocks. • Mono ball rear control arms • Mono ball rear trailing arm bearings • H&R sway bars front and rear. • HRE 18×11 Front, 18×11.5 Rear wheels. • 280/650-18 Front, 280/680-18 rear Yokohama Slicks-New • 355mm Brembo front and rear brakes with new rotors and pads. • Optima yellow top battery. • Motec M800 ECU with Custom racing spec harnessing for engine. Traction control configured. • Xtrac sequential gearbox configured with no lift upshifts. • AIM MXL Pista data system. ​ • Front brake duct system with rack stops. • 4.10 rear differential ratio **Please go to my link for MANY NEW PICTURES!!!!** https://www.dropbox.com/sh/wx82yl3k7l7ptd3/AAAzKvmNX zVd-H9NPX1zlG-6a?n=84762131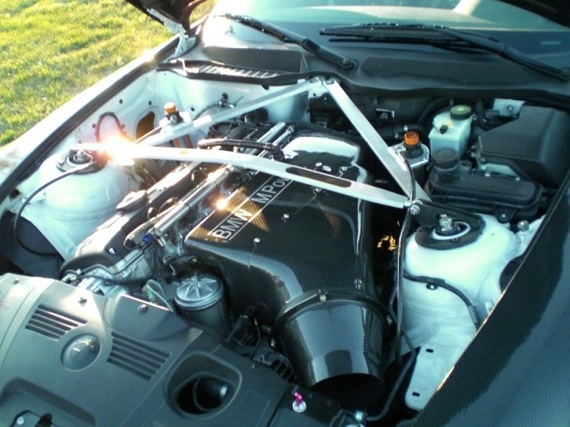 While it's a bit of a shame that one of the rare Coupes ended up pulled apart and turned into a race car, at least the execution was good. Fall-Line has successfully built and campaigned notably M3s in several competitions, and the build of this M Coupe is a veritable who's who of BMW tuning; Brembo, Moton, Supersprint, Quaife and Dinan are all highlights hiding under that carbon bodywork. I'd probably have opted for more traditional BMW racing colors than just the double red stripe, but that could be remedied – personally, I'd love to see this car in the 3.0CSL "Castrol" livery from the 1970s Touring Cars. The sequential gearbox is a cool and expensive racing addition and overall this build looks thorough and well executed. The price? Well, if you have to ask, building such a car won't be cheap – and at over $100,000, it's not. But this car would compare favorably to a Porsche GT3 Cup, for example, and would certainly tick the "other" box when arriving at the track to see the normal weapons. For some well-heeled track enthusiasts, that may be worth the price of entry alone!
-Carter