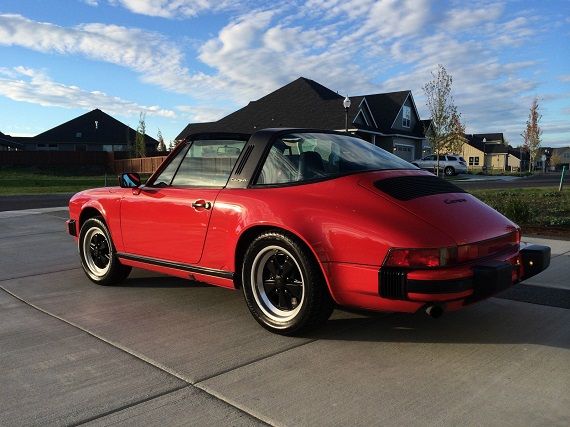 I'm not sure if it's the onset of winter or just a seller's market, but it seems we have been coming across a lot of Targas for sale lately. Even better, they have been a bunch of very nice examples either in interesting colors or low mileage, or both. This one is neither of those things, but it's still very pretty and has the distinction of being a one-owner car that has seen fairly reasonable mileage over its 25+ years of existence. I suppose it is also fitting that I return to the classic 911 Targa as a follow-up to yesterday's redesigned 993 Targa. Porsche first introduced the Targa in 1967, with both soft-window and fixed-window versions eventually available, and while it would take a year or two off here and there the Targa has remained a staple of the 911 lineup for much of the car's existence, even after the release of the 911 Cabriolet. The design remains somewhat a peculiarity of Porsche itself as very few other automakers have ever bothered with producing a Targa, with even fewer continuing to produce them today. These owe their initial existence to Porsche's constant forward-thinking engineering and their continued existence to Porsche's commitment to providing its customers with offerings intended to suit nearly every desire. With the original Targa design returning to the 911 lineup we may even begin to see the air-cooled models garner increased interest as nostalgia weighs on the current market. So as we turn back to that classic design, here we have a "one-owner" Guards Red 1988 Porsche 911 Carrera Targa, located in Washington state, with 120,000 miles on it.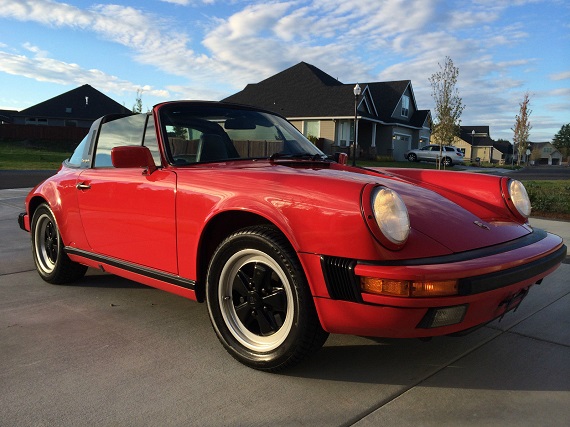 Year: 1988
Model: 911 Carrera Targa
Engine: 3.2 liter flat-6
Transmission: 5-speed manual
Mileage: 120,000 mi
Price: Reserve auction (Buy It Now $27,950)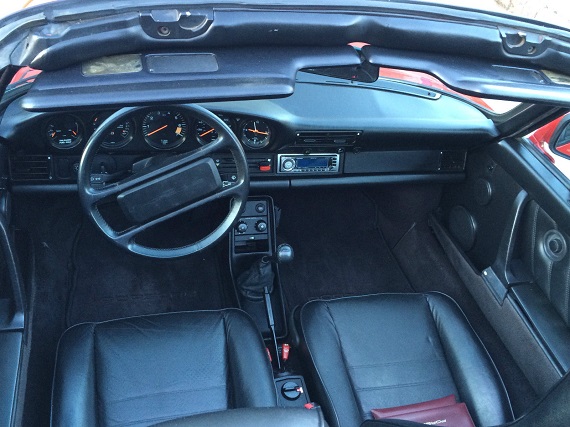 ONE ONWER – 1988 PORSCHE CARRERA TARGA

HELLO BIDDERS, Up for sale is my 1988 Porsche Carrera Targa, 3.2, G50 transmission. ONE REGISTERED OWNER since 88 with ONE PORSCHE MECHANIC since new. All major and minor service have been done at T.A.G. Motor Werks in Gaithersburg, MD http://www.tagmotorwerks.com/invoice/you can view all of the service records for the car by putting the VIN into the search. Feel free to contact the shop to discuss the car. The last service was on 4/8/14 for $1254 to look over the car before the Original Owner sold it. The Porsche currently has 120K total miles, averaging less than 5,000 miles/year. The car has been respectfully driven and is in excellent mechanical and cosmetic condition. All service records, owner's manuals, window sticker, tool kit, tire compressor, jack, etc are included. Targa top is like new, it has been reconditioned with high grade canvas, similar to a Cabrio top and does not leak. Tires are 90%, brakes stop like they should. The Targa has been sitting in my garage for the past 3 months and hasn't dropped any fluids on the floor. There are a few rock chips and minor scratches mostly repaired with touchup paint and are out of sight. The original paint is very presentable and has a high gloss. I was told from the gentleman who sold me the car (not the original owner, but the broker who bought the car from the owner) that the paint is original. He testing the paint using a thickness guage and the paint was factory thickness everywhere but the decklid. The Porsche has all the Original Factory Decals and Vin Stickers. The interior is in excellent original condition. The only part of the interior that isn't original is the CD player. The interior looks like a One Owner Porsche should look. I bought the car from a Broker last June in hopes to keep it for a few years, enjoy it, drive it then sell it as it increased in value. That plan has changed since my wife got pregnant with #2, so the Porsche has got to go. I searched 6 months before buying this 88 and hate to sell it because finding a ONE OWNER with ALL SERVICE RECORDS is nearly impossible and usually comes with a 20% premium. I am looking to get what I paid for it so someone will get a nice price on this great Carrera.

Please feel free to email with questions OR OFFERS.

PLEASE HAVE ARRANGEMENTS TO VIEW THE CAR OR TO HAVE INSPECTIONS COMPLETED BEFORE THE AUCTION ENDS. $1000 DEPOSIT IS DUE 24 HOURS AFTER AUCTION. I CAN ASSIST THE BUYER IN SHIPPING, I AM EASY TO WORK WITH.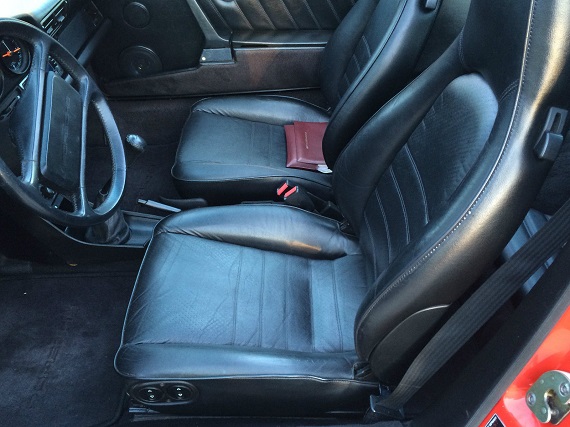 I'm perhaps being over charitable by following the seller's one-owner designation of this car, as it seems clear the seller is not the original owner, but it seems a semantic distinction at this point. The last couple of Carrera Targas I've featured have involved color combinations that both captivated and disappointed at the same time. Here we return to a much more standard combination of Guards Red over Black that has a simplicity to its character that can't be matched by the color palettes of other examples. Yet, this combination is in no way boring, rather it is a classic combination that should find appeal for years to come. With a price below $30K this is a pretty good value for a G50-equipped Targa that appears in very good shape.
-Rob