Warning!
This post is in our archives. Links in this post may have been updated to point to similar cars available to bid on eBay.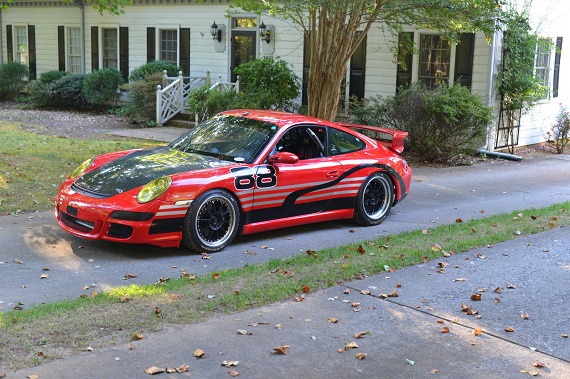 There are countless enthusiasts who have converted street cars to track cars for their own pursuit, this author included. Few of them are professionals, though (this author included), and consequently buying a used one is always a bit of a mixed bag of dealing with shortcuts, ill-conceived modifications or poor planning. At their base, these cars were also often used street cars initially, with years of miles on the road softening their chassis and electrical connections. Shifting gears, though, there are special cars built by enthusiasts that really stand out. These are close to factory builds; pro teams who take brand new street models and convert them to race cars for specific series. Today's 2007 Porsche 911 Carrera was one such car; built for the popular production-based Koni Challenge, it's an upgraded version of the already potent 911 that's available for a fraction of the cost of the original build: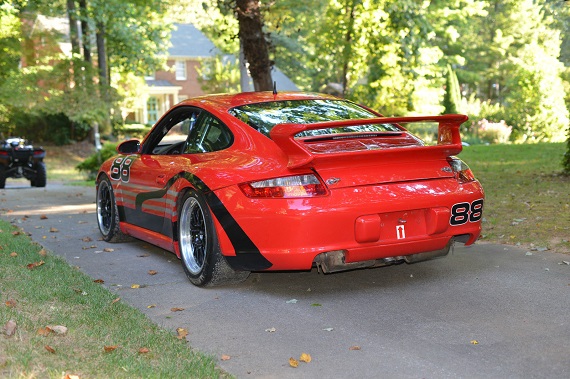 Year: 2007
Model: 911 Carrera
Engine: 3.8 liter flat-6
Transmission: 6-speed manual
Mileage: 20,000 mi
Price: $59,995 Buy It Now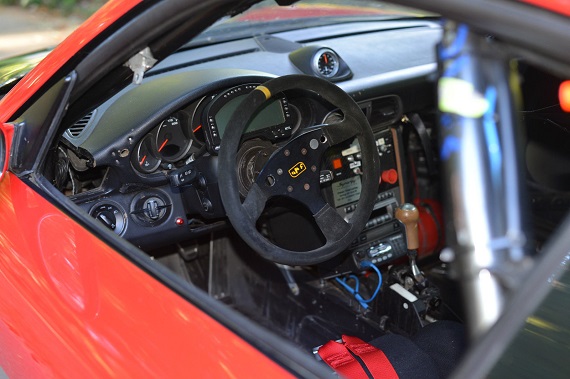 2007 Porsche 997 C2 race car built by Synergy Racing (Build #8); Car was built from fresh street car and converted into a race car (comes with original bill of origin). Have included several pictures when raced in Grand Am by Horsepower Ranch, Wright Motorsports, and during original build. Car has been well cared for a used very little since retiring from Grand Am. Comes with lots of spare brakes pieces (calipers, pads, rotors, etc.) and (1) additional set of 18″ HRE wheels, (2) or (3) sets of Forgeline 17″ wheels.

Brand new 3.8×51 powerkit engine M97/01SAT68875026 (approximately 4 hours on new motor)
Brand new transmission with Guards billet limited slip differential (approximately 4 hours on new transmission)
Custom Ohlin 3-way shocks just rebuilt with approximately 4 hours on them
18 inch HRE 90 Competition Rims with 1 spare sets, black centers with polished rim
PFC 3.6 front rotor upgrade with brake pressure sensor for AIM data and steel brake lines (Ti upgrade)
GT3 Lower control arms, tie rods and adjustable sway bars. Special synergy custom bar in front.
5 lug ARP bulleted wheel studs with steel lug nuts, brake blower system, cool suit system
Short shift kit and GT3 Cup cables with solid lock connections and an adjustable clutch stop (awesome, very crisp and light)
Full competition roll cage with integrated window net and AIM beacon mounts (window net currently not installed but will be provided)
OMP race seat with 6 point harness
OMP Steering Wheel with quick disconnect and steering wheel hook
Motorola radio with push to talk button on steering wheel
Custom electronic power steering (11whp gain) with on/off toggle
Tevis ABS control unit with race ECU upgrade with dash controlled selector switches
Front custom impact protection bars with tow eye and a rear engine jack plate
Front windshield lexan and tear off upgrade, GA spec weight rear aero wing
AIM Data acquisition MXL system (expandable) w/ Smarty Cam and GPS
Carbon front hood
Custom Transmission cooler with Setrab radiator and Tilton electric oil pump
BGB Motorsports forced air carbon air box upgrade and center radiator upgrade
Fire suppression system with electrical kill switch inside and outside of car
GT3 front bumper, dry brake female fueling port and unbelievable spares package
New rear axles, new front uprights and right front brake caliper
New front wheel bearings, new left rear bearing and throttle replaced
Recently when thru cooling system and replaced coolant tank/hoses in engine bay. All suspension was gone thru over the winter.
Coolsuit installed in boot and lines run inside.

Car is ready to race. Please let me know if there are any questions. Thanks for looking! Have a great day!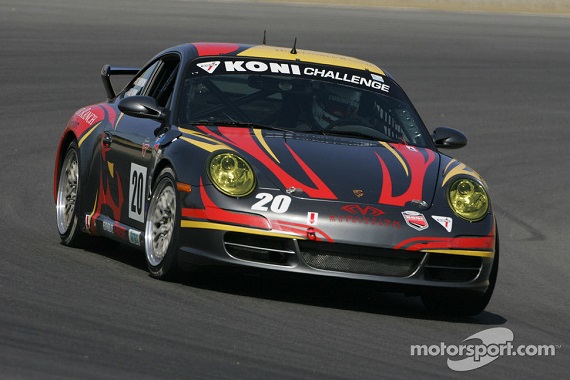 The car is presented quite nicely in red with some GT3 aero bits; I'm not personally a fan of the black HREs but they're nice wheels and it sounds like a few sets of equally nice Forgelines are included. The build included all the right items; a fresh 3.8 X51 Powerkit motor provides nearly as much motivation as some turbo models, while the upgraded Ohlins suspension and brakes help keep things in check. This is a top-notch build overall. There are a few questions unanswered by the advertisement, though – for example, I'd guess the color change is the result of some contact rather than personal preference. As long as it all checks out that's not unexpected on a pro-level car, and the results certainly look nice. Particularly clever is the 911 silhouette graphics on the side. It's amazing, though, to look back at the original photos of what the car was delivered as. For some, I'm sure it's a shocking shame to see someone take apart what many would consider a lovely road car and make a race car out of it. But having spent time on track in a street 997, I can only imagine that the result is much more focused and even more impressive than the steetable version. From the looks, it would appear this may have originally been a Carrera S Sport Chrono, but I could be wrong. Regardless, at $60,000, this is still a very potent package that will engage the driver and will undoubtedly leave you with a smile on your face at any track day. It's certainly less than half the amount that was invested originally in what is still a car that's capable of winning races and is remarkably fresh.
-Carter