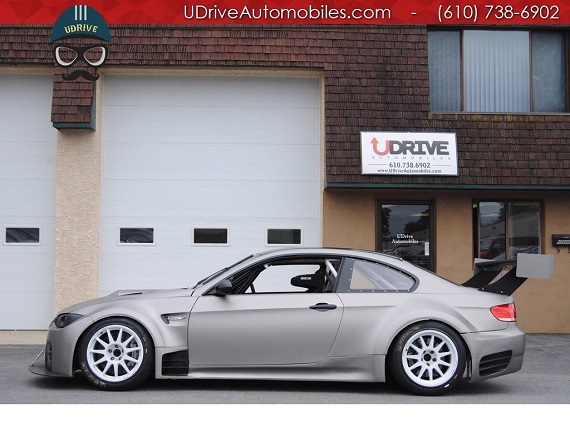 A truism of motorsport is that to make a small fortune in racing you need to start with a large fortune. Building race cars is very expensive; strange, considering that there is much less of them when you're done than the road car that was started with. If, for example, you wanted to go racing in the GT3 class, the ostensible car to get would be the multi-class winning Porsche GT3R. Smart choice. Now, fork over your half a million hard-earned trust fund dollars, since before you turn a key the GT3R stickers at 429,000 Euros plus taxes. Run a race weekend, and presuming you don't crash or have a mechanical, you'll be several tens of thousands of dollars more in the hole, since race cars consume consumables at an alarming rate. Tires, brake pads, clutches – you name it, it's expensive if it's top-tier racing goods. And then come the realities that after a staggeringly short amount of time, you need to completely rebuild your race car. According to the Census Bureau, the average American spends 50 minutes a day commuting in their car. In race car terms, that would mean that after a little over a month you'd have to completely rebuild your car. Nuts, right?
But you still want to do it. Okay, a much more affordable way to go really, really fast is to buy a last generation car. Just past the current vogue, they tend to be considerably more friendly on the wallet. Yet, top tier cars are still very, very expensive to run. Perhaps, then, a smarter choice would be to look at a car based upon more pedestrian internals: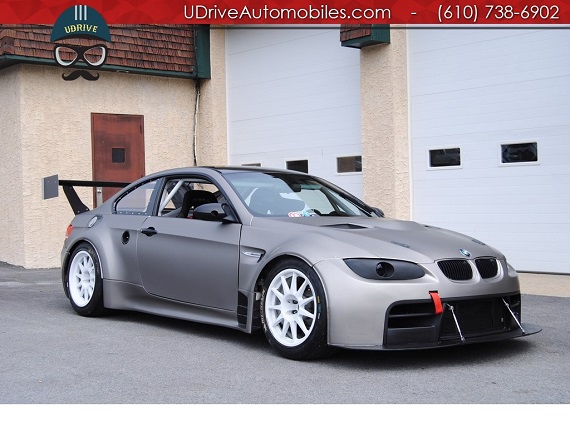 Year: 2008
Model: E92
Engine: 4.0 liter V8
Transmission: 6-speed manual
Mileage: 30,000 mi
Price: $79,900 Buy It Now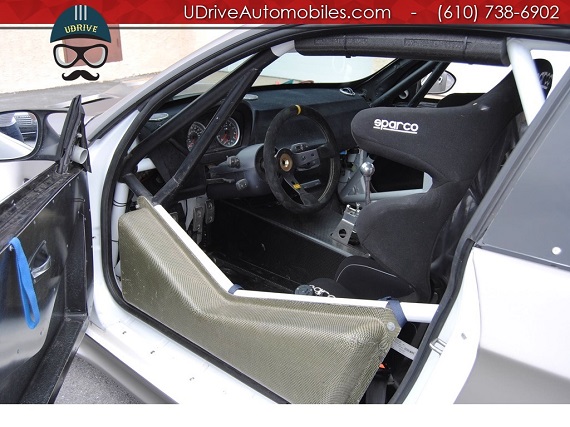 CUSTOM BMW M3 RACECAR DESIGNED AND ENGINEERED TO RUN LIKE A BMW GT2/ALMS FACTORY-BUILT RACECAR!

!!PURPOSE BUILT RACE CAR!!

!!NOT ROAD LEGAL!!

!!NO VIN NUMBER!!

!!NO TITLE!!

PURPOSE BUILT IN EUROPE TO CLOSELY MIMIC E92M3 GT2/ALMS RACECARS

Built off of a 2009 M3 drivetrain with approximately 30,000 miles

Approximately 2,500 pound weight

FIA style full safety cage with CF impact absorption pad on driver side

Updated safety equipment includes 6 point Schroth Harness and Cobra full containment halo seat

Carbon fiber cockpit, door panels and trunk trim

Quick release steering wheel

Floor mount 3 pedal adjustable racing pedals with adjustable brake bias and custom MC

Custom short throw shifter assembly with reverse lockout

Custom on board air-jack system

Adjustable coil-over suspension with reinforced solid mounts

18×10 front / 18×11 rear Speedline wheels

Brembo/Porsche Cup – Car braking system (6 piston front / 4 piston rear silver calipers)

Solid mounts and bushings with fabricated suspension arms and pickups for lowered height

ALMS/GT2 front airflow control with auxiliary cooling

Stock, low mile, E92 M3 S65 BMW 4.0L V8 motor

Stock BMW M3 6 SPEED MANUAL transmission

4.44 BMW rear differential

Stock BMW electronics for low running cost

On board fire safety system

Custom lightweight battery for European Touring Car racing series

Custom widebody design with matte gray vinyl wrap

!!THIS IS A PURPOSE BUILT RACECAR. IT STARTED LIFE AS A E92 3 SERIES COUPE AND THE ENTIRE BODY AND DRIVE TRAIN WAS MODIFIED AND REPLACED IN EUROPE BEFORE BEING IMPORTED TO THE US. THERE IS NO VIN NUMBER ATTACHED TO THE VEHICLE AND NO TITLE. THIS VEHICLE IS INTENDED FOR TRACK USE ONLY AND IS NOT ROAD LEGAL!!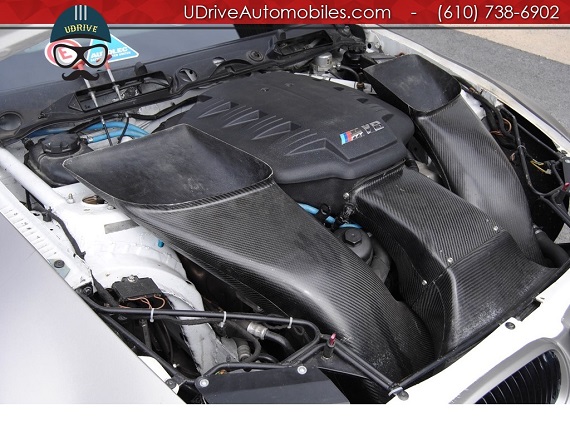 This car oozes full-factory effort but is based upon a normal E92 3-series coupe. The build looks quite thorough; the cage, in particular, looks quite stout, and details abound from the "Powered by BMW Motorsport" badges on the fender vents through the carbon fiber trimmed cockpit. Powering this extreme 3 is a stock S65 4.0 V8 lifted from a production M3, replete with the 6-speed manual to go along with it. That's a smart choice – motivation is still great in what is claimed to be a 2,500 pound car, yet it should be a fairly reliable setup in street form. Additionally, you get some monster Porsche brakes and Michelin slicks that will make you feel at home on the Mulsanne. Overall, the fit and finish really look to be close to factory effort, but the price is much more appealing – at just below $80,000, this is one serious bargain compared to what a real GT2-running BMW would cost you. Sure, it won't be as fast, but odds are if you show up at the track in this you'll not only be the center of attention, you'd be one of the quickest cars out there, too. Of course, be prepared – show with that wing, cage and carbon fiber bits and everyone will expect you to be quickest, so be on your "A" game when leaving the pits. Still, you don't have to tell everyone how little you spent to look like BMW just nabbed you for a factory ride.
-Carter