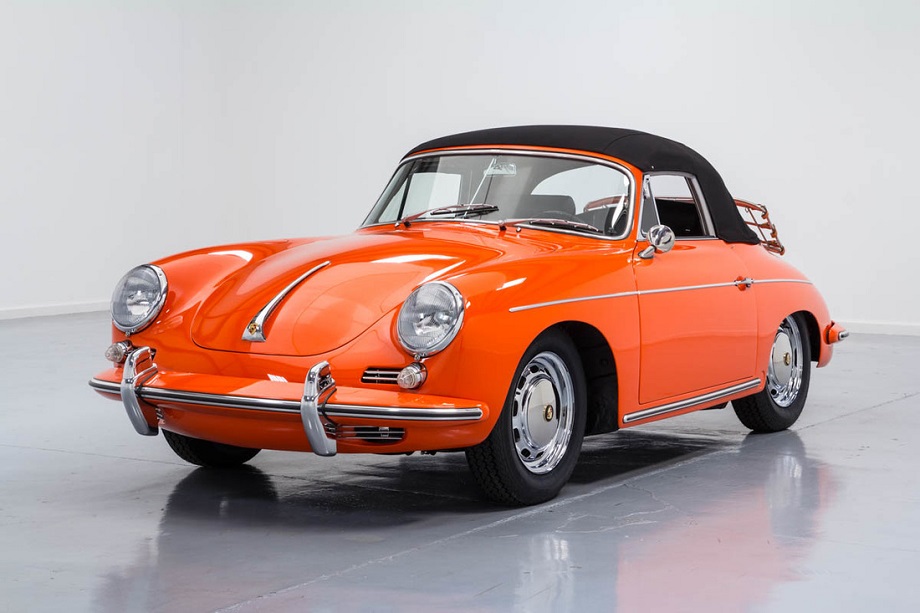 It appears my attempt to stay within the realm of good value has only lasted a day. We'll try again tomorrow. In the meantime here's something very unique: a paint-to-sample Orange 1965 Porsche 356C 1600 C Reutter Cabriolet. It is said to be the only one produced in this color for the 1965 model year. I can't confirm that myself, but it is one of only two 356 of any model that I've seen painted Orange. The other, while also a Cabriolet, was from 1955 so it certainly doesn't impact the 1-of-1 status of this 356. It has been fully restored and that eye-popping orange looks stunning on the 356's curves. There were a good many bright colors available during 356 production, but I don't think any would be as head turning as this.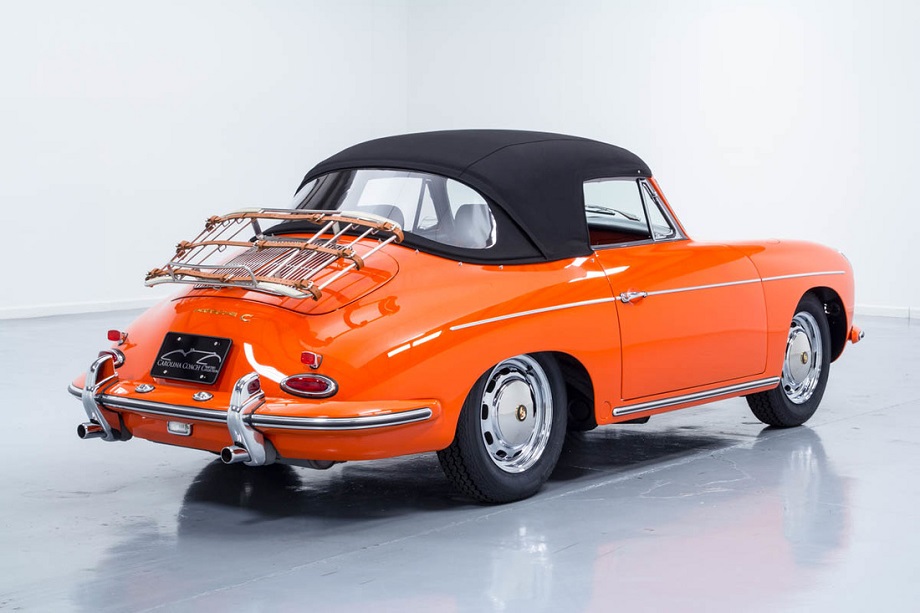 Year: 1965
Model: 356C Cabriolet
Engine: 1.6 liter flat-4
Transmission: 4-speed manual
Mileage: unlisted
Price: $375,000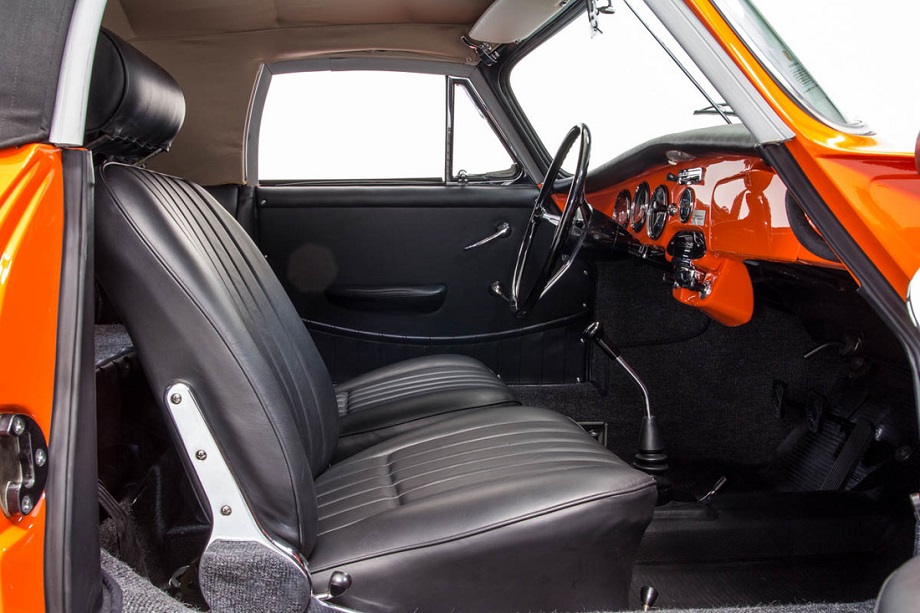 1965 Porsche 356 C Cabriolet – 'One of One'
This 1965 Porsche 356 C Cabriolet was the only Orange 356 Cabriolet produced for the 1965 model year, which makes it a one-of-one automobile (information verified by its COA). This model has recently undergone a complete, bare-metal, Concours restoration wherein all drive-train and suspension components were completely refurbished by Carolina Coach Crafters in Mooresville, N.C. This model includes a brand new handcrafted leather interior and convertible top.

Our '65 356 is a turn-key, investment-grade vehicle that is ready to be showcased in the world's elite Concours. It was recently recognized by FlatSix.com as one of their favorite 20 Porsches from Monterey 2016. It received a podium finish at Werks Reunion in 2016 and it was the recipient of the Palmetto Award at Hilton Head Island Concours d'Elegance 2016. This year, it was awarded best in its class, 356 Open, at Amelia Island.

The year of 1965 was the final year of production for the 356 model because Porsche was introducing the US market to its successor: the 911. Porsche continued to sell the 356 C as demand for the model was extreme in the early days compared to the heavier and more "civilized" 911.

Our 356 is the ONLY Continental Orange Cabriolet produced for the 1965 model year. It comes dressed in its striking orange exterior with a stunning black leather configuration.

No expense was spared in the restoration and every effort was made to preserve as many of the original components (down to nuts, bolts, etc.) versus replacing them with new 'off-the-shelf' parts. Many of the original components including the wheels were professionally re-chromed and are absolutely stunning. The black leather interior is brand new and was completed by one of the best in the business.

To put it simply, this car is flawless, this car is exceptional, and this car is waiting to take you on the ride of your life.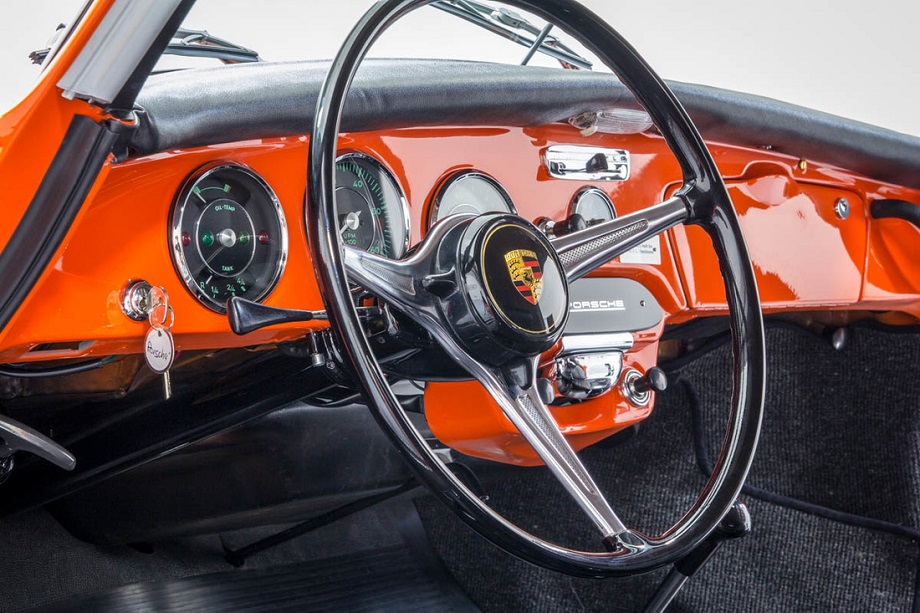 This is a VERY good looking 356 Cabriolet even without commenting on the color. Every part looks in excellent condition and very well restored. The restorers tried to retain as much of the original materials as they could, but of course there's been plenty that's replaced. We're presumably not looking at the original paint here and the interior we know has been redone. Regardless, assuming everything is numbers matching I think you'd be hard pressed to find a better example.
So is it worth this very high asking price; a price more than double just about every other 356C Cabriolet? The easy answer is that if you want an orange 356, then you'll certainly have to pay top dollar given that this is the only one produced for this model year. Granted, you don't have to buy a '65, but how many others exist even if we expand to other model years? As I said, I've only seen one other. Still, this price is well into 356 Speedster money and the Speedster is arguably the more desirable car so I think it'll be a tough sell even for those with a strong desire for an Orange 356.
I love it. It's kind of insane given that orange cars don't really seem to have been the style of the '50s and '60s. I'm not sure if an orange car ever truly will be in style though there certainly are times we see more of them. Not when the 356 was produced though and that makes this one so special. I wish it were a Coupe, but I guess if you buy a bright orange car you might also want people to see you driving it.
-Rob