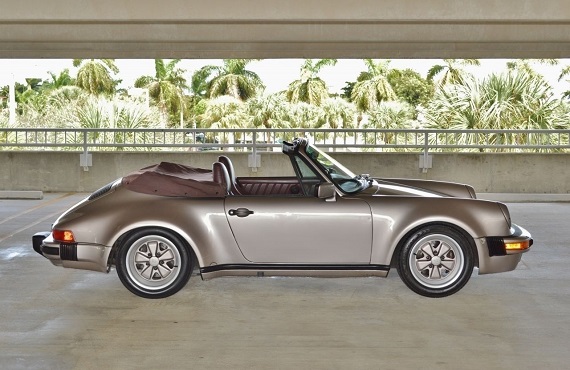 This 911 will take some work to get our heads around. There are a whole host of interesting details to this car, but also plenty of questions. Let's start with the basics of what we've got and then we can get to the questions. This is a 1985 Porsche 911 Carrera Cabriolet with a paint-to-sample exterior and interior to sample. Those points on their own are of some significance, though we must admit that while these colors may be special order there isn't really a lot that is special about them. Don't get me wrong, the burgundy interior is great and the exterior is a nice shade of metallic paint, but if you didn't tell me they were special order I wouldn't have immediately thought that. But we don't end there. It also has sport seats, which are a nice addition, and more importantly comes with the M491 Turbo-look package. As if all of that is not enough, attentive readers will also notice that it's a Turbo-look package with the spoiler delete. That last point is perhaps the most important aspect of all as the Turbo-look with spoiler delete is very rare. We almost never see them and on the Cabriolet especially it makes for a really attractive change. Combining all of these options creates a very rare 911 and one that should attract a lot of attention. If it can all be verified….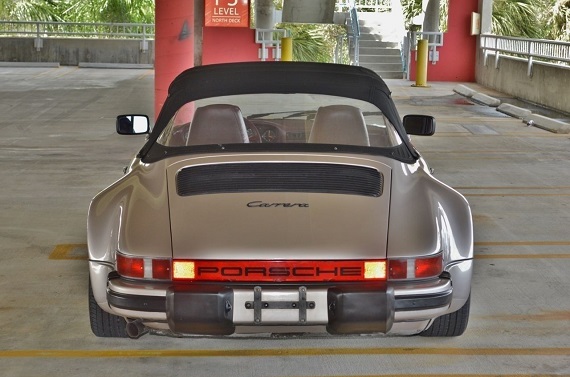 Year: 1985
Model: 911 Carrera Cabriolet
Engine: 3.2 liter flat-6
Transmission: 5-speed manual
Mileage: 49,700 mi
Price: $75,900 Buy It Now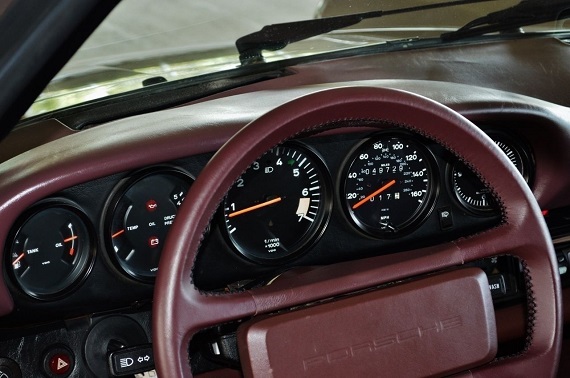 1985 Porsche 911 M491 Cabriolet Turbo Look

We are proud to offer yet again another very rare 911, a 85′ Turbo look with every possible option in very rare Metallic Paint to Sample and Leather Interior to Sample!

This 2 owner car has been in Florida since 1995 where it was owned by an elderly woman who received the car as a wedding present in 95′. The original owner really went above and beyond on ordering a 911 that was different in every way.

Cosmetically the car looks like no other, the paint to sample exterior with the turbo look, spoiler delete, and color matched Fuchs really gives it a unique look. Paint presents it self very well especially for being almost all original. To small dents through out the entire car that can possibly be pdr'd. The Interior is in mint condition and shows almost no wear at all, top is also in very nice condition with no tears. There is no rust, no accident damage and dry as bone underneath. And retains a clean carfax.

The engine and transmission perform flawlessly. Being owned most of its life by an elderly person the car was never driven hard, the 3.2 fires up perfectly with no smoke or unusual noises. The transmission was rebuilt at 32k miles and clutch was replaced at the same time and shifts like new. There are no oil leaks from the motor, not a drop on the floor after months of not being moved. AC works and is Cold. A video will be provided below.

Documented by the Porsche Certificate of Authenticity it was ordered with the following:

Metallic Paint to Sample/99
Leather to Sample/99

Tonneau Cover
Heated Seats L/R
Blaukpunkt Radio ' Monterey '
Limited Slip Differential (LSD)*
Central locking system
Sport Seats w/ Electric Height*
Adjustment L/R
Cruise Control
Turbo Look*
Alarm System
Dunlop tires

Call Danny 7862913622

Or Tony 3059883092

We Accept ALL trades! Financing available & Shipping around the world.
Car is located in Miami, Florida 33156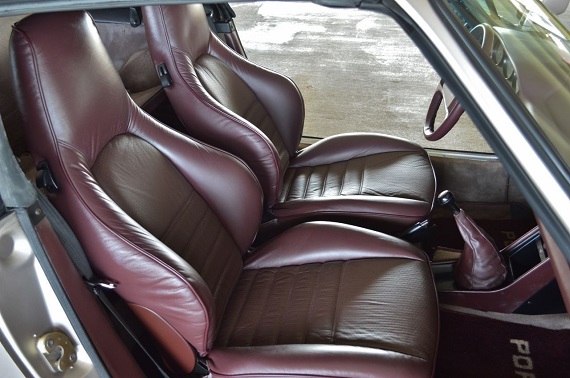 As with most any air-cooled 911 that intends to attract our notice based on rare options the originality of those options is key. We need documentation. In some cases with this 911 we have some documentation and in others we do not. First, the spoiler delete: there doesn't appear to be any documentation that this 911 was optioned with the 470 spoiler delete code. So I'm guessing one of the owners simply removed them. That's important. However, the rest of the options appear to be verified by the CoA. The actual colors of the exterior and interior aren't verified, but the CoA and the option code sticker both state that they are spec'd to sample. The CoA also verifies the Turbo-look option. My only hesitation then is that the option code sticker doesn't list any options. That seems strange to me. Perhaps the original sticker was removed (or there was a respray) and a new one was sourced without the option codes? I don't know, but it would be something to look into. As I said from the beginning there are plenty of questions surrounding this 911. But given the combination of options I think it's well worth investigating by a buyer who really wants a unique classic 911.
-Rob