Warning!
This post is in our archives. Links in this post may have been updated to point to similar cars available to bid on eBay.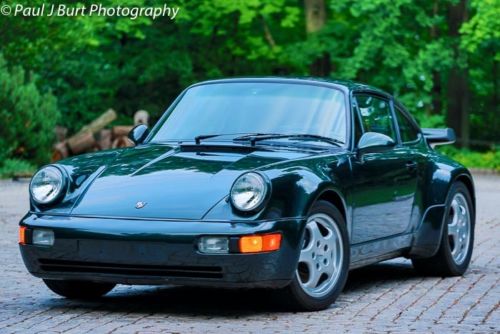 I need to get one thing out of the way immediately with this car: it has been in an accident. There's also some confusion about the title – it's listed as rebuilt on one part of the ad but the seller then says later he has a clean and clear title. Maybe that makes sense within the car title world but it seems odd to me. Presumably the rebuilt title at least hints that this wasn't a minor accident and statements about a bent axle confirm that as well. I want to get those points out of the way because for some buyers they will be a deal breaker. If you're still here this is an otherwise pretty nice paint-to-sample 1991 Porsche 911 Turbo with only 32,555 miles on it. It's had some engine work performed by the current owner to raise the power and while it isn't clear exactly what was done, hopefully a few questions or documents can provide clarity. Obviously a thorough mechanical inspection of this Turbo will be needed, and the car will always have that stigma attached to it, but many accidents are fully repairable and those cars can still make for great drivers. And, of course, the upside to a car like this is a lower purchase price. There's less long term value as well, but for the right price why not buy it and enjoy it worry free for as long as you please?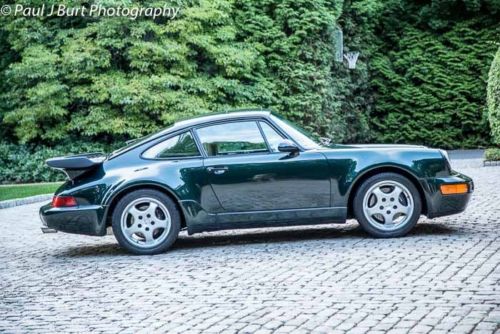 Year: 1991
Model: 911 Turbo
Engine: 3.3 liter turbocharged flat-6
Transmission: 5-speed manual
Mileage: 32,555 mi
Price: Reserve Auction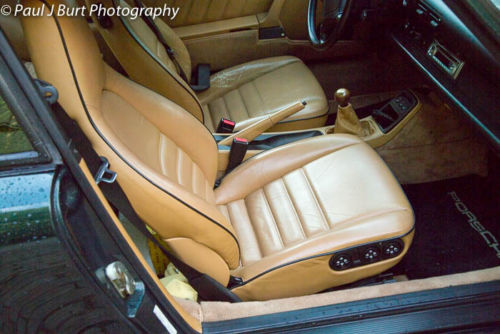 You are bidding on a low mileage, rare, 1991 Porsche 911 Turbo – paint to color car – 1 of 1

My 911 Turbo has only 32,555 original miles.

Is there a more iconic Porsche than a 964 bodied, air cooled Turbo? If there is, I don't know it. Head over to Singer.com and spend a minimum of $450,000 for a 964 bodied custom Porsche (or buy mine for much less).

Eight or more years ago when I bought this car – she was fast. Today I'd call her "current". But not hypercar territory. I wasn't then – and am not now, seeking super stardom. I love the pure manner of older Porsches. They are, at heart, drivable, toss-able and most of all, bullet proof. Pure air-cooled fun.

I am liquidating part of my collection and this Turbo must go. I have purchased a business (SaveUp.com) and sadly it's taking all of my available cash (so you want to be an entrepreneur?).

There were only 3,660 Porsche Turbo's built between 1991-92 worldwide. Of course less were brought into the US. Needless to say – she is rare.

Please note: I owned a professional restoration shop for years. We did high quality work (once displayed a car at Pebble Beach Concours) so I know how to buy cars. I found this Turbo and, like many Turbos, spun out and bent the rear axle. The work was professionally fixed by Porsche but the title was, by then, branded. I can tell you – she drives like a new car – as good as any other 911 Turbo, probably better.

The color is also very rare: Paint to Customer Color Match – L999 – which means that there is not another 1991 Turbo in this color. It was a special order customer selected match. Porsche can only say that it was custom and no color name is affixed to it. The car is a dark metallic green – stunning really – as the picture show. It sometimes appears black, but, in the light, she is a dark green color.

Do I need to tell you – she is a beast? Wait for 3,500 rpm and then – hold on. Pray you are not in the middle of a corner when the wick is lit – because you'll get sideways pretty darn quickly. Seasoned Turbo drivers (before 4wd and electronic gimmickry) well know that you need to be ever vigilant and expect this boost. With a large single K27 Turbo, there is enough turbo lag that you could lean over and find your favorite radio station, then resume your frenetic driving.

There is the on / off nature of vintage Turbo's that makes them so much fun. Below 3,500 rpm – Volkswagen. Above 3,500 rpm – insanity. Early Porsche Turbo's don't have the work linear in their lexicon. Nope, it' a light switch, on or off.

Condition:

I don't drive my Turbo often, but when I do, I don't worry about a stone chip or errant pebble. This car is meant to be driven. If you want a trailer queen, this may not be your car. Which isn't to say that she isn't very nice, she is..

I took the car to the Porsche Exchange in Highland Park, Illinois (great shop) and they tweaked the engine a bit. The car doesn't have 320 hp any longer, more like 360. There is also an aftermarket exhaust on the car.

Other than that – stock. There isn't much you can do to the 3.3 engine, without cooling it with water (if you want reliability). Or pulling it out and reworking it entirely.

The exterior is a 9.5/10. A few small chips – a minor scratch here and there.

You can see by the pictures that she is very nice, but I am particular. The interior is also very nice, tan with dark green piping. There is an aftermarket stereo in the car – it isn't great and the sound is average. If you are listening to the radio – I suppose you miss the point of the air cooled engine entirely.

The clutch is heavy (meaning all 1991 Turbo clutches require a strong right leg) but in excellent condition. The transmission shifts perfectly. The engine runs amazingly – no issues at all – no whining, no slipping out of gear (shouldn't be at 32,500 miles). She comes onto boost with no issues. When the boost it at full spool, she sounds like an ape whose banana you just stole. Angry.

The sunroof and windows work perfectly. The rear seats have probably never been sat in (who can fit?).

There is a wooden shifter knob – very nice – an option.

The seats are leather and power.

There is a rear wiper ( I think it was standard on Turbos) works great

Sunroof (if you can find the switch – hint under the dash) works perfectly.

The rims are original and in great (but never perfect) condition.

The tires are in excellent condition. I've never replaced them.

The car tracks straight and true and brakes with the best of them. After all, she weighs only 3,276 lbs.

She is a five speed. You'll wish there was another gear as she has more power and top speed if there was one. Very retro.

There is a sense of heft in the rear end. No matter how improved the 964 Turbo was over the previous version, there is the ever present bobbing – a product of the heavy engine and small wheelbase. This "bobbing" is normal and the very essence of a vintage Porsche. She'll do in excess of 168mph – but you won't. Who has that kind of courage? The front end will lift at higher speeds and she might drift in an unnerving way. Truly only the courageous or stupid need seek the top speed of this car.

The car is very nice. I keep my cars in a heated and climate controlled showroom. There is no rust on the car whatsoever.

I have a clean and clear title. There is a history of a spin and damage to the rear axle and rim (before I bought it). The car was repaired professionally by Porsche. I suspect a lot of Turbo's have been spun and not reported. However, I knew this when I bought the car. It drives true and straight. I have had a four wheel alignment done on the car to assure proper tire wear.

The tires are in excellent shape but not new. The brakes are original.

I require a $2000 deposit, non refundable (been burned before) upon winning the auction. The balance by wire within 5 days. Inspections are encouraged and welcomed. Porsche Exchange has serviced the car – so records are available.

Now for the legalese:

The car is not new, it is used and sold as-is, where is. We encourage email questions and inspections. My rating is important to me, as is your satisfaction.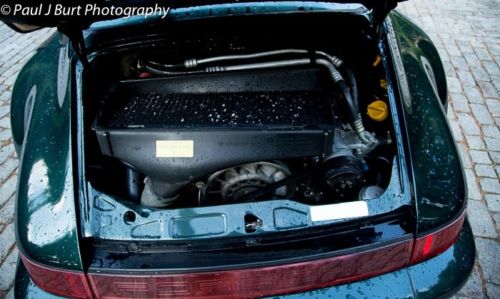 The exterior is a paint-to-sample metallic green. The seller suggests the color was customer supplied, whether that means it's a non-Porsche color isn't clear, but such is the case with paint-to-sample at times. It's hard to gauge the color accurately from the pictures though it looks to be on the lighter side of a dark green, if that makes sense. Combined with the tan interior, it makes for a nice combination that's natural and somewhat woodsy. On a green car it's the sort of combination I like to see. Generally, everything looks in nice shape. There's obviously that dark cloud of the accident, but if we can be satisfied by the repair then the rest of it presents as we'd hope.
As noted above, price will be very important here. The car has received one bid thus far at $75K and that leaves the reserve unmet. With no accident history (and assuming everything else checked out) we'd probably expect a Turbo like this to sell in the low $100Ks. With the accident I suspect the $75K bid is probably about as high as you'd want to go unless the color combination is absolutely your thing. Additional details about the performance modifications will also play a role here, but I still suspect we're around where most prospective buyers would feel is the max. For that price, though, I think it's not a bad option.
-Rob