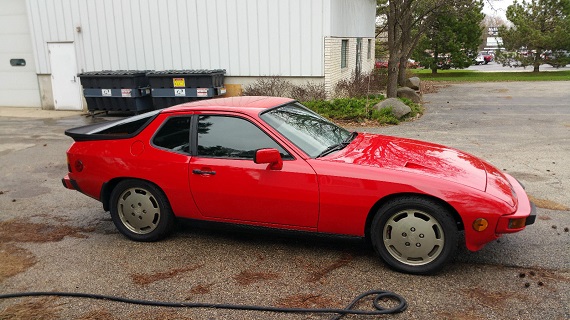 As we've charted the demise of the 996's residual value, it may no longer be accurate to say that the Porsche 924 is the best value for your money if you just want a Porsche crest. But with the rising prices of 911s, 944 Turbos and 928s, if you want a Porsche from the 1980s, there's simply no contest – 924s represent the gateway into Stuttgart's finest without obliterating your retirement fund. In fact, many nice Porsche 924s can be had for a song – even though we've also recently seen the elite 924 Carreras push well into 6-figure territory. As a lover of the Audi Coupe GT, which share a shocking amount of parts with it's much more highly sought bulging brother Quattro but not the value, I can identify with the plight of the 924 enthusiast. Indeed, I consider the 924 to be a great design and love both the early, simple cars from the 1970s for the clean purity of purpose right through the upgraded 924Ss, one of which resides in my family and I've spent a considerable amount of time in, under and around. So it should come as no surprise, being a fan of the underdogs, that I ponder 924 ownership on a semi-regular basis. The question is, which 924 do I like more – the early, vented turbo models that were the homologation of much of Porsche's racing technology, or the "real Porsche" 924S, replete with the underpinnings of the 944? I've found two pretty comparable models, so let's take a look: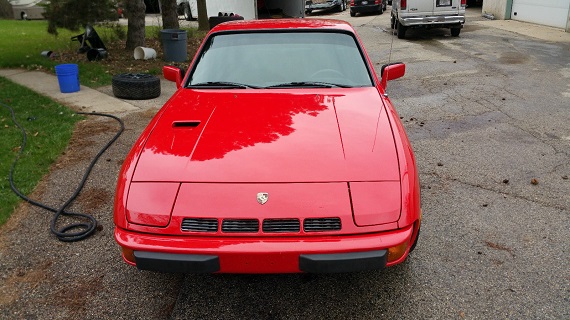 Year: 1980
Model: 924 Turbo
Engine: 2.0 liter turbocharged inline-4
Transmission: 5-speed manual
Mileage: 90,000 mi
Price: $8,500 Buy It Now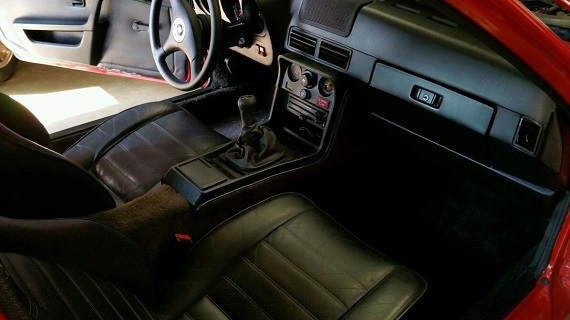 This is a very good representation of a survivor Porsche 924 Turbo. This car also features the rare 5 lug option with 16×7 Fuchs forged wheels and Koni adjustable suspension. This car runs great, the engine was rebuilt by Automobile Atlanta around ten thousand miles ago including a new Turbocharger. The trans shifts well although its going to need new shifter bushings. The tires have less than 3000 miles are Yokahama ES100 225 50 16. It turns heads everywhere it goes. I does not have air conditioning. Any questions please ask for Ed 847 553 8751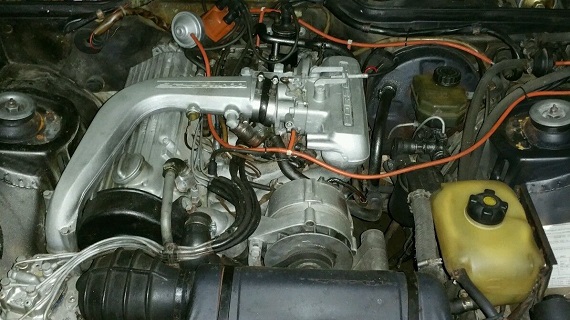 I won't deny it, there's something purposeful about the 924 Turbo that the later 924S doesn't manage to capture. Perhaps it's the NACA duct on the hood, or the vented light panel. Perhaps it's as simple as the turbo script that adorns the tail, a magical 5-letter word that was the standard for promised performance in the 1980s. If you're looking for a 924 Turbo in the U.S., you're most likely to find a 1980 such as this one. Most 1980s featured the upgraded M471 sport suspension, all-wheel disc brakes and 16″ forged wheels as shown on this model. Some 3,440 are reported to have been imported to the U.S., though it seems that far fewer than that number are in serviceable condition today. This example appears above the norm, with clean paint, a relatively clean interior and what appears to be all-original condition. Additionally, there's a rebuilt engine and new turbocharger, meaning some of the headaches associated with the 931 should be put at ease. That doesn't mean this car isn't without problems; I could be wrong, but I believe the Manholes fitted to the 931s should properly be 16×6, not 16×7 – though that could easily be an oversight, or my information could be out of date. I'm also not sure Fuchs made them, and can't find any information to back up that claim. The steering wheel is aftermarket and doesn't really suit the design properly, but the biggest red flag might be in the engine bay, where the strut towers and firewall are painted black when they should be body color. Perhaps it was a preventative treatment applied when the car was apart for the engine rebuild, or perhaps it was originally black – but either way, it's not original and should be explained. The pricing, while it seems pretty steep for a 924, isn't all that outrageous in the spectra of 931s today, as values have been on the rise. If you like these cars, the time to get on the train is now, as recent attention coupled with the few that remain in great condition mean a spike in market values, which range from $5,000 for fixer-uppers to nearly $20,000 for Concours examples. Priced in the middle, this car is probably close to market value.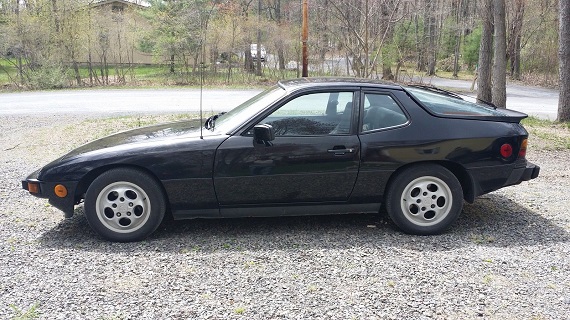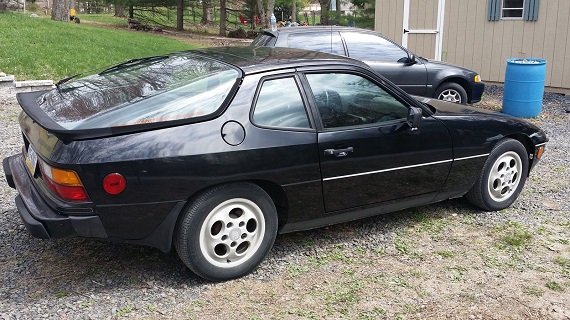 Year: 1988
Model: 924S
Engine: 2.5 liter inline-4
Transmission: 5-speed manual
Mileage: 83,874 mi (TMU)
Price: No Reserve Auction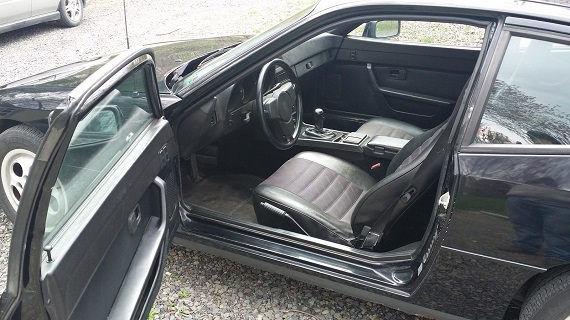 1988 Porsche 924S. Last year, Black on Black. Runs and drives well. Has rare (924 SE) Mud guards. "Porsche" Script interior. New Battery. Recent tune-up, coil, plugs, wires, cap, rotor. K&N air filter, Borla Stainless steel muffler. Clutch slave and master cylinders replaced. The timing belt and water pump were changed in 2002, found work receipts in car when purchased. No major rust or rot. No major body damage. Tires have 6/32 all around, brakes half thickness. I daily drove 3 miles to work everyday for the summers. Really enjoyed car. I do not have time for it anymore, or space. was garaged for 2 winters i owned. Body is in good condition for 27 year old car, expected chips and small dings. Seats are in decent shape, no tears. Dash has pad cover. Vehicle has 83xxx on the odometer (stopped). I am second owner.. I purchased vehicle in 2012, put about 3k miles on it. The odometer is not operational. The speedometer cable is broken, that's why the speedo or the odometer don't work. The air conditioning is not operational. Compressor locked up on me, had it removed. Car is not perfect, not molested either. Vehicle is being sold As Is. I encourage anyone interested to come look at it in person. $100 deposit paypal at end of sale. The rest must be paid upon pick up.
Performance from the basic 924 Turbo can't match the overall driving experience of the later, 944-powered 924S. With 160 horsepower on tap from the higher-compression 1988 model, the narrow body and lighter 924S was famously quicker and faster than its flared brethren, though the wider tires of the 944 made up for the slight edge the 924 had in a straight line when it came to corners. Still, if you're talking late front-engined water-cooled Porsches, it's not the 924S that people immediately think of or consider as a potential purchase, meaning they're still remarkable values. This car overall presents well with the Porsche script interior and black exterior, though the mention of no "major" rot or body damage is somewhat concerning. The seller does do a thorough job of explaining that there are several issues with the car, but the overall presentation and condition seem to indicate that though the odometer has stopped working there aren't a million miles on the chassis. As a driver/fixer upper, this car really could be had as a bit of a bargain since the no reserve auction has failed to gain any bids at $2,500. That's right, for under $3,000 you could find yourself in a purebred Porsche if you're the winning bidder. I'd say it's unlikely that this car will go much higher than that, since it's not a top condition car and even they have difficulty cresting $5,000 these days.
Which is the winner? If you look at this comparison as a pure value competition, the 924S is the clear winner. Even sorting all of the mechanical issues should still bring you in well under the asking price of the Turbo, and you'll have a car that is arguably not only more reliable but also effectively quicker than the boosted model. However, if you're talking collectability, the Turbo is the way to go. The market will appreciate these models more down the road with complete certitude. It's also the model that, truth told, I think I'd prefer to get. However, for me, this isn't the one – I'd really like one of the two-tone models, preferably in green (if I'm going to get particular). Either way, though, these unappreciated classic Porsches offer a tremendous value both as classics and drivers for budget-minded enthusiasts.
-Carter